California Hemp Pain Cream Reviews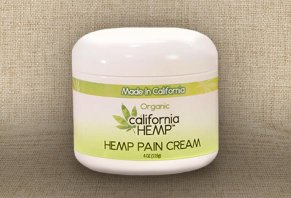 After rubbing California Hemp Pain Cream into your skin, the manufacturer claims its organic hemp seed oil will penetrate minor pain and deliver temporary relief.
About California Hemp Pain Cream
California Hemp Pain Cream uses a cold-pressed, unrefined, organic hemp seed oil formula to provide fast, temporary relief from joint and muscle soreness, whether in the back, neck, knees, shoulders, hands, or feet.
In addition to hemp seed oil, the website advertises the cream is also rich in antioxidants and other active ingredients that can specifically target "minor pain associated with simple backache, arthritis, muscle strains, sprains, and cramps."
All you have to do is rub California Hemp Cream on the area of your skin where you're experiencing pain, and the formula will immediately begin penetrating and delivering relief, without worrying about greasiness or a lingering medicine smell. And it's legal in all 50 states, without a prescription.
The real question is: Can you expect this natural product to be effective?
This is a potentially broad topic, but over the course of the next few minutes, we'll provide the essential information you need to take the next step. And since any pain relief cream is only as effective as its active ingredients, we'll start there.
California Hemp Cream's Ingredients & Their Effectiveness on Pain Relief
No label was listed on the California Hemp Cream website at the time of our research, and the only ingredient specifically mentioned was antioxidant-rich, cold-pressed, unrefined, organic hemp seed oil (no concentration provided).
We called several customer service representatives looking for more details, although none could provide further insight. As such, we can't know if it contains additional ingredients commonly found in OTC topical pain relievers such as menthol (creates a cooling sensation), salicylates (basically, aspirin in a topical form), or capsaicin (can numb minor pain).
So, the question now becomes: Is there clinical evidence that the topical application of organic hemp seed oil can meaningfully relieve pain? Let's answer this next, step-by-step.
Can Hemp Cream Relieve Common Causes of Muscle & Joint Pain?
What is Pain & What Causes It?
Merriam-Webster defines pain as "localized physical suffering associated with bodily disorder (such as a disease or an injury)." In other words, while pain is fairly specific (we all know it when we feel it), the underlying cause be can be just about anything imaginable.
Even if we zoom in and only consider the muscle and joint pain mentioned on the California Hemp Cream website, there remain hundreds of potential causes, including illness, sprain and strains, inflammation-related conditions (such as arthritis), temporary cramps, certain medications, sciatica, poor posture—the list could go on.
Wherever pain occurs (back, neck, knees, shoulders, hands, feet, etc.), its cause is sometimes obvious, such as touching a hot stove, while other times it can take years for doctors to properly diagnose a patient's underlying condition, thereby allowing them to prescribe an appropriate treatment to deliver relief.
The point: California Hemp Cream promises to address many different kinds of pain across many different areas of the body. But to figure out whether or not it'll deliver relief for your specific diagnosis, it's best to start by consulting with your primary care physician.
Might they recommend a hemp-base product, though?
The Relationship Between Hemp & Pain Relief
Hemp is an industrial form of cannabis that contains little-to-no THC (the psychoactive compound that causes marijuana users to get 'high'), while still retaining many of the unique chemical compounds known as cannabinoids.
While more than 60 of these cannabinoids exist, High Times reports there's a special compound called cannabidiol, or CBD, that could "hold the key to the wide variety of medicinal and therapeutic effects," although research is in its infancy.
Among these is pain relief, which High Times reports could be as effective as morphine, according to at least one 2015 study (the National Institutes of Health's PubMed listed more than 220 clinical studies looking at the relationship between cannabidiol and pain relief as of this writing).
But of these studies, only three related to CBD's topical effects on pain relief:
In other words, the vast majority involved oral or injected CBD.
Could California Hemp Pain Cream Cause Side Effects?
Sites like the Natural Medicines Database and WebMD indicate that oral CBD supplementation is generally well tolerated, with doses of up to 1,500 - 2,000 used safely for up to four weeks. In some instances, though, it can cause side effects like dry mouth, lightheadedness, and sedation (no specific instances or dosages noted).
However, this same level of data wasn't available related to the potential side effects of topical CBD application, such as in creams like California Hemp.
How Much Does California Hemp Pain Cream Cost?
One tube (customer service wasn't able to provide the quantity when we called) of California Hemp Pain Cream is priced at $19.99, plus $7.99 S&H. You can purchase a second tube for an additional $9.99 fee before finalizing your order.
All purchases come with a 30-day pain-free guarantee, less S&H charges and fee for the additional tube, which you can request by calling Telebrands customer service at 855-668-1655.
Are There Other Pain Creams Like California Hemp?
We encountered dozens of hemp-containing creams and lotions during our research, although the vast majority advertised the ingredient's antioxidant, moisturizing, and omega-3 properties, instead of its pain-relieving benefits.
Zooming out and focusing on hemp seed oil creams in general, we encountered dozens of third-party options potentially competing for many of the same customers as the product in question (although few advertised pain-relieving abilities), most of which were priced between $10 and $20. Like California Cream, though, none listed their CDB concentration.
If you're wondering which brand you should go with and if paying more for one will deliver greater value, the first person you should talk with is your doctor. They can order the appropriate tests to diagnose the underlying cause of your pain and then prescribe clinically proven treatments accordingly.
If they recommend that you try cream contain cannabidiol, after writing about thousands of products over the years, we'd recommend purchasing from companies who:
Support their claims with double-blind, placebo-controlled clinical evidence
List all of their ingredients, including the concentrations of active components
Back their products with at least 30-day satisfaction guarantees
Come with mostly positive online customer feedback
Does this mean you should go ahead an place your order for California Hemp Cream?
Our Final Thoughts About California Hemp Pain Cream
In many clinical studies, cannabidiol has been shown to be effective transdermally (through the skin). As such, there are a variety of companies that manufacture CBD patches for those who can't (or prefer not to) take pills or capsules.
However, writing for Shape, Rachael Schultz reports "There's practically no scientific data to support the idea that a CBD-infused topical cream is any more effective than other topical pain relievers, like Tiger Balm, BenGay, or Icy Hot."
But, she also points out most CBD creams typically include other therapeutic ingredients in their formulas that might have more clinical support for their pain relief abilities. And in the instance of California Hemp Cream, we can't verify this is the case, even after multiple calls to customer service.
According to a 2006 report by the National Center for Health Statistics, "approximately one in every four Americans have suffered from pain that lasts longer than 24 hours, and millions more suffer from acute pain." And if you count yourself among these numbers, it's no wonder you're looking for real-world relief.
Is this what you'll achieve with California Hemp Cream? Ultimately, while limited clinical evidence exists supporting the pain-relieving benefits of CDB creams, there's no way to know without giving it a try.
And because Telebrands stands behind it with a 30-day refund policy, you might not lose more than a little of your time, as well as original and return S&H costs, if it doesn't meet your expectations.
» Read Next: Do CBD-Infused Creams, Oils and Other Products Really Work?