Calming Comfort Blanket Reviews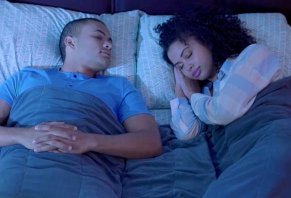 Available in 10, 15, 20 and 25 lb versions, the Calming Comfort Weighted Blanket promises to envelop you like a hug, calm your central nervous system, and reduce anxiety and boost sleep quality.
About Calming Comfort Blanket
The weighted Calming Comfort Blanket uses a high-density fill to mimic the feeling of being held, which is advertised to result in increased relaxation, reduced stress and anxiety, improved sleep, and decreased symptoms related to conditions like insomnia, depression, ADD/ADHD, and autism.
Specifically, the website advertises the blanket—which should be between 8-12% of your body weight—uses Deep Touch Pressure Stimulation (DTPS) to make you feel like you're being hugged, cuddled, or swaddled, resulting in the release of serotonin and melatonin and an instant sense of calmness and security.
Furthermore, the exterior is made from a plush, breathable material designed to be used year-round, with gridded stitching that's said to ensure the blanket's high-density comfort fill remains uniformly distributed. Together, the company claims you can use it not just in bed, but also on the couch or wherever else you need to relax.
Can a blanket really provide these kinds of benefits? Even then, is Calming Comfort necessarily your best option? We'll discuss the science behind these products, as well as pricing, competition, and company reputation so that you can make a more informed decision.
How Does Calming Comfort Blanket's Deep Touch Pressure Stimulation Work?
According to Alescia Ford-Lanza MS OTR/L, ATP, an occupational therapist and assistive technology practitioner:
"Deep pressure or deep touch pressure therapy (DTP) is firm tactile sensory input that provides proprioceptive input to the whole body. This can consist of firm hugs, firm strokings, cuddling, hugging, squeezing, compression, or swaddling. When administered to the whole body, deep touch pressure therapy (DTP) has a calming, organizing effect on children and adults alike."
In layman's terms, Ford-Lanza goes on to explain that the muscle and joint input provided by weighted blankets like Calming Comfort (or another device, such as a vest) has been shown in several clinical studies to address physical and mental conditions like anxiety, high blood pressure, and even autism.
Weighted blankets and vests have recently expanded into use for conditions like PTSD and insomnia, although there seems to be limited clinical evidence supporting their efficacy in these instances.
Also, according to Philip Muskin, a psychiatrist and sleep specialist at Columbia University Medical Center, there seems to be little-to-no clinical support that weighted blankets can help increase serotonin or melatonin levels in the body.
Dr. Khalid Ismail, a sleep medicine researcher at Tufts Medical Center in Boston, adds that these blankets might have a role in improving sleep quality for only a very small subset of patients, so "it isn't clear who, exactly, the[se] blanket[s] would benefit."
This is because, he continues, "many cases of sleeplessness result from poor sleep hygiene, like being glued to a phone before bed; others result from underlying psychiatric disorders that require treatment."
How Much Does Calming Comfort Blanket Cost?
The Calming Comfort Blanket is available in the following weights:
10 lb.: $99.99, or 3 payments of $33.33
15 lb.: $129.99, or 3 payments of $43.33
20 lb.: $149.97, or 3 payments of $49.99
25 lb.: $169.98, or 3 payments of $56.66
Are There Other Weighted Blankets Like Calming Comfort?
While weighted blankets have been used for years in professional and medical settings, the Gravity Weighted Blanket was one of the first recent models to transition over to the consumer market, which initially founded success via a 2017 Kickstarter campaign.
Since then, however, dozens of companies and models have entered the marketplace, most of which include the same grid-stitch pattern, soft exteriors, and removable and washable interiors, with multiple weights available, just like Calming Comfort.
Here were some of the most popular options listed on sites like Google Shopping and Amazon:
| Product | Pricing | Weights | Notes |
| --- | --- | --- | --- |
| Calming Comfort | $99 - $169.98 | 10, 15, 25 lb | Gridded stitching to ensure the fill remains uniformly distributed |
| Gravity | $249 | 15, 20, 15 lb | Space Gray, Galaxy Blue, and Moon Ivory colors; Also offers a cooling blanket and weighted sleep mask, internal clasps to keep duvet in place |
| BlanQuil | $169 | 15, 20 lb | Grey, Taupe, and Charcoal colors, |
| My Calm Blanket | $170b - $190 | 10, 15, 20 lb | Ultra-plush minky outer cover |
| Quility | $80 - $170 | 5, 10, 15, 20, 25 lb | Available with cotton, flannel, or minky covers |
| ZonLi Sensory Blanket | $85 - $200 | 5, 7, 12, 15, 17, 20, 22, 25 lb | Available in 14 different colors |
| Amy Garden | $70 - $170 | 5, 10, 12, 15, 20 lb | Weighted inner layer only (duvet sold separately) |
| Weighting Comforts COOLMAX | $269 | 10, 15, 20 lb | Includes access to Donna Durham's Anxiety Relief Course |
How can you use this information to make the most empowered decision possible?
In light of the limited clinical evidence available showing that weighted blankets can provide real-world relief outside of anxiety, high blood pressure, and autism, it might mainly come down to which brand offers the price, design, and weight you want.
For example, while Gravity seemed to offer the most extensive variety of weighted products available, their blanket was also one of the most expensive in the table above. On the other hand, only My Calm Blanket and Qility were available with minky covers, while ZonLi was one of the most competitively priced and also offered the broadest range of color choices.
Our Final Thoughts About the Calming Comfort Blanket
According to Columbia University Medical Center psychiatrist and sleep specialist Philip Muskin, while many customers report positive results from relaxation, sleep, and anxiety perspectives, not everyone will enjoy or appreciate the feeling of a weighted blanket. And really, he says, it might largely come down to whether or not you enjoy being hugged.
Outside of this, we didn't encounter statements from medical professionals like these indicating that customers will necessarily achieve better or more pronounced results by paying a higher price for a weighted blanket. Just make sure that they're not used around children who might not be strong enough to push them off.
Seams coming apart and beads falling out

By Patricia E.

,

Maryland

,

Feb 2, 2019
Verified Reviewer

I received my blanket a couple of months ago. Works great, however, the seams are coming apart and losing beads every time I use it. I have contacted the company via email and on Facebook with no replies.

Disappointed in that. Especially for the price I paid.

Bottom Line: No, I would not recommend this to a friend

---

Choose another brand

By Rhonda M.

,

Michigan

,

Jan 25, 2019
Verified Reviewer

It does work, helps me sleep better for sure. I usually wake up once during the night but this blanket has helped me fall back asleep within minutes.

I purchased this blanket from Macy's with the Sharper Image name assuming it would be better quality than others. If you purchase this, go higher in weight because you will certainly lose pounds of beads from use. Every morning I find dozens of the beads in my bed and rolling around on my floor. I cannot figure out where they are coming from and cannot find any holes, but the stitching is very poor. I am going to purchase the cover (another expense), to help contain the beads.

I am now a fan of weighted blankets; I just wish I would have chosen another brand.

Bottom Line: No, I would not recommend this to a friend

---

Advertisement

---

Blanket started falling apart after 2 uses. Company won't honor 99-night money back guarantee if you bought it in a store.

By Molly H.

,

Massachusetts

,

Jan 17, 2019
Verified Reviewer

I received this blanket for Christmas and was super excited to use it. I used it for two days then the stitching that keeps the beads in place started coming undone. Now all the beads fall to the sides of the blanket, leaving it essentially useless. I contacted this company to see what my options are in regards to their "99-night money back guarantee." Because this blanket was purchased in a store, the company will not honor their policy. Don't waste your money on this cheaply made in China piece of crap.

Bottom Line: No, I would not recommend this to a friend

---

Horrible company

To everyone that decides to buy this blanket, think it out very carefully because once you order this blanket you're in for some horrible customer service experience. Mine went back the next day. They don't send me a return label, you're responsible for the shipping, which is very costly. In my case, I ordered my blanket from HSN still had to pay to return it - $30. The duvet cover was from the original company but I still had to pay $10 to send it back. I did not get refunded the amount I should've been refunded. I was charged for processing and handling, which I shouldn't have been, and they, by right, should've have just deducted $5.99 from the $20 they charge me. I am waiting to hear whether or not they're going to refund me that $14 back.

It's a horrible experience dealing with these customer service reps. When you call them they're very rude. They must get a class training class on how to be rude to customers.

Beware, buyers, do not buy this blanket from the company or HSN. If you insist on buying this heavy, heavy blanket (it's a horrible blanket), then go to a store because you won't have any trouble returning it. This was a very costly mistake, and I am a widow on a fixed income, and no matter how nice you are on the phone, they are very rude and very nasty. I don't even know if I'm going to get my full refund because the customer service rep has to submit it to his supervisor, so it's a waiting game. If I'm going to be refunded $54, which I should have been refunded that full amount to begin with because it was a mistake on their part, and then on top of everything you pay close to nine dollars to ship this little duvet cover back and to ship back the blanket, $30. A very costly mistake. And this company is horrible, no matter how many times you call or how nice you are, they are not friendly, they don't have customer service. As I said, I don't know what kind of training they get before they work for the company, but I guarantee you it's nothing. They could learn a lot from Wayfair and Chewy, they're amazing employees with amazing customer service.

This absolutely ruined my day and upset me tremendously, and I am 65 years old. And Comfort, you should be ashamed of yourself how you treat your customers. My warning to any buyer out there is buyer beware, do not purchase, go to a retail outlet and buy the blanket. They're very heavy blankets, so if you're a large person and you are a hot sleeper, it will not work for you. And it doesn't even completely cover the bed, it's like it's got bolts inside of it. As I said, if you're strong enough mentally not to let this bother you then great, but if you have to return and have to call customer service, they can ruin your whole day and upset you tremendously, as they did myself. I didn't even want to give it one star.

Bottom Line: No, I would not recommend this to a friend

---

Advertisement

---

Terribly disappointed

By Kerri H.

,

Ohio

,

Jan 3, 2019
Verified Reviewer

This was a Christmas gift from my husband. It's thin material that feels like it's going to fall apart. Beads coming out on day one. The quilting squares are so big and the beads all fall to the side. No weight stays on your body. Poor construction, weak seams and we have to hand wash and lay flat a 15lb blanket? This is a sad waste of money. I dread the refund process that is also getting poor reviews.

Bottom Line: No, I would not recommend this to a friend

---

Great blanket

By Ernie C.

,

Seekonk, MA

,

Dec 19, 2018
Verified Reviewer

I ordered a 20lb blanket for my wife on December 12th, it arrived on the 15th. Quick shipping. She has slept with it for a few nights and loves it. She's sleeping deeper and longer than she has in quite a long time. We are very happy with the product and just ordered the duvet cover to go with it.

I can't comment on the customer service side of the business, but with the general enlightenment demonstrated by people these days, I take negative comments with a grain of salt.

Bottom Line: Yes, I would recommend this to a friend

---

Horrible customer service

By Sara K.

,

Ohio

,

Dec 13, 2018
Verified Reviewer

I had ordered a blanket in November and I had called because I never received an order number through email. They told me the blanket was back ordered until the end of December, so I canceled my order. I asked about getting my down payment back and the representative tried telling me that no money was taken out. I got my bank Information and the money was taken out.

Then in December, they took more out, so I called to receive my money back. After a couple of days, I still haven't received it called again on Monday and got more run around. They told me if my money was not in my account by today to call and talk to a supervisor, so I did. When I called, the representative was very rude, trying to say I got my money back. After waiting on the phone to talk to the supervisor, she came back and said she could not get through to the supervisor and they would call me back. I have never experienced anything like this before and never complain about anything. I made a claim through my bank as it's over $106 I'm out.

Bottom Line: No, I would not recommend this to a friend

---

Not pleased

By Joanne B.

,

Voorhees, NJ

,

Dec 3, 2018
Verified Reviewer

I ordered the blanket. The blanket was back ordered. They charged the credit card although they back ordered the blanket. Upon receiving the blanket, I used it and found it to be very heavy and restrictive. It prevented me from sleeping. I called customer service to return it and was given instructions. I found out when I was notified of my refund that they did not return the cost of the shipping. So, it cost me to send it back to them and it cost me to have it shipped to me. I feel since it cost me to return it, they should have refunded the original shipping costs. Be aware. I did not think this was ethical. Don't order this product unless you are really sure that you will be pleased with it. Double shipping - no.

Bottom Line: No, I would not recommend this to a friend

---

Scam

By Katherine C.

,

Charlotte, NC

,

Nov 14, 2018
Verified Reviewer

I purchased the Calming Comfort Blanket, brought to us by The Sharper Image, based on a TV commercial (never doing that again thanks to The Sharper Image), on November 2nd, using their payment plan. The first payment was processed by my bank on November 5th. On November 12th, I checked the status of the package through FedEx and it said "shipping label created."

I called, spoke with Elias, and he said they were backlogged and had no idea when the blanket would ship. He also said the ENTIRE tracking system was down (FedEx's obviously wasn't). He offered me free shipping for my inconvenience, but when a blanket costs as much as the Calming Comfort Blanket, that is nothing. I requested they cancel my purchase. They refused because they said it was "in processing" (i.e., the shipping label was created). I also spoke to the supervisor who told me the same thing. They would not cancel it and refund my money, and they had no idea when it would come to me.

An absolute false advertising, possible scam going on. I will never, ever, purchase anything from The Sharper Image again, or something from an online company I have never used before. DISPUTE TRANSACTION THROUGH BANK - that is how you will get your money back.

Bottom Line: No, I would not recommend this to a friend

---

Terrible experience

By Avis W.

,

Maryland

,

Oct 16, 2018
Verified Reviewer

Terrible experience. They are really giving me the run around about returning this. Another customer has stated that they can't get their refund. Be very careful with this company.

I ordered this blanket in good faith. We had it about 4 or 5 days and my son said it was too heavy, he's a big guy and he couldn't pull it up. I emailed the company to exchange it for a lighter weight. When I went to pick up the blanket, all of the weight is now on one end of the blanket; the company told me to check if all the ties were tied, are they out of their minds?

I am so angry at them for the stupid two emails I got. If I don't get better satisfaction soon (I think they try to take you past your 30-day limit), I will be in touch with the Better Business Bureau. Good luck with your orders!

Bottom Line: No, I would not recommend this to a friend

---

Customer service non-responsive

By Penny G.

,

Florida

,

Oct 4, 2018
Verified Reviewer

I ordered the wrong blanket as I noticed that at check out it was for a person of a lighter body weight than myself. The blanket is of no use to me. I immediately sent an email to the company two minutes after ordering to cancel. I sent several emails to the company. Not only did they not respond, but they sent me an auto email that my shipment was on its way. I now will own a very expensive blanket that I absolutely cannot use. I feel that they're so money hungry that they don't acknowledge people answering a request to cancel. When I order the blanket, no place on the website did they give me a choice for weight or size. Please be very careful with this company. Their customer support stinks, and they really don't seem to care.

Bottom Line: No, I would not recommend this to a friend

---