Calming Comfort Knee Pillow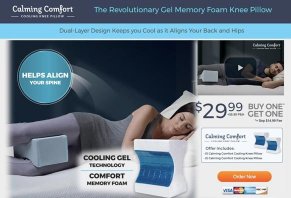 If leg, hip and back pain are keeping you awake at night, the Calming Comfort Cooling Knee Pillow claims it can relieve your pain by helping your body maintain good posture while you sleep.
Calming Comfort Knee Pillow Review
Calming Comfort Cooling Knee Pillow from Sharper Image is a pillow that fits between your legs and claims to improve your spine alignment by adjusting your legs and hips while you sleep.
The pillow uses cooling gel technology to ensure that your legs don't overheat while you sleep, letting the pillow do its alignment work without any discomfort.
The company who sells the pillow, Sharper Image, is well known for their innovative products that span a variety of genres including toys, electronics, and sleep accessories. The Calming Comfort pillow is one of several body-cooling products they sell, including a self-cooling body pad and a self-cooling pillow pad.
In this review, we're going to talk about how this pillow works, what science says about the effectiveness of pillows like this and how much the pillow costs. We'll also compare it to other foam leg pillows to give you a sense of where this product fits in with others like it.
How the Calming Comfort Cooling Knee Pillow Works
When you first look over the Calming Comfort website, two things are very apparent. Sharper Image wants you to know that the pillow's two main purposes are to align your hips and spine while at the same time keeping your legs cool.
In principle, this is a great duo of functions because anyone who has slept on a hot pillow or bed can tell you that it can ruin your sleep experience. Likewise, anyone that's slept with leg, hip or back pain can attest to how miserable sleeping can be.
According to testimonials on the pillows website, it actually works like Sharper Image says it should.
One woman says that ever since she started using the pillow "it's been amazing" and that her knees "aren't so tight anymore." She concludes by saying the pillow "has really been a tremendous help."
Later in the video, a chiropractic physician named Dr. Todd Rodman says that his office sees patients that often complain about pain during sleep and that this pillow helps his patients "open up their hips and properly align the spine," resulting in a sounder night's sleep.
To accomplish what sounds like effective results, the pillow combines a memory foam body infused with charcoal to soak up any moisture, along with a cooling gel chamber that wraps around your legs when you put the pillow between your knees.
The site doesn't give any specifics about the type of memory foam used in the pillow but what we do know is that memory foam is a popular material to use for mattresses, mattress toppers and pillows, so it's effectiveness is relatively well-established.
With all this being said, though, it's important to determine if science says there's any truth behind the claims that these types of pillows can help your alignment and, as the site's promo video claims, "improve bloodflow to reduce pain."
The Science Behind Spine Alignment and Sleep: Can Calming Comfort Actually Help?
According to the Calming Comfort website, side sleepers may deal with pain during sleep because sleeping on your side interferes with your body's natural alignment.
The University of Rochester (N.Y.) Medical Center's health encyclopedia says that "good posture is important while sleeping," pointing out that many of us get locked into believing that how we sit and stand are the two positions in which we need good posture.
The medical center notes that you need to start out with a good mattress.
"The mattress that's right for you lets you wake up feeling rested and free of pain or soreness," the site says.
So, if you're dealing with back, hip or leg pain, take a minute to think about how old your mattress is. The National Sleep Foundation points out that the average lifespan of a bed is eight years. If your bed is newer than eight years old and you're a side sleeper, the issue may be your posture.
The University of Rochester's medical center points out that pillows like the Calming Comfort can actually help your posture; they're not just a gimmick. In fact, they recommend using a leg pillow between your knees and pulling your knees up a bit.
"If you sleep on your side, a firm pillow between your knees will prevent your upper leg from pulling your spine out of alignment and reduce stress on your hips and lower back," they say. "Pull your knees up slightly toward your chest."
An article from fitness/lifestyle magazine Shape confirms this in an article about the best sleeping positions. Sleeping on your left side helps with circulation and is second only to sleeping on your back when it comes to which position is best.
They note that Jen Robart, a New Hampshire-based physical therapist, says that sleeping with a firm pillow between your legs supports "good alignment between the hips and joints."
Based on this evidence, we believe that there is truth behind the Calming Comfort pillow's claims that their product can help with alignment.
We weren't able to confirm, however, the claim that the pillow can help improve circulation. What we did discover in the Shape article is that sleeping on your left side is better for your circulation because there's less pressure on your heart when you sleep.
Calming Comfort Cooling Knee Pillow Cost & Return Policy
At the time of publishing one Calming Comfort pillow was $39.99 plus $5.99 for shipping and handling, and you could get a second one for an additional $19.99 fee. So, two pillows plus shipping would be $66.97.
If you're a resident of Kentucky, Oklahoma, South Carolina, South Dakota or Vermont, you may have to pay sales tax on your purchase.
The pillows come with a 30-day guarantee, which means you can send your pillow back anytime within the first 30 days you have it to get a full refund. Just remember, though, that you need to call the customer service line at 800-374-5063 to get a return authorization number you'll include on the box you ship your pillow in.
Also, remember that you are responsible to pay for the return shipping, so even if you get a full refund for your pillow, you could be out around $15 in shipping costs if your return shipment weighs more than a pound.
Because you stand to lose that much money making the return, it's best if you plan on keeping the pillow or, if you're unsure about the pillow or want to comparison shop, not buying it at all if there's a chance you might want to return it.
How the Calming Comfort Cooling Knee Pillow Compares to Other Knee Pillows
We wanted to know how this pillow compared to the pricing and popularity of similar pillows on Amazon. The top three leg pillows according to average user review are as follows:
ComfiLife Orthopedic Knee Pillow: $28.95, 4.5 stars from more than 4,461 reviews
Everlasting Comfort Knee Pillow: $26.99, 4.5 stars from more than 969 reviews
AVESTON Side Sleeper Knee Pillow: $21.30, 4.5 stars from more than 50 reviews
Each of these pillows was eligible for Amazon Prime, with both the ComfiLife and the Everlasting Comfort available with free one-day shipping. Also, they all use memory foam.
What really stands out to us here is that these pillows are cheaper than the Calming Comfort and they ship faster. If you're looking for a good bargain that you can have in your hands within a day, these pillows seem to fulfill the need pretty well based on the reviews they've received.
Based on the evidence we have in front of us, we believe that other pillows may offer better value.
Our Final Thoughts About the Calming Comfort Cooling Knee Pillow's Strengths and Weaknesses
We all want good sleep; that's a fact. Pillows like the Calming Comfort claim to help us reach that goal but, as a smart consumer, you shouldn't take their word for it.
Our research indicates that there's a good chance this pillow can live up to its claims of relieving pains because multiple reliable sources indicate that leg pillows can be effective in relieving pain that results from misaligned legs and hips during side sleeping.
As for the pillows claims about keeping you cool, we weren't able to find any hard evidence either way saying that the pillow will keep you from sweating or reduce your normal amount of sweat.
In the end, we believe a product like this needs to be effective and provide good value. When set in the context of the best-reviewed knee pillows on Amazon, the Calming Comfort falls short, in our opinion. Even when you add in the second pillow at the reduced price, they're still more expensive than two of any of the top-rated pillows on Amazon.
Greatly improves my sciatica pain

By Linda Ann K.

,

Kalispell, MT

,

Feb 3, 2020
Verified Reviewer

This produce greatly improves my sciatica pain and lower back pain. My doctor and chiropractor said to use a pillow but this is much better because when you shift positions at night the foam pillow shifts with you easily. I just bought another one for my daughter who is a nurse with a bad back.

Bottom Line: Yes, I would recommend this to a friend

---

Amazing!

By Beth K.

,

Nashville, TN

,

Apr 29, 2019
Verified Reviewer

I have been suffering with debilitating Sciatica pain for over 7 months. Doctors haven't helped, exercise didn't help, and purchasing this pillow was really my last hope. After the first night, my Sciatica was hardly noticeable, and after a week of use, I'm walking pain-free. I couldn't be more thrilled to WALK again! Best thing to enter my life in a long time!

Bottom Line: Yes, I would recommend this to a friend

---

Advertisement

---