Cami Shaper Reviews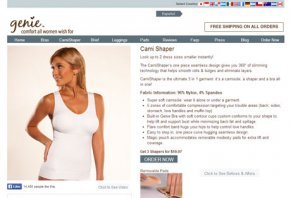 About Cami Shaper
Manufactured by Genie, the Cami Shaper is a seamless microfiber pullover that claims to make you look instantly slimmer—up to 10 pounds lighter and two clothing sizes smaller. Designed by Stella Riches, inventor of the Genie Bra, the Cami Shaper helps provide lift and support to conceal unsightly bulges, including those in the tummy and love handles areas.
As you may have seen on TV, Cami Shaper differentiates itself from similar products by claiming to reduce the amount of effort required to put it on. Most other shapers are pulled over your head, whereas the Cami Shaper is stepped into, and then pulled over your torso. In addition, the company claims it can be washed and dried as many times as you like, without sustaining any damage or reducing its slimming quality.
A product of Tristar Products, the Cami Shaper claims to represent the epitome of form-shaping technology, while also providing three uses from the same garment: A camisole, a shaper, and a bra all in one.
How the Cami Shaper Works
Constructed of 96% nylon and 4% spandex, the Cami Shaper claims to utilize five compression zones that provide 360 degrees of shaping and support to its wearer, which helps to conceal rolls, bulges, and layers. These five zones are:
Back – If you suffer from a lumpy or fat back, the Cami Shaper's racer-back control panel can help smooth and conceal.
Bust – The Cami Shaper features a built-in Genie Bra, which gently lifts, supports, reduces spillage, and eliminates layers. Should you need extra lift and coverage, the attached Magic Pouch features removable modesty pads.
Sides and Waist – Using vertical control panels that run the length of both sides, the Cami Shaper helps smooth problem areas in this region.
Stomach – This area of the Cami Shaper provides firmer compression, as it addresses all problem areas within the region, including mid, upper, lower, and core abdominals.
Muffin Top – Using a "flare comfort band," the Cami Shaper controls love handles by hugging your hips.
Cami Shaper Pricing and Return Policy
The Cami Shaper by Genie comes in sets of three, and is priced at $60 per trio. However, it's important to note that they can sometimes be found at Walmart or Amazon.com for less money, so it may be beneficial to shop around a bit.
The Cami Shaper website provides a sizing chart to help you determine which size is the most appropriate for you. Each trio includes three colors, which are as follows:
Classics – Black, white, and nude
South Beach – Ocean Front, Mint Mojito, and Crushed Red Pepper
Tropical Island – Frozen Margarita, Chick-ita Banana, and Fresh Squeezed Oranges
Hawaiian Coast – Hula Skirt, Paradise Cove, and Orchid Leis
In addition to free shipping, the Cami Shaper also comes with a 60-day money back guarantee, should you be dissatisfied for any reason. You'll simply need to contact their customer service department at (973) 287-5144 to initiate the return process.
Pros:
Claims to make you instantly look 10 pounds lighter and two sizes smaller.
Claims to provide instant slimming for your entire body.
Washer/dryer-friendly.
Free shipping, and 60-day money back guarantee.
Cons:
As with many "As Seen on TV" products, consumers have complained about a variety of flaws, including:
That the Cami Shaper does not work as advertised/does not provide adequate support, and
That it's uncomfortable.
Didn't like

I ordered 3 Camis. I opened one and was not happy about it. It wasn't what I expected. I returned all 3 (2 boxes were not opened). After about a month I had heard nothing so I contacted Genie and I had not returned them in the 60-day window, so I got $0.0 back and neither would they return the Camis. So they could sell them again, and they were paid for.

Bottom Line: No, I would not recommend this to a friend

---

2 out 2 people found this review helpful

Not what I expected

By Razmazna

,

North Carolina

,

Feb 23, 2017
Verified Reviewer

I received my order today and was quite shocked. I only ordered three legging jeans, however, I received six! The fabric is extremely warm, and the camis are so small. So far I have not had an issue returning them, and the customer service representative was very polite and provided me the info I needed for the return. Hopefully, I will not have an issue with the return of the cost of the merchandise.

Bottom Line: No, I would not recommend this to a friend

---

Advertisement

---

7 out 7 people found this review helpful

What a scam!

By Lola B.

,

Coppell, TX

,

Feb 19, 2017
Verified Reviewer

I am constantly buying "cami shapers" and in different brand names. This one was a BIG disappointment.

I bought the beige one first, and as I ALWAYS do, machine washed on gentle, cold water and laid it to air dry. After the first washing, the bottom part went all "loose" on me. And not your regular loose, but like a worn-out girdle.

I had already ordered the black colored one, so I thought MAYBE it was just a "fluke" on Cami Shaper's part. But it was no fluke, just cheap and crappy material.

The Flexies brand is WAY better, thinner, and keeps you in. This SCAM is just low down and dirty. NEVER AGAIN.

Bottom Line: No, I would not recommend this to a friend

---

6 out 6 people found this review helpful

Disappointed

By Evelyn Kean

,

Pittsburgh, PA

,

Jun 5, 2016
Verified Reviewer

This product is a bit weird. It is very difficult to put on, the pads that came with mine have a wrinkle right on the tip, that I can't smooth, making your bra look all crinkly and lumpy. The pads also don't stay put, sliding around off center, riding up, etc. It's hard to find the right position to wear it on your body. If you pull it down far enough to look smooth, it flattens your breasts. Any higher and it shows outside your clothing. PLUS the black one is a lot tighter than the white and nude, yet they are the same size. In general, this was a big disappointment. I will be returning them.

Bottom Line: No, I would not recommend this to a friend

---

Advertisement

---

8 out 8 people found this review helpful

Disappointed

By Amy

,

Minneapolis, MN

,

Nov 16, 2015
Verified Reviewer

I was happy to receive the 6 Cami Shaper tops I ordered this summer! I wore them under all my button down tops this summer, and it made summer life so easy. I didn't have to mess with a bra. I just put on my Cami Shaper on! However, after wear and washing, the shirts started to ride up terribly! I can't wear them anymore. I washed them in cold, and hang-dried them. They still shrunk up. Now, they all roll up above my pant waist line, and then my muffin top, ok, big belly is bulging out from underneath the elastic and my waistband. Also, now that I washed them, the top has lost all shape in the breast area.

Now, the top is no better than a Lycra tank top, it "smooches" my chest down and it looks like 2 half squashed melons, and that's NOT attractive. My boyfriend has even asked me to stop wearing them! I loved these when I first got them, I was able to fit into shirts that had a bit too much button gap, but now they've just lost their shape.

Bottom Line: No, I would not recommend this to a friend

---

5 out 5 people found this review helpful

Cami Shaper Review

By Angie

,

Florida

,

Oct 22, 2015

I would not recommend this product. Not only is the product falsified as to performance, but the misguided purchase agreements are not as presented. I was charged $39.98 one month and the next month, I was charged $19.99 for shipping. I sent the merchandise back following return shipment directions in order to get the return shipping cost back. I was reimbursed the $39.98, but not the $19.99 nor was I reimbursed for the shipping cost of $11.52. Please let this be a lesson for us not to order form Television promotions. I have found them to be of lesser quality than presented. BBB report sent in as well.

Bottom Line: No, I would not recommend this to a friend

---

5 out 5 people found this review helpful

Damaged

The bag was damaged and the products were not sealed right. They were crushed. Didn't even try them on. Wouldn't try on anything if the package wasn't sealed. Wouldn't recommend this product to a friend or enemy. Had to pay for shipping and handling AGAIN to return this damaged product.

Bottom Line: No, I would not recommend this to a friend

---

5 out 5 people found this review helpful

Regarding the Cami Shaper

By Dollie Hyatt

,

Daly City, California

,

Aug 29, 2015

I received my Cami Shaper and it is not all that. Yes, it holds your sides down but, it makes my breasts look like two big basketball balls and it doesn't flatten my stomach at all. When I pull it down to put my pants, it rolls up. I am 205 lbs. and the girls that model it are not fully figured, they are already slim. I felt as if I had too much clothes on. This product sucks. I want my money back. I recommend this for Barbie Doll chicks or someone that's born thin because this product is a waste of money and time. The lady that I saw on the commercial that was pitching this Cami Shaper needs to stop ripping people off for their money. I will never order anything from this company again. Beware. Don't waste your money. Attention genie. Give me my money back now. I'm sincerely disappointed and disgusted.

Bottom Line: No, I would not recommend this to a friend

---

2 out 2 people found this review helpful

Disgusted

By Anonymous

,

Aug 19, 2015

The bottom of the Cami Shaper rolls up. It doesn't stay put. False claims. Don't waste your money.

Bottom Line: No, I would not recommend this to a friend

---

4 out 4 people found this review helpful

Not the support I expected

By Victoria Haywood

,

Memphis, TN

,

Jul 20, 2015

Well I ordered the Cami Shaper about a week ago. I received it Thursday. The support is not what was shown on TV. I don't have big breasts but I need support. Also, if you perspire under the breast, the Cami shaper is not good for you. I'm so disappointed in the product that I will be returning all of them. I thought I was finally giving up my bra and a shaper for a Cami Shaper. This was a waste of time.

Bottom Line: No, I would not recommend this to a friend

---

11 out 11 people found this review helpful

Found a better shaper

By Alicia

,

Bellingham, WA

,

Jul 8, 2015

I ordered a Cami Shaper to suck in my bulging muffin top, and I must say it did help. Problem is my figure isn't a regular size and though it fits in the waist, it was too short for my long torso and rolled up. I've looked all over the internet for a good shaper, and the one I like best is skinnycami.biz because they made it custom to my body type. Something like this has to fit perfect or else it's useless.

Bottom Line: No, I would not recommend this to a friend

---