Campbell Posture Cane Reviews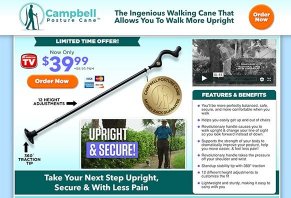 Sold by Plymouth Direct, the Campbell Posture Cane features a uniquely shaped handle and a longer design to help you stand up from a seated position, while keeping your back aligned and eyes forward.
About Campbell Posture Cane
The Campbell Posture Cane claims to combine a revolutionary ABS plastic handle that takes pressure off your shoulder and wrist, with a standup stability tip that delivers 360 degrees of traction, as well as 12 different height adjustments for a custom fit between 37" and 46".
Together, they advertise it can support the strength of your body, thereby helping you walk upright with less pain, improving your posture, and changing your line of sight from down to forward.
You'll also be able to easily get up from chairs and remain more balanced, safe, secure, and comfortable when you walk, they say, giving you the ability to navigate hills, sidewalks, stairs, and uneven terrain. And with its lightweight, sturdy aluminum construction, they advertise it's easy to carry with you.
If you're experiencing regular lower body pain or mobility issues that aren't addressed by traditional models, the commercial makes it seem like Campbell Posture Cane's height and unique handle design could deliver results. But, is it worth the time and effort to give it a try, or are there other avenues you should explore first?
As with most of our articles, we'll start building a foundation of knowledge by covering the basics.
How Do Devices Like the Campbell Posture Cane Work?
In the commercial, Robert Stinson, Doctor of Chiropractic, indicates that Campbell Posture Cane uses "biomechanical engineering to support the strength of your body and dramatically improve your posture, help you move easier, and feel less pain."
In layman's terms, this simply references a combination of mechanical engineering principals and biological knowledge used to help improve peoples' lives.
Specifically related to canes, they're 'biomechanically engineered' to assist individuals with gait instability, since they're designed to withstand an individual's entire weight and remain comfortable.
To accomplish these tasks, Brett Sears, PT tells us that the bend of a properly fit cane (where your hand rests), should sit at the upper part of the thigh muscle where it meets the lower portion of the hip bone. Ideally, the arm holding the cane (the one on the opposite side of your injury) should be bent at about a 20-degree angle.
On the other hand, taller devices like the Campbell Posture Cane are more closely aligned with walking sticks, which are also commonly referred to as walking poles, trekking poles, or walking staffs. Compared to traditional canes, writing for the Just Walkers blog, Chelsea Surber explains that they're:
" … mainly items of fashion. They are often not designed to take any weight at all. Be careful when using a walking stick, and be aware that they truly are accessories rather than walking canes."
Because of their weight-bearing differences, Sara M. Bradley, MD, FACP, and Cameron R. Hernandez, MD, further explain in an article on the American Academy of Family Physicians website that, "Walking sticks are probably more beneficial for higher-functioning patients who are interested in the exercise benefit of walking." We'll expand on some of these ideas shortly.
How Much Does the Campbell Posture Cane Cost & Where Can You Buy?
The Campbell Posture Cane is priced at $39.99, plus $8.95 S&H. During checkout, customers can opt for the Deluxe version for an additional $12.95 per cane, which includes a rubber rocker tip allowing for a more rapid walk.
The cane is also available on:
Amazon for $29.88
Walmart for $29.88
AmeriMark for $29.99
Walgreens for $39.99
All orders placed directly from Plymouth Direct come with a 30-day money back guarantee, less S&H. You can request one by calling 800-340-3418 or sending an email to customerservice@plymouthdirect.com.
Third-party refund details may differ.
A Quick Note About Arbitration
All orders placed on the Plymouth Direct website are bound by an arbitration clause. In essence, this means that if you have a grievance with the company, you'll have to solve it through binding third-party arbitration, versus the traditional court system (such as a trial by jury or class action lawsuit).
What Are Customers Saying in Their Reviews About Campbell Posture Cane?
We encountered two customer reviews for the Campbell Posture Cane on WiseAndWell.com, both of whom gave it a five-star rating.
Each cited improved balance, reduced pain, and better alignment and posture, with no complaints.
Minimizing Pain: How to Choose Between the Campbell Posture Cane, Traditional Canes, & Trekking Poles
The bottom line is that if you're experiencing instability issues and need to improve your mobility safely, traditional canes really do work. As but one example, according to a 2014 study published in the journal The Gerontologist, of the 262 participants over the age of 60 involved, 75% who fell weren't using their canes at the time.
However, the type of pain (hand or posture-related) frequently referenced on the Campbell Posture website wasn't cited as a reason they weren't using their canes. Instead, they often cited "believing it was not needed, forgetfulness, the device made them feel old, and inaccessibility."
But, if you are part of the sizeable population who experiences arthritis or another type of chronic pain in your upper extremities, using a cane can, indeed, be a less-than-stellar experience. The good news is that there are a few steps you can take to which option will deliver maximum value, while simultaneously helping you minimize pain, posture, and line-of-sight concerns.
Step 1: Selecting the Right Device for the Job
Functionally, Dr. Chris Ho, a Hong Kong-based chiropractor and physiotherapist, explains that traditional canes and walking/trekking poles and staffs like Campbell Posture Cane serve the same foundational purpose: to provide users with extra support. The difference, though, is in the level of support they offered.
When it comes to walking poles, Dr. Ho tells us that "the fulcrum created by the stick allows the upper body, especially the arms, to share the pressure on the lower body while walking, which keeps the body in balance." This makes them "ideal for hikers and people whose legs differ in power," he recommends.
On the other hand, he emphasizes that "walking canes target a different group of people." Specifically, for "senior citizens who have poor balance, poor eyesight, and chronic diseases."
Step 2: Properly Adjusting Height
If you're among the latter, the most critical aspect of minimizing pain when using a traditional cane is ensuring that it fits properly. As we mentioned earlier, this means the handle should come to the lower part of your hip bone; arm bent at about 20 degrees.
Most modern aluminum canes are height adjustable, so you should be able to accomplish this on your own. But, Laura Inverarity, DO, emphasizes that if you encounter any confusion during the process, make sure you reach out to a local physical therapist for assistance.
Also, "be sure you speak with your doctor or physical therapist before changing or altering your walking cane or other assistive device, just to be sure you are using the right device for your condition," she says.
Step 3: Finding the Right Grip Size & Material
Since the grip—which isn't size adjustable in most models, Campbell Posture Cane included—is the only part of your body that makes direct contact with the cane, selecting the right one based on your needs and preferences is almost equally as important as height when it comes to minimizing pain.
The Mayo Clinic recommends foam grips that conform to the shape of your hand. "If you have trouble grasping with your fingers — because of arthritis or other joint pains — you might prefer a larger grip," they recommend. Here, again, is where a physical therapist's professional feedback can help you maximize value.
Where does all of this leave you when it comes to the Campbell Posture Cane?
Coming to a Decision About the Campbell Posture Cane
Based on what we learned earlier from physical therapists, doctors, and professional organizations like the American Academy of Family Physicians, walking staffs and poles like Campbell Posture Cane will likely provide the most value for those who require mild support and balance assistance when walking.
If this matches your physician's diagnosis, and you typically experience pain in your upper extremities when using traditional canes, it seems like their taller designs and unique handles might be a good fit.
Just keep in mind that it might take some trial and error before finding an option that meets your unique combination of needs and preferences since there are many different models available. These include popular search results like HurryCane Freedom ($39.95), SteadyCane ($50), and Trusty Cane ($19.99).
On the other hand, if you have gait instability, poor balance, poor eyesight, or certain chronic diseases, professionals don't typically recommend walking poles as a viable option, whether they feature a Campbell Handle or not.
Together, it appears the manufacturer's claims that the Campbell Posture Cane will help you remain more balanced, safe, secure, and comfortable when you walk, is primarily dependent on your unique circumstances.
Pro tip: Outside of its handle and height, if you're looking to add similar self-standing functionality to your existing cane, keep in mind there are dozens of aftermarket tips and bases available online, often for less than $15.
If your doctor gives you the green light, it's positive that Plymouth Direct stands behind Campbell Posture Cane with a 30-day satisfaction guarantee. This way, if you decide to give it a try during your trial-and-error process, you won't lose more than initial and return shipping.
Just keep in mind that this could cumulatively exceed $15 (depending on your proximity to the East Coast), so it's not an entirely risk-free transaction.
It took a little getting used to but now I love it

By Gary F.

,

Fort Mohave, AZ

,

Nov 20, 2019
Verified Reviewer

I sometimes forget it is standing there and I knock it over. It is sturdy and it can take the punishment. I would like you to keep it heavier for I feel I could use it for my protection if I had to.

Bottom Line: Yes, I would recommend this to a friend

---

Upright posture not safe

By Cookie K.

,

Kent, WA

,

Sep 2, 2019
Verified Reviewer

I was instructed by my physical therapist to adjust my cane so I could stand as straight as I can. I was also instructed to look down as well as ahead. I tried my friend's Campbell Cane and it wasn't easily possible to look down, only forward. This made me feel very unsafe because I could not see any small obstacles in my path like small rocks or pebbles or anything on the ground. It felt very dangerous to me. My friend only uses hers indoors so she likes it.

I would not recommend it for outdoor use as I feel it's not safe.

Bottom Line: No, I would not recommend this to a friend

---

Advertisement

---

Cane very stable and comfortable

By John M.

,

Stillwater, MN

,

Aug 5, 2019
Verified Reviewer

Campbell Cane is very comfortable and stable. It also stands up on its own. Excellent cane, very helpful for those of us who have balance problems. I really enjoy the handle which makes it easy to get up and walk.

Bottom Line: Yes, I would recommend this to a friend

---

Campbell Cane

By Terry N.

,

Texas

,

Jul 29, 2019
Verified Reviewer

The cane (walking stick) has a learning curve to become used to standing upright, which I haven't done for years.

This actually feels good, not sure how much it helps my knees while walking,

Biggest complaint is the bottom cushion, which has trouble under most conditions to stand on its own.

Does anyone know how to remove the foot cushion? And where to find a replacement that will fit?

Bottom Line: Yes, I would recommend this to a friend

---

Advertisement

---

False advertising

By Steven W.

,

South Daytona, FL

,

Jul 17, 2019
Verified Reviewer

I received the Campbell Posture Cane as a birthday present. I was looking forward to it to get me away from a walker. The Cane itself is good, HOWEVER, they say it stands ON ITS OWN...it does NOT! Not carpet or grass, and you have to ADJUST IT FOR FLAT GROUND. Now I have to go out and get a base so it will stand. For what this cost, I shouldn't have to do this!

Bottom Line: No, I would not recommend this to a friend

---

Over priced and unsteady

By Rick J.

,

Grand Island, NE

,

Apr 9, 2019
Verified Reviewer

Took approximately six weeks to arrive as they didn't have enough product to meet orders. One week later I called about the handle becoming loose repeatedly. Was told I could send it back for replacement but no offer for return postage or re-ship charges. Also, the tip is too large. I'm constantly stepping on it and losing my balance. Not worth the $48 charge including shipping. Don't waste your time or money!

Bottom Line: No, I would not recommend this to a friend

---

Chintzy

By Marsha H.

,

Simi Valley, CA

,

Mar 17, 2019
Verified Reviewer

By the time you pay S&H, the $39.99 cane is closer to $50. It took forever to get here and I had to call twice to track my order. The Customer Service at Campbell Cane was about the worst I have ever experienced. After a month, they still wouldn't say if my order had shipped or not, only that it had been "released." What does that mean? Their CS person, Jordon Johnson, sounded like he was on drugs. A few days later, my credit card was charged, along with two bogus charges that turned out to be fraud. Co-incidence? I think not. My father likes the cane, so I am giving it two stars for him. However, it is NOT sturdy. A good wind will knock it over when it's standing. All in all, very disappointed with this company, their product, and their customer service.

Bottom Line: No, I would not recommend this to a friend

---

10 hole adjustment

By Beverly G.

,

Orlando, FL

,

Mar 11, 2019
Verified Reviewer

I just received my cane from Collections Etc. It was very easy to put together. Just screw the handle into the cane. Adjusting the height was easy too. My cane has only 10 holes for adjustment which is fine for me. I am 5'3" tall. I thought there was only one version of the cane. Actually there are two. The original has 1 2 holes for height adjustment and there is also one with only 10 holes. At 5'3" I have it adjusted to the highest position. If you are much taller, you will need the cane with 1 2 holes. Just be aware of the difference.

Bottom Line: Yes, I would recommend this to a friend

---

Twist your wrist off

By Ron B.

,

Ohio

,

Mar 10, 2019
Verified Reviewer

Look's like a good idea right? If you have trashed knees like me, the whole reason for a cane is so you can keep from putting weight on your knees. Bone on bone for me. This cane is a joke.

Bottom Line: No, I would not recommend this to a friend

---

Non receipt of product

By Paula H.

,

Sparks, NV

,

Mar 7, 2019
Verified Reviewer

I ordered the Campbell Cane it seems months ago but never received it. I saw the withdrawal from my card on banking account. Unable to contact anyone at their company to speak to customer service. I don't have an order number, just the information from my account.

Bottom Line: No, I would not recommend this to a friend

---

Unhappy, not relieved by product.

I purchased this cane on January 27th and still have not received it. I have emailed them twice and no reply. Very unhappy and feel that I was taken for my money. I am a disabled veteran.

Bottom Line: No, I would not recommend this to a friend

---