Candy Club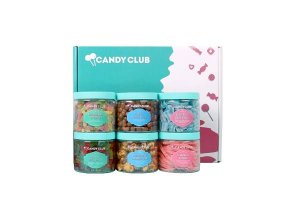 Candy Club is a monthly subscription service for sourcing gourmet candy, and the company claims that you'll receive high-quality treats based on your taste preferences.
Candy Club Review: Important Things to Consider
Candy Club is a candy subscription service that promises to provide you with a high-quality assortment of six candy varieties every month.
According to the company website, the brand partners with both small artisans and renowned candy producers to provide you with a curated collection of hard-to-find candies that fit your preference for either sweet or sour candy.
Candy Club states that their team reviews emerging candies on the market and are continuously taste testing treats to determine which ones meet their standards.
Does the brand live up to its lofty promises? Let's look closer at the details to find out.
How Does a Candy Club Subscription Work?
At the time of writing, Candy Club offered four different subscriptions that vary based on size and taste profile. You can choose between a "Fun Pack" of six 7-ounce cups or a "Party Pack" of six 13-ounce cups, and then select whether you want it to primarily include sweet or sour flavors.
When we wrote this article, the Candy Club offered a $20-off promotion for your first month's box for both sizes. You can sign up for the Fun Pack for $9.99 ($29.99 regular price) or the Party Pack for $29.99 (regular price $49.99). All orders also include an $8.99 shipping fee.
Making a purchase automatically enrolls you in the brand's subscription program. It's possible to choose whether you want to commit monthly or to sign up for a six-month or 12-month membership where you will be billed the total amount up front.
Each subscription plan will automatically renew unless you cancel it beforehand. When we spoke to a Candy Club representative, we learned that you can cancel your subscription whenever you'd like, so long as you do so at least two days before your order's shipping date. They also told us that any months that you prepaid for would be refunded.
You can also send a Candy Club box as a one-time gift or a three-month or six-month subscription. Unlike regular subscriptions, gift subscriptions won't automatically renew once they expire.
At the time of writing, Candy Club was only available across the United States, and all orders shipped out within 1-3 business days of ordering.
What Will You Receive in a Candy Club Subscription?
Candy Club offers two varieties of subscriptions for subscribers; one branded as sweet, the other as sour.
Both choices provide customers with an assortment of sweets that range from gummy candy, chocolate, saltwater taffy, caramel corn, hard candy, pretzel balls, sour belts, nostalgic treats and more.
Not all candies within each box are exclusively sweet or sour, and all subscribers receive the same treats each month.
Candy Club Return and Cancelation Policy
According to the Candy Club FAQs, the company won't accept returns on their candy, and they don't provide refunds for products that have already shipped.
You can get in touch with a company representative through the website's contact page or by emailing them directly at customerservice@candyclub.com.
Candy Club's Charity Donations
The Candy Club website states that they give 2% of their proceeds to the Birthday Party Project, a volunteer organization that hosts monthly birthday parties for kids in homeless and transitional living facilities.
They report that their support has contributed to over 6,000 celebrated birthday parties that were attended by almost 40,000 kids in 13 cities.
What Do Previous Customers Think of Candy Club?
To learn what previous customers thought of Candy Club, we looked at reviews left on Amazon, Trustpilot, Influenster, and My Subscription Addiction.
Overall, the complaint that came up most frequently about the subscription company was that customers wanted more control over the candy they received.
We noticed numerous comments from members that felt like their "sour" boxes didn't have enough sour candies (some only included one or two sour options out of the six) and that they often received candies with polarizing flavors, like peppermint saltwater taffy.
Others thought that the candy was too expensive for the quantity they received and that some of the selections didn't seem different from what was available in the grocery store. A few commenters also complained that their candy seemed stale or melted, likely from the shipping time.
On the positive end, we noticed dozens of reviews praising the variety of candy in each box and stating that customers loved the monthly surprise factor of receiving hard-to-find candy. While some subscribers thought the candy was too hit or miss for their taste preferences, a large number were happy enough to renew their annual subscriptions.
What Companies Are Similar to Candy Club?
What's the best subscription company for getting your monthly sugar fix? We compared some crucial details of Candy Club with MunchPak, InstaCandy and Sunshine Candy Box to help you make the right selection for your taste buds.
| | Candy Club | MunchPak | InstaCandy | Sunshine Candy Box |
| --- | --- | --- | --- | --- |
| Price Per Box | $29.99 for 42 ounces, $49.99 for 78 ounces | $23.95 | $24.99 | $29.95 |
| Amount in Box | Six candy containers (7oz or 13oz). | Ten plus snacks that each weigh at least 0.2 ounces | Various full-size unique products | Four types of candy for three total pounds |
| Average Price Per Snack Serving | $5 - $8.30 per candy variety (plus shipping). | $2.40 per snack | $2.50 - $500 | $7.50 per variety (.75 pounds). |
| Types of Snacks | Sweet and sour candies, chocolate, pretzels, and gummies, from artisan candy makers | Gourmet sweet, salty, sour, and savory snacks from around the world. | Full and sample size branded snacks branded snacks | Gummy, sour, and nostalgic snacks in each box |
| Option to Cancel Each Month? | Yes | Yes | Yes, but only with the month-to-month subscription | Yes, but not with three-month or six-month subscriptions |
| Shipping Costs | $8.99 | Free in the U.S. | Free | Free |
Looking at these candy companies, it's clear that Candy Club is on the pricier end. The subscription costs the same as Sunshine Candy Box (the subscription that provides the most similar varieties of candy) but you will receive just over 2.5 pounds of candy with Candy Club compared to 3 pounds with Sunshine Candy Box- and that's not factoring in the $8.99 for shipping.
Saying this, we think that Candy Club tends to offer a broader range of candies on average each month, as Sunshine Candy Box seemingly provides more staple candy products like jelly beans and gummy bears.
MunchPak and InstaCandy differ from the other companies because they both offer branded snacks, rather than unlabeled packages of gummies or chocolates. InstaCandy offers treats that can be found throughout the United States, while MunchPak has an international focus for their subscription boxes.
Which brand is the best? That depends on what interests you most. Those who want a gourmet candy experience and value artful presentation within their box might prefer Candy Club. If you're more interested in getting the best value, Sunshine Candy Box offers the most candy of any brand we looked at, though they also seem to have the least variety and originality.
If, in that vein, you most want to receive snacks that are difficult to find outside a subscription box, you might be most happy with MunchPak. However, this brand also provides non-candy snacks like chips and cookies, and if you only want to receive candy, you'll need to specify that and pay extra for the privilege.
Our View: Is Candy Club Worth It?
As this article shows, Candy Club has branded itself as a gourmet subscription candy company that will provide you with a selection of six quality varieties each month.
However, the biggest complaints we noticed about the company was that customers didn't think their categories (sweet or sour) accurately reflected the candy varieties they received and that the candy wasn't as high quality or exclusive as the brand promised.
Unlike other subscription companies, the cost for each order from Candy Club won't change if you sign up month to month or prepay for a subscription for six or twelve months. Even more notably, the company representative we talked to told us that the brand would reimburse you the cost of unused months if you choose to cancel before it expires.
In our view, Candy Club seems like it has what it takes to satisfy any gourmet candy lover, especially when given as a gift. If you're looking for a better value or want to guarantee that you'll receive treats that are difficult to find elsewhere, another subscription snack brand might be a better choice.
The Candy Club - avoid at all costs!

By Bonny P.

,

Mississippi

,

Jul 1, 2019
Verified Reviewer

Overall Experience:

LET THE BUYER BEWARE! I got my first box today. It was advertised as 6-13 oz jars of candy. Imagine my surprise to find six jars, not a single one with 13 oz of candy in them. I got three 12 oz jars, one 11 oz jar, and two 9 oz jars. When I called the club, they said the candy is packed by weight and the 13 oz refers to the volume of the cup. What? It's amazing that you get less than the stated weight of the cup and not more, ever. Coincidence? I think not. It's pretty slick to advertise six 13 oz jars, which are never going to actually be 13 oz. When I order 13 oz of candy, I expect to get 13 oz. Needless to say, this is not a company I'll do business with again.

Bottom Line: No, I would not recommend this to a friend

---

Advertisement

---