CannaNumb Reviews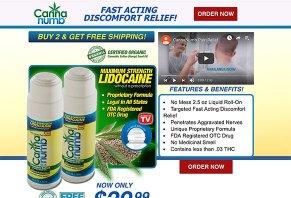 For those looking for a non-messy, roll-on pain reliever, Cannanumb claims to have the solution via an ingredients list that includes lidocaine, menthol and cannabis sativa hemp seed oil.
What Is CannaNumb?
CannaNumb is an organic roll-on topical pain reliever that claims to use lidocaine and cannabis sativa seed to quell minor aches and pains.
The product seems to be a useful one because it comes in an easy-to-use roll-on tube, which means you can apply it mess-free.
At the heart of this product is its multiple claims it can relieve pain through lidocaine and the cannabis sativa it incorporates into its formula.
"When these POWERFUL specific ingredients synergistically work together, CannaNumb™ RAPIDLY targets muscle aches and discomfort, allowing for a much deeper penetration to aggravated nerves," the website states.
CannaNumb's seller is Prime Direct Brands, a company who provides a variety of As Seen on TV products, including Chop Champ and K9 Copper Collar.
In our review, we'll analyze how likely it is that this product can work as good as it says it does by researching how it works, what its ingredients are, what science says about those ingredients and any known side effects of those ingredients.
We'll also include a quick comparison of this product to other ones like it. We'll close our review with a quick overview of CannaNumb's strengths and weaknesses.
How CannaNumb Works
According to the CannaNumb website, you'll apply Cannanum to any spots where you're feeling pain. Within minutes, the odorless treatment will start to relieve your pain. The roll-on stick can work for back discomfort, leg discomfort and neck discomfort, the site says. A promotional video of the product shows people applying the medicine to their forearms, too.
CannaNumb's Ingredients: Evidence for Effectiveness
This pain-reliever's purported effectiveness stems from a combination of six different ingredients:
Lidocaine
Cannabis sativa hemp seed oil
Menthol
Arnica
Glucosamine
Boswellia serrata extract
Each one of these ingredients has various characteristics that may or may not be applicable to pain relief.
Lidocaine
According to WebMD, topical (on the skin) lidocaine is most often used to cause "temporary numbness/loss of feeling" in your skin.
Basically, it's a local anesthetic, WebMD says. This is important to point out because it indicates lidocaine isn't a way to cure pain but to numb it (hence, the name CannaNumb).
Cannabis Sativa Hemp Seed Oil
Cannabis sativa is a type of marijuana often mentioned along with cannabis indica when it comes to CBD oils and cannabis-based pain relief. Cannabis indica contains THC, the chemical in marijuana that makes you high.
However, when used in the low doses you find in CannaNumb (0.03% concentration) you won't get high and, according to the product's promotional video, it won't cause you to fail a drug test.
As to cannabis sativa's ability to numb pain, the research we did on sites like MedicalNewsToday and WebMD seems to indicate there's a lack of evidence for the topical effectiveness of sativa.
MedicalNewsToday quoted a survey of people who took various cannabis treatments to relieve pain. Respondents said they preferred cannabis indica to relieve pain and cannabis sativa to enhance their mood and boost energy.
These results are far from conclusive simply because the study asked people which type of cannabis they preferred for which ailments rather than doing an in-depth study of how well cannabis sativa can relieve pain.
To get further clarification about cannabis sativa's effectiveness in a product like this, we reached out to Trista Okel, founder and CEO of Empower BodyCare. She is a 10-year vet of the cannabis industry.
"Cannabis Sativa Oil' is hemp seed oil and hemp seed oil doesn't have those (pain-relieving) kinds of therapeutic qualities," she said.
With this in mind, we don't believe there is sufficient evidence for or against CannaNumb's claims that its cannabis sativa can help relieve pain.
Menthol
This ingredient is often used in pain relievers because it imparts a sensation in which your skin feels cool and hot. These alternating sensations, "distract you from feeling the aches/pains deeper in your muscles, joints and tendons," WebMD notes.
Arnica
This ingredient comes from the arnica plant. ConsumerLab's research indicates that arnica is marginally effective in relieving pain and swelling.
The key to this ingredient's pain-relieving qualities is which form is present in the treatment. Herbal arnica is far more powerful than homeopathic arnica. CannaNumb's website doesn't indicate which type it uses.
Either way, ConsumerLab says, "there is not enough information to conclude that topical arnica is effective for any particular use."
Glucosamine and Boswellia Serrata Extract
Supplement companies often use these two ingredients together in capsules marketed for joint health. While we've come across multiple supplements claiming to use these ingredients to improve bone health, WebMD indicates glucosamine and Boswellia have a negligible effect on pain when taken orally, let alone topically.
CannaNumb Side Effects
Based on the research we did on WebMD and ConsumerLab, the main risk in applying this product to your skin is that you could have a reaction if you have a shellfish allergy. Glucosamine is derived from shellfish.
Pricing and Return Policy
Cannanumb is available for $19.95 both on the company website or Amazon.
If purchased directly from the company website, CannaNumb can be returned for a full refund within 15 days of the receive date.
How CannaNumb Compares to other Pain Relief Sticks
CannaNumb is one of many roll-on sticks that claim to relieve pain. We headed to Walmart.com to check out their lidocaine-based pain-relief sticks.
One of the highest-rated lidocaine sticks was Aspercreme. This product came in a 2.5 fluid-ounce roll-on stick. Like CannaNumb, it uses lidocaine to relieve pain. However, the product was far more affordable than CannaNumb. One tube of Aspercreme cost $6.98 as opposed to the $29.98 plus $7.99 to buy and ship CannaNumb.
Another similar product is Salonpas Lidocaine Plus. The product is a 3-ounce bottle with a roll-on applicator like CannaNumb and Aspercreme. One bottle costs $9.98, making it at least $20 more affordable than CannaNumb. What makes Salonpas' lidocaine roll-on different than CannaNumb is that it combines lidocaine with benzyl alcohol instead of menthol.
Benzyl alcohol and menthol have the same effect of cooling the skin to distract you from the pain.
In general, we believe there's no exact way to pin down which of these products will work better because that conclusion is based on the type of pain you feel and how your body responds to each treatment.
If there is one distinction between CannaNumb and the painkillers we saw at Walmart.com, it's the concentration and type of lidocaine. Both Aspercreme and Salonpas contain 4% lidocaine HCl, whereas Cannanum gives no information about the concentration and type of lidocaine.
The Bottom Line – Is CannaNumb Right For You?
Based on our research, we believe that CannaNumb has some clear benefits and drawbacks. On the plus side, the product contains lidocaine, a proven ingredient in many topical painkillers and skin soothers. Also, the product is organic.
The drawbacks, however, outweigh the benefits, in our opinion. First, the product seems to market the cannabis sativa it includes. "Canna" is in the product's name and its packaging features an image of a marijuana leaf. However, our research indicates that the pain-killing effects of cannabis sativa are negligible.
Second, CannaNumb is more expensive than non-cannabis lidocaine pain-relief sticks. The two competitors we looked at cost $6.98 and $9.98. Looking back on our research, we think the experts make it clear that the claimed benefits of CannaNumb make it worth the $20 to $23 extra you'd spend.
In general, we think that there's sufficient evidence to support CannaNumb's claims to relieving pain. However, we believe the research shows that it's the product's lidocaine and menthol that achieve that goal.