Capella University Reviews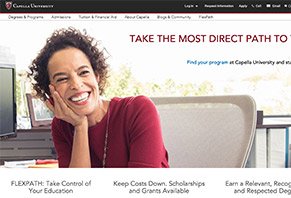 With more than 35,000 students enrolled and 142 degree programs, Capella University is an online university that uses a competency-based approach to education.
About Capella University
Capella University is an accredited online and campus-based university that offers 35,000+ students a choice of 142 graduate and undergraduate specializations, along with 25 certificate programs and over 1,600 online courses.
Compared to a lot of other online universities, Capella is focused on providing a competency-based education, so that you'll have the "critical skills, knowledge, theories, and abilities" necessary to master the subject matter and efficiently advance your career. This includes professionally aligned curriculum and real-world assignments.
On top of this, Capella's FlexPath program can help you get an education on your terms by putting in the hard work on your own schedule, which can help you graduate faster and save money in the process. All of which is why Capella claims to help you "earn a relevant, recognized, and respected degree" and to be "the most direct path to achieve your goals."
But is this what Capella University's students are saying? Are there better online education options for you? Are there any other important considerations to keep in mind? We'll cover all of this—and more—in this review.
Capella Admission Requirements, Degrees, & Programs
Capella University offers a wide variety of certificate, bachelor's, master's, and doctoral programs, all of which are accredited by the Higher Learning Commission, along with several professional accreditations (not an exhaustive list):
Business – Accounting (in addition to a CPA pathway), Business Administration, Business Intelligence, Finance, Health Care Management, Human Resources Management, Management & Leadership, Marketing, Project Management
Counseling – Contemporary Theory in Addictive Behavior, Couple & Family Systems, General School Counseling, Marriage & Family Counseling/Therapy, General Advanced Studies in Human Behavior
Criminal Justice – Criminal Justice, Homeland Security, Emergency Management
Education – Adult Education, Education Leadership & Administration, Integrative Studies, Training & Performance Improvement, Early Childhood Education, K-12 Studies in Education, Nursing Education, Reading & Literacy
Health Sciences – Health Care Management, Health Information Technology, Health Care Operations, Public Health Leadership, Health Policy & Advocacy, General Public Health
Human Services – Social & Community Services, Gerontology, Multidisciplinary Human Services, Non-Profit Management & Leadership
Information Technology – General Information Technology, Data Analytics, Project Management, Digital Forensics, Health Care Security, Information Assurance & Security, IT Education
Nursing – RN-to-BSN Degree Completion, Care Coordination, Nursing Informatics, Nursing Leadership & Administration, Doctor of Nursing Practice
Psychology – General Psychology, Sport Psychology, Applied Behavior Analysis, Educational Psychology, Clinical Counseling, Developmental Psychology, School Psychology
Public Administration – Non-Profit Management & Leadership, General Public Administration, Public Policy & Governance
Social Work – Social Work, Social Work Advanced Standing
Keep in mind that each of Capella University's programs will have different admission requirements, which is something your enrollment counselor can walk you through. This might include letters of recommendation, completing an admission essay, undergoing a faculty interview, and more.
In general though, bachelor's students should have a high school diploma (or equivalent) and be at least 24 years old; master's and doctoral students must have bachelor's and master's degrees, respectively, from an accredited institution. You'll also need to submit an application and pay a $50 fee, and obtain official transcripts from previous institutions.
Capella's FlexPath Program
Some of Cappella University's programs are eligible for their FlexPath self-paced learning format, which could help you earn your degree faster.
Through FlexPath, you'll be able to complete each course at your own pace within a 12-week period, with no set class times or deadlines. In fact, your learning isn't assessed by time spent in class; it's "assessed through demonstration of key competencies."
This way, not only can you complete you degree faster and spend less money doing it, but you'll also be focusing on "the specific knowledge, skills, theories, and abilities required for workplace success."
Now, how much will Capella's programs cost you?
The Cost Of a Capella University Education
How much your Capella University program costs depends on a variety of factors, but in general, you can expect to pay:
Certificate Programs: $4,698 tuition per quarter, or $387 - $737 per credit
Bachelor's Programs: $330 - $382 per credit, or $2,200 - $2,500 per 12-week course through the FlexPath program
Master's Programs: $398 - $757 per credit, or $2,400 per 12-week course through the FlexPath program
Doctoral Programs: $2,800 - $5,177 tuition per quarter, or $630 - $728 per credit
Pro tip: Need a more personalized approach to figuring out how much you'll pay? Be sure to check out Capella's online calculators.
As with most other universities, Capella offers a range of different scholarships, grants, discounts, and other financial aid options to help you finance your education.
In order to get up close and personal with how much your Capella University education will cost, counselors can be reached at 855-439-5857.
Considering these costs, are Capella's students and alumni singing their praises? Let's take a look.
Student Feedback For Capella University
Based on 207 student reviews, Capella had an average rating of 6.4 out of 10 on OnlineDegreeReviews.org. While many seemed happy with the quality of the education they received, others complained about inadequate counseling/advising, high tuition costs, disinterested professors, and that's it's basically just a diploma mill.
On StudentsReview.com, Capella seemed to have all A and B ratings from students, except for five areas: alternative pay (C+), campus beauty (C), campus maintenance (C+), surrounding city (C+) and social life/environment (C+). Granted, you won't have to worry about most of these if you're attending online.
Outside of these grades, most current and former students seemed to complain about Capella's grading structure, the quality of the education, and that they're more about money than anything else.
From a company perspective, Capella University, based out of Minneapolis, MN, had an A+ rating with the Better Business Bureau, despite more than 100 closed complaints (as of 2/24/16). Most appeared to reference money owed, whether due to dropped classes, insufficient financial aid, or miscommunication between Capella and the student.
It should also be noted that "approximately 79% of the institution's cash flow comes from US government Title IV payments, including Pell grants." In 2006, Capella was investigated by the Office of the Inspector General, who "focused on the university's policies and procedures concerning the return of Title IV funds as required by Federal Law for students who failed to give official notice that they were withdrawing from the school." Ultimately, it was all chalked up to accounting errors, and the school has since taken steps to ensure it won't happen again.
Is Capella University Right For You?
Although many online universities can certainly make obtaining your college degree easier and more convenient, you'll be giving up a lot of the "traditional" college experience.
So, if you're fresh out of high school and are looking to experience as many unique things about college as possible, an online university probably shouldn't be your first option—unless they also offer a physical campus as well. Apart from this experience, how does Capella University stack up against the competition?
Capella's Facts & Figures
Most online universities (Capella included) are considered for-profit institutions, so your tuition will often be meaningfully higher than a traditional university. With this said, Capella seems to fall on the higher end of the spectrum. In other words, you might pay more to attend Capella than you would most other online universities.
Despite their higher tuition costs, with 35,000 students currently enrolled, Capella falls far short of behemoths like University of Phoenix (more than 300,000 enrolled students), although this could mean that you'll have a lower student to teacher ratio. Also, only about 8,700 of these 35,000 are bachelor's students, so you might feel more at home at Capella if you're looking to complete a post-secondary degree.
Unfortunately, there wasn't any information available online about Capella's graduation or loan default rates, although College Scorecard claims the average student graduates with more than $33,000 in total debt. Also, according to US News, the University's retention rate (the number of students who return the following year) is just 20%, which is lower than most other online universities we've reviewed.
Taking all of this together, only you can decide if Capella University is the right choice. But if you're a working adult who's focused on education (especially something other than a bachelor's), they might be an ideal fit. Just keep in mind that they will charge higher tuition than most community colleges and state universities. In other words, you'll pay for the convenience.
Good school

By Jamie B.

,

Jamestown, NY

,

Dec 30, 2019
Verified Reviewer

Capella is a great school. I started in 2017 and am working on my bachelor's degree. It is fully online and the professors are great. The work is hard but the outcomes are worth it.

Bottom Line: Yes, I would recommend this to a friend

---

Great school, wonderful instructors, manageable workload

By Theresa S.

,

Baldwinsville, NY

,

Dec 18, 2019
Verified Reviewer

My experience with Capella University has been excellent. I have been through two Masters programs with Capella and have found that the coursework is very manageable with my busy lifestyle of full-time work, mom, wife, and running my household. All the instructors have been professional and experts in their fields. I have learned so much and the education I have gained at Capella is going to have me well-prepared to enter into a new career in my future. I highly recommend Capella for anyone who is interested in a quality education that will fit in with your busy, adult life.

Bottom Line: Yes, I would recommend this to a friend

---

Advertisement

---

My Capella University Educational Journey

By Joan B T.

,

Flint, MI

,

Dec 16, 2019
Verified Reviewer

Capella University is an excellent accredited online university that has given me an opportunity to learn by developing my mind and expanding my thinking and cognitive abilities earning a Bachelor of Science degree in Psychology! It wasn't an easy task to accomplish by no stretch of the imagination, but accomplish it I did!

When Statistics made me cry, I stuck with it, when I received constructive feedback asking me to think past the obvious to consider various options from other perspectives to arrive at a more broader point of view, I cringed at the request and reluctantly I followed the directive. I now thank the professors that required that I put in the study time so that I would submit my best work!

By opening my mind and putting in proper time to do the research and share my knowledge with fellow learners from around the world I discovered there are many perspectives to arrive at a construct along with many beneficial concepts to assist the field of Psychology to help the society in which we live to advance, develop, and grow.

Currently, I am focused on completing a Master's program in I/O Psychology at Capella University so that I can pursue a Doctor of Philosophy degree. I thank God in advance for this educational opportunity and I'm sure that once you begin your educational journey with Cappella you will appreciate discovering the growth, learning, and development that Capella University will afford you, too!

Bottom Line: Yes, I would recommend this to a friend

---

Great experience

By Kimberley E.

,

Rolling Fork, MS

,

Dec 11, 2019
Verified Reviewer

I completed my BSN through Capella's Guided Path program. I found the advisors and instructors to be supportive and responsive to my questions and concerns. I enjoyed the course discussions, giving me the opportunity to learn about nursing in different settings from my fellow students. I liked the BSN program so much, I have continued with Capella to earn my MSN.

Bottom Line: Yes, I would recommend this to a friend

---

Advertisement

---

Best college yet!

By Alisha S.

,

Milwaukee, WI

,

Dec 11, 2019
Verified Reviewer

I wanted to share my experience with Capella University. I begin in the Guided Path program, which was structured so that I could maintain my day to day activities and still fit in my school work. Instructors are real, grading is real, and the learning experience is real. I am now with the FlexPath, which I love! While I am allowed to set my own target dates and work at my own pace, I am still required to turn in an assignment weekly. If I need additional time, I adjust my target date and reach out to my adviser if 7 days have passed. I am almost done with my Bachelors's Degree and am already anticipation a Master's with Capella!

Bottom Line: Yes, I would recommend this to a friend

---

Challenging content of courses

By Rosalind S.

,

New York

,

Dec 11, 2019
Verified Reviewer

The content is as challenging as it is at a brick and mortar university! I am learning so much and it is all relevant to my career choices! The content of the courses is timely and very interesting! I like the discussions because it allows you to interact with other students while focused on your own work!

Bottom Line: Yes, I would recommend this to a friend

---

Great program

By Matt L.

,

Monroe, CT

,

Dec 11, 2019
Verified Reviewer

Have been involved in coaching for 40 years, felt it was time to do some work in psychology. Received my master's in sport psychology via FlexPath. Had a great time even in the most challenging classes. I was pushed in many of them being a first-time psychology student. Finished in one year with a 4.0 average.

Highly recommend FlexPath for those with time management issues.

Bottom Line: Yes, I would recommend this to a friend

---

There are better programs

By Kelly Y.

,

Virginia

,

Dec 11, 2019
Verified Reviewer

At the time I went I didn't have the luxury of experience or time in searching for a program. My oldest child luckily is in that position. Their school is set up better for scholarly success and isn't gouging them monetarily for the pleasure. They had to do the leg work of finding out state requirements, internship and residency possibilities in their FIRST class. No surprises!

Don't get me wrong, I was able to pass my licensure exam the first time and am self-employed in my field. I met wonderful people in my cohort groups and enjoyed my professors. I am also in debt up to my eyeballs for the pleasure.

Bottom Line: No, I would not recommend this to a friend

---

Convenient, but not in-depth

By Angie T.

,

Pittsburgh, PA

,

Dec 11, 2019
Verified Reviewer

Capella offers a wide variety of programs and courses, but their instructors are not very engaged. In general, they grade for participation, as opposed to accuracy or completeness. For example, in a statistics related course, I received 100% for turning in assignments and covering all the topics; however, I never received feedback on what, if anything, I got right. In addition, there is no real instruction happening. Instructors point to prerecorded videos rather than providing any theory. If you ask a question or need guidance, the typical response is "Google it."

If you want an easy degree, I recommend Capella. If you want to really learn, I recommend going somewhere else.

Bottom Line: No, I would not recommend this to a friend

---

It could have ended better than it did

By Robert W.

,

Lynchburg, VA

,

Dec 11, 2019
Verified Reviewer

I have two degrees from Capella and I did enjoy the fellowship with my classmates. At times I felt it was all about getting money from you. But you have to understand that nothing in life is free and the school can't just let you pay anything. The majority of my instructors were great and genuinely interested in you getting good grades. I stayed on the Dean's list, graduated with honors and became an ambassador for the school. I am finding it hard to get a job in my field and it may be because I am an older graduate. What I find disturbing is that as soon as I graduated they took my email address and I found that to be funny as I was an ambassador and an honors graduate. I called in and was told that something would be done about that and as of yet I haven't heard anything. I paid x amount of dollars for my two degrees and yet I was asked to join an honors society and pay to do that. I am not spending any more money with Capella.

Capella University, if you are really monitoring this, please answer why an ambassador, dean's list student, and honors graduate had their email revoked.

Bottom Line: Yes, I would recommend this to a friend

---

Great experience

By Cathy V.

,

Texas

,

Dec 11, 2019
Verified Reviewer

When I started at Capella I was very nervous because I was an adult learner and it had been years since I have been in school. The instructors made the experience easy for me to fit right in as a student, and the advisors were a big help in helping me choose my courses. I was very happy with my education journey at Capella from start to finish.

Bottom Line: Yes, I would recommend this to a friend

---