Capital One QuicksilverOne Reviews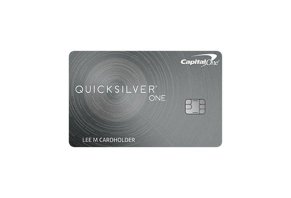 The Capital One QuicksilverOne is a cash-back credit card designed for consumers with average credit scores who want a credit card that can give them rewards and increased spending.
About Capital One QuicksilverOne
Are you dealing with average credit scores that keep you from getting a top-tier credit card? Capital One's QuicksilverOne credit card offers you great cash-back benefits and a credit limit that could increase after five months.
"Average" is a subjective word, but we're going to define it as credit scores between 621-699, a range which most credit models designate as good or average.
With that definition settled, it's important to figure out whether or not the QuicksilverOne is the right fit for you. Does it have great benefits, or are the fees too high to make it worth it? Do cardholders get different treatment than people with better credit?
To answer these questions, we've combed through the QuicksilverOne's benefits and consumer reviews.
What we've found will equip you with the information you need to make a smart choice about this Capital One credit card.
The Benefits of the Capital One QuicksilverOne Credit Card
All credit card choices can be boiled down to two questions: "What can I get from this credit card?" (benefits), and, "What can the credit card company get from me?" (rates and fees).
In this section, we're going to cover what you can get from the QuicksilverOne now and in the future.
The QuicksilverOne's Short-Term Benefits
One of the disadvantages to having average credit scores is that credit card companies aren't willing to give you a ton of extras.
Why? Because they see you as a riskier customer who may not pay back your balances. We know; it sounds kind of unfair. And, in a certain sense, it very well could be.
Consumers with a short credit history (not many cards or loans) could be amazing borrowers, but credit card companies downgrade them because there's not a lot of evidence of your amazingness.
On the other hand, you might be seen as a risk if you've had a late payment on your credit file – one that was paid at least 60 days after your due date.
Since Capital One is wary about your trustworthiness (warranted or not), they only offer one short-term benefit on this card: an increased credit limit if you can make your first five on-time payments in a row.
Capital one is basically telling you that they're going to start you off with a low credit limit because they think you're a risky customer, and then, by showing them you can pay on time, they'll increase your limit so you can spend more.
The reason we say "only offer one benefit" is because many cards will give you low interest and free cash as a way to reel you in.
For example, the Capital One Quicksilver, which is reserved for people with excellent credit, gives you higher credit lines, no interest on purchases and balance transfers for nine months and a $100 statement credit if you spend $500 in the first three months.
The QuicksilverOne's Long-Term Benefits
What the QuicksilverOne lacks in short-term benefits, it makes up for in long-term benefits for one major reason: cash back on every purchase.
Unless you're buying cash-related items like traveler's checks or casino chips, you'll get 1.5% cash back on every purchase you make.
If you're like the average American family who can spend around $24,000 on their card each year, then you can probably look forward to getting around $360 in cash back every year.
Pick Your Due Date
We're listing this feature not because it's unique, but because it's something that many cardholders don't know about it.
The advantage to choosing your due date means you can time your payments with your paydays.
Sometimes you can get yourself caught in a situation where your due date comes at the same time you pay your rent and things can get pretty tight, financially speaking.
So, pick a payment due date that best fits with your income schedule. This way, you know you'll have enough cash on hand to cover the full payment of your card.
Shopping Protection and Benefits
Nearly every credit card you get has a series of benefits you can use for things you buy with your QuicksilverOne card, whether it's travel, electronics or other items.
These perks are part of the Platinum Master card benefits package, which you can download on Capital One's Benefits Guide page.
Travel
Should you get severely injured or die during travel, Capital One will reimburse you up to $100,000 depending on the type of the injury or sickness and the cause.
According to the card's benefits guide, you only get the benefits if you purchase the travel with your card, whether it's plane tickets, cab fares, tours or other expenses related to the trip. You, your spouse and your unmarried dependent children are entitled to the insurance.
There are some exceptions, though. You won't get the benefit if the trip is interrupted by mental or physical illness, childbirth, pregnancy, bacterial or viral infections or "bodily malfunctions."
Other exclusions include suicide, attempted suicide, war or self-inflicted injuries.
You'll also get insurance on car rentals as long as you waive the insurance the rental company offers.
The QuicksilverOne's travel protections are pretty weak compared to other cards. For example, Chase's travel interruption benefits cover more people and have fewer exceptions. You'll also get reimbursement for lost or delayed luggage and delayed trips.
Shopping
QuicksilverOne's shopping benefits are similar to what you get with other cards. Anything you purchase with this card could be eligible for an extended one-year warranty, reimbursement if the item's price goes down within 90 days of purchase and if the item is lost/damaged/stolen within 90 days of purchase.
Fraud
Capital One has a decent selection of fraud tools. The basic one that the other big issuers (Chase, AmEx, Discover) offer is zero liability. If someone makes fraudulent charges to your account, you won't be on the hook for a single penny.
Also, if odd or fraudulent charges take place, Capital One will send you email or text notifications to alert you that something's up.
Capital One will also notify you if there are any strange duplicate charges on your account.
The Rates and Fees for the Capital One QuicksilverOne Credit Card
Remember how we talked about credit cards being a matter of what you can get and what the card company can get out of you? Well, this is the section where you learn about how the card issuer wants to hit your checking account with fees.
Below is a list of the rates and fees with this card:
APR: 24.99%
Penalty APR: None
Annual fee: $39
Late fee: Up to $35
Balance transfer fee: 3% or $5, whichever is greater
Here's what you need to know about all these fees: 24.99% is really high for an APR. Normally, a credit card will give you a high, middle and low APR. Not the QuicksilverOne. Why? It goes back to the fact that you've got an average credit score.
Rather than do you favors by giving you lower APR's, Capital One is hedging their bets by charging you one high-interest rate because they're concerned you won't pay back your debts in a timely manner.
Simply put, this is what you can expect for middle-of-the-road credit scores.
Customer Reviews for the Capital One QuicksilverOne Credit Card
Throughout this review, we've talked about how average credit can hurt your chances of getting good deals and interest rates from credit cards.
Our advice is this: Don't get discouraged. You can build good credit. All you need is a little time, a good budget and the willingness to let go of mentalities holding you back.
We bring this up because you aren't alone – the average American credit score is within the range of what we've classified as average.
And because "average" is the normal credit score in America, there are tens of thousands of people who've gotten the QuicksilverOne, and, as a result, thousands who've reviewed the card.
Credit Karma Reviews
The QuicksilverOne earns "Cardholders Choice" distinction on Credit Karma, which means "cards that average a highly positive overall rating."
At the time of publishing, nearly 1,000 consumers gave the card an average rating of 4.6 stars. Three out of every four ratings were 5 stars and 17% were four stars, which is, in our opinion, pretty impressive.
Many of the most recent reviews were written by consumers who were thrilled to be approved for the card, which is understandable since it can be hard to get a good credit card with average scores.
Be mindful of this: Credit limits ranged from $300 to $1000.
Earlier we mentioned that you could earn up to $360 cash back with this card, but that's assuming you've got a credit limit of at least $2,000-$2,500.
WalletHub Reviews
The nearly 3,000 reviews of the QuicksilverOne were a little lower on WalletHub – only 16% were 5 stars, while 30% were 4 stars and 34% were 3 stars.
However, after reading through some of the recent reviews, it seems that the 3-star reviews aren't too critical of the card.
The big complaint was the low credit limit, which meant it was harder to earn more cash-back rewards, one customer said.
Overall, the response to the card was very positive. Here's a review from "Ian Goodwin" we think represents the general opinions of the 4,000 or so consumers who reviewed this card on the two sites we researched:
"This card was great when my credit history was poor. Yes, it has an annual fee but as long as you use it enough, the fee should be covered by your cash back amount! This card is a great way to build credit history and have a little bit of your hard spent, hard earned money come back to you!"
Our Final Thoughts About the Capital One QuicksilverOne Credit Card
The financial world can be pretty unforgiving to people with credit scores in the 600's. Rates are higher, terms are less favorable and lenders aren't as willing to give you perks and bonuses.
The QuicksilverOne's High APR Can Hurt You
The QuicksilverOne is a great example of this. They designed the card for people with average credit and that's why they've set the interest rate at 24.99%. In addition to that, it's hard to get a high credit limit with this card.
Now, that's a tough thing to deal with considering this card gives you cash back every time you make a purchase. However, it's also a good thing – it will make you be disciplined with your spending.
Once you get your credit limit increased, you'll have a greater capacity to earn more cash-back rewards. But, remember, it's not worth it to carry a balance on this card. When your due date comes, pay it completely off.
If you do carry a balance, the high APR is going to cut into the card's value. For example, if you pay $500 of a $1,000 balance, then you're going to pay 24.99% on that $500 and any purchases you made between the end of your billing cycle and your due date (25 days).
So, let's say you've got that leftover balance of $500 and you spent $300 during those 25 days. Your interest charges will be around $16, which is equivalent to the cash rewards you'd earn on around $1000 of spending.
Good Habits Can Make the QuicksilverOne a Great Card
If you really want to take advantage of this card, you need to pay off your balance every month. If you do that, you'll not only maximize your rewards, but you'll also generate better credit scores.
And when you have better scores, you can get better credit-card offers and rates.
We've done a lot of research about credit scores and have created some great articles to help you understand what credit scores are, how bad scores happen and what you can do to get good credit scores.
Each article gives you easy-to-understand explanations of the world of credit scores and simple, actionable steps for getting better scores.