Capital One Venture Card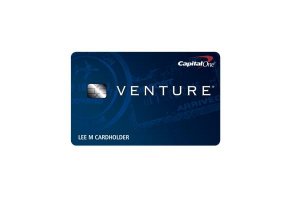 The Capital One Venture card's combination of a 75,000-mile sign-up bonus, a rewards rate that can get you $500 a year, and a low-end APR of 17.74% make it one of the best travel rewards credit cards.
Capital One Venture Card Review: Is It the Best Travel Rewards Credit Card for You?
Capital One Venture Card is currently offering 75,000 miles for new cardholders who spend $3,000 within three months of enrollment.
The card is Capital One's most heavily marketed credit card, and rightly so. The travel rewards card world is packed with competitors, many of which we'll list in this review.
Knowing which of these cards is right for you is important for making the right decision.
We've applied our research method and expertise to understand what this card offers in the way of rewards and benefits. We've also analyzed its rates and fees.
In this review, we'll cover each one of these areas, providing comparisons to other travel cards along the way so you'll be equipped to make the best choice possible.
The Capital One Venture Card's Rewards
The Venture card has a series of ways you can earn rewards and reimbursements – a sign-up bonus, spending rewards and a reimbursement program:
75,000-Mile Sign-Up Bonus
The Capital One Venture Card is all about the points (in this case, they're miles). If you're accepted for the card, you can receive 75,000 bonus miles if you spend $3,000 on your card within three months of your enrollment date. That basically means that you've got about 90 days from the day you're accepted (not the day you get your card) to spend $3,000.
Our research of data from the Bureau of Labor Statistics indicates that hitting $3K in three months is almost automatic for the average American household; it should take less than two months.
2x Miles on Purchases
The Capital One Venture card also gives you 2 miles for every $1 you spend. The research we mentioned earlier indicates that the average household can spend about $25,000 a year on their card, which means this card can earn you around 50,000 miles a year, which has a cash value of $500.
You'll also receive Capital One's suite of card features, including no foreign transaction fees, fraud coverage if your card is stolen and complete access to your credit score, as well as helpful Capital One credit tools.
Getting the Venture card also gives you membership in the Visa Signature plan, through which you get a complimentary concierge service, possible upgrades at hotels, as well as 24-hour travel assistance in case you have a money emergency abroad.
10x Points on Hotels.com Purchases
If you use your Venture card to make purchases on Hotels.com, you'll earn 10 miles for every dollar you spend.
To earn these points, you have to go to Hotel.com's special Venture page to make your booking.
Ways to Redeem Your Rewards
When it comes to airfare, your Capital One Venture miles can be used for any airline at any time with no blackout dates, as confirmed during a chat we had with a Capital One customer service rep.
Capital One also offers a "Purchase Eraser" you use to apply your rewards to certain purchases you want to "erase."
You log into your account, click through a few pages and then select a travel-related purchase you want to erase. The ratio of miles to dollars is 100 to $1. So, if you use to miles to erase a car rental of $250, it will cost you 25,000 miles.
Confirm the erasure and Capital One deducts the corresponding from your rewards account and the transaction is removed from your billing cycle.
You can also redeem your miles or cash, but Capital One's terms and conditions didn't say what the exchange rate is.
Transferring Miles to Airfare Frequent Flyer Programs
The final way that you can redeem your Venture miles is to transfer them to the following airline carriers:
Aeromexico
Air Canada Aeroplan
Air France/KLM
Alitalia
Avianca
Cathay Pacific
Etihad
EVA
Finnair
Hainan
Qantas
Qatar
The transfer rate is 2 Venture miles for every 1.5 airline miles. While the transfer rate is worse than the 1:1 transfer most airline cards have, it's still a relatively good deal considering the Venture is the only major travel card that earns you 2 miles for every dollar you spend.
For comparison's sake, spending $25,000 year on the Chase Sapphire Preferred can earn you around 29,500 points per year you can transfer 1:1 to multiple airlines including United and Southwest.
That same $25,000 will earn you 50,000 miles with the Venture card, which equals 37,500 airline miles, or around 8,000 more per year than the Sapphire Preferred.
The big difference, though, is that the Venture limits your miles transfer to international airline carriers, whereas the Sapphire Preferred has domestic and international carriers.
Pro tip: In order to transfer miles to an airline, you'll need to set up a frequent flyer account with the airline. It takes less than 5 minutes.
Reimbursement for Expedited Security Programs
The card's final main reward is that you'll be reimbursed for the application fees you pay to apply to the PreCheck or Global Entry program, which, if your application is approved, allow you to get expedited security check-ins the day of your flight.
Basically, you'll apply for one of the programs, pay with your Venture card and Capital One will reimburse you. The fee will be either $100 for Global Entry or $85 for PreCheck.
The Capital One Venture Fine Print
A credit card's rates and fees can put the card over the top or it can hinder it from finding its way into your wallet. The fees and interest rates we've listed below are the ones we feel are most important to your everyday life.
Annual Fee
You'll pay $0 the first year and $95 every year after that.
Late, Transfer, and Cash Advance Fees
Fees are up to $38 for every late payment late or returned payment you make. Balance transfers don't have a fee and will have an APR of 17.74% - 24.74%.
You can expect to be charged a 3% transaction fee for the transfer when you're using a promotional rate, which is a rate that Capital One offers to you during the course of your relationship with them.
If you're just doing a straight-up balance transfer without a promotional rate, you won't pay a balance transfer fee.
APR
For purchases, your APR will range from 17.74% to 24.74% depending on your creditworthiness. The Venture's low-end APR is excellent and, based on our research, is superior to all but one of the leading travel rewards credit cards: the Discover it Miles.
Factors That May Block You from Getting the Venture Card
Are you worried you might be rejected for a Capital One Venture card? The company has a long list of reasons for immediate rejection.
We've pared it down to five you should know about up front. You'll get the "No thank you!" if you fall into one of these five categories:
You live outside the United States, Washington D.C. or a U.S. military location.
Your monthly income doesn't exceed your rent/mortgage by at least $425
You are under 18 years old
You have 5 or more cards with Capital One
You have a Capital One card that's past due.
As a side note, Capital One's own website says the card is for people with "excellent credit."
By their standards, that means you haven't had a 60-day delinquency in the past year, you've never defaulted on a loan, you haven't declared bankruptcy and you have a loan/credit card with a limit above $5,000 for at least three years.
Comparing the Capital One Venture to Other Travel Cards
The Capital One Venture is just one of many different travel cards. Understanding which card is best is important in determining the value of the Venture and how it may or may not be a good fit for your financial situation.
| | Capital One Venture | Chase Sapphire Preferred | Discover it Miles | Bank of America Travel Rewards |
| --- | --- | --- | --- | --- |
| Intro Bonus | 75,000 miles | 50,000 points | 37,500 points | 25,000 points |
| Yearly Rewards | 50,000 miles | 29,650 points | 37,500 points | 37,500 points |
| Transfer Partners | 12 | 11 | 0 | 0 |
| APR | 17.74% - 24.74% | 17.99% - 24.99% | 13.99% - 24.99% | 16.99% - 24.99% |
| Annual Fee | $0 first year, $95 after that | $0 first year, $95 after | $0 | $0 |
Capital One's Venture card was our choice for the best travel card of 2018 and this chart is a good indication why. The card's sign-up bonus is better than the popular competitors we listed and the card earns you the most yearly rewards.
The Chase Sapphire Preferred has better travel transfer options – Hyatt, Marriott, IHG, United and Southwest are transfer partners. The Discover it Miles has a far better lowest APR (13.99% vs. 17.74%). Both the Bank of America Travel Rewards and the Discover card have a lower annual fee.
Even though each of these cards has an advantage over the Capital One, our research shows that none of them have quite the comprehensive value that the Venture offers.
In our opinion, the card's combination of its big sign-up bonus, yearly rewards, travel partners and annual fee make it the best choice for someone who wants an all-around solid card.
Our Bottom Line on the Capital One Venture Card
In our opinion, the Capital One Venture is the best travel credit card out there for someone with good credit scores who doesn't carry balances and doesn't pay late. We've come to this conclusion based on several factors.
First, the 75,000 miles you get for your sign-up bonus is an industry-leading offer it shares with the Chase Sapphire Preferred and the Citi ThankYou Premier.
Second, the 2x rewards rate on all purchases means that you're going to earn more cash rewards with this card year-in and year-out than you will with any other travel card we've reviewed that has an annual fee of less than $100.
Third, you have the ability to transfer your miles to 12 different airlines.
If you want to learn more about other travel cards we think are among the best, then take a few minutes to read our guide to the best travel rewards credit cards of 2018. You'll get an expert analysis of which travel cards are best overall and which ones work best in certain situations.