Care.com Reviews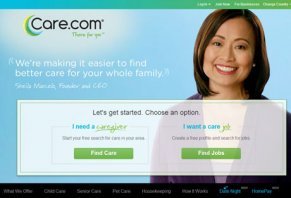 Care.com is an online destination where caregivers can find employment, and where individuals can locate a child care, senior care, pet care, and/or housekeeping professional.
About Care.com
Founded in 2007 and based out of Waltham, MA, Care.com is a website dedicated to bringing together families who need caregivers, and caregivers looking for work. According to the company's website, they are committed to "improving the lives of families and caregivers by helping them connect in a reliable and easy way."
Care.com holds an A+ rating with the Better Business Bureau, despite having nearly 300 closed complaints within the past three years. Considering the fact that the company claims to have more than 9.5 million members, online reviews seem to be primarily positive. However, by far the most common complaint we encountered during our research referenced the company's auto-renewal program (more about this in the final section).
How Care.com Works
With more than 9.5 million members and a presence in 16 countries, Care.com claims to be the "largest global destination for quality caregivers." As such, the primary categories on the website include:
Child Care – Includes babysitters, nannies, family day care, tutors, and more.
Adult & Senior Care – Everything from errands and exercise, to companionship and 24-hour care.
Pet Care – Dog walkers, boarding, training, and more.
Home Care – Housekeepers, event help, and more.
Because Care.com provides a wide variety of services, both for families looking for caregivers, and for caregivers looking for families, there are two different ways to use the site:
As a Family:
When you're looking for a caregiver, the first order of business will be to post a job. Here, you'll outline your needs, list your pay rate, and provide any other information you feel is important. This is the listing that caregivers will read and decide whether or not to apply for, so the more information you can provide, the better.
Care.com guarantees responses from qualified candidates within three days. Once they apply, you'll be able to review their responses, and even view detailed background checks.
Narrow your list, and interview only those candidates you feel most closely match your needs.
As a Caregiver:
If you're looking to advertise your services to those needing caregivers, you'll first need to sign up for a Care.com account, which can be completed in minutes.
After signing up, you'll need to take some time to complete an in-depth profile, which can take some time to perfect. Be sure to include at least one photo of yourself, in addition to references, reviews, and background checks.
Once you find a job posting that you feel you're qualified for, simply apply in one easy step.
Whether you're an individual or a caregiver, all correspondence is handled directly through the Care.com messaging system. Overall, the website appeared very user friendly, and can be accessed from almost any electronic device with an internet connection, including smartphones, laptops, and tablets.
Care.com Pricing & Refund Policy
As an employer (e.g. posting a job for another member to fill), a Care.com membership will cost you:
1-Month Membership – $39 per month
3-Month Membership – $26 per month
12-Month Membership – $13 per month
As a caregiver however, your account is completely free of charge.
When paying a caregiver you've hired, you can pay them through the Care.com HomePay system. Here, you'll be able to set up automatic completely control your payroll, withhold and file taxes, and more.
An important note: One of the most common complaints we came across during our Care.com research included billing issues—more specifically, the automatic renewal program. For example: If you sign up for a 1-month membership at $36 per month, it will continue renewing every month and charging your payment method on file, until you contact the company and cancel it. We came across numerous complaints of people being charged several hundred dollars before they realized what was going on.
When this occurs, it appears that Care.com customer service has been unwilling to process refunds. In fact, according to the company's Terms of Use, all services provided through the site are non-refundable.
Our recommendation would be to sign up for the free account, see how you like using Care.com, and then signing up for the membership option of your choice. Then, once you find a caregiver, you can simply cancel your account, or change it back to the free version.
Pros:
Claims to have more than 9.5 million members, and to be active in 16 countries.
Easy way to post a job for a caregiver, and for caregivers to match themselves with a family.
User-friendly website.
Three different membership options.
Cons:
By far the most common complaint we noticed was regarding the company's auto-renewal program, and their refusal to process a refund.
No one has responded to my ad or emails to the companions

By Sylvia W.

,

Missouri

,

Mar 10, 2020
Verified Reviewer

I am angry. I don't have a lot of money. I am wondering if EVERY picture was a scam on the site. I am going to call the Attorney General on Monday and talk with them about this business.

Bottom Line: No, I would not recommend this to a friend

---

Keeps charging your credit card

I signed up for what I believed was a temporary time period to try Care.com to help my mom with some assistance for just a period of less than one week before she was to move into a senior all living facility. I never actually hired a person even after making some connections with some workers through Care.com because their schedule never accommodated my mother's. Once my mother moved into the facility I no longer needed Care.com and I believed that my 7-day trial had expired, but that was not the case and it has been a year that I've been charged $39.00 per month. After explaining this to a Care.com worker, oh, they informed me that they would submit my case to be considered for reimbursement. Unfortunately, all I am being reimbursed for is one month. So needless to say, make sure you know what you're signing up for if you're going to go with Care.com, but I would not recommend them.

Bottom Line: No, I would not recommend this to a friend

---

Advertisement

---

Horrible! They keep charging my credit card.

By Lisa A.

,

Jupiter, FL

,

Feb 11, 2020
Verified Reviewer

This service is horrible. Nobody is really looking for work. Scammers. No legit people and you can't cancel. They will keep taking money from your account and no refunds. Beware. Don't use this site.

Bottom Line: No, I would not recommend this to a friend

---

If I could give it a ZERO I would

By Taylor T.

,

Warwick, NY

,

Jan 24, 2020
Verified Reviewer

Worst site ever! They rip you off and no one really responds for more than once. There is almost no way to contact this fake company so STAY AWAY. You would be better served to ask a friend or neighbor for a rec.

FOREWARNED!

Bottom Line: No, I would not recommend this to a friend

---

Advertisement

---

USERS BEWARE - CAVEAT EMPTOR!

By Jo C.

,

Oakland, CA

,

Jan 22, 2020
Verified Reviewer

Care.com manipulates reviews by preventing negative posts that otherwise meet their Terms of Service.

This is why you won't find any one-star reviews of providers - they prevent them. I did an inventory and found only 4 and 5 star reviews. What, with over 9 million uses to date no one has ever had a neutral or negative experience? Really?

Reviews are one of the most important aspects of a hiring consideration, and yeah, they get faked on Amazon, eBay, Yelp, etc., but at least every review is not a 4-5 Star Polyanna Piece.

So here is the business model: Desperate overworked parent with no time tries to find a care provider...reviews are used for fast evaluation...and the reviews are only conducive to making the hire...never any bad reviews to dissuade.

That is fraud.

And that is not at all in line with their marketed message of "Care".

Here is the kicker from their Terms of Service:

"By using the Site and/or Services, you agree that Care.com may assess, and you will be obligated to pay, $10,000 per each day that you: (i) maintain Care Provider or Care Seeker information (including but not limited to, names, addresses, phone numbers, or email addresses)."

Say what?!

They should rename the site: WeDon'tCare.com.

PS: Tip, if you sign up for a premium (paid) account, cancel it the same month - and they will change the $39/month to $5 on the spot for 6 months. If you are going to use the lousy site, it should at least not be pricey!

Bottom Line: No, I would not recommend this to a friend

---

Caregivers not seriously looking for work

By Jodi F.

,

Atlantic Highlands, NJ

,

Jan 21, 2020
Verified Reviewer

I have been paying for Care.com since August under different accounts - one for seeking a caregiver and two for seeking jobs (my husband and I having separate accounts). We have not found either. The people you connect with on here are not serious about working, not about hiring you. There is also no contact with the Care.com team asking how you are doing, or helping you to connect. They make no commitments to you, i.e. that if you do not find at least one job or one caregiver within a six month period, that you will get any type of refund. I threw $315 away over 6 months, without making a dime or finding anyone to care for my son.

Bottom Line: No, I would not recommend this to a friend

---

Horrible company

By Laura M.

,

El Paso, TX

,

Jan 19, 2020
Verified Reviewer

Care.com does not care about people or the community. They state they did a background check on me and I have no criminal history. They will not allow me to look for a nanny. I am not looking to care for people's kids, but a good baby sitter. They could not explain to me why. I started researching and found that they allow criminals and child molesters on this site and I am glad that I could not use it. People need to be more aware of their lack of proper policies and their statement they care about the community when they don't. If you did they would try harder to help the community. They simply said I did not meet the criteria to look for a nanny. They would give no detail and said they did not have to. It's crazy and I was a nanny for many years with Care.com and once I started looking for care for my own all of a sudden I was not fit to use their service.

Bottom Line: No, I would not recommend this to a friend

---

Horrid experience

By Tracy M.

,

Washington

,

Jan 19, 2020
Verified Reviewer

Made a profile, spent money on background with no responses. Noticed words the same in many profiles but that wasn't the main issue. I was working in a nanny position, quit due to neglect and reported the family. Noticed the family went on Care.com for a new nanny, reported the family to Care.com with my experiences.

So what does Care.com do, delete my profile for good with no explanation and kept my money from background checks.

The same thing happened with a friend of mine, her profile deleted with no explanation.

Bottom Line: No, I would not recommend this to a friend

---

Horrible useless service, far too expensive

By T D.

,

Belgium

,

Jan 19, 2020
Verified Reviewer

Horrible useless service, did not find anyone after a long time of searching and lots of messages sent.

Moreover, canceling your account is made so difficult that I thought I had succeeded, only to discover a few months later that I hadn't.

Far too expensive for what it is, stay away from this site.

Bottom Line: No, I would not recommend this to a friend

---

Disabled people beware

By Jason D.

,

Illinois

,

Dec 28, 2019
Verified Reviewer

I am disabled for many years. In my younger days I was in and out of institutions and made some poor choices in my life. Flash forward 20 years, I have a disabled son and my health is rapidly declining due to strokes and epilepsy. I have to find help with my son. I posted an ad on Care.com only to have it removed a day later because of something done 25 years ago. That is before I was married and before I had my 3 wonderful children. For a service that you have to pay for it is almost impossible to understand why they would deny someone looking for help for a 13-year-old disabled child.

Bottom Line: No, I would not recommend this to a friend

---

Do not waste your hard-earned money

By Mary W.

,

Riverhead, NY

,

Dec 18, 2019
Verified Reviewer

This company is a scam. On top of NEVER even having prospective "bosses" even look at your response, the company then blames your description for not being "interesting" enough.

DO NOT spend any more than one month on a subscription, so you can see how useless the site is for yourself, without wasting a 6-month subscription like I did.

When politely asking after three months for the remainder of my subscription fee refunded, they refused.

Just bad bad business.

Bottom Line: No, I would not recommend this to a friend

---