Carpe Lotion Reviews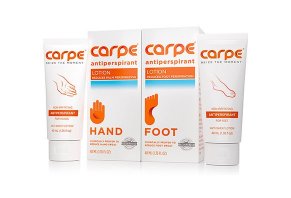 Summary
Carpe is a hand lotion that uses an aluminum salt to block the sweat glands in your hands and feet and provide you some relief from having sweaty hands and feet. Carpe has research to back up their claims that their product works, as well as hundreds of positive reviews on Amazon.
About Carpe Lotion
Carpe is an antiperspirant hand and foot lotion that claims to stop sweaty hands and feet.
The product is intended for those who deal with chronically sweaty hands and feet or who tend to sweat when they're nervous.
The lotion has one active ingredient that does all the sweat-blocking, an ingredient that we'll discuss later in this review.
Carpe offers hand, foot and underarm deodorant. For the purposes of this review, we'll focus on the hand lotion, as that's the area in which the company has done a study and on which they direct their marketing.
Directions and Usage
Carpe comes in a 1.35 oz. container that lasts around 30 days when you use it three times a day.
How you apply it and what you do before you apply it is important for getting the most out of the cream.
First, you'll need to wash your hands and then dry them. Make sure there isn't any moisture in the areas where you'll apply the lotion.
Then you'll want to apply a "pea-sized" amount of the lotion to your hands and rub your palms together for between 45 and 60 seconds. The site suggests that you use the lotion three times a day – morning, afternoon and just before bed.
A promo video available on the site features the two founders talking about why it's important that you apply the lotion at night. Their reasoning is that your sweat glands are least active when you're asleep, which means the lotion can operate at peak effectiveness.
When you use the lotion on your feet, the Carpe site says you don't have to wash them but you do have to dry them. Add the lotion to your foot with a little more than you'd use for your hands and then rub it in for 45-60 seconds. It's important to wait until your feet have absorbed the lotion before you put shoes on.
The results you'll experience will vary from person to person.
"Some folks see results after their very first application. For others, thrice daily use for up to a month is necessary," the site says. "Everybody's skin is different, and any genuine antiperspirant requires a certain amount of time and discipline to deliver results."
How Carpe Blocks Sweat
The ingredient in Carpe lotion that's responsible for blocking sweat is aluminum sesquichlorohydrate, which is included in the cream at a 15% concentration.
Aluminum ingredients like this are common in hand and foot antiperspirants, as well as in traditional sticks of deodorant you apply under your arms. Mitchum PowerGel deodorant, for example, uses aluminum sesquichlorohydrate.
According to drug information website DrugBank.ca, this particular type of aluminum is an aluminum salt that keeps sweating at bay because it works into your skin and blocks the ducts that bring sweat to the surface of your skin.
Research of Carpe Lotion
The results of a study done on 20 people (10 male, 10 female) who used Carpe are available on the product's website.
Basically, the research took place in March 2016 and the subjects were required to go through a specific set of washing and drying steps before applying the lotion to one hand three times in a day.
In the meantime, they were subjected to a temperature of 100 degrees and 35 percent humidity. By the end of the testing, researchers found that those who used Carpe.
"Under the test conditions described herein, the amount of perspiration at the treated hand was significantly lower than the amount of perspiration at the untreated hand after 15 minutes following three applications of the test material," the test concluded.
The measured sweat produced by each participant's treated hand was around 24% lower than the untreated hand.
It's important to note that each person in the test underwent supervised handwashing. They washed their right hand first for 15 seconds using liquid Ivory soap. They then used a wet paper towel to clean off their hands while rinsing. They then dried their hands and repeated the process for the left hand.
Subjects then applied 1 mL of Carpe to the test hand and rubbed it in for 45 seconds "or until the hand was completely dry."
Pricing
Carpe Lotion for sweaty hands and feet is available on the company website for $59.95. This order includes:
3 Carpe Hand, 40mL
3 Carpe Foot, 40mL
Additionally, the lotion is available on major retailers such as Amazon, Walmart, CVS, and target priced at around $15.
If you aren't happy with Carpe, their website says you can return your lotion or deodorant, no questions asked. You have a 90-day window after the day of purchase to make your return. To start the process, you'll need to email info@carpelotion.com.
Customer Reviews of Carpe
The most extensive Carpe reviews come from customers who purchased the lotion through Amazon. At the time of this review, the product's hand lotion had more than 2,950 reviews for an average rating of 4.1 stars.
Some of the most common praises of the lotion were that the reviewer would recommend the lotion to anyone that it works great and that they highly recommend it.
We found a few complaints about the lotion making your hands dray and a few reviewers said the lotion was not able to curb their sweaty palms.
Bottom Line
Carpe is a simple product in the sense that their hand lotion is based on an ingredient that's actually proven to help fight sweaty palms. In this sense, there is no trickery or deceptive marketing going. The aluminum salt it contains blocks your sweat glands.
However, the lotion isn't going to work for everyone. Even though that's true, the reviews we've seen from past customers indicate that you'll most likely be pleased with the way the lotion works but, as Carpe points out on their website, it may take you up to a month to get consistent results.
One of the great things about Carpe is that its sub-$15 price tag means that you aren't heavily invested in the product. If it doesn't work out after a month, you can try other solutions. Some of the highly-rated hand antiperspirants we found on Amazon include SweatBlock ($14.98 for 1.69 oz.) and Certain Dri ($5.39 for 1.2 oz).
Customer Reviews