CarTection Reviews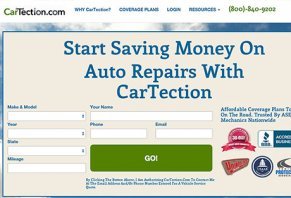 CarTection is a company that sells third-party extended service contracts, which can help you keep your car on the road longer and help pay for repair bills.
About CarTection
CarTection claims to offer the best extended service contracts that can help you save money on auto repair bills when the inevitable breakdown occurs.
CarTection claims that the month-to-month vehicle service contracts they sell provide the affordable coverage you need, and that they're revolutionizing the auto care industry by offering affordable coverage without dealer margins.
Even though CarTection allows you to visit the certified mechanic of your choice and their administrators have an A+ BBB rating, does this mean you should purchase an extended service contract?
In other words, is their coverage worth the money, or will it leave you high and dry when you need it the most?
How CarTection.com Works
As an independent nationwide company that markets vehicle service contracts on behalf of a 3rd party administrator, CarTection.com claims to help give you peace of mind after your vehicle's manufacturer's warranty has expired. As such, their extended service contracts come in 3 different types:
New Car Coverage – Covers parts or components not covered under a manufacturer's warranty, with some exceptions. Three different plans to choose from.

Comprehensive Coverage – If you don't qualify for New Car Coverage, this is the plan for you, which covers essential components such as transmission, air conditioning, electrical system, and more. Seven plans to choose from.

Powertrain Plus Coverage – Provides coverage for major, high-cost components only, such as engine, transmission, fuel system, and more. Three plans to choose from.
To obtain a vehicle service quote on CarTection.com, simply enter your car's year, make, model, and mileage, as well as your state and contact information. Afterward, a CarTection representative will contact you directly (tip: for faster service, be sure to have your VIN available during the call).
You may also want to read through all information about each of the plans available on the CarTection website. This way, you can ask any questions during the phone call before making a commitment.
After a claim occurs, you'll have the ability to take your vehicle to any dealership or ASE certified repair facility you wish.
Once there, the shop will diagnose your vehicle and send this information over to your coverage provider, who will approve and authorize your repairs, less any applicable deductibles (see more about this in the following section).
After you've approved the repairs, your coverage provider will then pay the shop.
CarTection Pricing and Refund Policy
CarTection quotes are free to obtain and come without obligation, which you can acquire either by visiting the company's website or by calling 800-840-9202.
However, once your coverage is active, keep in mind that, in addition to your monthly premium, you'll also be responsible for a $50 or $100 deductible per repair visit. As long as you keep your coverage in force though, it is transferrable to any new owner.
CarTection offers a 30-day refund policy for their coverage plans, although once this time has passed, you will only be eligible for pro-rated refunds.
What Do Other Consumers Have to Say About CarTection?
Because CarTection is an independent company that sells vehicle service contracts on behalf of a 3rd party administrator, CarTection doesn't actually provide you with any coverage.
Instead, all policies are administrated either by Royal Administration Services or American Auto Shield, both of which have A+ Better Business Bureau ratings.
Despite their high ratings though, these companies have 100+ and 160+ (respectively) closed complaints, most of which appear to reference fully or partially denied claims, slow vehicle repair times (e.g. takes a long time to approve each step of the process, resulting in time spent without a vehicle), and customer service that is unhelpful. We'll talk more about this in the final section.
With this said, CarTection appears to be a very new company, with its URL having been registered in June 2014, and as such has no online customer reviews.
However, we learned that CarTection is owned by TyGro LLC, who has been BBB accredited since 9/26/2013. TyGro also appears to own monthlyautoprotection.com and autosavego.com, both of which redirect to the CarTection.com website.
Previously, TyGro LLC's owner was responsible for StopRepairBills.com, a company that also offers auto service contracts.
Are CarTection Extended Service Contracts Worth the Money?
When everything is said and done, can you count on CarTection to provide you with extended auto warranty coverage that's easy to use? Perhaps, but keep the following in mind:
Understand Who You're Doing Business With
First and foremost, keep in mind that CarTection is an independent company that sells vehicle service contracts on behalf of a 3rd party administrator. In other words, you can almost think of CarTection as an insurance agent; they sell a company's policy and earn a commission, although they're not actually the ones providing coverage.
Understand What Kind of Coverage You're Purchasing
Extended service contracts essentially act as an extension of your manufacturer's warranty, whether this is currently in effect for your auto or not. As such, most of the third party company's clients are those with older vehicles, and as you know, the older a vehicle is the more likely it is to break down. This obviously means that when you purchase CarTection coverage, it's likely that your vehicle has some miles on it, and it may have been in the shop for repairs previously.
This is important because, whether we're talking about CarTection or another extended service provider such as Warranty Direct, most consumer complaints reference claims that were denied as a result of "pre-existing conditions."
While this can be a somewhat fuzzy designation, it's important that you fully read through your coverage and understand what constitutes a pre-existing condition. Otherwise, you may find that your claim is denied when you need it most.
Keep Impeccable Records
Another important tip to remember is that all of CarTection's third-party administrators require very good service records when it comes time to approve your claim.
As such, make sure you start keeping very good maintenance records and following your manufacturer's recommended maintenance schedule. Otherwise, your coverage could be denied in the event of a claim.
Information Sharing
Finally, according to the CarTection Privacy Policy, "We may share your personal information with third parties for their own marketing purposes." In other words, whether or not you ultimately decide to purchase a CarTection extended service contract, you may soon be contacted by other companies who will try and sell you their products.
Bottom Line
CarTection's third-party service contracts may be a good way to keep your vehicle on the road longer and pay for expensive repairs, although it's vitally important that you fully understand your coverage in advance of a claim.
Satisfied Customer

By Alice Stockley

,

Dallas, Texas

,

Aug 25, 2015

Cartection was very helpful, I am a single mother on a budget the agent was able to provide a coverage that not only fit my budget but also fit my needs for my vehicle. I also want to share that they went above and beyond the call of duty by helping me receive a policy that is truly going to give me a peace of mind while I manage my family's budget. So in closing, I would highly recommend CarTection to anyone that needs the coverage for a vehicle.

Bottom Line: Yes, I would recommend this to a friend

---

Happy!

By Gail

,

New York

,

Jan 14, 2016

I spoke with Marc yesterday about a few issues that I have with my car. The major problems involving the transmission is going to be covered! I was so happy to find out that CarTection will take care of it.

Bottom Line: Yes, I would recommend this to a friend

---

Advertisement

---

Difficult

By Jim Willis

,

Tracy, CA

,

Jul 19, 2016
Verified Reviewer

Called me to offer a policy which was very competitive, but high pressured for a quick decision. I needed time to research and they wouldn't give that to me, so I turned them down. Not sure what to make of them other than they don't allow a prospect time to digest the offer, which makes me suspect that they have issues.

Bottom Line: No, I would not recommend this to a friend

---

No contact

By John B.

,

Illinois

,

Sep 23, 2019
Verified Reviewer

I have been trying to get in contact with them for months, seems like no numbers work. Can someone please help me out. Purchased a warranty back in 2016, paid in full and never needed to contact them until now.

Bottom Line: No, I would not recommend this to a friend

---

Advertisement

---

Horribly rude telemarketing company.

This is a horribly rude telemarketing company, which refuses, or is so incompetent, that they just will not remove me from their call list.

Bottom Line: No, I would not recommend this to a friend

---

Harassment

By Greg Frenton

,

Heath, Ohio

,

Nov 30, 2015

After quote I told them wasn't interested, experienced typical boiler room tactics, was told had to pay that night or they couldn't offer it to me. Still calling and harassing me, total of five phone calls yesterday. This has been going on for two weeks now.

Bottom Line: No, I would not recommend this to a friend

---

A scam, not trustworthy.

By Isaac

,

St. Louis MO

,

Dec 7, 2015

Bottom line Cartection and United Car Care did nothing but take money and denied my claim and said it was preexisting, but it was normal wear on camshaft. So I have to come out of 2500 plus 595 for Cartection no service warranty. Have BBB investigating Cartection how they are ripping people off.

Bottom Line: No, I would not recommend this to a friend

---

Terrible service. I canceled!

By Paul

,

Arlington, Texas

,

Feb 7, 2016

In October, I paid a $395.00 deposit. Then I made payments of $145.33 in November and December. I filed a claim for a water pump in my Prius at 9:00 AM, and after making five phones calls, still didn't receive the approval that day. They stated it would take another day to review my account, to see if I was eligible.

I have made over $600 in payments, but couldn't get a timely claim approved for two days. I have since canceled the policy. If this is their operating procedures, I don't need them, and they will not receive a recommendation from me. Looks like a scam, walks like a scam, so it must be a scam!

Bottom Line: No, I would not recommend this to a friend

---

Not happy

By Donna Aragon

,

Fowler, CO

,

Mar 1, 2016

Sales people are too friendly until you say you're not interested, then they become high powered sales people. Then the constant phone calls and messages. A no is a no, but they don't understand that. I don't want the coverage, yet have no way to contact them. Their phone never gets answered and no way to leave a message. I have until Feb 29 to cancel. If they don't answer I am quite sure my attorney won't hesitate to contact them. Cartection is a rip off.

Bottom Line: No, I would not recommend this to a friend

---

Headlock

I think if the salesman would have been in my apartment at the time I spoke with him on the phone, I think he would have put me in a headlock trying to sell me this product. I have a number that says they took money out of my account without a conclusion to the conversation on the phone, and this also confirms me as being a CarTection customer.

We never came to a conclusion, and they went into my bank account and took out $195 when I know we had a verbal agreement on $100 because I'm on a limited income. Now I stand a chance of getting evicted from my space because I'll be short on my rent.

Bottom Line: No, I would not recommend this to a friend

---

Don't do it

I received a call telling me all these wonderful deals and how much I would save (being that I have an older car). I was told that CarTection will repair all these things for me and all they needed was my VIN number and the current mileage of my car. I gave it to them. Six weeks later I file a claim and it gets denied. I was basically told that my car was too old and had other issues. FYI, I only gave a star because it was required, so I guess I'll say it's for getting away with it.

Bottom Line: No, I would not recommend this to a friend

---