CashNetUSA Reviews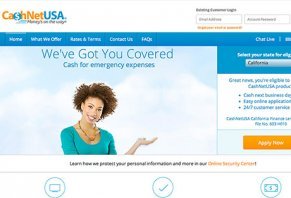 CashNetUSA is an online lender that claims to provide approval for short-term, small-principal loans in minutes that can help you cover emergency expenses.
About CashNetUSA
If you've found yourself in a financial emergency, you may have thought about taking out a loan through CashNetUSA, a lender that claims to provide short-term, small-principal payday loans and lines of credit.
When compared to the competition, CashNetUSA claims that they can provide you with instant approval and cash the next day, which is important during times of crisis.
But after everything is said and done, are the funds provided by CashNetUSA worth it? We deposited the facts, and here's what we found out.
How CashNetUSA Works
While CashNetUSA.com provides lines of credit in some states, their primary product is payday loans, which are short-term, small-principal loans that are typically repaid quickly.
According to the CashNetUSA website, you can apply for your payday loan online, and can receive an instant decision via email, even if you have less-than-perfect credit, and even if you've been turned down by other lenders.
In order to begin the 5-minute application process, you'll need to provide your name, address, phone number, email address, DOB, Social Security number, and work details.
Once you've been approved, CashNetUSA claims they can send the funds to your bank via ACH the next business day, as long as your application is approved by 9pm CT.
From there, most loans are then repaid in full on your next payday, although the company claims that they can extend your payoff date in some instances.
CashNetUSA.com Pricing and Refund Policy
What your CashNetUSA loan will ultimately cost depends largely on the amount borrowed, your credit score, and the state in which you live. However, with this in mind, fees are generally as follows:
Loan amounts range between $255 and $500.
Loan fees range between $10 and $45 per $100 borrowed.
APRs range between 205% and 800%.
Loan terms range between 2 weeks and 15 months.
Because CashNetUSA specializes in short-term loans, the full payoff amount will typically be due on your next scheduled pay day.
However, according to the company's website, you can pay your loan off early, which may provide a refund for a portion of your loan fees.
In order to process an early payoff or inquire about any other aspect of your loan, you'll need to contact CashNetUSA's 24/7 customer support at 888-801-9075.
What's the Bottom Line About CashNetUSA?
Now that you know more about CashNetUSA, should you consider a payday loan from them if you find yourself in a financial emergency? Maybe, but keep the following in mind:
High Price for a Small Loan
Along with nearly al other payday lenders, CashNetUSA charges extremely high interest rates, on top of applicable loan fees.
This means that you should avoid utilizing these types of lending services unless you have no other options. If you do take out a loan though, make sure you pay it off as quickly as possible.
Take the following as an example: If you live in Delaware and take out a $600 loan with a 388% APR and a 7-month repayment schedule, this means you will have paid a total of $1551, which means you'll have paid more than $950 in interest.
If you live in another state which charges an additional fee per $100 financed, your costs will be even higher.
Scammers Pretending to be CashNetUSA
As we mentioned in our recent ACE Cash Express review, there have been hundreds of instances of scammers pretending to be CashNetUSA who called individuals and told them they're approved for a loan.
Customers will be asked to put money on a prepaid Green Dot MoneyPak or Vanilla card and send it over, which will often be accompanied by follow up requests for increasingly greater amounts of money.
However, this is not a practice that CashNetUSA claims to adhere to, so if you receive one of these calls, hang up immediately and file a complaint with the FTC.
Online Customer Reputation
Overall, it appears that CashNetUSA has a mostly negative online customer reputation, with the most common complaints citing high-pressure sales calls and extremely high interest rates, which may end up costing you twice as much (or more) as your original loan amount.
Unwanted Sales Calls/Emails
According to CashNetUSA's Privacy Policy, they may provide your information to advertisers, who will then contact you in an attempt to sell you their products and/or services.
Right Choice for You?
Between the extraordinarily high interest rates and low online customer reputation, it's important that you fully weigh all your options before taking out a loan through any payday lender, including CashNetUSA.
No more money for you.

By Thomas M.

,

South Portland, ME

,

Feb 7, 2020
Verified Reviewer

So I applied and in Maine, you are limited to a pay day loan. Ok, so I applied for the loan, no problem there. Paid it off per the agreement. Went to the site and it says you can reapply. So I tried several times, nothing, so I call to talk to a rep. He can see I am paid up, so he put me on hold, when he comes back he says I am denied and I should get an email within 30 days. This makes no sense to me, seems I should be in good standing with them. So what could have been a good review, has now become a bad review. I will not put in my order number, if they care enough they can look it up.

Bottom Line: No, I would not recommend this to a friend

---

Very risky, very expensive line of credit, BEWARE

By Jeremy P.

,

Moscow, TN

,

Jan 11, 2020
Verified Reviewer

Where do I start...Big time, lack of a better word, SCAM. I needed the quick cash and yes, while they do approve me and get me the money very quickly as they say, it is a VERY expensive line of credit. I originally needed a cpl hundos and then the "you're approved" for more money emails flooded in. If you're in a tight spot, it's great, but the payback is a b*tch and it's almost as if you're punished for getting behind on your bills. I don't fish but this is exactly that, except, you're the fish. I would not suggest this to anyone and would like to meet the cash money guy in a dark alley and take his cape.

Bottom Line: No, I would not recommend this to a friend

---

Almost had to file bankruptcy...

By Cheyenne W.

,

Tennessee

,

Jan 11, 2020
Verified Reviewer

I was desperate for a little extra money to pay for classes and didn't know where to turn. I got an offer for a $1500 line of credit and it sounded too good to be true. Well. It is. They hit me at a really rough time so I didn't do my research...BIG MISTAKE.

They started taking ~$250 from me twice a month. Sometimes it came out way too early. I was overdrawing constantly to the point where I was getting in trouble with my bank. I went weeks at a time not being able to buy groceries but I didn't know what to do. I asked if I could get my payments lowered just a bit; no dice. I literally took a second job to try and keep up and it still wasn't enough with all the other bills I had to pay.

I was about to file bankruptcy, but a very, very generous work peer saw me have a full-on breakdown at work and is helping me pay in full. We'll see how that goes, but even if I don't get trapped on the phone for hours like other reviewers here, I would still NEVER recommend this company. Horrible!

Bottom Line: No, I would not recommend this to a friend

---

Do NOT do business with CashNetUSA

By Ravan P.

,

Roseville, CA

,

Dec 16, 2019
Verified Reviewer

Do NOT do business with this company. Everytime you call or chat it can take upwards of 4 hours to reach someone. When I began doing business with this company I was told they were available 24/7. This is NOT true!

I was also told I would be able to call in to make my payments because my check doesn't come on a certain day every two weeks. Then I downloaded the app, which doesn't work. Every time I login I would get an error and the app would shut down. So when I got online, I noticed they set me up on automatic ACH payments, which I didn't authorize. When I tried calling a week in advance to postpone my payment and see how it could be possible that they were going to automatically take payments from my account without permission, the office was closed. This was on a Tuesday! I continuously called from Tuesday until the ACH payment was going to be withdrawn on my account Monday. Every time I called they were either closed or I would receive an error message and the recording would disconnect my call. This company has numerous numbers by the way, and none of them would work.

Finally Monday, after I received numerous fees for this unauthorized payment coming out of my account, I reached a representative through chat online. In the chat, I explained the situation, that this payment was NOT authorized and that I had been told I could call in to make my payment on my payday. Jamie, the representative I chatted with, agreed that I had not authorized ACH payments and supposedly canceled any future ACH payments. She also assured me that once the payment was no longer in pending status the company would reverse the payment and I would be fully refunded with no penalty as long as I called in my payment. She told me to call back once the payment was no longer pending and she would note my account so I wouldn't have any further issues. Luckily, I was sure to have the representative email me a copy of the chat session and I took screen shots of the interaction.

So far I have been charge over $100 in fees for this. Not only that, the amount of money they took for the payment was not the agreed upon amount. Anyhow, I tried to go through chat once again to get the payment refunded the very next day once the payment plus fees had posted. I waited 5 hours and then the system disconnected me. So I called and waited on hold for over 4 hours to speak to a representative. Once I reached someone I explained the entire situation and he told me that no they would not refund the money and that he would have to send my concerns to management who would in turn contact me within 24 hours. This was last monday. I still have not received a call back and it is now Sunday. I have tried calling back since this time and have tried the chat sessions but no one answers or returns my calls and the chat sessions just end after several hours.

This company will lie and tell you anything just to get you to take a loan with them. Don't be stupid like I was and give this company access to your bank account. They have tried to withdraw money from my account several times since last week even though no payment is due. I have had to put a stop payment on my account against this company so they can't keep withdrawing money from my bank. The bank told me all they have to do is change their merchant number and then there isn't anything the bank can do to stop them from withdrawing whatever they want from my account. Until I bring my bank account current I can't shut the account and open a new one which is what they are suggesting I do. Anyhow, next week after I get paid, I will be paying off the entire amount of this loan and closing my bank account.

When all is said and done I will have hundreds of dollars in bank fees. If you are in desperate need of a loan, your best bet is to go directly through your bank. They offer small loans just to help customers to not use companies like CashNetUSA. Do NOT fall victim to this scam. In the end, it will cost you much more than you are agreeing to pay back.

Bottom Line: No, I would not recommend this to a friend

---

Advertisement

---

Predatory lending

By Tony S.

,

Rhode Island

,

Dec 2, 2019
Verified Reviewer

These types of companies are only in business to make people's financial situations even WORSE! Don't be intimidated by their threats because the interest they charge the consumer is much higher than state laws mandate. Guaranteed to be dealing with a class-action suit soon...

Bottom Line: No, I would not recommend this to a friend

---

Please don't ever use them

My family was in a bad situation and my mother convinced me to take out a loan with them, I really didn't want to, but I decided to go along with it. My information was accidentally put in wrong and they still let the loan go through (which should of been my first red flag), I tried to correct my information (through their horrible website AND horrible call center service) but nothing worked. Eventually, I started having login problems, I couldn't sign in my account. I tried resetting my password a million times, I started to get very worried because my reason for needing to sign in was to extend my loan so I could pay on a later day. I called them and they told me my account was under review and they couldn't do anything, they said someone would call me back in 24-48 hours. No one did. I called back too and nothing! Now my bank account is $400+ negative, I don't know what I'm going to do. I wish I could give them -5 stars. Please don't ever get a loan with these monsters, they're greedy, heartless scammers. They've made my situation worse.

Bottom Line: No, I would not recommend this to a friend

---

Rip off

By Kristin R.

,

Louisiana

,

Nov 9, 2019
Verified Reviewer

I only borrowed $600 and have paid $500 and they're saying I still owe $629.00. I'm reporting them to the Better Business Bureau! A scam, do not use them! They are ripping people off. this is not a good deed!

Bottom Line: No, I would not recommend this to a friend

---

A thank you to all for your reviews

By Donald B.

,

Arkansas

,

Nov 8, 2019
Verified Reviewer

I was contacted by CashNetUSA saying I had been approved for a loan. I called and they acted really fishy, when I asked them to email me info they said the would have to call me back. Thank you all for your honest reviews, it saved me from a nightmare!

Bottom Line: No, I would not recommend this to a friend

---

Do not, and I repeat, DO NOT deal with this company!

By Tamie C.

,

Virginia

,

Oct 21, 2019
Verified Reviewer

THIS COMPANY IS A RIP-OFF! Before I made a payment my balance was $1,283. I made a payment of $229.00 on October 16, 2019. My balance went to $1469. I was told by a rep whose name was Cathy that $183 worth of interest was applied to my account and $46 went toward the principal? So I ask to speak to a manager and was told no manager was available. So I asked her last name and extension, she told me that they are not allowed to give out their last name. Then told me to hold on so she could get her extension? Then returned to the phone to say she is not allowed to give that out either and she asked me did I want her to have a manager call me back. Well, needless to say, that was 4 days ago and no one has contacted me.

Bottom Line: No, I would not recommend this to a friend

---

Line of credit

By Betty M.

,

Birmingham, AL

,

Oct 18, 2019
Verified Reviewer

Please beware of this company. I found out the hard way. I had them talk me into doing a line of credit. I was approved for a $2000 limit, the customer rep told me I would only have to pay on this loan only a $100 every pay period and I can borrow any time I want from it. Didnt tell me the whole story behind this crap. So later I started to notice I was having money coming out of my account for different amounts every pay period and you think this money is going toward your bill but it is not it going toward interest. I didn't know this until I called them and they are some rude people when you start to ask questions. I found out the rep didn't tell me everything when I got this line of credit. Also didn't tell me interest is added every day.

These people are not here to help you, only to RIP us off by having us paying on these loans forever...I am in the process. Now I have calle to file a complaint against them. Also I'm going to go to a lawyer today and talk to them about this. Also I'm going to close my account. And pay them through a MoneyGram. Also I will not deal with CashNetUSA never again, you all should be ashamed of yourself preying on the weak to make a mighty dollar! GOD is watching you evil people.

Bottom Line: No, I would not recommend this to a friend

---

Cash loan scam

By Frank R.

,

Arizona

,

Oct 12, 2019
Verified Reviewer

If you need a loan, do not, I repeat, do not call these lying dogs!

Please, people, hear me loud and clear. These people are lying dogs. Telling you they're name is Adam, North, or Sam.

They make you go through a verification process and you have to withdraw $800 and in return send them the amount back in eBay cards. This happened again for $600 and again, "oh don't worry Mr. Frank, you will get your money." In the meantime, your rent is due along with all utilities and you only do this out of desperation because you need a loan. I am the dumbest person in the world for falling for one scam after the other..

I'm begging you, take them out of business and please vet all companies that are lying.

Bottom Line: No, I would not recommend this to a friend

---