Casper Mattress Reviews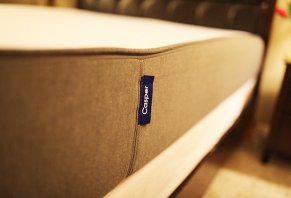 Summary
Casper updated their original mattress by (among other things) adding a fourth Zoned Support Transition Layer. We slept on it for eight nights and spoke with a company rep to help you decide if it's time to upgrade.
About Casper Mattress
Editorial disclosure: We get a commission from Casper when you make a purchase through the links or with the coupon code in this post.
NYC-based Casper was founded with the goal of improving sleep and modernizing the industry, and they've been popular with consumers from day one. In fact, they sold out of their original mattress within 24 hours of going on sale.
Since then, they've raised $240 million in funding—including from celebrity investors like Toby McGuire, Adam Levine, and Leonardo DiCaprio—which is a lot of money for making a great mattress. They've also gathered millions of data points and created an in-house R&D team, called Casper Labs, where this information is transformed into real-world products.
In 2017, the company's original mattress (which one of our staff members and their spouse purchased about a year and a half ago, and continue enjoying today) was updated and improved with:
A 1.5" top layer for added comfort when transitioning to the firmer support layer
A latex-like polyurethane foam labeled "comfort foam" by Casper, which aims to add softness
A more breathable design that's likely to provide effective support for a broader cross-section of sleepers
The bottom line is that when it comes to buying a mattress, there's no replacing personal experience. In other words, you need to sleep on one for at least a month before deciding whether or not it meets your needs.
To help you decide if it's worth placing an order and taking advantage of the company's 100-night trial, though, we had the opportunity to sleep on the Casper mattress over the course of eight nights, which we received for free from the company. What follows is our experience.
How Much Does the Casper Mattress Cost?
Casper's full-size mattresses start out at $1,050, while a queen costs $1,195 and a king is priced at $1,495. Six, 12, or 18-month financing is available through Affirm, with APRs ranging between zero and 30 percent.
Regardless of the size, all orders include free shipping and a 100-night trial. Basically, if you're not satisfied with the mattress, they'll arrange for free pickup, which we think is pretty awesome.
Casper Offer: Get $100 OFF your Casper Mattress with Coupon Code 'HIGHYA'
Our Casper Mattress Set Up
Our mattress arrived in a moderately heavy box (not as heavy as the Casper Wave, though), but we think most consumers could set everything up by themselves, depending on their strength, of course. (Our tester was 6' 5" and 260 lbs.)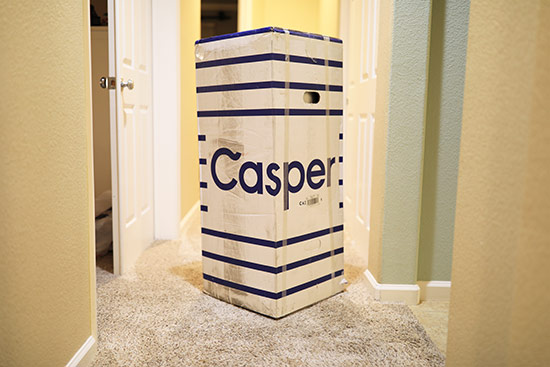 The Casper Mattress arrived in the box shown above, we recommend two people, although possible with one.
After pulling the mattress out of the box, placing it on a foundation, and cutting the plastic, we watched it unfurl and expand over the course of about five minutes. Then, we were ready to go.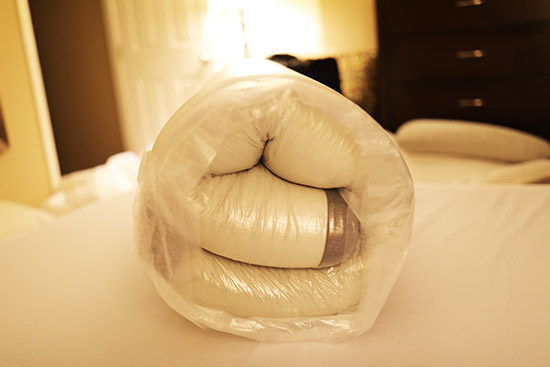 The Casper Mattress Arrives ROlled up In plastic as shown
After this super easy setup, in our opinion, we think Casper's mattress had a sleek, aesthetically pleasing design in plain grey. Nothing too fancy.
We did notice a light odor when we cut open the mattress's plastic, but it wasn't strong enough to keep us awake or bother us in any way, and it completely dissipated over the course of three to four days.
What Did We Learn About Casper Mattress's Construction?
We cut the cover on our mattress to check out its four layers for ourselves, which combined (including the breathable zip-off cover) to deliver an overall height of 10 inches:
First Layer: Comfort/Latex-Like Foam (1.5") – A proprietary, open cell layer that gives the mattress some bounce and breathability to prevent you from overheating.
Second Layer: Memory Foam (1.5") – Provides a pressure relieving, contouring feeling to your body.
Third layer: Zoned Support Transitional Layer (1.5") – This is a unique technology created by Casper that promises to deliver "incredible comfort, ideal anatomical support, and focused spinal alignment." Here, the foam underneath the shoulder area is softer, allowing them to sink in, while the hip and core-area foam is firmer for added support and spinal alignment.
Fourth layer: Dense Foam Foundation (5") – Made of high-density poly foam that provides the mattress's foundational support.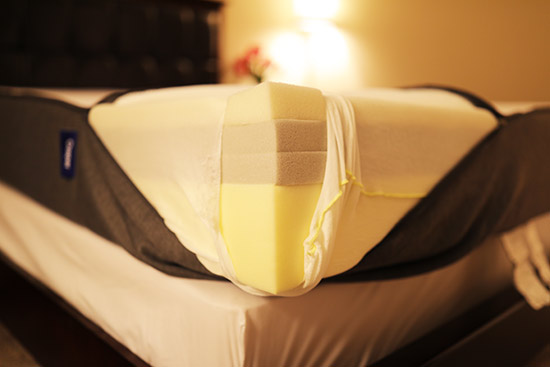 The Layers inside the Casper Mattress
Casper Mattress Comfort Level: Firmness & Weight Distribution
On a firmness scale of one to ten, with one as the softest and 10 as the firmest, we think the Casper mattress rates somewhere near a seven. Which is obviously a little on the firmer side, but as someone who suffers from chronic back pain, something we actually prefer.
Each time we laid on the mattress, we noticed a sinking feeling for a second, followed by a distinct firming as the foam contoured to our body.
Casper Offer: Get $100 OFF your Casper Mattress with Coupon Code 'HIGHYA'
We found weight distribution was consistent throughout the entire mattress, with no noticeable soft spots. If you're an edge sleeper, you'll almost certainly find this mattress can accommodate your preferences.
Speaking of which, we prefer sleeping on our side, and found the mattress perfect for that as well. Even when occasionally watching Netflix in bed while laying on our back, we could imagine that sleeping in this position would be equally as comfortable.
We think it might be perfect for any sleeping position, really (more in a second).
To test motion transfer, two participants laid on the mattress together and took turns moving and getting up and down, while the other lay still. There was no noticeable movement—at least, not enough to wake someone up in the middle of the night, unless they're an especially light sleeper.
As mentioned earlier, we suffer from chronic back pain. And while the Casper mattress didn't do anything to make it worse, it also didn't make the situation any better, either, which is a huge plus in our mind.
On the other hand, we did find that the Casper Wave took away some of our back pain.
Does the Casper Mattress Sleep Hot or Cool?
As most of us know, temperature plays a huge role in how well we sleep. In other words, if you're too hot or cold, you'll frequently wake up, rarely reach deep sleep, and often be plagued by grogginess the following day.
In this regard, we thought the Casper Mattress did a good job of maintaining temperature balance. Although we felt it was a bit on the warm side for our taste, but again, that could be due to our tester's size.
Casper Offer: Get $100 OFF your Casper Mattress with Coupon Code 'HIGHYA'
We also prefer to sleep with our window open, and with temperatures currently the mid-40s here at night, that might have played a part in how warm we felt.
What's Our Bottom Line About the Casper Mattress?
The Importance of Your Sleeping Position When Buying a Mattress: During our past research into the online-only mattress industry, we've learned that—in general—the 'best' option for anyone is largely going to come down to preferences. Specifically, your preferred sleeping position.
For example, side sleepers tend to go through a mattress's comfort layer faster than other positions, so they often prefer models with thicker top layers. Mattress Clarity adds that side sleepers are most in need of pressure relief around the hip and shoulder areas, making a thicker, softer top layer even more crucial.
With this in mind, the five unique layers and between 36 and 38 polymer support channels found in their Wave mattress provided us with more contoured support in these regions, which might better suit side sleepers—especially for those who suffer from chronic back pain, which we also do.
Casper Offer: Get $100 OFF your Casper Mattress with Coupon Code 'HIGHYA'
On the other hand, back sleepers tend to prefer a thinner top layer (two inches or less). Stomach sleepers might prefer the same, but the top layer typically needs to be firmer in order to prevent the back from curving backward unnaturally.
Casper Mattress's four-layer design—including the recently added Zoned Transition Layer—and medium firmness would be ideal for all sleeping positions. Those who sleep hot, regardless of their preferred position, might also prefer its thinner design.
Who Might the Casper Mattress Work Best For?
After sleeping on the Casper mattress for more than a week, we woke up feeling rested each morning, without any excessive back pain.
Furthermore, we found it comes at affordable prices, ships directly to your door, comes with a 100-night trial and free pickups, and can be set up and ready to deliver a good night's sleep in about five minutes. Together, we think the company is clearly doing a great job with their mattresses, and we feel comfortable recommending them to our family, friends, and readers.
Factoring this into all of the details discussed above, we think Casper's seven-out-of-10 rating makes it an ideal firmness for almost any sleeping position, whether side (like us), back, stomach, or combination. In other words, based on our experience and the company's reputation, warranty, and quality, we feel you can't go wrong with a Casper mattress.
Just keep in mind that your pillows can play a role in how well you sleep, so don't forget to factor those into the equation as well.
Customer Reviews
Posted on Jan 11, 2015
Gave me horrible back pain, not a thick mattress.
First of all, they don't really disclose the fact that it's a SHORT Mattress. I was used to sleeping on a 13 inch thick mattress and this is maybe half of that! Second, it's way too soft. I wake up in more pain than before I got it. Disappointing purchase.
Bottom Line: No, I would not recommend this to a friend
Posted on Jul 20, 2015
Under whelmed
I was super excited after all the hype, but then I actually slept on the bed. It is kind of stiff and not that comfy. They make you keep it for longer than you want when it's not comfortable, which is a bummer. In the end, it went to a local donation station and I got my money back.
Bottom Line: No, I would not recommend this to a friend
Posted on Nov 1, 2015
It's just a futon
I've had futons that sleep better than this cheaply made, small, too soft mattress. It's just a cheap futon mattress, nothing more.
Bottom Line: No, I would not recommend this to a friend
Posted on Mar 2, 2016
Not what I had expected
The mattress is of very poor support. I wake up each day with pain in my hips. Don't do it.
Bottom Line: No, I would not recommend this to a friend
Posted on Jun 3, 2018
Worst experience! Sent the wrong size mattress and never followed up to correct the order.
We ordered a king size mattress and waited for almost a month for it to deliver. When it delivered, it was a queen mattress, not a king. We sent the mattress back with the drivers, and they told us Casper will send us the correct size right away. I immediately called Casper after the drivers left to let them know and they said they will contact the shipping company to send the correct size. I took work off just to wait for the delivery too.
A week later, I called again to double check when the correct king mattress will deliver. The representative had NO notes in her system regarding a new mattress or the fact that we sent the wrong size back! There was NO follow up and NOTHING regarding the mistake! We asked for Casper to give us some sort of discount, but they only offered to deduct the $100 shipping cost our of out $2,300 purchase. Are you kidding me, that's it?
We were so frustrated we canceled our order and wasted two months. We ordered a Bear Hybrid mattress instead (that's a lot cheaper by the way) and love it! Their shipping was seamless, and their customer service was great. Thanks for nothing Casper.
Bottom Line: No, I would not recommend this to a friend
Posted on Jan 23, 2015
Not quite right
I was excited about this whole Internet ordering thing when it came to a Casper Mattress. Bought one for my apartment and it feels pretty cheesy. Too soon to call it a failure but it's looking that way. Glad it comes with a return policy.
Bottom Line: No, I would not recommend this to a friend
Posted on Jul 7, 2015
Great mattress!
I've been extremely pleased with my Casper. Super soft, but great support also. And the price? Well, that was definitely a major well point also.
Anyone on the fence might want to give http://sleepopolis-mattress-reviews.com/casper-mattress-review/ a quick read. It definitely helped push me over and I'm glad I did.
Happy sleeping!
Bottom Line: Yes, I would recommend this to a friend
Posted on Oct 25, 2014
So happy I got this mattress!
I must admit I was apprehensive to purchase a mattress online, but I am so glad I did. The thing that made me feel okay about it was their generous return policy - I had 100 days to try it out. That's amazing! It does take a few weeks to get used to, but now I'm sleeping better than ever and am not waking up with back pain like my previous mattress. I highly recommend this mattress!
Bottom Line: Yes, I would recommend this to a friend
Posted on Jul 8, 2015
Best mattress I have ever owned.
This Casper mattress has changed my life. Dealing with the company has been an absolute joy from start to finish. You are buying the customer service and the comfort of knowing you will be taken care of if anything happens, as well as the comfort of their amazing product.
Bottom Line: Yes, I would recommend this to a friend
Posted on Nov 19, 2014
You will be impressed
About 6 years ago I purchased a luxury pillow top mattress that I thought was amazing when I first got it. Over the years it degraded to one of the most uncomfortable beds you could find. I was looking forward to hotel stays just to get off of our mattress. We decided we need to upgrade. With a lot of friends going the memory foam route and loving it we went to the store to try some out. We liked them for the most part but hated the idea of paying over $2000 for a mattress. I started researching online and found Casper. I was very skeptical at first. It was less than half the price we were looking at paying and we couldn't test it out before the purchase. After weighing some options I decided to give it a go and ordered a queen. The ordering process was super smooth and shipping took only 2 days to Michigan. Unpacking the mattress took about 15 minutes and it was ready to lay on.
First impression – The Casper has an initial feeling that is more firm than most memory foam mattress we tried in the store. However once you lay on it for a minute it cradles your body nicely. I assume this initial firmness it provided by the latex top layer, than the memory foam 2nd layer cradles you. It does have a light smell at first but only noticeable if your nose is right at the mattress.
Here's a one-month review:
1. I am noticeably getting better sleep on the Casper than my old mattress. My old mattress was terribly so perhaps any mattress would have been better….but so far the Casper is delivering.
2. It is a very cool sleeping experience. I am hot all the time and would frequently over heat on the old pillow top. So far I have notice the Casper is cool to the touch when getting into the bed and maintains a lower temperature through the night. This is a big bonus for me.
3. Its still springy! One thing we did not like about the memory foam mattresses is when you try to move or roll you almost need to lift yourself up out of the mattress than move. On the Casper you can just move naturally. It has far less sink then most other foam mattresses.
Overall if you are looking for a firmer feeling and cool sleeping mattress I would recommend the Casper 100%. If you love sinking down into a plush memory foam mattress, this is probably not for you. The only downsides I have noticed so far is the edge stiffness is low. If you sit on the edge of your mattress a lot this might be an issue. Also at only 10" thick (compared to our 18" pillow top) it might change your bed height a decent bit.
Give Casper a shot and you won't be disappointed.
Bottom Line: Yes, I would recommend this to a friend
Posted on Dec 16, 2014
Great mattress and so easy!
I love my new Casper mattress. Everything about the process was simple.
Bottom Line: Yes, I would recommend this to a friend
Our Promise to You
In order to safeguard you and ensure helpfulness and relevance, our compliance team manually assess every customer review before it goes live.
We have a zero-tolerance policy for fake reviews, and companies cannot control or alter any reviews at any time.