Casper Pillow Reviews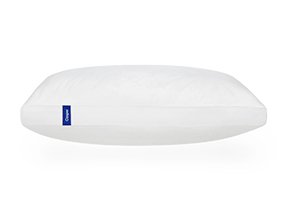 Compared to traditional options, Casper Pillow features ultra-thin fibers, microfiber polyester fill, and a pillow-in-pillow design for more comfortable sleep.
About Casper Pillow
Editorial disclosure: We get a commission from Casper when you make a purchase through the links or with the coupon code in this post.
Using a unique pillow-in-pillow design, Casper Pillow's short-fiber inner core promises to provide adaptive support, while the outer layer's long, low-friction fibers and percale weave deliver cooling cushioning.
And for consistent loft across the entire pillow, Casper's 2" gusset promises to provide better neck support and spine alignment.
Together, Casper tells us their Pillow offers "the right balance of squish and support," regardless of your sleeping position, or how much you toss and turn.
Two-layer design? Support and plushness? Perfect for all sleeping position? What's not to love about the Casper Pillow?
But after you've handed over your hard-earned money, can you expect it to live up to its promises in the real world?
How Does the Casper Pillow Work?
According to Casper, we all change positions frequently throughout the night.
So, they spent 18 months testing a combination of fills and pillow types, including buckwheat and straw (not comfortable enough), foam (too temperature-sensitive), and down (not enough support) to develop a "single pillow that could accommodate all people and all positions."
Eventually, the company decided to fill their Pillow with synthetic polyester fibers, which are hypoallergenic, last longer than other fill types, and "are specifically engineered to suit a wide range of needs."
Also, in their aim to create a "perfect pillow for everyone," Casper designed a unique two-layer system: The inner layer features extremely short fibers that are 1/20th the width of a human hair and deliver springiness and support, while the outer shell's longer fibers provide soft plushness and breathability.
In fact, we're told that Casper's fibers are so thin that each of their Pillows features more than 1 billion individual strands! (More about this in the final section).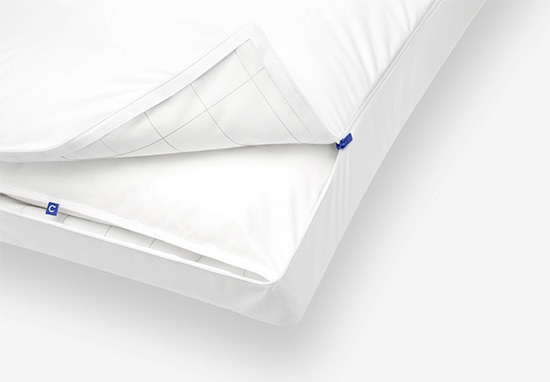 Here, you can see Casper Pillow's unique two-layer design, 2" gusset, 100% cotton cover, and polyester fabric lining (not pictured is the polyester microfiber fill, which they claim is 1/20th the width of a human hair). Image credit: Casper
Finally, to get the most out of their dual-layer construction, Casper implemented a 2" panel that runs along the perimeter of their pillow (known as a gusset), which acts as a structural element to provide side sleeping support and consistent comfort.
How much will this focus on comfort and design cost you?
How Much Does the Casper Pillow Cost?
The Casper Pillow is available in two sizes:
Standard (18" x 26"): $75
King (18" x 34"): $85
Like their mattresses (more about this soon), all Casper Pillows come with a 100-night trial, including free shipping and returns. They also come with a 3-year limited warranty against defects in materials and workmanship.
In order to speak with customer service regarding your trial or warranty, or about processing a return, you'll need to call 888-498-0003.
Casper Pillow Reviews: Are Customers Sleeping Better?
Casper.com
On Casper's website, their Pillow had an average rating of 3.9 stars at the time of our research, based on 643 reviews. Most compliments referenced effective support, comfort, adjustability, coolness, and breathability, with more than one claiming that it's worth every penny.
However, common complaints referenced personal preferences, stating that it was uncomfortable for one reason or another (e.g. not enough support, too much heat retention, too large/heavy, etc.).
Sleepopolis
Sleepopolis provided an information-packer 5-minute video about their experience with the Casper Pillow, noting that the outer cover was soft but retained a nice level of responsiveness, while the inner pillow was fairly moldable and responsive.
They also seemed to like the pillow-in-pillow design—or at least the fact that it gives you the option of sleeping with one pillow or the other, or both. When the layers were combined, they felt it provided quite a bit of loft, perhaps making it ideal for back sleepers.
On the downside, though, one of their biggest complaints was the level of noise the inside layer made, claiming it was loud enough to wake their wife during testing. As such, Casper's definition of "low friction" might not match yours.
In the end, the reviewer felt Casper's Pillow didn't meet its objective of delivering the perfect results for all sleepers. With both pillows combined, they felt its loft was too high for stomach sleepers, while the internal pillow alone didn't provide enough support.
Ultimately, with no adequate middle ground, they felt there are better options at this price range.
Forbes & Business Insider
Similarly, while Business Insider's review noted that it's a highly personal thing, they didn't find that the Casper Pillow was worth the price, as it was too soft for their tastes—as well as too expensive.
They concluded, "You can buy a much cheaper pillow that's just as good, if not better, from Macy's or Ikea."
On the other hand, as a prime example of differences in personal preference, Forbes found the Casper Pillow to be a "Goldilocks option that should work for most people," since it maintained its shape throughout the night and worked especially well as a hug-to-the-chest body pillow, as well as for between-leg support.
Casper Sleep
From a company perspective, the Casper Pillow is manufactured by Casper Sleep, based out of New York City.
Here on HighYa (as well as elsewhere online), their mattress seems to come with very high marks from customers, with most compliments referencing improved sleep and quality construction.
As with their pillow, though, you'll find most complaints relate to personal preferences regarding comfort, heat retention, and more.
Casper Pillow vs. the Competition
In our mattress buying series, we discussed the fact that most of this new breed of online-only bedding isn't a whole lot different from the competition, and that it largely comes down to marketing. Is it the same case with Casper's Pillow?
In short, this doesn't appear to be the case. Why?
If you search online for multi-layer pillows, most of what you'll encounter are variations of options like the Pancake Pillow, where you have two or more thin interior layers smashed between a thin outer cover.
In the instance of the Casper Pillow, though, the outer section actually acts as a cushioning layer for added comfort.
Does this necessarily mean that Casper's Pillow will provide you with a better night's sleep than the competition, or provide more value for your money? Let's carry this thought over into the next section as we bring it home.
Is Casper Pillow Worth the Price?
Unless you're discussing clothes or the ideal traits in a love interest, there are few things in life based more on personal preference than bedding. Which is precisely why you'll find so many different mattresses, comforters, sheets, and pillows available—we all have a unique perspective on what it means to sleep comfortably.
And just like any other option out there—despite the company's focus on creating the perfect place to rest your head at the end of the day—the reality is that the Casper Pillow, or any other pillow for that matter, simply won't meet everyone's needs.
This is something we can see for ourselves by reading through the pillow's online customer reviews. We can also see that most of Casper Pillow's customers left positive feedback about their experience, despite its meaningfully higher price.
But are the materials found in Casper Pillow all that different than lower priced traditional pillows? With its polyester microfiber fill (many other manufacturers offer fibers that are up to 1/100th the width of a human hair!), cotton cover, and 2" gusset, they don't appear to be.
Perhaps the biggest exception to this is the "cutting-edge," ultra-thin fibers. But when combined with its unique pillow-in-pillow design, will these two distinctions translate into a better night's sleep and a high level of value for your money?
In the end, there's simply no way to know without giving it a try. The good news is that all Casper Pillows come with a 100-night in-home trial, as well as free shipping and returns, so you'll be out little more than your time for placing an order and finding out for yourself.
Amazing

This has to be the best pillow I have ever slept on. It doesn't matter what position you sleep in, or if you toss and turn like I do, you are always comfortable and have the support you need.

Bottom Line: Yes, I would recommend this to a friend

---

If you almost love feather pillows, you'll love the casper pillow.

By Elizabeth

,

San Fransisco, CA

,

May 5, 2017
Verified Reviewer

Two aspects of Casper's claim that I didn't find to be true, and therefore disappointing because they were "the" reasons I bought it: 1) Support and 2) Cool.

In their online video, the creator said that they opted against feathers/down because they go flat, and that they wanted something they would give more support. They failed. As soon as I laid on it, it condensed greatly. And the longer I laid on it, the more it condensed. The more nights I slept on it, the worse it got. Yes, the next morning when I made my bed, it fluffed right up. But I care about the fluff under my head than the fluff on the cozy-to-look-at bed. Also, their gusset that they claim gives support all the way to the edge, but it flattens there too. So, if you almost love feather/down pillows but just wish they offered a teeny bit more support, then this pillow may well work for you.

As for coolness, I felt that it was actually a much hotter pillow to sleep on than my "regular" pillow. It also seemed to hold the heat for a long time when you move to a different spot, as compared to a regular pillow.

I found myself tossing and turning and squishing the pillow all night long, trying to get support and find a cool spot to lay on. Futile. It did not make for a good night's sleep.

When my husband came back in town, I tossed him the pillow to show him what I'd bought and suggested he try it without my opinion at all. He caught it and squished and said, "Oh no! I hate this kind of pillow that goes flat. Look at this, it flattens to nothing!" I said, "Exactly! That's why I'm sending it back!"

I dropped it off at UPS this morning.

Bottom Line: No, I would not recommend this to a friend

---

Advertisement

---