Casper Wave Reviews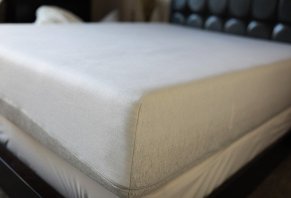 Summary
We tested the high-end Casper Wave mattress for 10 nights, including its unique features like the Natural Geometry System and reinforced polymer network.
About Casper Wave
Editorial disclosure: We get a commission from Casper when you make a purchase through the links or with the coupon code in this post.
We had the opportunity to test Casper's most recent release, the high-end Casper Wave Mattress, which introduces their patent-pending Natural Geometry System.
According to the company, this delivers precision contouring and a reinforced polymer network under your hips and shoulders, supports your natural curves, relieves pressure, and properly aligns the spine.
Not only this, but it also features an all-new hypersensitive top layer for added comfort.
A bit about Casper – Launched in April 2014, Casper Mattress wasn't the first direct-to-consumer mattress company to enter the market. But after selling $1M worth of product in their first 28 days alone, and with nearly $240M raised from investors (including celebrities like Adam Levine, Leonardo DiCaprio, Tobey Maguire), the company has perhaps since become one of the most recognizable names in the industry. Even actor Michael Rapaport says, "It's the most comfortable mattress in the world."
Based on the majority of online customer reviews for the company's mattresses, Casper appears to have a track record of success. But is it necessarily the same with Wave?
By combining publically available details with our hands-on experience sleeping on the mattress for 10 nights, we'll help you get the information you need before handing over your hard-earned money.
Our 10-Night Test with the Casper Wave Mattress
Our tester, Vic—who's a bit larger than the average human at 6' 5" and 260 pounds—had the opportunity to sleep on a queen size Wave Mattress for 10 nights (eight consecutive nights, a brief vacation, followed by another two nights), which Casper sent to HighYa at no charge.
With this in mind, what follows is our honest experience and opinion.
Setting Up the Casper Wave
Our Wave mattress was delivered on a Saturday and arrived in a fairly large, heavy box, so we recommend using two people to move it around and set it up (depending on size, this model weighs between 63 and 140 lbs).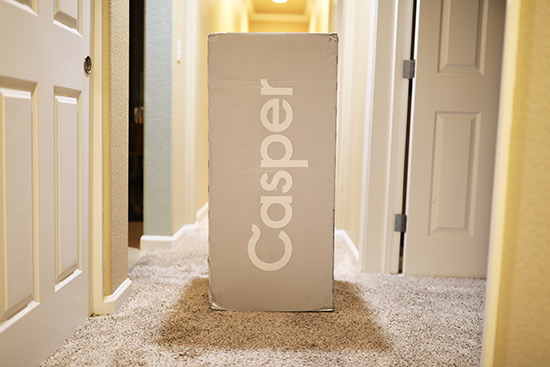 The original box which the Casper Wave Mattress arrived in.
Setup was straightforward and involved removing the mattress from the box, which was 'swirled,' wrapped, and compressed in plastic, like a fruit roll up. Once we put it on the bed frame, we simply opened up the plastic, and it unfurled like some kind of alien from the future.
Casper Offer: Get $200 OFF your Casper Wave Mattress with Coupon Code 'HIGHYA'
In all, this process took him and his helper no more than three to four minutes, and the mattress was ready to go.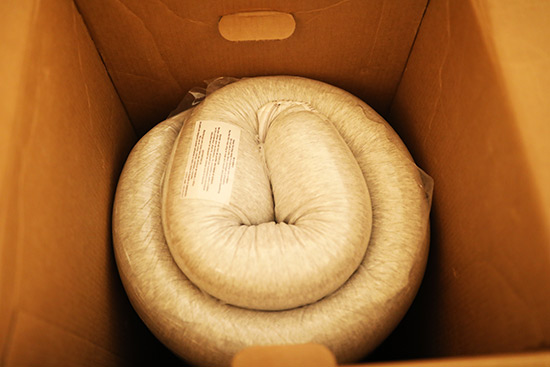 The Mattress was rolled up before cutting open the plastic.
Casper Wave's Appearance
Wave's cover—which looks nice and sleek and is made from a grayish-white material—unzips. So, once everything was set up, we had a chance to pop the top and view each of the mattress's five layers. What did we find?
Casper Wave's Construction & Design
It was really cool getting to see each of the Wave mattress's fives layers in person, which matched those listed on their website:
A top layer of hypersensitive Flo foam. This has a soft, velvety feel and melted away as we settled in each night, although it also made it taller than Casper's standard mattresses.
A layer of latex foam
A middle layer of visco elastic memory foam
High resiliency foam with a polymer network
A bottom layer of contouring support foam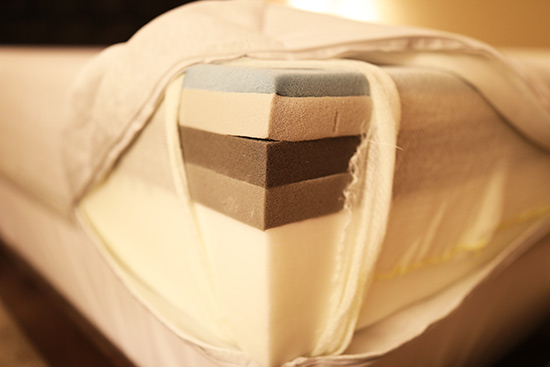 After unzipping and pulling back our Wave mattress's cover, we could see each of its five layers for ourselves
Casper Wave vs. Back Pain: Our Experience
Compared to Casper's standard mattress, which only features four layers of foam, their promotional video emphasizes there are two additional key differences with the new Wave model.
First, something you can't see in the image above is that Wave's bottom two layers feature a contour shape, where long, rectangular pieces of foam have been removed to make the area softer, as well as to reduce pressure in the shoulder region.
Casper Offer: Get $200 OFF your Casper Wave Mattress with Coupon Code 'HIGHYA'
Next, attached to these contour shapes in the second-to-last layer is a new elastic polymer material that promises to deliver a firmer experience, but to a very specific amount. In the promo video on their website, Jeff Chapin, Casper's Chief of Product, explains that by combining these two technologies, it's like "dialing up the resolution" in these areas.
Did these features make a difference in our real-world experience? After sleeping on the Wave Mattress for 10 nights, our opinion is that the Wave represents the 'Goldilocks' of mattresses. It's not too hard or soft; it's right in the middle.
And this is important to us, because the test subject Vic suffers from chronic back pain. But with the Wave, he reported waking up every morning free of pain, ready to conquer the day.
Casper Wave's Temperature & Weight Distribution Capabilities
All foam used in Casper's Wave feature an open-cell design to divert heat and wick away moisture, helping to keep you cool all night. They're also Certi-Pur certified, while their latex and cover are OEKO-TEX® certified. And like all their other mattresses, it's "designed to work on a firm, solid-surface, on a bed base that is structurally capable of supporting the weight of the mattress and user(s)."
Although our test subject tends to run hot when sleeping and prefers to sleep on the edge in the fetal position, he felt that Wave's material breathed very well (not too hot or cold; again, like Goldilocks), maintained adequate edge support, and allowed all areas of the mattress to feel comfortable, whether sleeping on his side, back, or stomach—or when lying on his back watching Netflix.
Finally, even after placing a full wine glass on the mattress and jumping around, we noted minimal motion transfer with Wave, including partner disturbances in the middle of the night.
How Much Does Casper Wave Cost?
The Casper Wave mattress is priced as follows:
Twin: $1,375
Twin XL: $1,475
Full: $2,015
Queen: $2,295
King: $2,995
CAL King: $2,995
All purchases come with free shipping and free returns in the US and Canada, as well as a 100-night trial.
Wave mattresses also come with a 10-year limited warranty against the defects in material and workmanship, including deterioration, physical flaws, and manufacturing defects in the zipper assembly.
In order to make good on any of these, Casper's customer support team can be reached at 888-498-0003.
What Are Other Sleepers Saying About the Casper Wave Mattress?
Interviewed for a Fast Company article, Chief of Product Jeff Chapin explained that the company spared no expense when building the Wave mattress, by:
"Bringing in materials from Belgium, Germany, and Korea that contain the latest polymer technology that are more resilient, springing back faster upon touch and thereby providing better support. The Wave was also more costly to build since mattress factories aren't equipped to churn out such a complex design, so Casper had to work with their suppliers on new production lines."
Casper Offer: Get $200 OFF your Casper Wave Mattress with Coupon Code 'HIGHYA'
The article's author, Elizabeth Segran, had an opportunity to sleep on a Wave mattress for four nights, noting that her hips sank deeper into the bed than the rest of her body, making her spine feel straighter, regardless of position. She reported feeling very rested each morning during her test run.
Casper Wave vs. Other Online-Only Mattresses
At the time of writing, the HighYa team had written about nearly two-dozen of the most popular direct-to-consumer bed-in-a-box mattress companies around, including the original Casper, Tuft & Needle, Novosbed, Leesa, Saatva, and Nectar.
Based on this experience, we've learned that, regardless of the manufacturer or model, most companies make the same core claims regarding support and comfort. They also generally feature 3-5 foam layers, are shipping in a compact box to your door, come with 60-100+ night in-home trials, along with free shipping and returns.
Given all these similarities, how can you choose the best option?
When Choosing a New Mattress, Start With Your Preferences
The Casper Wave is the second most expensive online-only model we've reviewed to date (topped only by intelliBED). Pricing shouldn't be the only thing factored in when choosing your next mattress.
Casper Offer: Get $200 OFF your Casper Wave Mattress with Coupon Code 'HIGHYA'
Compared to Casper's standard model queen at $950, will Wave's twice as high price deliver two times better sleep? There are perhaps dozens of individual factors that could impact the answer to this question, so there's ultimately no way to be 100 percent sure without giving it a try.
So, what can you do to help ensure the best possible experience, before handing over your money?
Step 1: Speaking of individual factors, in our Best Bed-In-A-Box Mattress Buying Guide, Joel Alexander, Nest Bedding's founder and a 20-year veteran of the mattress industry, recommended that you should start with your preferences.
In other words, take into considerations factors like your preferred sleeping position (such as Vic, who likes sleeping on the edge in the fetal position), if you want an all-foam mattress or one that also incorporates innersprings, your preferred firmness, your weight, whether you tend to sleep hot (again, like Vic), and whether or not you have allergies or other medical conditions.
And of course, the price will typically be a factor, as will each manufacturer's return details (How many nights? Do you have to pay any return fees?) and warranty specifics.
Step 2: Next, hop online to consumer review sites like HighYa—as well as mattress-specific sites like SleepJunkie, Sleepopolis, Mattress Clarity, and Sleep Like the Dead—where you can learn what consumers and professionals are saying about their experiences, as well as common compliments and complaints.
Can you identify any trends? What are others who share your same preferences and needs saying?
Step 3: Finally, once you've narrowed everything down to a few different options, pick up the phone and call customer service. Even if you don't have any specific questions, chatting with them can help you better understand the emphasis the company places on a positive customer experience.
Casper Offer: Get $200 OFF your Casper Wave Mattress with Coupon Code 'HIGHYA'
During the call, pay attention to things like: Are they friendly? Do they seem knowledgeable? If necessary, are they able to assist with the selection process?
Bottom Line: Should You Buy The Casper Wave Mattress?
We appreciate the fact that Casper provided a queen-sized Wave mattress for us to sleep on for 10 nights, since real-world feedback is always useful when making a more informed decision about where to spend your money, especially when you're looking to improve your sleep.
We strongly believe that because sleep is one of the most important things of life, and if you have the ability to spend money for high-quality mattress such as this one, you should not try to save every penny because sleep is important. And while the Wave mattress might not be the least expensive bed-in-a-box option available (whether from Casper or a third-party brand), it's still priced very competitively in our opinion.
Additionally, Vic emphasized the reduced back pain and cooler sleep he experienced during his testing (not to mention the ease of ordering, unboxing, and set up) might be worth their weight in gold if it helps you experience much of the same.
Finally, we think medium to medium-firm mattresses like the Casper Wave could be ideal, regardless of your preferred sleeping position (side, stomach, or back), since mattresses that are too firm or too soft could potentially lead to spinal misalignment and discomfort. Based on our experience sleeping in all sorts of positions, we felt the Wave delivered a fantastic night's sleep.
Overall, for all these reasons, we believe Casper Wave will provide you with high-quality sleep. Their 100-day at-home trial and easy returns give you a good opportunity to discover that on your own.
Just be sure that you have something else to sleep on should you decide to send it back!
Customer Reviews
Posted on May 31, 2018
Too hard
It's hard to find honest reviews on the Casper Wave. The only ones I found, until now, were from affiliated websites who get a commission when they sell the mattress.
We ordered the Casper Wave. I had heard so many good things about how it supports your back. Every night we slept in the bed, we woke up stiff and sore. The last night I slept in it I had to get up and sleep in my recliner. I've had back surgery, so a comfortable bed is a must. This just wasn't the bed for us.
I've called Casper to pick it and the platform base for the bed up. I'm hopeful they will arrive on time and issue me a refund.
Bottom Line: No, I would not recommend this to a friend
Posted on Mar 15, 2018
High expectations not met
My husband and I were highly anticipating the arrival of our two extra long twin Casper Wave mattresses. The delivery was fast and the set up quite easy. Unfortunately, the beds sleep very firm, and as side sleepers, we felt discomfort in our hips and shoulders. We did not sleep well at all. Really disappointed as we were hoping these would be amazing mattresses after all of the reviews we read. Unfortunately, these are going back and we start our search again.
In case it's helpful to others, we're in our early 50s, I'm petite and 120 pounds, and my husband is on the larger side at 260 pounds.
Bottom Line: No, I would not recommend this to a friend
Our Promise to You
In order to safeguard you and ensure helpfulness and relevance, our compliance team manually assess every customer review before it goes live.
We have a zero-tolerance policy for fake reviews, and companies cannot control or alter any reviews at any time.