Caviar Delivery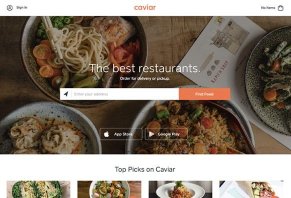 Owned by Square Inc., Caviar Delivery provides customers with quick and easy access to popular local restaurants, who can place orders for delivery or pickup, whether immediately or up to seven days in advance.
Caviar Delivery Review: Ideal Food Delivery Service for You?
Caviar Delivery promises to offer diners an easy way of ordering food from the best local restaurants in 26 cities across the U.S.
Customers can place orders for immediate delivery or schedule them in advance, and can even pick up their food directly from the restaurant to avoid delivery fees altogether. Caviar for Teams also allows businesses to place large group orders and obtain catering, all of which is billed directly to a corporate account.
But, just because Caviar promises to provide quick, reliable delivery or pick up from wherever you are, does this mean they deliver on this promise? Are there other companies that might be a better fit, based on your unique needs?
Over the course of this review, we'll deliver all the information you need to make a more empowered decision.
How Does Caviar Delivery Work?
As of this writing, Caviar offered food delivery services in 26 U.S. cities and metro regions (taken directly from their website):
Boston, MA; Brooklyn & Queens, NY; Chicago, IL; Dallas, Texas; Fort Worth, Texas; Greater Philadelphia, PA; Knoxville, TN; Los Angeles, CA; Manhattan, NY; Marin County, CA; Northern Virginia, VA; Orange County, CA; Peninsula, CA; Philadelphia, PA; Portland, OR; Richmond, VA; Rockville, MD; SF: East Bay, CA; Sacramento, CA; San Diego, CA; San Francisco, CA; Seattle, WA; Seattle Eastside, WA; Walnut Creek, CA; Washington DC Metro, DC; Woodbridge, VA.
To order food in one of these areas, you'll start by entering your address, clicking the Find Food button, and the scrolling down to view restaurants in your area that are currently open and accepting orders.
You can filter these results by pickup or delivery, when you need it (ASAP or Scheduled for Later), and by a specific address or using your current location via GPS. According to the Caviar website, their system doesn't recognize addresses for in-law apartments, so keep this in mind depending on your living situation.
If you indicate ASAP, the app will display an estimated time, which the website explains is "dependent on a combination of factors including: current Caviar order volume, current restaurant order volume, the number of active couriers available for delivery, traffic/weather delays, and overall distance."
On the other hand, if you select Scheduled (the company strongly recommends booking this at least 24 hours ahead of time), you can choose your pickup or delivery date and time window from a drop-down menu at the top of the page, up to seven days in advance.
Clicking on a restaurant's photo allows you to browse through their menu items, while another click adds items to your cart. You can add special instructions at this time for each item, or by editing an item during check out. It's also possible to leave special instructions for the entire order before completing your purchase, as well as for the delivery driver.
Pro tip: Keep in mind that any special instructions might constitute an additional charge, based on the restaurant's pricing.
You can check out whenever you're ready by tapping the shopping bag icon in the upper right-hand corner of the page and entering your payment details. This will automatically create an account and save your information for future orders.
After tapping the Place Order button, you'll redirect to a confirmation page where you'll find a GPS tracker for keeping tabs on your food, as well as an itemized receipt for your records. Once the restaurant confirms the order, or when it's ready for pickup or has gone out for delivery, this page will update accordingly.
Make a mistake? You can cancel a web or app order by tapping the orange 'Cancel Order' button on the confirmation page, although it's only available for 60 seconds. After this time, you have to reach out to Caviar's support department, although all "cancellations are subject to approval by the restaurant staff and dependent on whether or not the order has been started."
If you need to modify an order that has already been placed, including the requested time or pickup or delivery options, you'll have to call or email the company "at least 30 minutes before your pickup or delivery window so [they] can coordinate with the restaurant."
If you're not there when your courier arrives (depending on your instructions), they'll reach out to you via text or email and wait for 10 minutes. Afterward, your order will be forfeited. Similarly, pick-up orders are forfeited 10 minutes past their scheduled time.
You're not required to tip your courier, although it's always appreciated if they did a good job. Tips are available between $0 and $5 for iOS users ($0 to $3 on Android), which you can add directly in the Caviar app up to two hours after your food is delivered.
What Is Caviar for Teams?
By signing up for a Caviar for Teams account, they advertise that your company can enjoy easy group orders. This includes choosing a restaurant and allowing your team to select their menu items using a special link, setting spending limits, paying via a corporate account, and catering groups of 10 to 200+.
Caviar for Teams also integrates with Slack so that you can send restaurant options and order updates directly to employees. Additional features include auto-checkout functionality, advanced search and filters, and extensive account management and support.
How Much Does Caviar Delivery Cost?
Although each restaurant sets menu prices, the website emphasizes that Caviar does their "best to ensure online prices are the same as they are in-store."
Still, some restaurants may choose to increase certain menu items to cover the cost of fees (such as staff fees, bag fees, related restaurant fees, etc.) so keep this in mind. Furthermore, each restaurant sets a minimum subtotal for delivery orders, which could increase during periods of unusually high demand.
Caviar also charges a delivery fee that will vary depending on the business, "based on travel time from the restaurant and other costs associated with each restaurant partner," we're told. An additional 18% service fee is also included with each order.
None of these fees apply if you place an order for pickup.
Need to cancel? This isn't possible if your meal is already in production, and no refunds are available. They're also not available if your courier has to wait more than 10 minutes and is assigned to their next order.
Outside of this, the Caviar website points out, "refunds are offered on a case-by-case basis and at the discretion of the restaurant. All order issues must be reported to our Customer Service department within 7 days of delivery. After 7 days, all transactions are final and cannot be adjusted."
A Look at Customer Reviews for Caviar's iOS and Android Apps
Among nearly 9,000 combined reviews between iTunes and Google Play, the Caviar app held an average rating of about 4.4 stars.
Most compliments cited ease of use, great restaurant selection, fast delivery, and reasonable prices and fees, while complaints commonly referenced limited restaurant availability, high prices and fees, delivery issues (long delays, incorrect orders, etc.), and functionality issues.
A company representative responded directly to many of these in an effort to find a solution.
Caviar Delivery vs. Uber Eats, Postmates, Grubhub, and Doordash
While many restaurants certainly offer their own pickup and delivery services, and there are a handful of smaller players in the marketplace, there are currently four other main competitors with Caviar Delivery: Uber Eats, Postmates, Grubhub, and DoorDash.
And when it comes down to it, these services have more core criteria in common than otherwise, including website and app accessibility, hyper-local restaurant availability, the ability to place immediate or advance orders, and they all charge a variety of associated fees for the convenience. As such, the biggest differences are which restaurants you'll have access to, and how much you'll pay to order from them.
For example, Caviar's restaurant-initiated delivery fee on all orders, on top of their flat 18% service fee, makes them one of the most expensive options we've written about so far. Uber Eats' booking fees are right up there as well, which can reach $20 depending on how business the platform or restaurant is.
However, Uber Eats also provides access to restaurants in more than 50 cities across 13 countries, whereas Caviar currently services 26 U.S. cities and metro regions. Caviar for Teams is unique among the competition, though, which seems like it could greatly streamline workplace ordering, if this is something you might need.
If widespread availability is one of your main factors, Grubhub connects 85,000+ restaurants in 1,600+ U.S. cities, while DoorDash serves more than 600 U.S. cities and 110K restaurants. Grubhub also doesn't charge for their services, and fees are only in place if assessed by each restaurant.
How can you pull all of these details together and make the best decision? Let's address this important question as we wrap everything up.
Bottom Line
As you might imagine, when it comes to the 'best' online food delivery service, it's all about you. In other words, it's ultimately going to come down to which options offer the food you want, at the time you want it, and at a price you think is fair to pay.
With these details as our foundation, it also seems that, based on the extensive user feedback for the app on iTunes and Google Play, most people who order from Caviar Delivery are pleased with their experience. And if you're one of the few who doesn't, the company stands behind their services with a seven-day refund policy.
---
Terrible customer service system

By CC C.

,

Chicago, IL

,

Jan 8, 2020
Verified Reviewer

You can't get any human interaction with customer service or support. They deactivated my account without my knowledge and the only way to be able to live chat or fill out a contact form is by logging into your account. I'm going in circles via email by a customer service rep who 1, completely skipped over reading my ACTUAL concern and told me to create a new account to order and 2, doesn't even know how their website and app makes you log in to be able to contact support. Somebody fraudulently used my account and there's no way to get it resolved besides canceling my card.

Bottom Line: No, I would not recommend this to a friend

---

Horrible

Horrible! I ordered dinner and after an hour they told me that there was an issue with the app. They canceled my order and thought that refunding my order was enough. I just wanted my food!

Bottom Line: No, I would not recommend this to a friend

---

Advertisement

---

Do NOT use this company...

By Michele C.

,

San Francisco, CA

,

Dec 12, 2019
Verified Reviewer

...unless you want to be consistently frustrated and disappointed. I have used this service 3 times now. Three strikes and they are out.

There should be an option for negative stars...

They do not deliver when they say they will and ALWAYS blame traffic for the delays. Today was a typical experience. Placed my food order at 10:45 am, in plenty of time for my noon lunch. Got a confirmation that my lunch should be delivered by 11:35 ish. At 12:15 I contacted Caviar by email to get a status. Same old story about reassigning a driver and traffic. Yada yada. "But we will give you a $5.00 credit for the delay." It is now 1:05 pm. Still no lunch. I called the restaurant. They said it has been sitting, waiting for pick up since 10:50 am...BAD BAD BAD.

Bottom Line: No, I would not recommend this to a friend

---

The worst

By Joe D.

,

Philadelphia, PA

,

Nov 24, 2019
Verified Reviewer

Would give them no stars if I could. Just look at their score with the Better Business Bureau - D rating. That says it all. Too many website glitches; impossible to simply place an order on their site; no one to assist you to get your order processed. A true time waster.

Bottom Line: No, I would not recommend this to a friend

---

Advertisement

---

I have to give a star, apparently

By Lisa C.

,

California

,

Nov 20, 2019
Verified Reviewer

I placed an order on Caviar today and provided specific delivery instructions (Exhibit A) to our unit since it is outside the gate of our apartment complex.

At 7:01 pm, I received a text stating the courier arrived (Exhibit B).

The text included a number to call to coordinate getting us the food. I called the first time at 7:02 - ONE MINUTE LATER. The phone rang and then gave a message that the call could not go through (Exhibits C-1 and Exhibit C-2). I made several more attempts to call. IT ALSO SHOWS NO incoming calls from that number

In addition, at 7:02 - Caviar called stating that the courier's number was not working. By this time, my husband had already walked outside to meet with the courier and he was nowhere to be found (Exhibit D showing the incoming call).

I sent various messages to Caviar. I went out to try and find the driver, as did my husband.

After I received a message that our order was forfeited, my husband came and said one of our neighbors was outside having a cigarette and someone asked about Lisa - she did not know anything. So the driver got in his car and left...making no further attempts to deliver.

There has been no offer to provide a refund. Instead, I received an "I get it's frustrating" but literally nothing more. WORST SERVICE EVER.

I would not recommend this company to my worst enemy.

Bottom Line: No, I would not recommend this to a friend

---

Extraordinarily bad customer service

By Brad H.

,

California

,

Sep 28, 2019
Verified Reviewer

I tried Caviar twice. The basic process of ordering and receiving the food worked fine. Everything else was a disaster. The first time I used the service, was equal to Uber Eats. The second time my account was "deactivated." You cannot call Caviar to find out what had happened. The only recourse was to send an e-mail.

The response, "Due to the seriousness of this issue, this case is under investigation by our incident review team. The full investigation may take up to 1-2 weeks, but we will give you an update within 1 day." I did not hear back from them in one day, or two weeks.

However, I found out what happened. Somehow my credit card number wound up being used for $705 of charges. Caviar clearly knew there was fraudulent activity on my account, but they never notified me.

To this day, I only get an "I am sorry. I hope you will give us another chance." Not a chance. I expect better, and other food deliver companies give better.

Caviar should change their name to "Cavalier."

Bottom Line: No, I would not recommend this to a friend

---

The worst

By Howard B.

,

Seattle, WA

,

Sep 4, 2019
Verified Reviewer

Having company tonight so I ordered food from Wild Ginger, one of my favorite restaurants in Seattle. Caviar is supposed to represent quality. Not tonight. I was waiting for the food to arrive from a restaurant that is less than five minutes walking from my condo. I finally looked at my phone to check what was going on and low and behold Caviar said the food had been delivered. Just not to my condo. So I called down to the concierge and guess what, the food was there. I asked the concierge why had the delivery person not brought it up to my condo and she said that he was snitty and he didn't have time to wait for the elevator. Now I spend $36 for service and a tip, plus $133 for the food, I expect a little more then what I got. NOT worth the price of admission. Caviar...nah...more like crackers.

Bottom Line: No, I would not recommend this to a friend

---

God-awful service, don't be fooled by "Caviar" branding.

By C C.

,

California

,

Jul 20, 2019
Verified Reviewer

I wanted to like this place so badly. Liked the name, liked the idea, was open to a higher-end alternative to DoorDash. So much optimism that this would be my go-to delivery service.

But MY GOD is this place terrible! Words cannot describe the multiple awful experiences I've had! Delivery people meandering around wrong addresses miles away ON FOOT causing food to be delivered late by hours, and cold, multiple times! Technical glitches during the order process giving wrong error messages that certain items on the website are not available when in fact they are available from the restaurant. Promo codes not applied to orders.

The list of F-ups goes on and on. So many hours upon hours spent talking to the most inept, incompetent, frustrating customer service agents who do nothing, resolve nothing, offer nothing whatsoever. The aggravation has taken years off my life. Hours of frustration and no food delivery. Dinners delayed by 2.5 hours!

Spare yourself the wretched experience of this company. DoorDash is the real Caviar, Caviar is the real garbage bin of the restaurant food delivery service. Don't be fooled by the name like I was. I was a sucker for the branding, don't make the same shallow mistake.

Bottom Line: No, I would not recommend this to a friend

---

Terrible

By Cornel B.

,

Texas

,

Jul 12, 2019
Verified Reviewer

Order placement is easy. Delivery will never happen. Credit card will, however, be charged.

Avoid Caviar like the plague...nobody knows your food will be delivered in 25 minutes to never better than them.

Bottom Line: No, I would not recommend this to a friend

---

Horrible service...

By Aimee A.

,

Seattle, WA

,

Jul 2, 2019
Verified Reviewer

I placed a large order for our office lunch at 4 pm on Thursday with a delivery time between 2:30 and 3 pm on Friday. At 2:40 pm on Friday, I received an email saying the order had been canceled. Caviar refunded the order and then turned around the next day and charged our credit card $400 for a second time. I called the restaurant we tried ordering from and they said that Caviar didn't give them the order until an hour before it was supposed to be delivered and they just didn't have enough time to complete the order and asked that we contact them directly next time we want to place an order. We will not be using Caviar again.

Bottom Line: No, I would not recommend this to a friend

---

Completely undependable

By Gregory Y.

,

Dallas, TX

,

Mar 13, 2019
Verified Reviewer

My office has been using Caviar for 8 days and so far we have received over $200.00 in credits because of the constant mistakes (late, no shows, missing items). It has become a second job managing Caviar mistakes. Currently looking for another company.

Bottom Line: No, I would not recommend this to a friend

---