CBS Sports Fantasy Football Reviews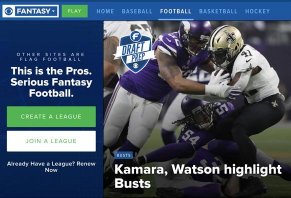 CBS Sports Fantasy Football competitions offer standard head-to-head leagues, fully customizable leagues for $149.99 and cash-prize leagues with prizes of up to $5,000.
About CBS Sports Fantasy Football
CBS Sports Fantasy Football provides players with several different types of games, prize leagues, mock drafts and a talented team of analysts who can help you make smart decisions about players.
The website is one of the Big Four, a name we've given to the fantasy football sections of CBS, ESPN, NFL.com and Yahoo. CBS differentiates itself in that it has a basic tier of leagues where CBS Sports dictates most of the league rules and scoring, then a Commissioner League that costs $149.99 per league and allows full customization.
If you're a newcomer to fantasy football, you'll discover soon enough that there are all kinds of sites you can join and create a team or league.
Deciding which one is the best is something we want to help you do. To make that happen, we've done in-depth research of CBS Sports' fantasy football offerings, talked with an expert and got some first-hand experience creating a league and participating in a mock draft.
The Types of Fantasy Football Games CBS Sports Offers
CBS Sports has several games in its fantasy football universe. The primary game is their head-to-head fantasy leagues, in which managers join the league, a draft takes place, then teams play each other each week until the playoffs, at which point the top teams in the league square off to compete for the league championship.
These head-to-head leagues have two forms: free and paid, which CBS Sports calls their "Commissioner League".
The free league provides limited options for customizing the league, which is something that may be a drawback the more serious you get about fantasy football. These leagues allow for up to 12 teams, follow standard scoring and participate in snake or auto drafts.
Standard scoring means that you can't change the scoring settings and the settings that are there are considered the "standard" for fantasy football. Some of the more important scoring settings for this type of league include:
Passing, receiving, rushing TD: 6 points
Fumble or interception: -2 points
1 point for every 25 passing yards
1 point for every 10 rushing or receiving yards
In the free leagues, you cannot allow points for receptions, which is commonly known as "PPR".
In the paid leagues, however, you have the ability to customize virtually every aspect of your league, including scoring, waivers, and keepers. "Waivers" refers to the players who aren't on anyone's team. In the free league, these players are awarded to the manager who claims them first.
In the paid league, you have the ability to change how players on waivers are acquired. One popular option is Free Agent Acquisition Budget, or FAAB.
This allows managers to bid on players who aren't on anyone's team. Highest bid wins. The trick is, however, that you have a limited budget for the season, which means you have to spend your money wisely.
"Keepers" refers to the popular option through which you can keep a certain number of players on your team for next seasons.
If you just want to test out fantasy football and play in a league with people who aren't super serious about the game, then joining a free public league is probably the best fit for you.
If you and your friends want to take a serious approach to the game and are looking for the option that's best suited for the next 10 years of your league, then the paid version is the best choice. The cost of the paid league is $149.99, which breaks down to $15 per person for a league of 10 teams.
Aside from these head-to-head formats, CBS offers a few other games that don't involve drafts, head-to-head matchups and league championships.
CBS also offers cash leagues, in which you pay to join the league and the top-two finishers earn prize money. These leagues are different than the Commissioner League because the fees in the Commissioner League are paid to CBS and do not include a purse for the top-two finishers.
At the time of publishing, CBS was offering leagues with the following prizes and buy-ins:
| | Elite | Double Diamond | Diamond | Platinum | Gold |
| --- | --- | --- | --- | --- | --- |
| 1st place prize | $5,000 | $2,500 | $1,100 | $600 | $200 |
| 2nd place prize | $2,000 | $1,000 | $500 | N/A | N/A |
| Entry fee | $999.99 | $499.99 | $249.99 | $99.99 | $39.99 |
The prize leagues consist of 12 teams split into three divisions, CBS' fine print says. You lay each team in your division twice and every other team once. At the end of 14 weeks, the division leaders and one wild-card team advance to the playoffs.
CBS Fantasy Football's Draft Platform and Draft Kit
We gave the site's draft a test run by signing up for a mock draft, which is a fake draft in the sense that you can pick the players you want but they're not put on your team. Think of it as practice drafting to help you get familiar with the site's draft platform and to see which players are being picked in which rounds.
Our experience with the CBS mock draft was sub-par. The window that you use to draft your players is very basic. It's hard to queue players, which is a method of creating a short list of players in a specific section of the draft window so you have easy access to them when it's your turn to draft. It's also a big help if you get disconnected, as you can prioritize players in your queue by putting your favorite players at the top of the list.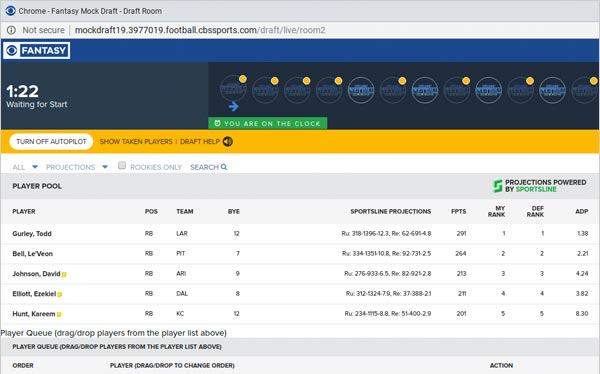 On sites like ESPN, you can queue players by clicking on a star icon next to the player's name. On CBS, you have to click on the player's information box and drag it down to your cue. If you click too far to the left of the player's infobox, then you won't be able to drag and drop him into your queue.
Now, you aren't' forced to use the queue, but it certainly helps as you're trying to sort through the remaining players in the draft to find the players you want on your team.
As a side note, if an opposing manager picks a player in your queue, that player will disappear from your queue.
While the draft platform is of utmost importance when it comes to having a glitch-free drafting experience, a fantasy football site's advice draft kit is also important. The "draft kit" refers to the bundle of information, lineups, and data a site provides to help you prep for your draft.
The CBS Sports fantasy football draft kit includes the following things:
Projections
Top 200
Rankings by position
Cheat sheet
Player ratings'
Custom player rankings
The "Rankings by Position" feature is by far the most helpful if you want a deep dive into why a player is ranked where he is ranked.
CBS Sports provides these in-depth rankings by position for every position on your roster: QB, RB, WR, TE, K, and DEF.
At the time of publishing, here is the way CBS ranked the top five QB's compared to ESPN, Yahoo, and NFL.com:
| CBS | Yahoo | ESPN | NFL.com |
| --- | --- | --- | --- |
| Aaron Rodgers | Aaron Rodgers | Aaron Rodgers | Aaron Rodgers |
| Tom Brady | Cam Newton | Tom Brady | Tom Brady |
| Deshaun Watson | Tom Brady | Russell Wilson | Russell Wilson |
| Russell Wilson | Russell Wilson | Cam Newton | Deshaun Watson |
| Drew Brees | Deshaun Watson | Carson Wentz | Cam Newton |
As you can see, there is some variation between the QB's chosen in the top five but, for the most part, they're similar. Aaron Rodgers, at the time of publishing, was ranked #1 on each site and Tom Brady was ranked #2 on three of the four sites.
Pro tip: Signing up for the paid Commissioner League allows to pick a live draft, where everyone logs into CBS Sports and picks players via the draft platform, autodraft (CBS picks players for you) and offline draft, through which you can draft with a physical draft board and add the drafted players to each team's lineup.
CBS Sports' Fantasy Football Experts
Part of what makes a fantasy football site valuable is the advice their experts give. Their advice is basically split up into two categories: pre-draft and post-draft. Their pre-draft advice tells you who to pick at each position and, during the season, they recommend who you should play and who you should pick up off waivers. They also provide advice on who you should avoid in the draft, when to trade players to and other player-specific tips.
CBS Sports' main experts are Jamey Eisenberg, Dave Richards and Heath Cummings. Exactly how good they are at predicting how players will perform is a subject of debate and a pertinent one. You don't want to take advice from "experts" who aren't very accurate in their predictions.
So, to judge how good a site's experts are, we refer to FantasyPros' accuracy ratings, in which they rate the 200-best fantasy football experts on a variety of websites.
According to their 2017 rankings, CBS's experts are all within the top 70:
Heath Cummings: #46
Jamey Eisenberg: #64
Dave Richard: #69
Based on our research of CBS Sports, NFL.com, Yahoo and ESPN, the fact that CBS has three experts in the top-70 in regards to accuracy makes them the undisputed best site of the four for finding free advice.
Yahoo's five experts are all on the list, but only one is ranked in the 60's and the other four are #78 or higher.
How CBS Sports Compares to ESPN, NFL.com, and Yahoo
Comparing fantasy football sites has a lot to do with the draft tools they offer, the options they provide and the advice they give.
As far as the draft platform the site provides, we think that Yahoo and NFL.com have a better user experience. While ESPN's draft platform isn't as good as NFL.com and Yahoo, it's still better than CBS Sports. All three sites provide a better queue feature than CBS.
When it comes to customization, the other sites provide better options for altering a league's settings, especially scoring. If you want to use their fully-customizable Commissioner League, then you'll have to pay $15 per team in a 10-team league.
The advice you get on CBS Sports is what sets it apart from its competition. All three analysts on the site rated #69 or better according to FantasyPros' accuracy rating.
Pros and Cons of CBS Sports Fantasy Football
Based on our research, we believe CBS Sports fantasy football's strengths are the recent success of its experts' picks and that you can sign up for prize leagues.
Getting good advice is an important part of the fantasy season, so the fact that their analysts did so well in FantasyPros' accuracy ranking is a big deal.
The downsides of the site are that the draft platform is pretty weak compared to Yahoo and NFL.com's. Also, the entry fee for prizes leagues is really high considering the payout you get.
For example, an Elite league costs each of the 12 teams $1,000, basically. That means that, of the $12,000 in entry fees, CBS hands out $7,500 in prizes and pockets about 35% of the entry fees.
Another major drawback, in our opinion, is that their Commissioner League has a high price tag considering it's the site's only true option for customizing your league. Meanwhile, ESPN offers league customization for free.
In general, we think this is a great site for someone starting out in fantasy football and doesn't want a league that's customized but wants a basic setup that can help them learn how to play.
We also see it as a great site for someone who wants to participate in high-stakes, cash-prize fantasy football leagues.
» For Further Reading: Guide to the Best Fantasy Football Sites: Comparison of Yahoo, ESPN, NFL, CBS Sports, and Sleeper