Cebria Reviews
Claimed This company has claimed this profile, is getting alerted on any new customer reviews entering this page, and may engage in dialogue with its customers to address their matters.

Companies cannot pay money or provide goods in order to remove or alter customer reviews.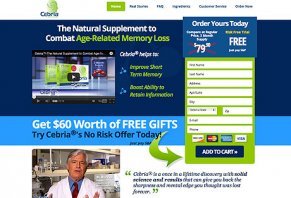 Using a formula of neuropeptide-boosting amino acids and other ingredients, the Cebria brain supplement claims to help address age-related memory loss.
About Cebria
Cebria is a patented, natural dietary supplement that contains a proprietary blend of neuropeptides clinically shown to help build new neural connections and ease symptoms of age-related memory loss—including faster thinking, boosted short-term memory, and reduced brain fog—in just 30 days.
According to the website, the supplement contains only certified pure ingredients that are made in a Good Manufacturing Practices (GMP) compliant facility and undergo 12 quality assurance tests during each production run.
In addition to all of these potential benefits, the manufacturer claims that Cebria is safe and effective, which is why more than 12 million doses have already been taken worldwide.
But once you have Cebria in your hands, can you expect similar results after taking just one capsule per day? Even then, are there any other memory-related dietary supplements that should be on your radar, and how do they compare?
We'll start answering your most important questions by discussing how the brain forms and maintains memories.
What Causes Thinking and Memory Problems?
While there's still a lot for the medical community to learn about how thinking and memory work, we're told that the 100 million nerve cells (known as neurons) in our brain work to transmit information in the form of electrical impulses.
These impulses travel between cells along something called a synapse, which are junctions between neurons. Together, there are more than one quadrillion synapses in the human brain.
In addition, chemicals called neurotransmitters can be released at the ends of nerve fibers, thereby signaling different impulses, depending on the chemical used. WiseGeek explains that one specific group of these neurotransmitters, called neuropeptides:
"… Contain anywhere from three to 40 amino acids and are found in the central and the peripheral nervous system. Acting as messengers in the body, these molecules perform specific functions. They influence activities in the brain and body, such as analgesia, food intake, learning, and memory."
As mentioned on the Cebria website, the Buck Institute confirms that production of these neuropeptides can change as we age, potentially leading to detrimental effects in neurons, including poor memory.
Whenever this occurs, it's classified as age-related memory loss. This is in stark contrast to memory loss related to Alzheimer's or other forms of dementia.
Next, let's find out what the clinical evidence has to say about the effectiveness of Cebria's ingredients for addressing this condition.
Are Cebria's Ingredients Effective?
According to the supplement facts label listed on Cebria's website, it contains the following ingredients:
Neuro Pep 12 Proprietary Blend 282.8mg: Lactose, Glutamic Acid, Lysine, Leucine, Arginine, Aspartic Acid, Serine, Phenylalanine, Valine, Threonine, Tyrosine, Isoleucine, Histidine, Methionine, Tryptophan
According to their summaries of the available clinical evidence, authoritative sites like the Natural Medicines Database, WebMD, and Examine.com indicate that 300mg daily of serine—or more specifically, phosphatidylserine—is listed as possibly effective for addressing some aspects of age-related mental decline and Alzheimer's disease.
However, they report this only relates to phosphatidylserine derived from cow cortex, not the soy or cabbage versions often found in supplements.
Similarly, 150mg of tyrosine per day may help address memory and mental performance, although the existing clinical evidence relates to stressful conditions such as military training, as well as noise- and- cold-induced stress.
And while some of these—such as lysine, leucine, arginine, phenylalanine, valine, threonine, isoleucine, histidine, and methionine—are amino acids that act as important biological building blocks, including for neuropeptides, these same sites report there's insufficient clinical evidence that they, or any of Cebria's remaining ingredients, can boost neuropeptide levels specifically, or improve memory or thinking in general.
Is Cebria's Formula Clinically Proven?
With all of this said, the supplement's website references a published fully randomized, double-blind, placebo-controlled, parallel groups clinical study conducted using the same proprietary blend contained in Cebria (named N-PEP-12), which involved 104 male and female participants who complained of memory loss, but who were otherwise in good physical health.
According to a company representative we spoke with, N-PEP-12 was developed over 10 years ago by a leading Austrian pharmaceutical company, EBEWE Pharma GmbH.
"N-PEP-12 is a purified and standardized, patented, neuro-peptide blend that was specifically developed by EBEWE as a nutritional supplement to support cognitive function in healthy individuals with normal age related memory loss," they said.
Ultimately, the clinical study found "treated subjects performed better than placebo-treated subjects on the ADAS-cog Memory score and the SKT."
Will Cebria's Ingredients Cause Any Side Effects?
For the most part, these same sites indicated that the amino acids and other ingredients found in Cebria likely won't cause anything worse than mild digestive upset (no specifics provided).
However, WebMD notes that in rare instances (again, no specifics provided), arginine can cause "gout, blood abnormalities, allergies, airway inflammation, worsening of asthma, and low blood pressure."
Finally, it's reported that not enough is known about aspartic acid to fully understand potential side effects or drug interactions. Nevertheless, the manufacturer told us that they have not experienced any customer complaints related to harmful side effects.
How Much Does Cebria Cost?
If purchased directly through the company, you can try two bottles of Cebria for 30 days after paying $9.95 S&H. Once this time passes, you'll be billed the full price of $39.95 per box ($79.90 total) and also enrolled in the company's recurring shipping program.
Here, you'll continue receiving two boxes of the supplement every 60 days and charged $79.90 plus $9.95 S&H each time.
Along with your order, you'll receive a copy of The New Memory Advantage e-book. You can also order a 30-day supply of the manufacturer's Perfect Omega supplement by paying an additional $7.95 fee.
Note: If you try clicking off the page, a pop-up will appear offering a single order option at a price of $39.95 plus $4.95 S&H. Alternately, you can place a one-time order for Cebria through Amazon and pay:
30 capsules: $57.95
90 capsules: $149.85
180 capsules: $299.70
All company-direct orders come with a 30-day refund policy, less S&H charges. To request one, or to cancel your recurring shipments, customer support can be reached at 800-214-8347.
What Can We Learn from Cebria Customer Reviews?
Since writing our original article, more than 20 HighYa readers had provided their feedback about Cebria, giving the supplement an average rating of 2.3 stars. Most compliments appeared to reference effective results, while frequent complaints related to no results and issues with the autoship program.
We also encountered 83 customer reviews on Amazon, where Cebria had a slightly higher average rating of 3.4 stars. There, most compliments and complaints appeared to mirror those found on HighYa.
From a company perspective, Ideal Living, LLC had an A+ rating with the Better Business Bureau and three closed complaints, as of 8/4/17. Of the two with details available, both referenced difficulties related to the autoship program, although a company representative seemed to respond quickly.
Our Final Thoughts About Cebria
Taking everything we've learned about Cebria together, it seems that the supplement comes from a reputable company with mostly positive feedback from customers, as well as a 30-day return policy in case you're dissatisfied.
In addition, the company sent us a copy of a clinical study indicating that the same ingredients found in Cebria (under the name N-PEP-12) have been clinically substantiated to improve memory in those aged 50 and older.
But like the supplement's website notes, results may vary. And if it doesn't end up working for you, you likely won't be out more than a few dollars in S&H charges for giving it a try. In order to ensure you're getting the most value for your money, though, we'd strongly recommend speaking with your physician prior to placing an order.
It works...

By Joshua S.

,

Phoenix, AZ

,

Jun 26, 2019
Verified Reviewer

I tried the free sample. I didn't use it all at once (30 days straight). I used it for about a week and didn't really notice much short term wise, but long term wise I noticed I was remembering things and details I long forgot about...Then a couple of months later I was studying for a big test and was struggling to retain some of the little details, so I tried another week's worth and can say it did help with short term memory. I have pretty bad short term memory usually, but the other day we were going somewhere new and I was able to remember the directions including the exit number and street. Usually, I take screenshots to recall the key directions. And again I noticed long term memory improvement too, like I remembered an event in detail from when I was a child that I forgot about.

Bottom Line: Yes, I would recommend this to a friend

Jun 27, 2019

Hi Joshua,

It's wonderful to hear how Cebria has helped you.

Thank you so much for sharing your experience.

:-)

---

Beware with this company

By Nelson A.

,

Lawrenceville, GA

,

Oct 15, 2018
Verified Reviewer

Last year I ordered this product from a TV commercial, and I was charged in a weird way, two times in advance, and I only received one box. After I had checked my bank statements, I notice what went wrong, so I was at South Dakota at that time when I called the company to make the complaint. Even though I have called the customer service for the cancelation of future orders, they never did, and then I had to do a full process through my bank, and after have sent evidence from my shopping and waited for several weeks, I had only received like $49 refunded to my account, but the other fees and charges never were returned to my bank account. They charged me several times, so I saw like around $189 fly away from my bank.

Bottom Line: No, I would not recommend this to a friend

Oct 15, 2018

Hi Nelson,

Thank you for the review. Here are the offer details:

You will be shipped two boxes of Cebria dietary supplement, which is a 60-day supply. They are yours to try for 30 days! All you pay TODAY is the $9.95 shipping and processing. Then, unless you call to cancel, after 30 days your credit card will be charged only $39.95 per bottle! Every 60 days, we will send you a new 2-box, a 60-day supply of Cebria billed to your credit card at the same low price ($39.95 per box plus $9.95 S&P). You can stay on the program as long as you want and cancel at any time by emailing customer service at customerservice@cebria.com or calling 1-800-214-8347. And remember, all you pay now is just the shipping and processing! All future shipments come with a 30-day money-back guarantee (less S&P).

We show that you were charged the s/p for the Cebria and Perfect Omega of $17.90 on 1/29/17. You were then charged the delayed payment of $79.90 on 3/5/17 as you did not call to cancel future shipments and/or return the product. We charged and shipped you another order on 3/31/17. We received a call from you on 5/10/17 requesting to cancel future shipments and you were offered a 25% discount to stay on the preferred shipping program which you accepted. The 25% discount was applied to the March order (a refund of $19.89 was issued on 5/11/17) and applied to future orders. We also delayed your next shipment until 11/10/17. We attempted to charge the discounted amount on 11/13 but the card declined. Per notes our outbound credit card decline, our team left a voicemail on 11/16. We were able to obtain payment on 11/19/17 and shipped the order. The next shipment was due on 1/18/18 but the card declined. The outbound credit card decline team called again on 1/19/18 leaving a voicemail. We were able to obtain payment on 1/24/18 and shipped the order. We received a call from you on 1/24/18 stating that you no longer needed the product and future shipments were canceled that day.

We are sorry if the offer was not clear to you however we canceled future shipments when you asked us to as promised in our offer you can cancel at any time.

---

Advertisement

---

Takes longer than 30 days

By Tom R.

,

Union City, CA

,

Aug 25, 2018
Verified Reviewer

I ordered Cebria, and I did not like the automatic shipping of the product so, after 30 days with no positive results, I canceled. I had more than a two-month supply, and I decided to keep taking it. I really liked the way they showed brain cells reacting to Cebria in an infomercial I saw, so I figured I'd give it longer to see if it would do any good. Shortly, after 50 days (50 doses) I noticed a big change. I'm not sure why it took so long for it to start working but it definitely started working well. I still don't like being on their automated shipping program, but if I can't find another way to purchase it, I will do whatever I have to do. I'm not sure why it took almost two months to start getting results. But I got GREAT results, like night and day difference for me.

Bottom Line: Yes, I would recommend this to a friend

Aug 25, 2018

Hi Tom,

So great to hear about your positive experience with Cebria. You are correct, Cebria is an herbal supplement and sometimes you may need to take it longer to notice the effects. Glad you discovered the amount of time you needed. The automatic shipping can be stopped at any time and it does ensure an uninterrupted supply so that you can continue to enjoy the benefits of Cebria.

---

Buyer beware!

By Roland B.

,

Massachusetts

,

Aug 3, 2018
Verified Reviewer

I was lured in with the 30-day "FREE" trial, and pay an additional (small fee) I believe $9.95 for a second month (this was in mid-May 2018)!

Sweet, I'm thinking sounds like a great deal, I will be able to test this stuff and make a decision based on its performance.

Segue to July 3rd, 2018. I am reading through my bank statement and find a charge from Cebria. I naively thought OK, so they are automatically sending me another month's supply ($79.90 by the way).

I waited a few weeks and never received another shipment.

I called Cebria's customer service just a few minutes ago to see where the shipment was. I was told, oh that was for the first two months that you already received!

What, I was under the impression those were paid for in advance, I paid them before they would ship it, but guess what folks? It's BS plain and simple!

The product I feel did enhance my memory somewhat, but nothing prepared me for getting ripped off to the tune of $79.90.

You really need to keep an eye on companies like these as there in the fine print lurks the bank account sucking thievery.

If you can afford it, the product did work "somewhat" for me, but keep a diligent eye on your bank statements!

Bottom Line: No, I would not recommend this to a friend

Aug 4, 2018

Hi Roland,

Thank you for the review. We are sorry that the offer was not clear to you but are happy to hear that Cebria has been working for you. From the site that you placed your order, here are the offer details: You will be shipped two boxes of Cebria dietary supplement, which is a 60-day supply. They are yours to try for 30 days! All you pay TODAY is the $9.95 shipping and processing. Then, unless you call to cancel, after 30 days your credit card will be charged only $39.95 per bottle! Every 60 days, we will send you a new two-box, a 60-day supply of Cebria billed to your credit card at the same low price ($39.95 per box plus $9.95 S&P). You can stay on the program as long as you want and cancel at any time! And remember, all you pay now is just the shipping and processing! All future shipments come with a 30-Day Money-Back Guarantee (less S&P).

30-Day Money Back Guarantee Policy: If, within 30 days of receiving Cebria, you are not thrilled with your results, simply call customer service at (800) 301-5708 to cancel your order and return the unused portion for a complete refund of your purchase price (less shipping and processing).

You delayed payment for the May 2018 order was due in June however, the card on file declined. Our system will attempt to charge the card again which is why you say the payment of $79.90 on 7/1. We show that you contacted us on 7/30 and customer service explained the above offer to you and canceled future shipments per your request. We also see that you ordered in December 2014 and again in June 2015, the 2015 charge declined and when we contacted you, then you requested that we cancel that order and declined our offer of a discounted order.

Again, we are sorry that the offer was not clear.

---

Advertisement

---

I love this product!

By Jill Seale

,

Nowata, OK

,

Apr 20, 2017
Verified Reviewer

Back in 2012, I ordered the plain Cebria. I started it and tried it for about 5-6 months. Then I got shingles on my face, scalp and right eye. The itching was very bad, and the pain too. When the symptoms got better, I started Cebria again. Well, I would get short-term itching and pain so my doctor looked it up and said that since it affects the nerves, I should stop it.

My mind wasn't really bad so in 2016 I found it at the GNC stores. It was the Ultra blend. I've taken it since then. Now they don't have it. I ordered it from Amazon and received prostate meds. I need to buy some. I can't focus or remember names. IT WORKS; I just can't afford a lot of money. I'm a nurse and the only person working. I also have a strong Hx of dementia and Alzheimer's in my family. Thanks.

Bottom Line: Yes, I would recommend this to a friend

---

Never do business with this company

By Brian

,

Clifton, NJ

,

Feb 22, 2017
Verified Reviewer

This company is a COMPLETE scam.

They tell you it's $9.95 for shipping to try the product, but that is is a complete lie. Evidently, in unreadable fine print, they send you a two-month supply, charge your card about $90, and put you on an auto-ship. Instead of a nice brochure with the product, they have the nerve to greet you with a document that states that since you accepted the product, you have agreed to arbitration. In other words "we are ripping you off, and you have waived your right to legal recourse."

Seriously, what kind of cowboys would do that. How can you possibly know in advance that there is such a document inside before you open it? What kind of welcome to their product is that? If their product was good, why would they need to resort to such dubious business practices? My experience with arbitrators is that they tend to side with the company that pays the arbitration fee. What kind of fools do they think we are?

Sadly, because of the nature of the product, they know they are mainly dealing with the elderly who bullied by their SCAM. Cebria, SHAME on you!

Bottom Line: No, I would not recommend this to a friend

Jan 17, 2018

Hi Brian,

Thanks for the comments. We are sorry that offer details were not clear to you. Here they are from the site:

Offer Details: You will be shipped 2 boxes of Cebria dietary supplement, which is a 60-day supply. They are yours to try for 30 days! All you pay TODAY is the $9.95 shipping and processing. Then, unless you call to cancel, after 30 days your credit card will be charged only $39.95 per bottle! Every 60 days, we will send you a new 2-box, a 60-day supply of Cebria billed to your credit card at the same low price ($39.95 per box plus $9.95 S&P). You can stay on the program as long as you want and cancel at any time! And remember, all you pay now is just the shipping and processing! All future shipments come with a 30-Day Money-Back Guarantee (less S&P).

If you go with Ultra, your charge would be $49.95 per bottle.

The order includes a welcome letter outlining the program again in detail and reminding you that you can call and cancel anytime. We also include in the welcome letter with a link to the free ebook by Dr. Laux, "The New Memory Advantage". Yes, we do include an arbitration agreement but rarely to be used as we offer a 30-day money back guarantee and you can call at any time to cancel.

---

Don't bother

By Janet

,

Redding, CA

,

Jan 31, 2017
Verified Reviewer

I ordered by phone, as my mother wanted to try it, and nobody told me that I was being signed up for a monthly program where I would be sent specials, coupons, etc. She never endorsed it.

I called, and the customer service representative sounded like she was drinking too much. Then today I noticed she gave me the incorrect order number to return the rest of the product. What a headache. I am returning what's left, but am also canceling my credit card. It is a waste of time.

Bottom Line: No, I would not recommend this to a friend

---

Does not work

By Isaac

,

New Jersey

,

Feb 4, 2016

The product does not work. On my way home after taking the 30 month supply, I actually forgot to pick up the Cebria along with some important papers. There are clinics that do brain scans and specialize in neuropathic disorders. Don't buy a bottle of pills, see a medical professional.

Bottom Line: No, I would not recommend this to a friend

---

Cebria

By Lori

,

South Carolina

,

Nov 9, 2015

I can tell no difference from before and after taking this product.

Bottom Line: No, I would not recommend this to a friend

---

It dose not work.

By Phyllis Miller

,

Trenon, GA

,

Nov 9, 2015

Cebria doesn't work would. The company would not refund our account on our card as promised and they charged our card for a two months supply although we only got a one month. They charged our account right after we got them way before we had the chance to try out the Cebria. Don't let them rip you off, it's a scam!

Bottom Line: No, I would not recommend this to a friend

---

Scam to the Max!

By Carol Apczynski

,

Detroit, MI

,

Oct 13, 2015

I don't know if this stuff works or not, but I suspect not. If you order it by phone, they enroll you into something called Mon Value Plus that will charge you $24.95 per month on your credit card. This gives you nothing other than a higher credit card bill. If they have to do that, then their product probably is worthless.

Bottom Line: No, I would not recommend this to a friend

---