CeeVoo Antenna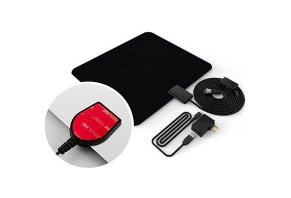 Using technology that provides 65-mile range, the CeeVoo HDTV antenna claims to provide you with unlimited free TV and multi-directional transmission.
CeeVoo Antenna Review
CeeVoo is an HDTV indoor antenna that claims to be "the only 'super' HDTV antenna" and provide unlimited TV for free.
The antenna is multi-directional and has a 65-mile range, which means it's designed to pull in signals from all directions from TV towers as far as 65 miles away.
Part of the antenna's marketing focuses on the fact that it's good for if you're trying to cut the cord, saying it was "designed specifically to fight back against the big cable companies who continue to rip off countless Americans."
In this review, we'll analyze how the antenna works, how it can help you cut the cord, how much it costs and how it compares to other antennas from well-known retailers like Amazon, Target and Walmart.
How the CeeVoo Antenna Works
This antenna is a flat rectangular square that ships with a coaxial cable you plug into your TV and a power cord you plug into a wall. The power cord is a bit outside the norm because there's a plug and a USB cord. The end of the USB cord, which appears to be a micro-USB connection, plugs into a small box integrated into your coaxial cable.
Getting the antenna to work is identical to using other indoor HD antennas. You'll plug the coaxial cable into your TV, then plug the power cord into the wall. The antenna has an adhesive pad that you'll stick to the wall.
Once you install everything, you'll turn your TV on and go to your Settings menu. Somewhere in there—usually in the Channels option—you'll have the option to "autoscan" channels. Doing an autoscan means the TV is using the antenna to find channels in your local area and, when it finds them, it stores them in your channel lineup.
One the scan is done, you can use your remote or the buttons on your TV to check out all the channels available to you.
How to Maximize Your CeeVoo Antenna's Reception
Which channels you get has a lot to do with which channels are available in your area, where the nearest TV towers are and how far away from an outdoor wall your TV antenna is.
Ideally, you can place your antenna on a window because there's no interference between your antenna and the outdoors.
Another thing to keep in mind is a tip we learned from Richard Lloyd, a YouTube electronics expert. Your TV will most likely provide a rating like 480i or 1080i for each channel you get. This rating refers to the resolution of the channel. Should most of your channels have low resolution, you may want to put your antenna in a different place to see if you can get a better signal.
We also found a pair of great tips on YouTube from Australian antenna service Jim's Antennas. The company says that LTE signals your phones use can interfere with your TV signal.
Another issue is the coaxial cable connecting your antenna to your TV, the company said. Thin cables most likely will reduce the antenna's effectiveness because it has a hard time carrying the antenna signal to your TV without losing some of it. One sign that your coaxial cable may not be efficient is that it's flimsy or thin, they pointed out.
How CeeVoo Can Help You Cut the Cord
HD antennas have become a favorite among cord cutters because they provide you with free local HDTV channels. This perk gives you access to news, shows and sporting events on major networks like ABC, CBS, FOX and NBC.
Now, depending on where your home or apartment is located will dictate how many channels you can get, as well some of the other things we mentioned in the previous section.
So, when CeeVoo claims their antenna will give you unlimited TV for free, they're correct but you have to remember that they can't guarantee that you'll get all the available channels all the time.
Also, your antenna will not give you free premium channels like ESPN, HBO and other channels you get when you pay for upgraded cable packages.
CeeVoo Price and Return Policy
At the time of publishing, you could buy one antenna for $39.95, with the added bonus of lowering the per-antenna price if you buy more:
Two antennas: $69.90
Three antennas: $100
Four antennas: $130
At four antennas, you're paying $32.50 per antenna, presenting a roughly $7.50 savings per antenna. What's interesting is that we left the order page on the site for a couple of minutes and came back to it to find an offer for $10 off.
So, if you're seriously considering this antenna, we suggest opening the order page, then opening a new tab, do some browsing and come back to the CeeVoo tab to get the discount.
The antenna comes with a 90-day guarantee, such that you can send the antenna back within 90 days of buying the antenna to get a "full refund or replacement," the website notes.
What's interesting, though, is that the site's fine print says that CeeVoo Antenna "express no representations or warranties, of any kind related to this Website or the materials contained on this Website."
We called the company's customer service line during their business hours to clear up the conflict of facts but nobody picked up the phone.
Based on this experience, we'd say you should approach the guarantee with caution because it could mean that the company won't accept any returns. We searched the site for other return information and couldn't find any.
Pro tip: CeeVoo's phone number is (661)250-6881 and their email address is support@myceevooantenna.com.
How CeeVoo Compares to Other TV Antennas
We wanted to give you a sense of how this antenna stacks up against other ones that provide the same general type of benefits as the CeeVoo, so we and found the top antennas at Amazon, Target, and Walmart:
Antop Big Boy (Target): $58.76, 60-mile range
CSDTV Long-Range (Walmart): $21.99, 120-mile range
Jetortep HDTV Antenna (Amazon): $21.99, 105-mile range
Based on our research, we believe that the options we presented in the list above provide some strong competition for the CeeVoo. The CSDTV antenna has twice as much range as the CeeVoo at about half the cost.
However, the CSDTV is sold on the Walmart marketplace, which means that, if you need to make a return, you'll have to pay the postage to send it back to the third=party vendor selling the item. If the vendor is located overseas, the shipping will most likely be prohibitively expensive.
The Final Word: Our Thoughts About the CeeVoo Antenna
Based on our research of this antenna as well as other ones like it, we believe that you'll probably be able to find a better value for a more powerful antenna from retailers like Walmart and Amazon.
Normally, we'd present you with a general summary of the reviews of a product to give you a sense of how your fellow consumers feel about the CeeVoo. Unfortunately, at the time of publishing, we couldn't find any reviews about this product.
Whichever antenna you decide to use, we think you'll be most happy with your purchase if you know the basics of how to maximize an antenna. Even the best-rated antennas are useless if you don't use them the right way.
If you own a home in which your TV is near a window, we think you could have some success with this antenna as well as other antennas we listed. If not, you may find your experience frustrating.
» Recommended Reading: How to Buy the Best HDTV Antenna for Your Home
CeeVoo Antenna (pure junk!).

By Tom H.

,

Clarkson, KY

,

Mar 30, 2020
Verified Reviewer

I paid for one and tried it on three new smart TVs. It did nothing, no channels, no signal, no nothing! I did, however, contact the seller and was given a full refund. No, I would not, will not recommend this product to anyone! I give it less than a 1-star rating!

Bottom Line: No, I would not recommend this to a friend

---

No stations

By Ron M.

,

Huntsville, TX

,

Oct 11, 2019
Verified Reviewer

Bought this product to view locals while traveling in an RV. And extra bedroom. In multiple locations from home to out of state, I have yet to receive any reception from any source. This was a total scam and waste of money. Bought thinking it would work, but it does not. Go another direction away from this product. What a waste.

Bottom Line: No, I would not recommend this to a friend

---

Advertisement

---

Refund

By Larry S.

,

Johnson, TN

,

Jul 23, 2019
Verified Reviewer

I wrote a review but I know I'm not going to get any money back. This company is a fraud, it's a scam!

CeeVoo HDTV Antenna...fraud and a scam!

Don't believe me, ask the Better Business Bureau, they won't even answer the phone when the BBB calls.

Read my review for more details.

Bottom Line: No, I would not recommend this to a friend

---

It is a scam

By Leonard B.

,

Pico Rivera, CA

,

Jun 3, 2019
Verified Reviewer

I ordered 2 antennas and 1 amplifier, they gave me a 4-channel blur picture. I sent them back for a refund to their top assistant site on Airport Ave. This was last month and I have not heard from them, no refund, nothing. I sent them priority mail, very disappointed in everything about them CeeVoo. Do not purchase, you will lose.

Bottom Line: No, I would not recommend this to a friend

---

Advertisement

---

Was stupid

By Robert S.

,

South Carolina

,

May 17, 2019
Verified Reviewer

Did not receive what I thought I was ordering, a different picture of the item. It was easy to connect, brought in 31 channels, all local networks old movie channels. Lots of ETV channels which show the same information and couple of Christian channels. They were all clear as HD cable or better. No sports other than local broadcast. I was dumb enough to buy two. Imagine that. What a rip off!

Bottom Line: No, I would not recommend this to a friend

---

CeeVoo Antenna

By Gwyneth B.

,

Ryde, Isle of Wight, England

,

May 8, 2019
Verified Reviewer

I am totally non-technical and ordered this on a whim as I do not have have a TV aerial or satellite dish here at my new flat.

I had visions of the "old" days walking around with an indoor aerial getting more and more fed up, but low and behold it actually works!

I put all the wires together and plugged into the TV, popped the antenna on the window sill, turned on the TV, went to re-tune, sat and waited a couple of minutes and hey presto! Loads of TV channels and crystal clear reception, still can't quite believe I did it! Brilliant product and very reasonably priced. Thoroughly recommend.

Bottom Line: Yes, I would recommend this to a friend

---

Dissatisfied

By Tina L.

,

Rowlett, TX

,

May 6, 2019
Verified Reviewer

I ordered the product and I received a different antenna than what I ordered. Also, when my order was finalized, an amplifier was added that I didn't authorize. Paid nearly $100 for an antenna that was not the same as advertised. Only getting 10 channels - Fox, NBC, and PBS. The other 7 are either Spanish, Vietnamese, or religion channels.

Bottom Line: No, I would not recommend this to a friend

---

I do not recommend

By Edouard I.

,

Texas

,

May 3, 2019
Verified Reviewer

Do not believe them. I bought this device with an amplifier and it absolutely does not work. I asked to return my $78.99 and they replied that I can keep this device with me and they will return 65% of the total amount to me. I think that there is no need to explain to you that this is a common fraud.

Bottom Line: No, I would not recommend this to a friend

---

Don't do it!

By Pat F.

,

Louisiana

,

May 2, 2019
Verified Reviewer

I was a stupid fool for signing up for CeeVoo. I should have read the reviews prior to signing up and giving them my credit card but I didn't. I believed the BS in their ad, like a dumb fool. Now it seems I can't get them to answer my calls so I'm really screwed...

Bottom Line: No, I would not recommend this to a friend

---

I do not recommend

By Dinesh P.

,

Liberty, IN

,

May 1, 2019
Verified Reviewer

CeeVoo Antenna advertisement makes the people fools. It is not the products as advertised on the website. The company is cheating the innocent people of the US. I do not recommend to buy and trust this fake advertisement of CeeVoo Antena. Company existence is doubtful.

Bottom Line: No, I would not recommend this to a friend

---

Ordered CeeVoo, received other brand

By Michelle A.

,

Albuquerque, NM

,

Apr 26, 2019
Verified Reviewer

I ordered a CeeVoo Antenna. Any and all correspondence sent to me regarding my order referred to it as a CeeVoo product. I received an antenna by ClearView.

There is nothing special or extraordinary about the antenna. We could've found one just as good or better at a local department store.

My advice is don't waste your time or money.

Bottom Line: No, I would not recommend this to a friend

---