Cellfina Reviews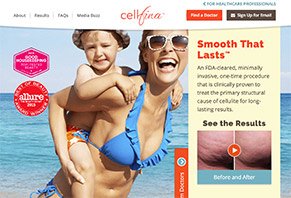 Cellfina is a new in-office procedure that claims to abolish cellulite on your butt and thighs for up to two years, and in as little as a single treatment.
About Cellfina
The Cellfina System is a new kind of cellulite treatment that works using ultrasound technology. Performed by your doctor during a single, in-office visit, it claims to smooth away your divots and dimples for up to two years.
The result? Cellfina claims to give more women the chance to feel confident in bikinis and high hemlines.
This FDA-cleared, minimally invasive procedure is created by Ulthera, Inc., a global medical device company that uses therapeutic ultrasound technology to offer cutting-edge medical esthetic systems meant for in-office use.
Could Cellfina work to smooth your cellulite?
If you've ever tried to battle your bum dimples, you've probably explored a myriad of methods and products, including dry brushing, creams, body wraps, massages, scrubs, and maybe even lasers—and each falls short of their promise to smooth your skin for good.
We'll take a look at how Cellfina claims to work, what it means to be FDA-cleared, and the potential costs for a Cellfina treatment to help you decide if this new skin-smoothing therapy might be right for you. But first…
What Causes Cellulite?
Before we dive into how Cellfina works, let's quickly review what causes your skin to dimple: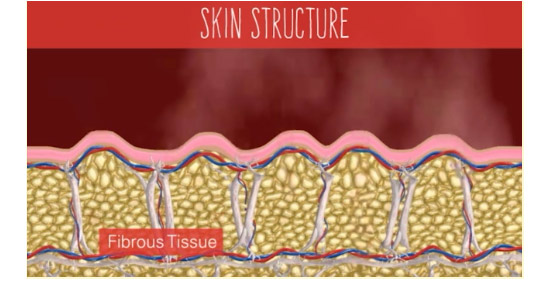 Skin Structure
In between your skin and muscle is a layer of fat. Holding it all together are fibrous bands of connective tissue—think of them like stitching on a seam of a shirt.
Cellulite is usually associated with weight gain because, while those fibrous bands hold the skin taught, the unconnected tissue is free to bulge outward as fat increases. It's like when you wear a shirt that's too tight, causing the seams to pull while the material in between puckers outward.
But extra pounds aren't the only reason for cellulite to appear. As your skin loses elasticity with age, sometimes the skin that isn't anchored by those connective tissues starts to droop outwards. Other factors that can contribute are reduced muscle tone, fluid retention, and decreased circulation.
While all those factors are associated with falling out of shape, cellulite can continue to frustrate you even after you get back on the workout wagon. That's because skin lacks the means to self-correct severe dimpling, especially as we age.
How Does Cellfina Claim To Work?
Cellfina is an in-office treatment that can only be performed by a qualified physician. According to the system's website, a Cellfina procedure goes something like this: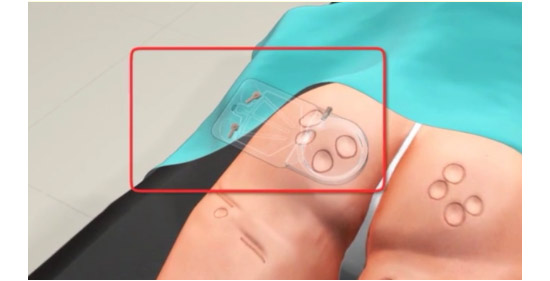 Skin Marks
First, your skin will be marked to clearly identify any dimples needing treatment. Then, a 'suction stabilizer' is used to pull the skin taut.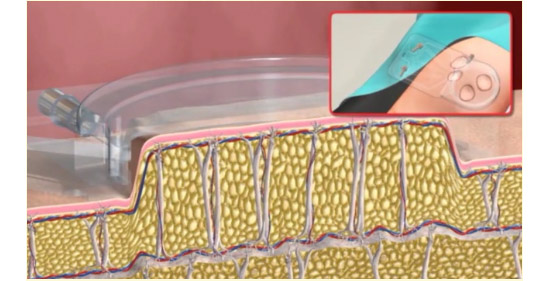 Suction
This stabilizer stretches out the connective tissues that cause cellulite, holding them in position throughout the Cellfina treatment. After your connective tissues are sucked into their stretched positions, the area will get a shot of numbing medication before treatment can begin.
Here's the thing: Cellfina doesn't disclose what that treatment actually is. Because we know that Ulthera, Inc. develops ultrasound devices, we can logically conclude that Cellfina treats cellulite using ultrasound therapy. However, Cellfina's official website never discloses the specifics of how this therapy helps to smooth skin.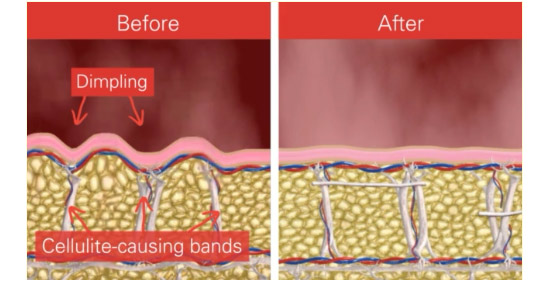 Treatment
Instead, we're told that "the treatment uses a specialized hand piece that releases the cellulite causing bands." The image meant to illustrate this process (shown directly above) includes new, horizontal bands linking the connective tissues—but we're not told what they are, or how they came into the picture.
Instead of explaining more about the process, Cellfina just goes on to say that, after your treatment, you're free to go about your day.
How Long Does Cellfina Take To Smooth Cellulite?
Cellfina claims that the treatment itself can take a little less than an hour, depending on the number of dimples being treated and 'your own personal needs'—which we take to mean 'how severe your thigh craters are.'
The commercial also states that Cellfina can drastically reduce the appearance of your cellulite in just one treatment.
So, let's say you pop out to the doctor and get a Cellfina treatment on your lunch break. How long do the effects take to kick in?
Cellfina claims that you can start to see results in as little as three days and that improvements in your skin's texture continue to become more noticeable over time. This claim is reflected in Cellfina's clinical studies. However, the study shows that the majority of improvement in skin texture can be seen around 90 days after treatment.
That information is echoed by Cellfina, who also claims that three months after treatment marks a significant time when many patients notice the most significant improvement. (You can see a time-lapse of patients at minute 2:13 of this video, just beware that they use nearly-bare bottoms to illustrate the improvements.)
Cellulite decreased by Cellfina treatments are supposed to last at least a year, with the potential to last up to two.
What's The Difference Between 'FDA-Cleared' and 'FDA-Approved'?
Cellfina claims to be the only "FDA-cleared" device of its kind. But, what's the difference between clearance and approval?
According to the FDA, a product is 'cleared' when the agency determines that it's "substantially equivalent to another legally marketed device."
That isn't to say that there's another device just like Cellfina that's used to treat cellulite. Instead, it's more likely that Cellfina uses existing technology (ultra-sound therapy) in a new way (treating cellulite).
This is in contrast to a product that can claim FDA approval, meaning that they have applied for, and undergone, a more rigorous review before being available to consumers—an expensive process that's usually reserved for never-been-tried-before treatments.
Doctors Who Endorse Cellfina: Deanne M. Robinson, MD & Michael S. Kaminer, MD
To illustrate the effectiveness of the treatment, Cellfina's commercial features two medical professionals endorsing the procedure.
Deanne M. Robinson, MD, a Boston-based cosmetic dermatologist, goes on record as stating that she's excited to offer her patients the Cellfina System treatment, since she understands how cellulite can affect self-esteem.
We looked up Dr. Robinson's practice and, while we weren't able to learn how much Cellfina costs, we were able to learn two extra tidbits about the procedure:
Cellfina can only be used on the thighs and buttocks.
Cellfina works by 'releasing' the connective fibers that tightly tether the skin, allowing skin to smooth out (although there's no word on those horizontal connectors).
Next, Cellfina features Michael S. Kaminer, MD, another Boston-based cosmetic dermatologist who is also an Associate Professor of Dermatology at the Yale School of Medicine.
According to Dr. Kaminer, "What's really unique about Cellfina is that it works." He goes on to say that the procedure is different from other cellulite treatments in several ways:
It treats the cause of cellulite, not just the dimples.
It's FDA-cleared to last at least a year.
It's a minimally-invasive procedure.
Dr. Kaminer states that most of his patients see results from Cellfina in two or three days. Additional information on Dr. Kaminar's website states that:
85% of patients were satisfied with their results at the 3-month mark.
Even more (94% of patients) reported satisfaction after one year.
That these statistics surpass patient satisfaction rates for all other cellulite treatments. (The Cellfina commercial also states this claim, but notes that these satisfaction ratings weren't based on direct comparisons between treatments.)
According to Dr. Kaminar, some patients might experience soreness and bruising immediately after the procedure, but that there are no serious side effects associated with Cellfina—you can even drive yourself to and from your treatment appointment.
How Much Does Cellfina Cost?
Because Cellfina can only be performed by a licensed medical professional, the cost of the treatment varies in accordance with each doctor's rates. Additionally, some individuals require more aggressive and time-consuming treatments which, in turn, increase the cost.
Cellfina states that, since the treatment is personalized, the best way to get an accurate quote is to consult with a doctor near you. You can find one that offers the Cellfina System by visiting www.cellfina.com. Note that, because Cellfina is an elective procedure, it is not covered by your medical insurance.
That aside, of course we're still curious what the average cost of Cellfina could be! Searching online, we were able to find several patient reviews of the cellulite treatment.
One Cellfina patient, Lisa, talks about her experience receiving the Cellfina treatment in the above video.
In her interview, Lisa shares that the Cellfina treatment was relatively painless, aside from the initial prick of a needle delivering localized anesthesia. The day following her procedure, the only discomfort Lisa felt was if there was direct pressure on the treated area, and that she didn't feel the need to take any pain-relieving medication.
Lisa's total cost for Cellfina is listed as $4000.
That price is just slightly less that the average cost of Cellfina as listed on RealSelf.com, where the treatment is listed as $4,250.
What Patients Are Saying About Cellfina
So far, we've heard plenty of glowing endorsements of Cellfina from medical professionals who provide the treatment.
When stopping by RealSelf.com to check the average price, we found that not every patient was as satisfied as the Cellfina advertisement implies.
Cellfina holds approval rating on Real Self, which is an average of 59 ratings over 24 months. Despite that high score, scrolling through reviews did reveal a few complaints:
In a review titled "Seriously Regretting Cellfina," one woman says:
My Dr told me I was a good candidate. I work out a lot and watch what I eat mostly and still have cellulite. I swear it is much much worse after Cellfina. First off the procedure was very very painful. It hurt very much. Then there is this horrible grinding noise. Ok, who cares if it works.... But I'm literally ruined. My cellulite is way worse than before. There are lumps ridges and dimples I didn't have before. I don't know what to do. I sent pictures to my doctor, and he was like that doesn't look right come in when I'm back from. Vacation in a couple of weeks. I'm really upset. There's nothing I regret more - it looks horrible.
Another patient who'd had Cellfina six weeks prior said:
I have TONS of really dark marks from the insertions (the ones lower on the back of my leg are not lightening up quickly at all) and deep bruising (looking just like darker areas of skin, not obvious bruises). Plus my cellulite is just weird looking now. There are still dents everywhere, and a large line (maybe fluid) on the back of my right thigh. If results are supposed to last for 1-2 years, when do those results show up? Starting to regret.
It's worth noting that there are many positive reviews of the Cellfina treatment on Real Self, along with other negative reviews and some that are marked as 'not sure.'
What can someone who's considering Cellfina take away from the wide range of reviews?
The Cellfina System Is Only As Good As Your Doctor Is Skilled
Like any procedure, the Cellfina System depends on a skilled and practiced hand. As a fairly new procedure, there are likely far less cosmetic dermatologists with experience performing the treatment than other in-clinic procedures that have been around awhile.
Given Cellfina's overall high rating and the number of positive reviews, it's likely that the treatment can give some individuals the confidence to ditch their cover-ups, as the commercial claims.
However, the range in patient satisfaction leads us to believe that, since Cellfina is so new, it's even more important to thoroughly research a doctor before even making an appointment.
We mentioned above that you can find a doctor that offers the Cellfina System by visiting www.cellfina.com. However, we also recommend visiting the RealSelf.com message board and finding those patients who've left positive reviews.
Ask which doctors they used, and also be sure to cross check other reviews in the area to make sure that theirs wasn't a lucky case, and that the doctor does have a good track record of satisfied patients.
Also, due to physiological differences, not everyone is a good candidate for Cellfina. This includes anyone with a large amount of stretch marks or wavy cellulite (as opposed to direct dimples). Know that a reputable doctor should be willing to tell you whether or not you'd benefit from Cellfina—run the other way if he or she implies that the treatment will work for everyone, or on every type of cellulite.
It's also important to remember that cosmetic treatments aren't magic!
While Cellfina is a fairly straightforward procedure with little downtime or discomfort, there's still room for patient error when it comes to self-care after a procedure. Be sure to precisely follow any instructions for bandaging and care, lest it affect your comfort, health, or satisfaction with the results.