Chase Freedom Credit Card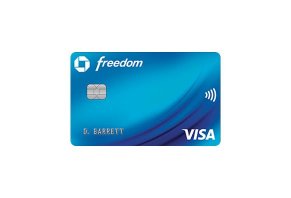 Summary
The Chase Freedom uses a rotating 5% rewards category along with a 1% flat rate to earn you around $425 a year in cash back rewards. There are benefits to this card but also some drawbacks.
Chase Freedom Credit Card Review: Is It Right for You?
The Chase Freedom card is a mainstay in the cash back card world. It's been around for years as a popular choice for consumers just getting into credit card rewards.
This card offers 1% cash back on all purchases and 5% cash back on special categories that change every quarter.
The Chase Freedom card has a $200 sign-up bonus after spending $500 in the first three months. Only new users or those who haven't owned the card in two years are eligible for this bonus.
Quick Facts

Pros: 5x rotating rewards category can produce $75 in rewards per quarter.

Cons: Yearly rewards are significantly lower than alternative cash back cards. APR is higher than most other major non-Chase cards.

Estimated Yearly Cash Rewards: $425

Sign-Up Bonus
Annual Fee
Regular APR
$200
$0
14.99% – 23.74%
Rewards Rate: 5x rewards on rotating categories, 1x rewards on everything else
Rewards and Benefits
The Chase Freedom card provides 5% cash back on rotating categories that change every quarter, up to $1,500 in combined purchases. Once you've reached the $1,500 limit, you'll earn unlimited 1% cash back on those categories.
These categories are revealed closer to the activation date, making it hard to plan ahead.
Chase will send email activation reminders to cardholders, but you can also put extra notifications on your phone or calendar just to make sure.
In the past, the categories have included grocery stores, department stores, wholesale clubs, drugstores, and restaurants.
For example, April–June 2020 categories were:
Grocery Stores
Fitness Club and Gym Memberships
Major streaming services including Netflix, Hulu, and Prime Video
Chase has one of the best rewards programs available. Points never expire, and there's no minimum redemption amount. If you only have $5 in points, you can still redeem them.
You can access rewards through the Chase Ultimate Rewards portal. Rewards can be redeemed for statement credit or as a deposit to a checking or savings account. You can also redeem for gift cards to stores like Target, Starbucks, and Amazon.
You can also use points for flights, rental cars, hotels, cruises, and vacation rentals. Points may also be transferred to certain travel partners, including United Airlines, Hyatt Hotels, and Southwest Airlines.
You can only transfer points to your own account or a member of your household who is also an authorized user on the card. You can only transfer in 1,000-point increments.
Chase also lets customers redeem points for special experiences. Recent examples include a meet and greet with Steph Curry of the Golden State Warriors and rinkside seats to the Tampa Bay Lightning along with a post-game team meet and greet.
You can also use the points to pay for Amazon.com purchases and buy Apple products.
Points are generally worth 1 cent each, but cardholders with a Chase Sapphire Preferred, or Chase Sapphire Reserve card can transfer points over from their Chase Freedom.
Chase Sapphire Preferred points are worth 1.25 cents each while Chase Sapphire Reserve points are worth 1.5 cents each. This effectively increases the point value by 25% and 50%.
Other card benefits include three months of DashPass, a subscription plan from food delivery service DoorDash. This includes free delivery on eligible orders.
After the three-month period, cardholders will stay enrolled in DashPass for 50% off the regular price. They can cancel DashPass at any time but must opt-out in order to avoid being charged at the end of the three-month period.
Consumers also get 4% cash back on Lyft rides through March 2022. The 4% cash back is not included in the quarterly $1,500 limit.
Interest Rates and Fees
This card has no annual fee, but it does come with a 3% fee on foreign transactions. This means you should avoid using it if you're traveling abroad because you'll pay a 3% fee on any purchases.
The Chase Freedom card has 0% APR for 15 months on balance transfers and new purchases. If you have a balance on another card, you can transfer it to the Chase Freedom and avoid paying any interest if you repay the balance within 15 months.
After those 15 months, the APR will switch to a variable rate between 14.99% – 23.74%. There's a 3% or $5 balance transfer fee, whichever is greater. If you transfer $2,000, for example, you'll pay a $60 fee.
Chase Freedom vs. Chase Freedom Unlimited
The Chase Freedom is the first iteration in the Chase Freedom series, with the Chase Freedom Unlimited card as the second edition.
Cash back: The Chase Freedom card offers 5% cash back on purchases in categories that change every quarter, up to $1,500 in combined purchases, and 1% cash back on everything else. The Chase Freedom Unlimited gives 1.5% cash back on all purchases.
Customers will earn more with the Chase Freedom card if they utilize the 5% option. If they forget to activate the extra cash back categories, then the Chase Freedom Unlimited is the better option.
Chase Freedom customers earn 4% cash back on Lyft rides while Chase Freedom Unlimited cardholders will get 5%. This difference may not matter that much unless you use Lyft regularly. Someone who spends $500 a month on Lyft will see $5 more in cash back if they have a Chase Freedom Unlimited card.
Rewards for both cards never expire.
Benefits: Both cards have a $200 bonus when you spend $500 or more in the first 90 days. Both also have free access to Chase's Credit Journey, which provides a free look at your TransUnion credit score, updated weekly.
They also both offer purchase protection on any new purchase for 120 days, up to $500 per claim and $50,000 total for each account. Cardholders also get an extra year of warranty protection on items with current warranties of three years or less.
Fees: Both cards offer 0% APR for 15 months on new purchases and balance transfers. After the promo period expires, both cards revert to a variable APR between 14.99% to 23.74%.
Which to choose: When deciding which card to choose, the biggest factor isn't the cash back rate. It's your personality. Anyone who is careful and diligent about their credit card rewards should choose the Chase Freedom, but someone with a more relaxed attitude should choose the Chase Freedom Unlimited.
The Bottom Line
The Chase Freedom card has remained one of the most popular cash back cards on the market for a reason.
It has a decent cash back rate, easy sign-up bonus, and no annual fee. You certainly couldn't go wrong choosing this card over the Chase Freedom Unlimited.
The only thing that might trip up the average consumer is remembering to activate the quarterly bonus categories. If you forget to do this by the end of the quarter, you may have missed out on extra cash back.
If that sounds too hard to remember, consider the Chase Freedom Unlimited instead because you'll earn more cash back without having to activate anything, otherwise, the Chase Freedom card may be your best option.
Consumers should remember that they can also get both cards. If you have good credit and not too many recent inquiries, you may be able to qualify for both cards.
You may not get the sign-up bonus twice, but you'll still have access to both the 5% cash back categories through the Chase Freedom and the 1.5% cash back through the Chase Freedom Unlimited.
Customer Reviews
Posted on Apr 7, 2017
Bad credit card
Stay away from this credit card. I disputed a charge on my credit card, and they reversed the charges without giving me the opportunity to explain. I think they reversed the charges because they get a commission from the vendor. I will cancel this credit card and get a better card. I do not recommend this one to anybody.
Bottom Line: No, I would not recommend this to a friend
Our Promise to You
In order to safeguard you and ensure helpfulness and relevance, our compliance team manually assess every customer review before it goes live.
We have a zero-tolerance policy for fake reviews, and companies cannot control or alter any reviews at any time.