Chase Freedom Unlimited Card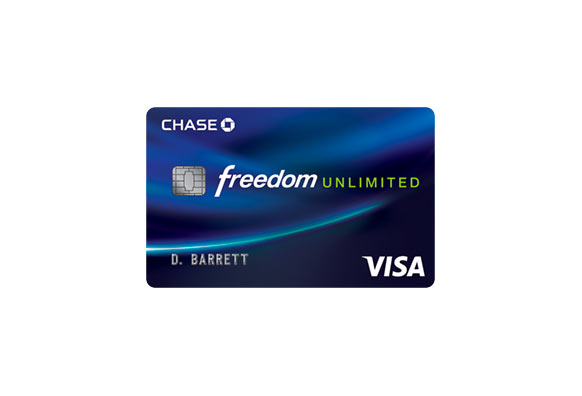 Chase Freedom Unlimited offers accountholders a 0% intro APR, unlimited 1.5% cash back on all purchases, and a $150 sign-up bonus that make it a formidable cash rewards credit card.
Chase Freedom Unlimited Card Review: Ideal Cash Rewards Credit Card for You?
The Chase Freedom Unlimited is a cash rewards credit card that provides a $150 sign-up bonus as well as cash rewards at a rate of 1.5% per dollar spent.
The card is one of several that Chase offers and, based on our research, is one of the most lucrative cash-back cards you can find.
In this review, we're going to help you see what the card's main rewards, features and benefits are, what its rates and fees are and how the Freedom Unlimited compares to other cash rewards credit cards.
The Chase Freedom Unlimited's Rewards
The Freedom Unlimited provides you with two ways to earn rewards: a sign-up bonus and daily spending.
Sign-up Bonus
You'll earn a $150 bonus if you can spend at least $500 in the first three months of owning the card. It can take up to eight weeks for these rewards to show up in your rewards balance, which you can view when you log into your Chase account.
Spending Bonus
Chase will also give you 1.5 points for every dollar you spend with your card. So, if you spend the national per-household average of around $25,000, this card can earn you $375 in rewards points each year.
Special Chase Bonuses
One other lesser-known way to earn additional bonuses is to shop in the Chase Ultimate Rewards portal – it's where you'll redeem your points (more on that in a second) as well as use your points for purchases.
When you click on "Earn Bonus Points" in the top-left corner your Ultimate Rewards page, Chase will take you to the main shopping page that lists the added bonuses you'll get when making purchases at certain retailers via the Chase portal.
At the time of publishing, here's a quick list of some of the stores and the bonuses they offered:
Macy's: 6%
Levi's: 4%
Nieman Marcus: 10%
Lenovo: 4%
Shoes.com: 6%
Staples: 5%
L'Occitane: 9%
Redeeming Points
You have a couple of different options for redeeming them. The main ways you can get your points is by depositing their cash value into a checking account or using them as a statement credit.
Another way you can redeem them is to buy travel through the Chase Ultimate Rewards website. You can log into this from your Chase account and then do a search for hotels, airfare and travel packages.
The other option you have for redemption is through gift cards. At the time of publishing, several different companies – Google Play and Kohl's, for example – were offering 10% discounts on gift card purchase. A $25 gift card that normally requires 2,500 points only required 2,250.
You also have the option of redeeming your points for purchases on Amazon and Apple, too.
Pro tip: When you log into your Chase account, your rewards balance will be shown in points, not dollars.
What Security Features Does Freedom Unlimited Offer?
The Chase Freedom Unlimited card offers a decent suite of security and consumer protection services, although they're fairly standard for cards of this caliber:
Purchase Protection – If a new purchase is damaged or stolen within 120 days of purchase, you may have coverage up to $500 per claim and $50K per account.

Extended Warranty Protection – Adds an additional year of warranty coverage for items you buy that have a manufacturer's warranty of three years or less.

Auto Rental Collision Damage Waiver – If your rental car is stolen or involved in an accident, your Freedom Unlimited card can cover the cost.
It's important to point out that Purchase Protection, Price Protection, and Auto Rental Collision Damage Waiver coverage are underwritten by a third-party insurance company, so they won't be handled through Chase.
The number you'll call to process the claim is 1-888-320-9656.
Chase Freedom Unlimited APR
As we mentioned at the beginning, the Freedom Unlimited comes with a 0% intro APR for 15 months on all purchases, after which it will increase to an APR of 16.99% to 25.74%, depending on your creditworthiness.
You'll receive these same introductory and standard APRs on any balance transfers made within the first 15 months.
Comparatively, the cash advance and overdraft APR currently stands at 25.99%. There is no minimum interest charge.
Freedom Unlimited Fees
Although there's no annual fee associated with the Freedom Unlimited card, there are other fees you should be aware of. These include:
Balance Transfer Fee: 5% of the amount transferred, with a minimum of $5.
Cash Advance Fee: $10 or 5% of the amount of each transaction, whichever is greater.
Late Payment Fee: Up to $15 if the balance is less than $100; up to $27 if the balance is $100 to less than $250; up to $37 if the balance is $250 or more.
Return Payment Fee: $37
Foreign Transaction Fee: 3%
The card's rates and fees are pretty standard for most cash rewards cards. We'd like to point out that this isn't the best card to use overseas, as Chase will charge you a fee of 3% of each transaction you make.
Chase Freedom Unlimited vs. Other Cash Back Credit Cards
Because there are so many credit card options out there, one of the biggest questions consumers have is: Which one is right for me?
Almost no credit card will meet every one of your needs—but cumulatively, you can generally nail down the best option based on your primary wants and needs.
With this in mind, here's how Freedom Unlimited stacks up against other cash back credit cards we've reviewed:
| | Freedom Unlimited | Citi Double Cash | Discover it Cash | Capital One Quicksilver |
| --- | --- | --- | --- | --- |
| Yearly Rewards | $375 | $500 | $375 | $375 |
| Sign-Up Bonus | $150 | $0 | $375 | $150 |
| 0% intro APR | 15 months | 18 months (balance transfers) | 14 months | 15 months |
| Annual Fee | None | None | None | None |
| APR | 16.74% - 25.49% | 15.49% - 25.49% | 13.99% - 24.99% | 13.74% - 25.74% |
The Chase Freedom Unlimited faces some stiff competition from other cash back cards.
Its $375 in yearly rewards is equal to what you get with the Quicksilver from Capital One and the Discover it Cash Card, but $125 less than the Citi Double Cash.
The first year you own the card, however, is more valuable than what you'd get with the Citi Double Cash because the Double Cash offers no sign-up bonus.
As far as 0% intro APR offers go, you'll find that each of the cards in the chart can help you spread out the cost of a big purchase or a balance transfer at 0% interest for at least 14 months.
The Citi Double Cash has the longest 0% period at 18 months, making it the stronger choice in this area.
If you plan on carrying a balance with the Chase Freedom, you may want to consider the Quicksilver or Discover card because they have APR's that start out at 13.74% and 13.99%, respectively.
A $3,000 balance that you carry every day for a year will cost you around $500 in interest while the same balance would cost you around $410 in interest.
Compared to the other cards in the chart, we believe the Chase Freedom Unlimited is great for earning rewards but could be a less-than-optimal choice for someone who carries a balance, as the Capital One and Discover cards have lower APR's.
» See Also: Discover it vs. Chase Freedom Unlimited
How You Can Use the Chase Freedom Unlimited to Your Advantage
We see the Chase Freedom Unlimited being a solid card for someone who doesn't want to deal with multiple bonus categories and doesn't usually carry a balance.
There are certain cash rewards cards like the American Express Blue Cash Preferred that give you different bonuses depending on what you buy. The Freedom Unlimited, however, gives you one flat rate – 1.5%.
Because the card's interest rates are higher than other cash rewards cards that provide the same amount of rewards cash each year, it wouldn't make much sense to own this card because it's best APR is higher than what the Quicksilver of Discover it Cash offer.
The final way we see you leveraging this card to your advantage is transferring your points to travel partners. To do this, you'd sign up for the Chase Sapphire Preferred as well as this card.
Any points you transfer from your Chase Freedom Unlimited to your Sapphire Preferred can then be transferred to one of 11 travel partners including United, Southwest, Hyatt, Marriott, and IHG.
If you're not sure if this card is a good fit for you, then take a minute to read through our guide to the best cash back credit cards of 2019. In it, we do an in-depth analysis of the leading cash back cards and provide you with our choice for the overall best card, as well as the cards that are best for specific situations.