Chase Freedom Unlimited Card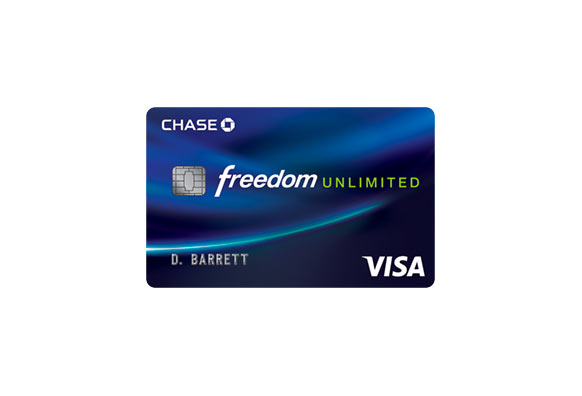 Summary
Among cash rewards credit cards, the Chase Freedom Unlimited is one of the better choices. It offers a $200 sign up bonus and a solid 1.5% cash back rewards. The card is an all-around performer but has higher-than-average APR's.
Chase Freedom Unlimited Card Review: Best Cash Back Card?
Finding a good cash back card is like the search for the credit card holy grail. You want a card that's easy to use, but one that still offers a high cash back rate and other perks. You want a card with a sign-up bonus, but no extra fees.
Almost sounds impossible, right?
If you're looking for a reliable cash-back card, the Chase Freedom Unlimited Card is one of the most popular on the market. So what are the perks, how do they work and how does the card stack up against similar offerings? Here's what you need to know.
How the Chase Freedom Unlimited Card Works
Quick Facts

Pros: Excellent sign-up bonus and the ability to transfer points to Chase's travel partner transfer program.

Cons: APR is higher than other cash back cards.

Estimated Yearly Cash Rewards: $450

Sign-Up Bonus
Annual Fee
Regular APR
$200
$0
14.99% – 23.74%
Rewards Rate: Unlimited 1.5x points on everything
The Chase Freedom Unlimited card is one of the best basic cash-back cards on the market. It offers 1.5% cash back on all purchases with no limits.
If you spend $1,000 a month on your card, you'll earn $15 a month or $180 a year. There's also a $200 bonus when you spend $500 more in the first 90 days. This bonus is only available to cardholders who haven't opened the card and received this bonus in the past two years.
If you opened this card three years ago, received a bonus, and then closed the card shortly after, you would be eligible for the new cardholder bonus again.
Rewards and Benefits
Cardholders can redeem the cash back for statement credit, retailer gift cards, or travel-related expenses like airline flights, hotel stays, cruises, and rental cars. You can also pay for Amazon.com purchases when you link the card.
Rewards don't expire if you keep the card open, but the points will automatically disappear once you close the card. You can redeem them immediately or save up for a big purchase.
If you have a Chase Sapphire card, you can transfer the Chase Freedom Unlimited points to your Sapphire rewards account. There are two types of Sapphire cards, the Sapphire Preferred and the Sapphire Reserve.
Sapphire Preferred Points are worth 1.25 each while Sapphire Reserve points are worth 1.5 cents each. Chase Freedom points are worth 1 cent each. This will effectively make the points worth between 25% to 50% more.
You'd have to open a Chase Sapphire Preferred or Sapphire Reserve card to transfer the points. You can transfer the points through your Chase Ultimate Rewards portal or by calling Chase directly.
The only special cash-back category for the Chase Freedom Unlimited card is 5% cash back on Lyft rides, which will last until March 2022. You have to link the Chase Freedom Unlimited card to your Lyft profile and make sure it's the default payment option.
Chase also includes a free three-month subscription to DashPass, which includes free DoorDash food deliveries for orders of $12 or more. After those three months, users will be enrolled in DashPass at a 50% discount for nine months.
If you don't like DashPass, you can cancel to avoid paying for the premium membership.
Interest Rates and Fees
There is no annual fee. The card does have a 3% foreign transaction fee which will apply to purchases made abroad. This may seem inconsequential, but it adds up quickly if you're spending thousands of dollars on vacation. If you spend $2,000 during a trip to Spain, you will pay $60 in fees.
There is 0% APR for the first 15 months for both new transactions and balance transfers. If you have a balance on a high-interest card, you can transfer the balance to the Chase Freedom Unlimited to avoid interest fees while you repay the balance.
There is a $5 or 3% balance transfer fee, whichever is greater. If you wait more than 60 days after opening the account to transfer the balance, the fee will be $5 or 5% of the balance, whichever is higher.
After that 15-month period, the APR will revert to a variable 14.99%–23.74% rate, depending on your credit score and other factors.
Chase Freedom Unlimited vs. Chase Freedom
The Chase Freedom Unlimited card is the second card from the Chase Freedom series. The original Chase Freedom is still a popular option, so what makes the Unlimited card stand out from its predecessor?
Cash back: The Chase Freedom card has 1% cash back on all purchases and 5% cash back on select categories that rotate every quarter, up to $1,500 of spending for the period. Once you reach the $1,500 limit, you'll go back to earning 1% on those categories.
The Chase Freedom Unlimited has 1.5% cash back on all transactions with no limit. Both cards allow unlimited cash back and rewards that never expire while the card is open.
Theoretically, you can earn more cash back with the regular Chase Freedom card because of the special 5% rate. However, this only applies if you spend more than $450 a quarter in those special categories.
If you spend less, then you may be better off with the Chase Freedom Unlimited card. Spending more than $450 a quarter can either be easy or difficult, depending on the category and your personal shopping preferences.
For example, from April through June 2020, the 5% categories included grocery stores, fitness clubs and gym memberships, and major streaming services, which include Netflix, Spotify, and Hulu.
If you have a cable and internet package and drive an hour to work every day, you should easily hit the $450 threshold. If you drive a hybrid and your roommate pays the internet bill, it may be harder to meet that minimum.
As with any credit card rewards program, it's a bad idea to spend more money than you would typically just to meet the rewards minimum.
The categories change every quarter, and some may be more relevant to your life than others. Past examples include restaurants, Amazon.com, and grocery stores.
The only downside to the 5% cash-back categories is that you have to manually activate the perk to get any extra credit. You'll still earn 1% cash back on those purchases, but you won't get the 5%. Chase can email you when it's time to activate, or you can add a reminder in your phone or calendar.
The Chase Freedom Unlimited card offers 5% cash back on Lyft rides, while the Chase Freedom card only offers 4%. The Lyft rides would be exempt from the $1,500 quarterly restrictions.
Bonus: Both the Chase Freedom card and the Chase Freedom Unlimited card have a $200 bonus when you spend at least $500 in 90 days.
Fees: Both cards have no annual fee, and both charge 3% foreign transaction fees. They also have the same APR and late payment fees.
Both cards also have the 0% APR offer for 15 months for new purchases and balance transfers. The balance transfer is also the same.
Perks: Both cards offer a free three-month DashPass subscription and then 50% off DashPass for nine months.
Referral program: Both cards have a referral program where you can earn $100 for every person who signs up through the link and is approved. You can earn a $500 maximum in referral bonuses per year.
Which is better? Deciding which card is better depends on how you spend money. Someone who is detail-oriented might not mind activating the special quarterly categories with the Chase Freedom card. Someone who has more trouble keeping their financial ducks in a row should go with the Chase Freedom Unlimited card.
The Bottom Line
The Chase Freedom Unlimited is a good card for someone new to credit cards. It has an excellent cash-back rate, a bonus that's easy to qualify for, and rewards that never expire.
It also comes with 0% APR for 15 months, so it's perfect if you have a big purchase coming up and want to pay it off gradually.
The card is also easy to use because the cash-back categories stay the same. That means cardholders don't have to remember if they earn more cash back at department stores or restaurants.
Some cards, like the basic Chase Freedom card, have a complicated rewards system – the Chase Freedom Unlimited's rewards system is anything but.
Consumers who vacation abroad should look for a different card, since this one comes with a 3% foreign transaction fee and doesn't include travel perks such as reimbursement for the TSA PreCheck™ or Global Entry application fee or rental car insurance.
Still, those looking for a daily cash-back card with easy-to-understand rewards will be satisfied with the Chase Freedom Unlimited card. If you're looking to get into the cash back game, this is definitely a solid option to consider.
Customer Reviews