Chase Freedom Unlimited Card Reviews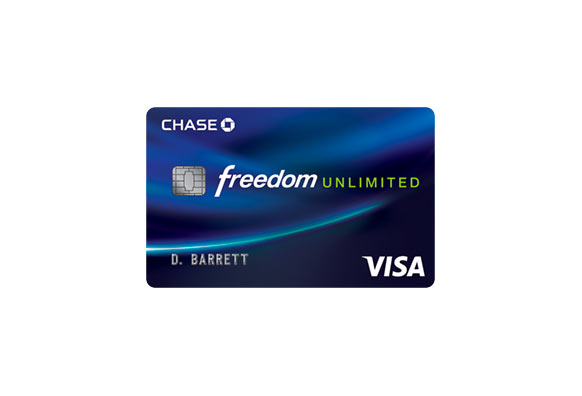 Chase Freedom Unlimited offers accountholders a 0% intro APR, unlimited 1.5% cash back on all purchases, significant bonuses, and a host of security features.
About Chase Freedom Unlimited Card
Chase recently released their Freedom Unlimited Credit Card, which promises a 0% intro APR and unlimited 1.5% cash back on every purchase you make. Not only this, but you'll be able to redeem any part of your earnings at any time, and your points never expire.
Chase Freedom Unlimited cardholders can also earn a total of 17,500 bonus points within three months of opening their account (we'll talk more about this in a second), along with standard protections like zero liability, purchase and price protection, chip-enabled security, and more.
It seems like every time you blink, there's a new credit card entering the market. And as banks compete for your business in an already jam-packed marketplace, it has become increasingly difficult to make sense of it all and figure out which one is best for you.
The good news is that in this review, we'll help you decide where the Chase Freedom Unlimited credit card might fit into your life—if at all. To begin, let's dive into Freedom Unlimited's fine details.
Our Review of Chase Freedom Unlimited Card
Earning Points with Freedom Unlimited Card
Each purchase made with your Freedom Unlimited card earns you 1.5% cash back for every $1 spent. This translates into $0.015 for Cash Back rewards, or 1.5 points for rewards.
In addition, if you spend $500 on purchases within 3 months of opening your account, you'll earn 15,000 bonus points. You'll be able to earn another 2,500 bonus points after adding your first authorized user and making your first purchase within 3 months.
Redeeming Your Chase Freedom Unlimited Points
Taking what we just learned, this means that if you spent $1,000 on qualifying purchases with your Freedom Unlimited card, you'd earn $15 in cash back, or 1,500 points for Ultimate Rewards.
One of the more unique features of the Freedom Unlimited card is that your points never expire as long as your account remains open. However, you will immediately lose all your points if your account status changes (more than 60 days late, bankruptcy, death, fraud, etc.).
In order to redeem your points for cash, you can do so through an account statement credit or electronic deposit into a checking or savings account. Want more options? These points can also be redeemed for gift cards, travel, and some third-party products and services.
You Ultimate Rewards points can be transferred to other Ultimate Rewards cards (we'll come back around to this shortly), redeemed for gift cards, or applied to trips booked through Chase's travel portal. In certain instances, you can even redeem your Ultimate Rewards at a store's point-of-sale terminal using the Chase Freedom Mobile app.
What Security Features Does Freedom Unlimited Offer?
The Chase Freedom Unlimited card offers a decent suite of security and consumer protection services, although they're fairly standard for cards of this caliber:
Zero Liability Protection – If someone makes unauthorized charges on your account, you won't be held responsible. Important note: This doesn't apply to authorized users on your account, even if they do so without your permission.

Chip-Enabled Security – When used in conjunction with a chip card reader, customers will have an "extra layer of security." Nearly every major credit card now features this technology, so it's not unique to Freedom Unlimited.

Purchase Protection – If a new purchase is damaged or stolen within 120 days of purchase, you may have coverage up to $500 per claim and $50K per account.

Price Protection – Buy something on your card and find it advertised for less (in print or online) within 90 days? If so, your Freedom Unlimited card can reimburse you the difference, up to $500 per item and $2,500 per year.

Auto Rental Collision Damage Waiver – If your rental car is stolen or involved in an accident, your Freedom Unlimited card can cover the cost. Keep in mind, however, that 1) you must "decline the rental company's collision insurance and charge the entire rental cost to your card," and 2) this coverage only kicks in after your primary auto insurance has been exhausted.
It's important to point out that Purchase Protection, Price Protection, and Auto Rental Collision Damage Waiver coverage are underwritten by a third-party insurance company, so they won't be handled through Chase. We're told that more information is provided in the Guide to Benefits post-approval, and no additional details were provided.
Chase Freedom Unlimited APR
As we mentioned at the beginning , Freedom Unlimited come with a 0% intro APR for 15 months on all purchases, after which it will increase to a variable APR of of 15.99% to 24.74%, depending on creditworthiness.
You'll receive these same introductory and standard APRs on any balance transfers made within the first 15 months.
Pro tip: Keep in mind that Chase runs each person's credit on the account; even authorized users. Depending on their creditworthiness, this can have an impact on your post-introductory APR.
Comparatively, the cash advance and overdraft APR currently stands at 25.99%. There is no minimum interest charge.
Freedom Unlimited Fees
Although there's no annual fee associated with the Freedom Unlimited card, there are other fees you should be aware of. These include:
Balance Transfer Fee: 5% of the amount transferred, with a minimum of $5.
Cash Advance Fee: $10 or 5% of the amount of each transaction, whichever is greater.
Late Payment Fee: Up to $15 if the balance is less than $100; up to $27 if the balance is $100 to less than $250; up to $37 if the balance is $250 or more.
Return Payment Fee: $37
Foreign Transaction Fee: 3%
There's a maximum APR of 29.99% listed on the Freedom Unlimited website, but no mention of any penalty APR. In other words, if an accountholder had a lower APR and (for example) made a late payment, would this automatically increase the account to the max APR?
To find out, we called customer service and were told that it's handled on a case-by-case basis. Depending on creditworthiness and other factors, some accounts may include a penalty APR, while others may not. And among accounts with penalty APRs, the actual amounts can differ.
Chase Freedom Unlimited vs. Other Cash Back Credit Cards
Because there are so many credit card options out there, one of the biggest questions consumers have is: Which one is right for me?
Here's the truth: Almost no credit card will meet every one of your needs—but cumulatively, you can generally nail down the best option based on your primary wants and needs. With this in mind, here's how Freedom Unlimited stacks up against other cash back credit cards we've reviewed:
1% cash back for all purchases, except for 2% on groceries and 3% on gas
No annual fee
$150 bonus on $500 of spending in first 90 days
0% intro APR for 12 months, including balance transfers made within 60 days. Then, you'll pay somewhere between 13.99% and 23.99%, based on creditworthiness.
Additional 10% bonus on rewards cash if deposited into a B of A savings/checking account or a Merrill Lynch Cash Management Account
Big spenders ($20K+ per month) can earn even more cash back; up to 75%
Unlimited 1.5% cash back on all purchases
No annual fee
0% APR on all purchases and balance transfers within the first 9 months. Afterward, your APR will increase to 13.99%-23.99%.
$150 bonus for spending $500 within 3 months of opening the account
VISA signature features like concierge service and travel assistance
See Also: Capital One Quicksilver vs. Chase Freedom Unlimited
5% cash back on rotating categories, which change every 3 months ($1,500 cap)
No annual fee
0% APR for first 14 months, then between 11.99% and 23.99
Double cash back rewards during the first year
Additional benefits like free credit monitoring and Freeze It security
See Also: Discover it vs. Chase Freedom Unlimited
Blue Cash Preferred By American Express
6% cash back at grocery stores (only on the first $6,000 you spend), 3% at U.S. gas stations and select U.S. department stores, and 1% on everything else
$95 annual fee
0% on all purchases made within the first 12 months, which will transition to between 13.99% and 24.99% thereafter
$150 bonus after spending $1,000 in purchases within 3 months
Relatively paltry security features compared to the competition
1% cash back when you buy, and another 1% when you pay your bill
No annual fee
0% introductory APR for 18 months on all purchases and balance transfers. APRs range between 14.49% and 24.49% thereafter.
Perks like concierge services, VIP access to events, extended warranties, and more
As you can see, just because a credit card falls in the cash back category doesn't mean it's the same as all the others, and the right one for you depends on many different factors.
For example, if you're more focused on the lowest post-intro APR, then a card like Discover It might be your first choice—but only if you have great credit. On the other hand, if your emphasis is more on maximizing your cash back, then you might lean more towards a card like Chase Freedom Unlimited or Quicksilver From Capital One.
A Unique Benefit of the Chase Freedom Unlimited Card
Often times, consumers are forced to choose between cash back cards and rewards cards, with little room in between. However, because Freedom Unlimited is brought to you by Chase, one of its most unique features is that it can be paired with other Chase cards.
This means you could split your spending between Freedom Unlimited and the Chase Freedom card, which could earn you up to 5% on quarterly rotating categories. Also, you can take the points earned on your Freedom Unlimited card and transfer them to a Chase Sapphire Preferred, giving you a higher redemption value, along with a broader range of awards.
Chase Freedom Unlimited Customer Reviews
The Chase Freedom Unlimited is one of the top cash back cards on the market and has drawn the praise of all the top sites along with HighYa.
Consumers love using the card in conjunction with the Chase Freedom to rack up rewards for the Ultimate Rewards program.
Who Is Chase Freedom Unlimited Best For?
Based on our observations and reading feedback from industry professionals, it seems like Chase Freedom Unlimited's superpower lies in its ability to complement other cash back cards (ideally from Chase) in order to maximize your earnings.
Not interested in pairing it with another card? If you don't want to obtain the most cash back, then Freedom Unlimited still seems to offer a great deal of simplicity (no rotating categories, unlimited cash back, etc.), but not necessarily anything you won't also find with some of the competition.
Ultimately, only you can decide where Chase Freedom Unlimited fits in your financial future (if anywhere). Based on what we discussed here though, you should be armed with what you need to make a much more informed decision.
See Also: The Best Cash Back Rewards Card of 2018