Chase Mortgage Reviews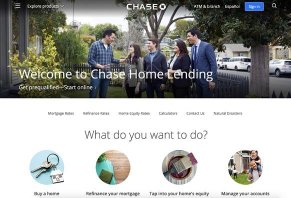 Chase Bank is one of the largest mortgage lenders in the nation. Their mortgage department offers multiple types of home loans and industry-average customer satisfaction.
About Chase Mortgage
Chase Bank offers VA, FHA, and conventional mortgages for homeowners who are buying a home for the first time, buying another home or refinancing the home you already have.
Chase, whose official name is JP Morgan Chase, is based in New York. As far as mortgages lenders go, industry site HousingWire notes that Chase was the fourth biggest mortgage lender in 2017, handing out $50.3 billion in mortgages.
However, just because Chase is one of the five biggest mortgage lenders in the country doesn't mean they're the best fit for your particular needs.
In order to help you find out if Chase is good for you, we're going to review the types of mortgages that Chase and talk about how their customer satisfaction ranks among 23 of the more popular mortgage lenders in the country.
At the end of this review, we'll wrap up by helping you see the general pros and cons of Chase's mortgages based on what we found during our research.
The Types of Mortgages Chase Offers
Chase offers the major types of home loans you'll find at just about every mortgage lender in the country: conventional, FHA, VA and Jumbo Loans.
Conventional Mortgages
These mortgages aren't part of a government program and tend to have lower rates than the aforementioned loans.
And, unlike the FHA loan, you'll read about later, you have two options for the type of financing you want: variable and fixed.
Variable-rate loans are mortgages that start out with an interest rate that stays the same but, at a certain point, it switches to a rate that changes. How much it changes is based on the prime rate, which is like a baseline interest rate tied to the growth and decline of the economy.
When the economy is growing, the Federal Reserve raises the prime rate and, when the economy declines, they tend to lower their rates.
Exactly how often your rate changes is indicated by the name given to your adjustable rate mortgage (ARM): 5/1 is a good example.
You get a fixed rate for the first five years and, then, your rate changes every one year. In most cases, your interest rate will start out lower than a fixed rate but can, over time, rise higher than the rate on your fixed-rate mortgage, especially in good economic times when the Federal Reserve raises interest rates at least two or three times a year.
As a result, your monthly mortgage payments rise and fall and could be significantly higher later on in the loan than at the beginning of it.
Fixed-rate loans, on the other hand, have one interest rate that doesn't change over the life of your loan. And, therefore, each month you pay the same amount of money toward principal (what you used to pay for the home's sale price) and interest.
In most cases, these loans will have a higher interest rate than what you'll get with the initial fixed rate on a variable-rate mortgage.
This isn't the case with Chase, though. According to the rates they offered at the time of publishing, Chase's adjustable rate mortgages actually had higher rates than their fixed rate mortgages.
Federal Housing Association (FHA) Mortgages
FHA loans are popular for many homeowners because these loans require a 3.5% down payment for borrowers who can meet all the criteria necessary for approval and have a credit score of at least 580. If your score is lower than that but higher than 500, in theory, you can get an FHA loan with a down payment of 10%.
What makes these loans a little different than Chase's conventional loans is that FHA loans tend to have stricter standards about the kind of homes you buy.
According to FHAHandbook.com, FHA loans require that your home appraiser provide a dollar value for your home, but also make sure the home meets requirements of the Department of Housing and Urban Development
"The Department of Housing and Urban Development (HUD) requires him to determine the current market value, as with any appraisal.," the site says. "But they also require a property inspection to make sure the home meets HUD's minimum standards for health and safety … It's what makes the FHA appraisal process unique."
Not every house will be FHA-eligible. If you're interested in an FHA loan, make sure you tell your real estate agent so they can select homes that meet the HUD's requirements.
Veterans Affairs (VA) Loans
These loans from Chase are specifically created for members of the military (active, retired, reserve, National Guard) as a way for families and individuals to buy homes with more forgiving criteria than conventional mortgages.
These loans present three distinct advantages:
No down payment options available
No mortgage insurance required
Low APR
For military families who are on a shoestring budget, avoiding a down payment on a mortgage is a big deal because any money they have saved up can be put towards inevitable home repairs and provide them a safety net.
Mortgage insurance is something many homeowners pay when they don't put 20% down. The insurance protects Chase just in case you decide to stop making payments. Mortgage insurance payments can be as much as $120 per month on a house for which you paid $240,000.
The other advantage is that, at the time of publishing, VA loan rates were as competitive as conventional mortgages.
Jumbo Loans
Typical lending standards that dictate many of Chase's loans, as well as loans from other lenders, make differentiations between a standard loan and a non-conforming loan. All that really means is that you have to get a Jumbo mortgage for a home that costs more than $453,100 in most states and $679,650 in states with abnormally high cost-of-living like Alaska and Hawaii and less than $3 million, Chase notes.
You can choose between fixed-rate and variable rate Jumbo loans.
A Quick Word About Interest Rates
When you go to Chase's website to shop for mortgages, you're going to see their interest rates. The higher the rate, the more interest you'll pay over the life of your loan.
The rates you'll see on Chase's website are "as low as" rates, meaning that the numbers you see are the best-case scenario and formulated by using a fictional scenario in which the homebuyer puts down 20%, has a credit score of 700 and buys a home between $200,000 and $249,999.
If your credit scores are in the 600's and you can't make a 20% down payment, there's a good chance you won't get Chase's best interest rates.
» See Also: A Guide to Getting a Mortgage with Bad Credit
J.D. Power's Rankings of Chase and its Competitors
J.D. Power is a company who provides rankings of various products and services, rankings that are based on what consumers say.
The company's 2017 Mortgage Originator Customer Satisfaction Survey ranked Chase 14th out of 23 lenders. Chase earned a 3-circle score, which means they performed "about average" across six different ranking categories.
Here is how Chase scored in each of those categories:
Types of loans offered: 3
Application/approval process: 3
Interactions with Chase employees: 3
Loan closing: 3
Post-closing experience: 3
Problem resolution: 2
Chase was average across the board, with a dip in its rating for problem resolution, an area that J.D. Power describes as, "Measures how customers rate the effectiveness and speed of resolving any problems experienced during the loan origination process."
As far as a comparison to other big banks, Chase found itself in the middle of the pack. Bank of America and U.S. Bank ranked better than Chase, while Citi and Wells Fargo ranked worse.
The Final Word: Pros and Cons of Chase Mortgages
Based on our research, we believe Chase's strength is that it's a big mortgage lender and can be a convenient choice for borrowers who are Chase customers and want to keep their major financial obligations (mortgage, auto loans, etc.) with one lender.
If that's you, then Chase can most likely provide what you need. Keep in mind, though, that banks tend to have stricter mortgage borrower requirements than mortgage brokers or non-bank lenders like Quicken's Rocket Mortgage.
The downside to using Chase for a mortgage is that J.D. Power says that the company is about average for customer satisfaction. Of note is their low rating for problem resolution, something that could come into play for you if there are hiccups in the mortgage application or problems in the days or hours before closing.
Choosing the right mortgage lender can be tough. To make the process easier, ask yourself what you value. If it's consistency and loyalty that you like, Chase's mortgages may be a good fit.
On the other hand, you prefer a quick online process with a reputable lender then Rocket Mortgage may be your best bet based on the fact that J.D. Power ranked them second among the countries more well-known mortgage lenders.
» For Further Reading: How to Use a Mortgage Calculator: Understanding Its Strengths and Weaknesses