Chase Sapphire Preferred Card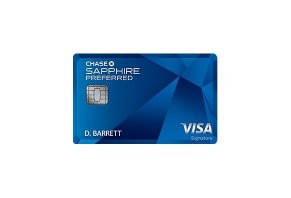 A well-known travel credit card, the Chase Sapphire Preferred has a great sign up bonus and a dozen travel partners but its yearly rewards potential weakens its overall value.
Chase Sapphire Preferred Card Review: Is It Worth the Annual Fee?
The Chase Sapphire Preferred Card is a travel credit card that provides a rewards boost for travel and restaurant purchases, as well as a 60,000-point sign-up bonus.
The card's most unique feature is that it allows you to send your rewards points to 12 travel partners, including United, JetBlue, Southwest, Hyatt, Marriott, and IHG.
In this review, we'll talk about how this card's rewards work, what its rates and fees are and how it compares to other popular travel cards we've researched.
How the Chase Sapphire Preferred's Rewards Work
Quick Facts

Pros: Chase has 12 travel partners that include three domestic airlines as well as three hotels. The 60,000-point sign-up bonus is one of the best among travel cards.

Cons: Low yearly rewards dampen the bonus of having 12 travel partners. APR is higher than the competition.

Estimated Yearly Travel Rewards: 34,865 points

Sign-Up Bonus
Annual Fee
Regular APR
60,000 points
$95
18.24% to 25.24%
Rewards Rate: 2x on travel and dining, 1x on everything else

This travel card's points are known as Chase Ultimate Rewards points and, as we'll explain in a few minutes, you can use them a variety of ways.
For now, it's important to know that you can earn points two ways with this card. First, if you can spend $4,000 in the first three months of owning your card, Chase will send 60,000 points to your Chase rewards balance within eight weeks.
The second way to earn points on this card is to use it for your everyday spending. Every time you do, Chase calculates a certain number of rewards points for the purchases depending on which type of purchase it was.
The card provides the following two spending bonuses:
2% on restaurants and travel
1% on everything else
Based on our research of Bureau of Labor Statistics data as well as travel data, we believe that the average household can earn around 34,865 points per year using this card's various bonuses.
As we'll point out in a few minutes, this yearly rewards total is low compared to other travel cards but there are ways to increase the value of these points.
You have two ways to redeem these points: booking travel through Chase or transferring points to 12 travel partners.
When you book a flight, for example, through Chase's Ultimate Rewards travel site, your results will have a cash value. Your points also have a cash value based on a one-cent-per-one-point ratio: 10,000 points is worth $100 in travel.
However, because you're a Sapphire Preferred customer, Chase will boost those points by 25 percent, which means 10,000 points are worth $125. You don't have to do the calculations. Chase will show you the cost of the flight along with the points required to book it.
You can use this booking method to find hotel rooms, rental cars, and vacation packages, too. Expedia runs the travel booking for Chase.
The other option you have is to transfer your points at a 1:1 ratio to Chase's 12 travel partners. Doing a transfer means you can send your points to frequent flyer programs or hotel loyalty programs. You can then use them to book flights or rooms through the airline or hotel.
Here's a list of the airlines included in the transfer program:
Aer Lingus
British Airways
Air France KLM
Iberia Plus
JetBlue
Singapore Airlines
Southwest
United
Virgin Atlantic
Six of the nine airlines are international, which means the Sapphire Preferred has a lot of value for travelers who plan to take international flights at least once a year.
On the same hand, though, the card is valuable for those who fly within the U.S. United, JetBlue and Southwest each have their own loyal fanbase. United is a legacy airline that's been around for a long time. JetBlue is a more modern airline with better base perks and Southwest is the cheapest of the bunch but has a great reputation with budget travelers.
You get the same varying level of luxury and value in the hotels to which you can transfer your points, too. All three brands—Hyatt, Marriott and IHG—have luxury brands and affordable economy brands, too.
One of the issues you'll run into is which method of booking is which booking method. In our guide to the Chase Ultimate Rewards program, we analyze how much flights cost through the Ultimate Rewards portal compared to the same flights in each airline's frequent flyer program.
We found that in some cases, the portal is a better choice in some cases but that the main advantage in using the airline's frequent flyer bookings is that you have more choices for flight times.
Pro tip: You can use the Ultimate Rewards portal to buy merchandise and gift cards. However, our research indicates your points have the most value when booking travel.
The Chase Sapphire Preferred's Rates and Fees
Rewards tend to get everyone's attention because they represent the potential a card has for giving you free travel.
However, you should give equal attention to a travel card's rates and fees. In our experience, their interest rates tend to be higher than other cards. Therefore, you could stand to lose more money to interest payments than the cash value you'd earn through your rewards:
Interest rate for purchases and balance transfers: 18.24% to 25.24%
Interest rate for cash advances: 27.24%
Penalty interest rate: None
Balance transfer fee: $5 or 5%, whichever is greater
Cash advance fee: $10 or 5%, whichever is greater
Foreign transaction fee: None
Late/returned payment fee: Up to $39
Annual fee: $95
We like to focus on interest rates because, as we mentioned a few seconds ago, they can cost you a lot of money if you carry a balance. And, according to research we've read, the average person who carries a balance has as much as $16,000 in debt across four credit cards.
We created the chart below to help you see how much a balance can cost you on this card. The numbers on the left reflect an average daily balance. The percentages across the top are the lowest, highest and predicted middle APR the card provides. The cash values represent how much interest you'd pay in a year's time based on the balance and APR:
| | 18.24% APR for one year | 20.24% APR for one year | 25.24% APR for one year |
| --- | --- | --- | --- |
| $1,000 daily balance | $182.40 | $202.40 | $252.40 |
| $2,000 daily balance | $364.80 | $404.80 | $504.80 |
| $3,000 daily balance | $547.20 | $607.20 | $757.20 |
| $4,000 daily balance | $729.60 | $809.60 | $1,009.60 |
| $5,000 daily balance | $912.00 | $1,012.00 | $1,262.00 |
As you can see, carrying a balance can cost you hundreds—thousands, in some cases—in interest payments. You can see how a $2,000 balance can cost you more than $500 a year in interest with the highest APR. Five hundred dollars could be equivalent to the dollar value of the travel you book with your rewards points.
The Sapphire Preferred's lowest interest rate is high compared to other cards. However, the rest of its rates and fees are very similar to the competition.
How the Chase Sapphire Preferred Compares to Other Travel Card
There are dozens of travel rewards cards to choose from. The following chart includes the Sapphire preferred as well as six additional popular cards we've reviewed:
| | Chase Sapphire Preferred | Discover it Miles | Capital One Venture Rewards | U.S. Bank FlexpPerks Travel Rewards Visa Signature Card | Barclaycard Arrival Plus World Elite MasterCard | Citi Premier Card | Bank of America Travel Rewards Card |
| --- | --- | --- | --- | --- | --- | --- | --- |
| Intro offer | 60,000 points | 45,000 miles | 50,000 miles | 25,000 points | 70,000 points | 50,000 points | 25,000 points |
| Rewards rates | 2x on travel and dining, 1x on everything else | 1.5x on all purchases | 2x on all purchases | 2x on cell phones, charitable donations and airlines, gas or groceries | 2x on all purchase plus a 5% bonus on redeemed points | 3x on travel and gas, 2x on restaurants and entertainment, 1x on everything else | 1.5x on all purchases |
| Yearly miles/points on $30K spending | 34,865 points | 45,000 miles | 60,000 miles | 40,531 points | 63,000 points | 44,498 points | 45,000 points |
| Travel portal booking bonus | 1.25x | None | None | 1.5x | None | 1.25x | None |
| Number of transfer partners | 12(6 int'l airlines, 3 domestic airlines, 3 hotels) | None | 15 (14 int'l airlines, 1 domestic airline) | None | None | 15 (14 int'l airlines, 1 domestic airline) | None |
| APR | 18.24% to 25.24% | 14.24% to 25.24% | 17.99%, 22.74% or 25.24% | 16.24% to 26.24% | 18.24%, 22.24% or 25.24% | 16.74% to 25.74% (29.99% penalty APR) | 17.24% to 25.24% (29.99% penalty APR) |
| Annual fee | $95 | None | $0 first year, $95 after | $0 first year, $49 after | $0 first year, $89 after | $0 first year, $95 after | None |
We've mentioned a few times earlier in this review that the Sapphire Preferred lags behind other cards when it comes to rewards and interest rates.
This chart shows that the card's yearly rewards lag more than 5,000 points behind the next card, the U.S. Bank FlexpPerks Travel Rewards Visa Signature Card. The U.S. Bank compounds that gap because it offers a 1.5x bonus on rewards you book through their travel portal as opposed to the Sapphire Preferred's 1.25x boost.
The card's lowest APR is equal to that of the Barclaycard Arrival Plus World Elite Mastercard, a card whose yearly rewards tend to balance out the high interest rate.
While the Sapphire Preferred doesn't perform well in yearly rewards and APR, it excels when it comes to its travel partners and sign-up bonus. Chase's Ultimate Rewards transfer program includes more domestic airlines than the competitor, as well as more hotels. We'll talk about why this is important in the conclusion.
The card's 12 partners are less than the Capital One Venture Rewards and the Citi Premier Card but those partners offer more flexibility for domestic travel than what you get with the Capital One and Citi cards. Also, none of the other cards in the chart have hotel transfer partners.
The card has no penalty APR like the Bank of America Travel Rewards Card, meaning your APR won't go up if you have a late payment.
And, while the Discover it Miles card earns you more rewards per year, the Sapphire Preferred is the smarter choice for travelers because the Discover card has no travel-specific perks.
We believe that the Sapphire Preferred is an average travel credit card whose travel-related perks are excellent but whose yearly rewards trail behind other cards.
The Final Word: Pros, Cons and Who the Chase Sapphire Preferred Is Good For
In our opinion, the Chase Sapphire Preferred's strengths are its sign-up bonus and its travel partners. The 60,000 points you could get at the time of publishing were second only to the Barclaycard Arrival Plus with one key distinction: travel partners.
For those who love travel, those 60,000 points could be enough for three domestic flights or one international flight. Those points are good for up to 12 stays in the lowest redemption category of Hyatt hotels, too.
The downsides to the card, however, are pretty glaring. It's the only card in the comparison chart that earns you less than 40,000 points. Also, the card's lowest APR is much higher than, for the example, the Discover it Miles.
Based on these strengths and weaknesses, we believe the Sapphire Preferred is best for certain types of consumers.
First, this is a great card if you don't carry a balance. If that's you, then the card's interest rate will never come into play, thereby neutralizing its 18.24% low-end interest rate.
Second, we think this is an excellent card if you are devoted to any of the travel partners Chase has. My wife and I like going to Hyatt hotels, so we transfer our Ultimate Rewards points to the World of Hyatt loyalty program.
Third, this is an excellent card if you already have the Chase Freedom or Chase Freedom Unlimited cards. You are able to transfer the points you earn on those cards to your Sapphire Preferred. Then, you can use those points to book travel or transfer them to travel partners.
The reason this method is important is that the Chase Freedom Unlimited can earn you 45,000 points a year based on $30,000 in spending. Those 45,000 points are about 10,000 more per year than what the Sapphire Preferred can earn.
Also, we think this card is an excellent one for someone who has an international trip coming up in the next year and wants a way to cut down costs by using points to book an otherwise expensive international flight.
» For Further Reading: Best Travel Credit Cards of 2019