Chase Sapphire Reserve Card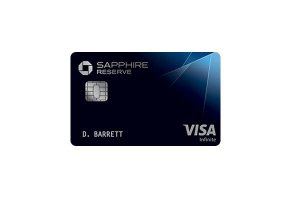 Solid yearly rewards and a multitude of ways to redeem your points for travel make the Chase Sapphire Reserve one of the most powerful premium credit cards on the market.
Chase Sapphire Reserve Card Review: Is It Worth It?
The Chase Sapphire Reserve is Chase's luxury travel credit card, providing a 50,000-point sign-up bonus as well as a series of yearly travel perks best suited for those looking for an elevated air travel experience.
The card is perhaps the most well-known luxury card on the market, as its introduction into the luxury card world late in 2017 became a cultural phenomenon.
In this review, we'll give you our in-depth analysis of how the card's rewards work, what those rewards are really worth, which perks the card offers for travelers and what its rates and fees are.
We'll also provide a comparison chart that includes all the major luxury cards, then conclude with a section covering the card's pros, cons and who we think it's good for.
How the Chase Sapphire Reserve's Rewards Work
Quick Facts

Pros: 12 travel partners, $300 travel credit and complimentary Priority Pass Select membership.

Cons: Best APR is nearly 20%, which is higher than every other major luxury card.

Estimated Yearly Travel Rewards: 47,730 points

Sign-Up Bonus
Annual Fee
Regular APR
50,000 points
$495
19.24% to 26.24%
Rewards Rate: 3x on travel and dining, 1x on everything else

The Sapphire Reserve Card is part of the Chase Ultimate Rewards program, which is the name Chase gives to the marketplace where you can redeem the points this card earns.
Each month, you can log into your Chase account and view your rewards balance, then choose to keep them where they are or transfer them to the Ultimate Rewards portal where you can send the points to frequent flyer programs and hotel loyalty programs, use them to purchase travel and several other non-travel options.
Exactly how you build your balance is what raises or lowers the value of a rewards card. In the case of the Sapphire Reserve, you're dealing with a card that gives you two ways to earn rewards. The first way is what's known as a sign-up bonus, which is a lump sum of points you get if you can spend a certain amount of money in the first three months/90 days of owning the card.
Chase requires you to spend $4,000 in the first three months after they approve your application. If you can do that, you'll get 50,000 bonus points. For comparison's sake, the Chase Sapphire Preferred gives you 60,000 points for spending $4,000 in the first three months.
The second way to earn points with the card is via two sets of bonuses Chase gives you based on what you buy with your Sapphire Reserve card. Travel and dining purchases will earn three points for every dollar you spend, while all other purchases earn one point per dollar.
Based on our calculations, we believe that the travel, dining and "everything else" bonuses can earn you around 47,730 points a year. Our calculations include spending data from the Bureau of Labor Statistics and other sources, as well as an assumption that luxury card customers will spend around $35,000 a year, which is higher than normal.
Redeeming these points is where their value lies. As we mentioned a few seconds ago, you have the following travel-related options for redemption: points transfer to travel partners and booking travel through Chase.
The fact that the Chase Sapphire Reserve is part of the Ultimate Rewards program means you can send the points the card earns you to nine different airline frequent flyer accounts and three different hotel loyalty programs.
What makes the Sapphire Reserve unique from other luxury cards is that you have six different domestic airlines and three different hotel chains, whereas other cards have more limited transfer options. Chase's domestic airline transfer partners are Southwest, United and JetBlue, while its hotel partners are Hyatt, Marriott and IHG. You also have the option to send your points to six international airlines, too:
Aer Lingus
British Airways
Air France KLM
Iberia
Singapore Airlines
Virgin Atlantic
We believe the Sapphire Reserve's travel partners are what make the card's rewards so valuable. However, there's another way you can redeem your points for travel that, in certain situations, can prove even more valuable than points transfers.
The Ultimate Rewards points your accumulate have a cash value of one point per dollar. So, if you have 10,000 points, they're worth $100. Now, because this is a travel-focused card, the smart choice is to use your points for travel and not for cash.
Frequent flyer and hotel points tend to be worth more than one cent per point. But, when you use the points to book travel through the Ultimate Rewards booking portal, your points are worth a cent and a half per point.
When you book travel (airfare, hotels, car rentals, cruises) through Chase Ultimate Rewards, 10,000 points would be worth $150 instead of the usual $100.
In some cases, this points bonus could end up being more valuable than transferring points. For example, a United flight could cost 25,000 points if you sent your points to United's frequent flyer program. However, the same flight may only cost 22,500 points if you book the same flight through Chase.
For this reason, we think the best course of action when redeeming your Sapphire Reserve points is to do some research regarding which option—points transfer or Chase booking—presents the best value.
The Chase Sapphire Reserve's Additional Travel Benefits and Perks
In addition to the ability to earn rewards points on purchases and through a sign-up bonus, the Sapphire Reserve offers the following travel-related benefits:
$300 yearly travel credit
Complimentary Priority Pass Select membership
Global Entry/TSA PreCheck application fee reimbursement
The travel credit is one of the best you'll find among premium cards. "Travel" is a broad category that includes the following, according to Chase's fine print:
Airlines
Hotels
Motels
Timeshares
Car rental agencies/trains/buses/taxis/limos/ferries
Parking lots and garages
Discount travel sites
Cruise lines
Tours/tourist attractions
There are several other travel-type purchases included; suffice it to say, nearly every purchase you'd think is a travel purchase is eligible for the credit. Chase will recognize your travel purchases and automatically apply a credit equivalent to the purchase amount.
The Priority Pass Select membership is a common one among luxury cards. It gives you free access to airport lounges in the Priority Pass network. At the time of publishing, that included more than 50 lounges in the U.S. and more than 1,000 worldwide.
The final main travel benefit is reimbursement for the application fee you pay for two government-sponsored expedited airport security programs, Global Entry and TSA PreCheck.
The application fees for these programs is $100 and $85, respectively. Chase will automatically reimburse you. If you apply to both programs, Chase reimburses you for whichever fee shows up first.
The Chase Sapphire Reserve Card's Rates and Fees
There is no doubt that the Sapphire Reserve Card has the potential to save you hundreds of dollars a year in travel. The most common way to undercut all that value is to rack up a balance and make mistakes resulting in fees.
The following list shows you the card's rates and fees. Afterward, we'll show what these various numbers mean for your finances:
Interest rate for purchases and balance transfers: 19.24% to 26.24%
Interest rate for cash advances: 27.24%
Penalty interest rate: None
Balance transfer fee: $5 or 5%, whichever is greater
Cash advance fee: $10 or 5%, whichever is greater
Foreign transaction fee: None
Late/returned payment fee: Up to $39
Annual fee: $450
Authorized user fee: $75
The one interest rate you'll most likely deal with over the course of your time as a Sapphire Reserve user is the interest rate for purchases and balance transfers. This is also known as the card's annual percentage rate, or, "APR."
Chase determines your APR based on your credit scores and credit history. Scores above 720 are likely to earn the lowest APR, whereas those with scores between 670 and 719 will most likely get a mid-range or highest APR.
If your scores are lower than that, the chances of Chase approving your application go down because there are factors at play in your current or past credit profile that present red flags.
Anytime you don't pay off your balance in full every month, Chase will apply the APR to whatever you didn't pay off. The data we've read indicates that the average credit card user will most likely carry a balance.
To help you see how that can affect you, we've created the chart below. It includes five different average daily balances, three APR's and the dollar amount from interest you'd pay for keeping the corresponding balance for one year:
| | 19.24% APR for one year | 20.24%* APR for one year | 26.24% APR for one year |
| --- | --- | --- | --- |
| $1,000 daily balance | $192.40 | $202.40 | $262.40 |
| $2,000 daily balance | $384.80 | $404.80 | $524.80 |
| $3,000 daily balance | $577.20 | $607.20 | $787.20 |
| $4,000 daily balance | $769.60 | $809.60 | $1,049.60 |
| $5,000 daily balance | $962.00 | $1,012.00 | $1,312.00 |
*This is an estimated mid-range APR, as Chase's fine print doesn't specify what the Sapphire Reserve's card's mid-range APR is.
When you combine all the yearly rewards the Sapphire Reserve earns, you're looking at least $1,000 of free travel each year, either by using points to book travel through chase or transferring your points to Chase travel partners.
You'd have to carry a balance of at least $5,000 every day for a year to offset the cash value of your rewards.
Remember, though, you aren't just dealing with interest payments; there's a $450 annual fee. So, assuming you get $1,000 worth of free travel expenses each year, carrying a balance of as little as $3,000 a year on the lowest APR along with the Sapphire Reserve's $450 annual fee could be enough in rates and fees to equal the rewards you'd get.
Keep this in mind as you consider using the Chase Sapphire Reserve. As the forthcoming comparison section shows, there are other cards with much lower interest rates that may benefit more than what this card offers.
How the Chase Sapphire Reserve Compares to Other Luxury Credit Cards
Several times in this review we've hinted at how the Sapphire Preferred compares to other cards. The chart below gives you an in-depth comparison of the areas of each of the seven cards that matter most:
| | Chase Sapphire Reserve | Citi Prestige Card | Mastercard Black Card | Platinum Card from American Express | U.S. Bank Altitude Reserve Visa Infinite Card | Delta Reserve Credit Card | United MileagePlus Club Card |
| --- | --- | --- | --- | --- | --- | --- | --- |
| Sign-up bonus | 50,000 points | 50,000 | None | 60,000 points | 50,000 | 40K miles/10K Medallion Qualification Miles | 50,000 miles |
| Rewards rates | 3x/3x/1x | 5x/5x/3x/3x/1x | 1x on all purchases | 5x/5x/1x | 3x/3x/1x | 2x/1x | 2x/1.5x |
| Yearly points on $35K annual spending | 47,730 points | 60,136 points | 70,000 for airfare, 52,500 for cash | 47,000 points | 41,000 points | 36,500 miles | 53,250 miles |
| TSA/ Global Entry reimbursement | $100 | $100 | $100 | $100 | $100 | Free Sky Priority expedited security | Free Premier Access expedited security |
| Airline/ Travel credit | $300 | $250 | $100 | $200 | $325 | Priority boarding, first bag free, 20% savings on in-flight purchases | Priority boarding, first and second bag free |
| Travel partners | 12 (6 int'l airlines, 3 domestic, 3 hotel) | 15 (14 international, 1 domestic) | None | 21 (19 int'l, 2 domestic, 3 hotels) | None | 1 | 1 |
| Lounge access | Priority Pass Select | Priority Pass Select | Priority Pass Select | AmEx Centurion, Delta SkyClub, Priority Pass Select, three others | Priority Pass Select | DeltaSkyClub | United Club |
| APR | 19.24% to 26.24% | 17.99% to 25.99% | 17.24% | N/A | 17.99% | 17.99% to 26.99% | 18.24% to 25.24% |
| Annual fee/ Authorized user fee | $450/$75 | $495/$75 | $495/$195 | $550/NA | $400/$75 | $450/NA | $450/NA |
We think this chart reveals that the Sapphire Reserve Card is a strong premium travel card because it combines several different advantages that overcome its middle-of-the-road sign-up bonus and yearly rewards.
For example, the Platinum Card from American Express has a better sign-up bonus but has one less domestic airline transfer partner as well as a few hundred points of rewards each year, a higher annual fee and a lower travel credit.
The Mastercard Black Card has better yearly rewards but no sign-up bonus, no transfer partners and a $100 yearly travel credit.
The Citi Prestige Card has better yearly point totals and a lower APR. However, its travel partners are limited to international airline carriers, save for JetBlue. Also, it offers no hotel transfer partners.
The U.S. Bank Altitude Reserve Visa Infinite Card has a better annual fee and APR than the Sapphire Reserve but it doesn't have any travel partners and earns nearly 7,000 points fewer per year.
The two airline cards—Delta Reserve Credit Card and United MileagePlus Club— provide some great benefits for flying but they don't have any travel partners aside from themselves and no travel credits.
In general, we think the Sapphire Reserve provides you with a good mix of options that are as good or better than any card in the chart.
The Bottom Line: Pros and Cons, and Who the Chase Sapphire Reserve Card Is Good For
In our opinion, the Chase Sapphire Reserves greatest strength is the Chase Ultimate Rewards (CUR) program combined with the card's 47,730 yearly points and its $300 yearly travel credit. The options you have for redeeming your points through the CUR portal are lucrative and varied. You can book through Chase with a 50% bonus on your points or, if the value is there, you can transfer your points to the program's 12 travel partners.
The downside of the card is that its interest rate is higher than any of the other leading premium cards we compared earlier. The card could be a costly choice for someone who carries balances. While the yearly rewards the card provides are excellent, it only takes a balance of $3,000 for a year to match in interest and annual fee payments what you could earn in travel rewards.
For this reason, we believe this card is an excellent choice for someone who travels often and who doesn't carry a balance. The Sapphire Reserve's travel partners, yearly rewards and travel credit are a lucrative mix of rewards for frequent travelers. Savvy users will be able to weight the pros and cons of points redemptions for travel versus point transfers to travel partners, then create a trip itinerary that will maximize their points.
We also see this card being a good choice for someone who has the Chase Sapphire Preferred but is looking for an upgrade to a more lucrative card with the same rewards redemption options.
Even though the Sapphire Reserve's annual fee is around $360 more than the Sapphire Preferred, the $300 travel credit and the free Priority Pass entrance would more than make up for the annual fee difference if you take advantage of your Priority Pass membership at least three or four times a year.
Scam...bait and switch

By Daniela K.

,

Pennsylvania

,

Sep 23, 2019
Verified Reviewer

Stay away from this card. Chase Sapphire sold their Chase Travel Dept to...Expedia. Expedia has a back office (contracted) that has to approve any change/refund even if is their fault, called Glass Box or Offline ticketing. If you have a problem they will make their accomplishment to make it as difficult as possible. I lost $3,746 and I can't get my money back or a refund. Called Travel Dept (Expedia) they can't do anything about it, called Chase line they can't do anything about it. BE AWARE!

Bottom Line: No, I would not recommend this to a friend

---

Chase Sapphire: Useful & Worth It

I've been using Sapphire Preferred for the last few years. I loved it. Chase's online banking is easy to use so the rewards were always easy to redeem.

When they announced their reserve card promotion (100K points) I was worried about opening up a new card, how it would affect my budget, and could I transfer my old points.

Chase was very helpful navigating all of this. Definitely recommend.

Bottom Line: Yes, I would recommend this to a friend

---

Advertisement

---

A completely overhyped card

By John

,

San Jose, CA

,

Apr 3, 2017
Verified Reviewer

BEWARE of this card! Chase doesn't deliver anywhere close to what they promised.

1. Yes, there are lots of blackouts on route dates and the ability to upgrade your airfare using points: false advertising. They don't call them blackouts, you just can't use points to upgrade or get certain fares or routes on the dates you need. The way Chase tries to lie out of this when the reality is staring then m in the face is to lie some more, "Oh, we don't have any blackout dates, but our airline partners do. What the heck?!

2. They have only seven airline partners worldwide. Couple this with blackouts and you can forget using your miles for upgrades. A scam.

3. Oh, you can buy tickets on the Chase site but watch out as you'll pay far more with points there, and Chase doesn't know fare class. What this means is that you can end up buying a non-refundable ticket that can't be upgraded. Chase will tell you, if you ask, to call the airline and call Chase back. Again what sort of "sham wow" amateur hour is this?

4. Crap interest rate. I pay off my cards but still, since the benefits on this card turn out to be mostly lies, you'd expect a decent rate. Even with top tier credit expect a terrible rate.

5. Incompetent support staff that is utterly clueless. Expect to be transferred a lot with no action.

Bottom Line: No, I would not recommend this to a friend

---

If you travel and eat out often, look no further

By Trent

,

New Braunfels, TX

,

Jan 23, 2017
Verified Reviewer

A spectacular looking card that even had a heftier feel to it. The $450 annual fee drops to $150 if you travel with the $300 credit. They have great customer service with English speaking reps. And you get 3% cash back at restaurants and travel with no cap, which easily makes up the $150 remainder, even without the many perks. This is my primary card for anything business related.

Bottom Line: Yes, I would recommend this to a friend

---

Advertisement

---

Misleading information on 50% redemption. READ BEFORE GETTING IT.

If you are used to Chase Sapphire Preferred, you probably saw the 50% redemption and assumed a flight for $500 would be $250. After all, a $500 dollar flight on the chase sapphire preferred is $400 (i.e. 20% off). Well, it's not.

Chase, unethically and misleadingly, says its 50% more in points. Technically, the Chase Sapphire Preferred is 25% more in point; that just equates to 20% off. The Chase Sapphire Reserve is 33% off the cost of the flight, but 50% more in points.

If you are confused, so was I. A $500 dollar flight, for example, would cost $333.33 in points, NOT $250. They chose to misleadingly make it look like you get 50% off, like you get 20% off with the Chase Sapphire Preferred. I spend close to 50K a year on this card, I will never trust Chase again and not recommend this card to anyone.

Bottom Line: No, I would not recommend this to a friend

---