CheckThem.com Reviews
Claimed This company has claimed this profile, is getting alerted on any new customer reviews entering this page, and may engage in dialogue with its customers to address their matters.

Companies cannot pay money or provide goods in order to remove or alter customer reviews.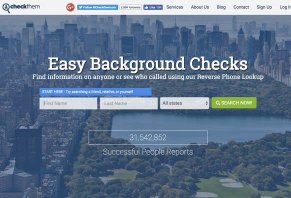 After scouring and aggregating billions of public records in county, state, and federal databases, CheckThem.com delivers a simple, easy-to-read report.
About CheckThem.com
CheckThem.com's online background check and public records search service promises to provide customers with fast, easy, and affordable access to the information they're looking for.
For a nominal fee, this includes personal details like contact information and marriage and divorce records, criminal history, social media profiles, property records, assets, and even pictures—to name just a few.
All of this is pulled from a combination of state, federal, and county databases. And because CheckThem.com updates their own databases daily, their website reports that customers can rest assured they're receiving the most accurate, up-to-date information available.
Together, this is why they've generated more than 31.5 million people reports to date.
There's no doubt that by searching billions of public records and generating an easy-to-read report in less than 60 seconds, CheckThem.com could save customers a lot of time doing it themselves. But is the information they'll provide in their report worth the money you'll pay?
We'll walk you through everything we learned during our research, starting with the website's basic operation.
How Does CheckThem.com Work?
As the name implies, CheckThem.com is a web-only service (there isn't a standalone smartphone or tablet app), although their site can be accessed from any web-enabled device. They also only pull information from databases within the U.S.
The process is fairly straightforward and works through the following steps:
First, you'll start by entering the first name, last name, and state of the person you're inquiring about, and press the Search Now! button.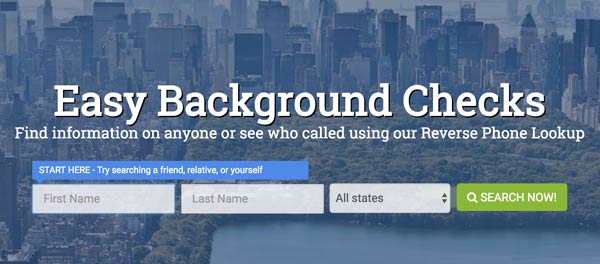 After a few seconds, CheckThem will display relevant results, including the name of the person, their age, location, and possible relatives. In the image below, the site only returned one result, although it seems feasible that multiple results could appear if the person you're searching for has a common name.
To choose the correct individual, you'll select the Get Report button.
Pro tip: We called the company and spoke with a Background Specialist, who advised that the blue and white 'Verified' logo indicates that the information in the file has been verified as 100 percent accurate.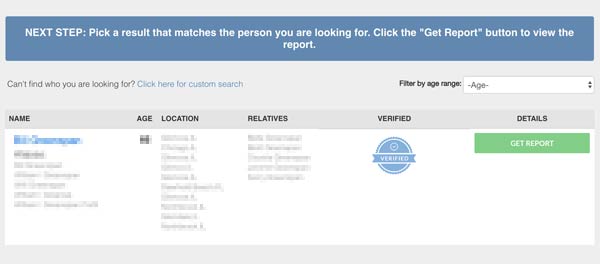 Upon clicking the button, CheckThem will search through billions of public records related to data like court and criminal records, sex offender registrations, and social media accounts.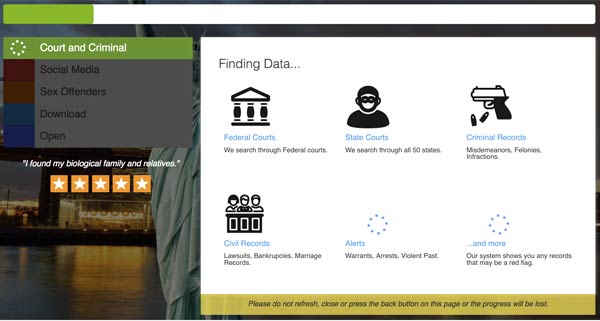 After a few seconds have passed and all this information has been aggregated into a report, CheckThem will request that you save it by entering your first and last names, along with an email address.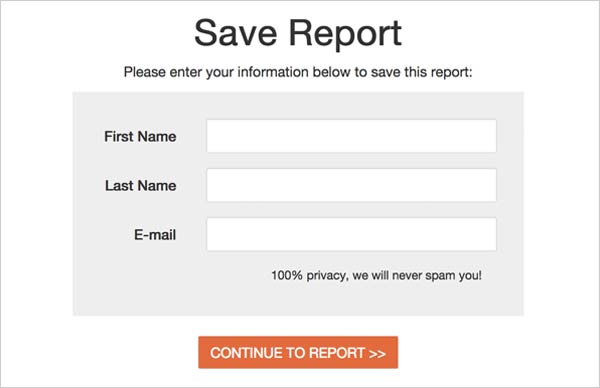 Pressing the "Continue to Report" button above caused us to received a potentially alarming message indicating that CheckThem.com had uncovered records that could "expose the truth about the person's history."
After clicking the Access Report button one final time, you'll be taken to the screen below, which will advise about any information found about the individual and give you a broad idea of what you might find in the paid report.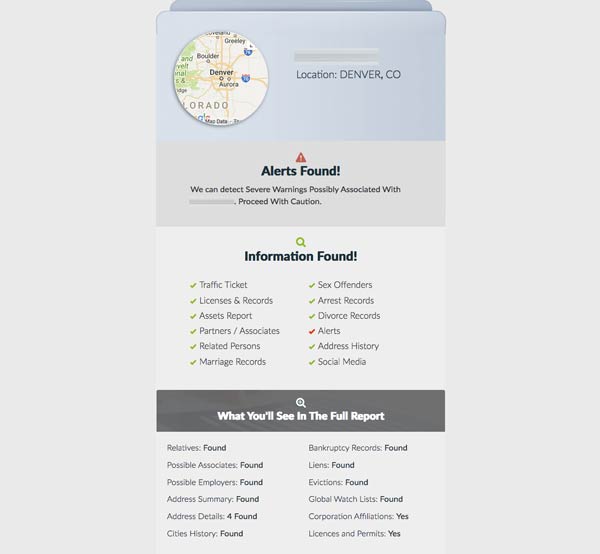 Speaking of which, what kinds of information will you be paying for?
What Details Are Included In a CheckThem.com Report?
Personal Details – Family and relatives, email addresses, cellular carrier information, social media profiles, photos, neighbors

Public Records – Contact information (name, age, address and phone number history), employment records, marriage/divorce records, property records and assessments, mortgages and deeds, judgments and liens, business associates, professional reference records, licenses, and permits

Criminal Records – Includes misdemeanor and felonies, sex offender registration, warrants, traffic offenses (including DUIs), convictions, probation, arrests, civil and lawsuit records, and pending litigation
Together, the company claims this information can provide a wide variety of benefits; everything from protecting yourself from identity thieves and fraud, to making sure you can trust your significant other, friends, and acquaintances.
However, as a people search company, CheckThem emphasizes that the data provided in their reports, per the Fair Credit and Reporting Act (FCRA), cannot be used for employment, tenant screening, or credit-related matters.
At the bottom of their website, their disclaimer also points out that, while they "securely utilize an enormously large yet classified database, which is updated daily for accuracy," the information available in their reports "may not be 100% accurate, complete, or up to date. CheckThem does not make any representation or warranty about the accuracy of our website."
Let's carry this thought over to the next section.
How Much Does CheckThem.com Cost?
After going through the above steps, you'll be offered a five-day trial for $1. This will provide access to unlimited everything, including background reports, criminal and arrest records, mugshot lookups, address history reports, contact info searches, phone number lookups, and court records.
Once this trial ends, you'll be signed up for a recurring subscription priced at $44 per month. In order to cancel your trial or your subscription, you'll need to reach out to customer service at (800) 410-3722 or support@checkthem.com.
According to CheckThem's FAQ, if you encounter erroneous data in your background check report, you should reach out to them immediately, at which point they'll "conduct a second background check for free so you can rest assured that you are getting your money's worth."
What Can We Learn From CheckThem.com Reviews?
We encountered 25 customer reviews for CheckThem on SiteJabber.com during our research, who had collectively given the company an average rating of about 2.5 stars.
There, common compliments referenced accurate information, ease of use, and reasonable price. On the other hand, customers frequently complained about problems with the five-day trial and difficulties obtaining refunds.
From a company perspective, CheckThem Inc. is based out of San Diego, CA and has been in business since 2016. The company didn't hold a Better Business Bureau rating, although they had four negative reviews and 18 closed complaints, as of 11/22/17. Again, most of these related to trial difficulties.
Are There Other People Search & Background Check Websites Like CheckThem.com?
In our article about online search sites, we emphasize that much of the information provided by companies like CheckThem.com is available to the general public. That's why it's called public information.
However, the reality is that not all of this is necessarily easily accessible, since obtaining some of it could require jumping through a lot of hoops (sending written requests, filing subpoenas, etc.). And, the exact hoops you need to jump through could vary from county to county.
Long story short, much of the value provided by public records search and background report companies like CheckThem.com, Instant Checkmate, TruthFinder, SpyFly, BeenVerified, Intelius, and PeopleSmart—to name just a few—is that they can compile all of this information into an easy-to-read report that can be downloaded in a couple of minutes.
Furthermore, while companies frequently advertise that their data aggregation method is better than the competition, it's important to point out that they're still pulling the same information from the same databases.
Given this, the biggest difference is largely in what you'll pay for individual reports, as well as ongoing subscriptions, if any.
For example, we didn't encounter any information indicating that CheckThem charges a per-report price, although users will be signed up for a $44 monthly subscription.
On the other hand, Instant Checkmate charges a lower per-month amount (between $9.86 and $22.86, depending on the plan chosen), although each Premium Report will cost members $19.99 (Standard Reports are free). And if you want a PDF copy of the report, you'll also have to pay a one-time $1.99 fee.
As a third example, TruthFinder charges customers between $13.71 and $16.71 for a monthly membership, with free Standard Reports and Premium Reports at $14.99 each.
Our Final Thoughts About CheckThem.com
The bottom line is that choosing a people search or background check company isn't rocket science—it's largely based on price and online customer reputation. However, based on our experience writing about some of the biggest players in the industry, we think it's important to keep your expectations realistic.
In other words, one of the most common customer complaints we encounter is that people search reports (not specifically those from the company in question) don't contain all the information promised, are inaccurate, or that they weren't worth the money.
To this last point, CheckThem seems to stand behind the information they provide in their reports by offering a free second background check if what you find is inaccurate, so you might not have much more to lose than a few minutes of your time for giving them a try.
But unless you plan on using their services regularly, you might want to set a reminder to cancel your trial before it rolls over to a full-price monthly membership.
Total scam

By Rachel S.

,

California

,

Jul 23, 2019
Verified Reviewer

I was running a search on someone I know, and this site came up as the "premier" background search site. For only $2.99 I could have the full report of the person I was searching. So I agree. The only results were name, DOB, address, and family members. I already knew all that. Then it says that for $4.99 more I could really get a full report. So I figure $8 is worth finding out if there are issues with this person. So I agree to that. Next comes up a lot of "no records found" with an offer to get the REAL report for $19.99. At that point, I immediately canceled my subscription. I called their customer service, and all their CSR did was argue with me in a dismissive tone.

Bottom Line: No, I would not recommend this to a friend

Oct 29, 2019

Hi, Rachel. Thanks for your review. I'd like to clear up some things in your review that are false. The $2.99 charge is to search as many people as you want, and you can see a comprehensive report on them.

The other two charges are for extra data that we have to pay for. Most people don't need this data but we provide it if you want it. The $4.99 fee is for social media photos. The $19.99 charge is for email addresses ONLY.

Also, "No Records Found" is for specific information on that person. We still found your person, we did not find criminal records for them-- ie: No (Criminal) Records Found. If someone doesn't have a Criminal Record this is the message we show.

Please let us know if we can help any further. Thanks again.

---

I paid $44.85 for ONE phone number

By Sara R.

,

kC

,

Jun 14, 2019
Verified Reviewer

My dad is losing his memory and wanted his aunt's phone number. I used CheckThem.com and paid $2.99. Seems ok - BUT they charged me another $44.85 because I tried to cancel my subscription a day late. And I don't even get a month's worth of use. So I just paid almost $50 for a phone number for my elderly father. People running these types of businesses should be punished for such crap.

At least give me the month that I paid for. What jerks.

Bottom Line: No, I would not recommend this to a friend

Oct 29, 2019

Hi Sara. Thanks for your review. We are always striving to improve our product, and I agree that you should have had access for the full month. Please contact us so we can look into it further.

---

Advertisement

---

Good data

By Kizzo D.

,

Los Angeles, CA

,

Jun 4, 2019
Verified Reviewer

Good data, got what I needed quickly. Much cheaper than alternatives. They offer a few different services which I'll review below:

1. Person search - easy and quick results. Gives address, phones, location, criminal records, court documents, liens, etc.

2. Phone search - great for unknown callers. Gives name and address of the caller.

3. Dark web search - I suggest using the dark web search because I found out some of my emails were hacked.

4. Address finder - good for real estate agents I suppose. Gets you name of any address.

5. Social media search - anyone with decent computer literacy can do a similar search. If you can't then it's a good service.

Bottom Line: Yes, I would recommend this to a friend

---

Fraudsters from The United Kingdom

By P C.

,

Oklahoma City, OK

,

May 22, 2019
Verified Reviewer

I paid $2.99 to search myself - a one-time only charge with no indication it was an "automatic subscription." CheckThem tried to charge my card $44.85 a few days later. I had used a virtual credit card number. So between that and and my bank's vigilant fraud department, the charge was caught and declined. Avoid them like the plague!

Bottom Line: No, I would not recommend this to a friend

Oct 29, 2019

Hi. I could not find an account associated with your name. We offer an introductory 5 day trial for $2.99 which turns into a full subscription. This is similar to services like NetFlix. Please keep in mind that we pay for these reports. I'm glad you were not billed if that was not your intention, but using a virtual credit card seems like you're the one who took advantage of us? Thanks for your review and I hope you enjoyed the service.

---

Advertisement

---

Should be zero

By Heidi K.

,

Maryland

,

Sep 3, 2018
Verified Reviewer

SCAM! You do the $1 trial. You see that there is nothing that could have been found with a Google search. Most of the information provided was not even correct. You click on the close account button. You email customer service. You call and cancel, and all within the 5-day trial window, your card is charged $45. No one can be reached via phone. You check the BBB and see that you should have checked there first because the site is a scam. Beware! The bank charges a foreign visa fee, so now I am concerned my information will be everywhere.

Bottom Line: No, I would not recommend this to a friend

Oct 29, 2019

Hi Heidi. All users can cancel their account immediately online, over the phone, and/or by email. We make it very easy to cancel. I'm not sure how you ran into that problem but if you contact us we'd be happy to look into it. Thank you.

---

This company is a scam

By Kyle F.

,

Denver, CO

,

Aug 19, 2018
Verified Reviewer

These thieves took $47 from me and I never received one bit of info. They advertise one background check for $2, you buy it, and they automatically sign you up for a subscription. Then charge you five days later. I NEVER agreed to a monthly subscription, this is THEFT.

Bottom Line: No, I would not recommend this to a friend

Oct 29, 2019

Hi Kyle. I see we've already refunded your charge the day before you wrote this review. Please understand it is the customer's responsibility to cancel their account before the trial date ends (similar to a NetFlix subscription). In any case, we issued a full refund to you even though you were past this trial period. If there's anything else we can do let us know. We'd love to have you back again sometime. Thanks.

---

Cancellation

I opened my account on 3/8/18 and canceled on 03/13/18, which in my mind is considered five days, but I was unable to get a refund as they count the day that you open the account as a day instead of the next day as being a full day. I highly don't recommend this company, and they set me up for a $19.99 additional fee plan and advised me that I set myself up for a premium account that I never accepted. I would not recommend this company. The information provided was very generic and nothing new. I could have gotten it for much cheaper and not at the cost I was charged.

Bottom Line: No, I would not recommend this to a friend

Oct 29, 2019

Hi Carla. Thanks for your comment. A 5-day trial is exactly 5 days from the time you signed up. For example, if you signed up on 3/8 in the morning you will be charged 3/13 at the same time (5 full days). I see you only canceled later that night. The $19.99 charge is optional and only if users want extra information (email addresses) which we have to pay for. This is CLEARLY indicated because you need to click the button "Access Emails", then confirm the $19.99 charge again. Nonetheless, I see we refunded this charge when you called in. Please let us know if you need anything else. We would be happy to explain the website to you over the phone if you would like. Thank you!

---