Chewpod Reviews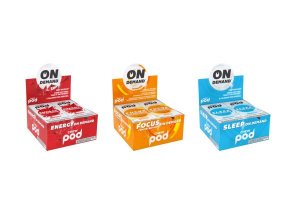 Chewpod's three functional gum formulas utilize Fastactiv technology to provide real-world energy and improve sleep, without jitters, nervousness, or grogginess the next morning.
About Chewpod
Using patented Fastactiv technology, Chewpod is a new functional gum that quickly and efficiently delivers easily absorbable ingredients to help boost energy, concentration, or the ability to recover.
Together, the website advertises this fast release dietary supplement will help optimize your potential, allow you to live your life to the fullest, and adapt your mindset according to how you feel.
This is whether you're looking to "counter jet lag, renovate the house or work on a major pitch"—and each of their three formulas is free of sugar and aspartame, to boot.
If you want to know what the clinical evidence has to say about the ingredients found in Chewpod chewable tablets, we'll help you sort through everything over the next few minutes. In the end, you should have a solid idea which next step is right for you.
Which Ingredients Are Found in Each Chewpod Formulation?
At the center of each Chewpod formula is a proprietary technology known as Fastactiv (we couldn't locate a patent using online resources, although we did locate a 2014 trademark).
How does this work, exactly? Few details are provided on the website, other than stating that it "allows people to adapt their mindset according to how they feel, at the exactly needed moment."
We also encountered a slightly more in-depth explanation on the Natural Health Products Canada website, who reports it "improves the release and absorption of active ingredients by using a personalized saliva butter. Fastactiv can be added in natural health, pharmaceutical and functional food products for private label companies."
All formulas feature a refreshing mint flavor and are manufactured and distributed exclusively in the United States and Canada.
Now, let's zoom in and take a closer look at each product in the Chewpod lineup.
Note: When reporting on the efficacy of each ingredient listed below, we rely on the summaries of the available clinical evidence, as cumulatively presented by sites like the Natural Medicines Database, WebMD, and Examine.com.
Energy on Demand
Promises to help enhance your alertness and endurance, while "providing the energy you need to accomplish any task at hand," without worrying about unpleasant side effects like shaking, crashing, or jitters.
Each Chewpod is sealed in an individual packet, allowing you to quickly and discreetly take it with you wherever you go, and delivers pleasant energy using the following ingredients:
Calories 5
Total Carbohydrate 2 g
Vitamin B6 30 mg
Pantothenic Acid 30 mg
Caffeine 100 mg
Taurine 100 mg
Guarana Seed Extract (4% caffeine, 3 mg) 80 mg
Enjoy two Energy Chewpods for five minutes and discard appropriately, one to three times daily as needed.
According to the sites mentioned above, between 150 mg and 600 mg per day of caffeine may help improve some aspects of mental alertness, athletic performance, memory, and even weight reduction, while reducing tiredness. However, there's nothing mentioned specifically related to increasing energy.
Pro tip: 100 mg of caffeine is about what you'll find in the average 8 oz cup of coffee.
Outside of this, they indicate there's insufficient clinical evidence indicating any of these ingredients will deliver on the manufacturer's claims.
Sleep on Demand
Chewpod's Sleep on Demand formula promises to help you reset the body's natural sleep cycle, fall asleep quickly, and improve sleep quality, without feeling groggy the following day. Each one contains the following non-habit forming ingredients:
Calories 5
Total Carbohydrate 2 g
Vitamin B6 15 mg
5-HTP Griffonia simplicifolia seed 100 mg
Melatonin 3 mg
These sites report that between 0.3 mg and 12 mg of melatonin per day may help reduce the length of time it takes to fall asleep, and improve sleep in patients with "intellectual disabilities, autism, and other central nervous system disorders," as well as those with "sleep-wake cycle disturbances and dementia."
They also note that it's been shown to help those experiencing insomnia fall asleep faster, but only by about 12 minutes.
Focus on Demand
This is an upcoming formula, with no in-depth explanation available about its benefits (or, how it might differ from the Energy version). No supplement facts label outlined ingredients or dosages.
Could Chewpod's Ingredients Cause Potential Side Effects?
The website emphasizes that Chewpod shouldn't be used by children, or by women who are pregnant or nursing.
Outside of this, the Natural Medicines Database and WebMD indicate that the most common side effect associated with these ingredients (no dosages or other specifics provided) is mild, temporary digestive upset.
In some instances (again, no specifics provided), vitamin B6 might cause headache and sleepiness, caffeine can cause nervousness and insomnia, and melatonin can cause depression, dizziness, and irritability.
How Much Does Chewpod Cost and Where Can You Buy?
If purchased directly from the manufacturer, Chewpod is priced as follows (each unit contains eight chewables):
Tray (10 units): $40
Box (4 units): $18
Individual (1 unit): $5
All orders over $36 come with free shipping.
We also found Chewpod sold on Amazon for the same per-tray price. If you're a Prime member, each one also comes with free S&H.
If you have additional questions, a company representative can be reached at 833-CHEWPOD (223-9763).
What Can We Learn from Chewpod Customer Reviews?
On Amazon, we encountered six customer reviews for Chewpod's Energy formula (none of which were verified), who had given it an average rating of 4.2 stars. Common compliments referenced increased energy, ease of use and that it was available whenever they needed.
The single one one-star review referenced less-than-stellar taste and no energy boost.
Chewpod's Sleep formula had a total of three customer reviews and an overall rating of five stars, with improved sleep as the most common compliment.
As a company, the dietary supplement is manufactured by Khloros Innovations, who's been in business since 2011 and is based out of Quebec City, Quebec.
Chewpod vs. Other Functional Gums
Without complicating an otherwise straightforward topic, 'functional' gum is a formula that promises to deliver additional benefits, above and beyond breath freshening and sheer enjoyment. Perhaps the most widespread example is nicotine gum, which helps tobacco users kick the habit.
Theoretically, though, just about any orally active ingredient can be added to gum in order to make it 'functional.' As such, you'll encounter dozens of gum-based dietary supplement formulas on the market, intended to address everything from energy and brain function to sleep and multivitamin deficiencies.
Quickly browsing marketplaces like Amazon and Google Shopping, we encountered a handful of energy/caffeine/nootropic/fitness gum formulas competing for at least some of the same customers as Chewpod during our research. In no particular order, some of the most popular options include:
| | Price / Quantity | Active Ingredients |
| --- | --- | --- |
| Chewpod | $5 / 8 pcs | Energy: Pantothenic Acid 30 mg, Caffeine 100 mg, Taurine 100 mg, Guarana Seed Extract (4% caffeine, 3 mg) 80 mg Sleep: Vitamin B6 15 mg, 5-HTP Griffonia simplicifolia seed 100 mg, Melatonin 3 mg |
| NeuroGum | $19 / 6-pack (48 pcs) | Green tea Caffeine, L-Theanine, Vitamin B6 30%, Vitamin B12 100% |
| Military Energy Gum (MEG) | $7.50 / 6-pack (30 pcs) | Caffeine 100 mg |
| RUN Gum | $22.50 / 24 pcs | Caffeine 50 mg, Taurine 20 mg, Vitamin B6 2.2 mg, Vitamin B12 3 mcg |
| Think Gum | $27 / 144 pieces | Bacopa, Ginkgo biloba, Vinpocetine, Guarana, Caffeine (no dosages listed) |
| FITGUM | $19 / 120 pcs | Green Tea, Citrus Extract, Chromium Polynicotinate, Black Pepper Extract, Hawthorn Berry (no dosages listed) |
| Jolt Energy Gum | $21.75 / 120 pcs | Caffeine (no dosage listed) |
What's the best way to choose which gum-based dietary supplement is right for you, regardless of whether you're looking to temporarily increase energy, improve sleep, boost brain function, or anything else?
After researching hundreds of individual formulations and writing dozens of related articles over the years, here's one core fact we've learned: According to many professional organizations (the National Institutes of Health and the American Academy of Family Physicians, to name just two), otherwise healthy (i.e., non-deficient) individuals do not need to take multivitamins or dietary supplements.
As a result, if you want to know if you're deficient in a specific ingredient, or if you can otherwise benefit from supplementation, the first person you should seek advice from is your doctor. If they recommend you pursue a product like Chewpod (or any other supplement, for that matter), we'd suggest:
Relying on authoritative sources like WebMD, the Mayo Clinic, and PubMed to verify the supplement's efficacy claims.

Making sure the manufacturer stands behind their products with at least 30-day refund policies (note: make sure they charge reasonable S&H charges as well, and don't assess restocking fees)

Verifying that the company has a mostly positive online customer reputation. After all, this is highly indicative of what you'll experience after placing your order and handing over your money.
Does everything we've discussed stack up nicely for Chewpood?
Our Final Thoughts About Chewpod
At about $0.16 per piece, FITGUM is the lowest priced option above, followed closely by Jolt. On the flip side, MEG comes in with the highest per-price piece, with Chewpod not far behind.
However, Chewpod also offers the widest range of formulas (with a third upcoming), along with the broadest ingredients list. Does this necessarily mean that either of these options will deliver maximum value, though?
Based on what we learned from sites like Examine.com, WebMD, and the Natural Medicines Database earlier, it seems like there's only sufficient clinical evidence indicating that caffeine will deliver on the company's claims for the Energy formula. And it's much the same when it comes to the melatonin in their Sleep supplement.
Given this, if you're looking to achieve many of these same potential benefits, but at the highest value, a standalone caffeine or melatonin supplement might deliver the most bang-for-your-buck. And considering generic formulas are often available locally, this could put them in your hands faster, as well as make the return process super easy if they don't deliver results.