ChiliPad Cube Reviews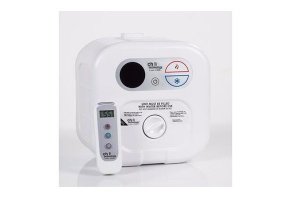 The new ChiliPad Cube 2.0 features an updated male quick connection, an easy-fill cap, the ability to reach temperatures five degrees cooler than the previous model, and comes with a wireless remote.
What Is ChiliPad Cube?
The ChiliPad Cube temperature control system actively circulates water through a network of micro tubes, allowing you to precisely adjust surface heat and coolness levels between 55°F and 110°F with the touch of a button.
Together, whether using their Single or Dual Zone models, the website advertises that adequately regulating your temperature could lead to deeper, more restorative sleep, reduced stress, and improved memory, weight loss, whole-body immunity, and strength.
With proposed benefits like these, along with its wide temperature range and satisfaction guarantee, ChiliPad Cube might seem like a logical choice for achieving better night's rest.
But, is their sleep technology as innovative as advertised? Are there other options that might deliver similar results, but at lower price points? Before deciding which way you'll go, take a few minutes to quickly learn what we found during our research.
How Does the ChiliPad Cube Work?
ChiliPad's mattress pad is constructed from 150-thread count, poly/cotton fabric with a polyester filling, and is designed to fit all standard and extra thick mattresses, without impacting feel.
Pro tip: The manufacturer emphasizes that you'll want to place a protector between the mattress and the ChiliPad to ensure your mattress's warranty isn't voided.
Built into this pad is a network of soft, medical-grade silicone tubing that will operate effectively with up to 500 lbs pressing down on it, which connects to the Cube unit via a separate 96" tube.
Once filled with distilled or filtered water (tap water can cause sediment buildup), the unit increases or decreases its temperature in one-degree increments between 55° and 110° F (13° and 43° C) based on your input, whether using the included wireless remote or directly on the unit's touch control. The website tells us a built-in thermostat will ensure the water in the tubing remains at a constant temperature all throughout the night.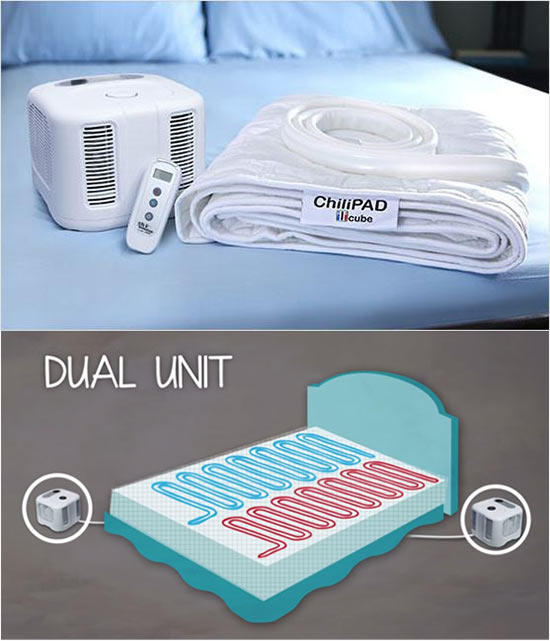 ChiliPad's temperature regulation system uses a network of micro tubes and a powered Cube unit to heat and cool water, and then circulate it while you sleep. Credit: Chili Technology
During operation, we're told the Cube makes a "slight humming sound," akin to a floor fan or a desktop computer.
ChiliPad Cube Maintenance and Other Requirements
Based on what we learned from their website, the ChiliPad Cube seems super simple to set up: Put the pad on your mattress, place the Cube unit in an area with at least 24" of surrounding space, add water to the reservoir, and plug it in.
Along with this water, you'll also want to add a capful of hydrogen peroxide, and again each time you top off the unit. Afterward, set the temperature to 75° F, remove the water reservoir cap, and run until bubbles no longer form.
Once every three months (or before or after storage), you'll use the tool that looks like a plastic 'H' to drain all of the water from your ChiliPad system over a sink or bathtub, which will remove any accumulated debris or residue.
Then, you'll refill with water, add two tablespoons of Lysol toilet bowl cleaner with hydrogen peroxide to the Cube unit, adjust the temperature to between 90°F and 110°F, and run for between six and eight hours. Finally, you'll re-drain and refill with distilled or filtered water, and you're good to go for another three months.
At this same time, the manufacturer recommends removing the top filter and spraying the inside of the unit with compressed air to blow out any dust that may have accumulated.
What's the Difference Between the ChiliPad Original and Cube 2.0?
Based on what we learned from the website, most of the differences between the original Cube and the updated 2.0 version appear related to functionality. These include a new male quick connect on the control unit, an easy-open fill cap, a wireless remote, and five-degree lower temperature control.
How Much Does the ChiliPad Cube Cost & Where Can You Buy?
If ordered online directly from ChiliTechnology.com, the company emphasized a two to four-week shipping date at the time of our research. Prices were as follows:
Single (30" x 75"): $449
Twin (38" x 75"): $499
Twin XL (38" x 80"): $599
Split Cal King (36" x 84"): $629
Full (53" x 75"): $649
Queen (60" x 80"): $999
King (76" x 80"): $1,099
Cal King (72" x 84"): $1,099
Important note: Keep in mind that only the Queen, King, and CA King offer dual zone functionality. All others feature only single zone temperature control.
Six, 12, or 24-month financing is available for qualified applicants through Bread, who allows customers to prepay without any penalty.
And although their website points out that "ChiliPad has been used to reduce symptoms relating to multiple sclerosis, fibromyalgia, hot flashes, pain medications, and insomnia, and many systems have been covered under various insurance plans," they point out that you'll need to contact your specific provider to verify whether or not reimbursement is available.
We also found the ChiliPad Cube system sold through dozens of retail mattress and bedding stores in most major metro regions across the US. Take a look at the Dealer Locator page of their website to find a location near you.
All Cube systems come from Chili Technology with a 90-day guarantee, which begins on the date your system is received. The company requires customers to sleep on the product for at least 30 nights before requesting a refund, and all parts must be in good condition to qualify.
Chili also offers a two-year warranty against defects in materials or workmanship under normal use, which you can request by reaching out via the contact form on their website.
What Can We Learn From ChiliPad Cube Customer Reviews?
On the Chili Technology website, their different-sized Cube systems had nearly 900 combined customer reviews, who gave them an average rating of about 4.5 stars.
There, common compliments cited effective temperature control, improved sleep, high quality, and solid customer support, while the relatively few complaints typically revolved around ineffectiveness, discomfort (often caused by the embedded tubing), and high price.
We also encountered nearly 30 combined Amazon customer reviews for ChiliPad's King (dual zone) and Split CA King models, who had given them an average rating of about three stars. Complaints and compliments were similar to those found on the company's site, although more than one stated they experienced less-than-stellar quality.
From a professional perspective, The Sleep Judge performed some in-depth testing with the ChiliPad Cube, who noted that the pad was well constructed and surprisingly thin, although they weren't able to feel the tubing when laying in bed.
Set up was reportedly easy and syncing the remote was simple, but they pointed out that Cube placement could be awkward (remember the 24" requirement), depending on the space available in your bedroom.
Overall, they noted effective temperature control, although different factors could meaningfully impact this. For example, pre-cooling the system before getting into bed seemed to result in significantly lower temperatures, while using "some sort of light cover or blanket" acted as an insulator to help further maintain temperature.
In other words, if you prefer to sleep without covers, they emphasized the Cube system might not deliver meaningful temperature regulation as a result. You'll also need to be OK with a bit of white noise from the unit's fan, and you'll want to add the cost of a waterproof mattress protector to your overall budget.
ChiliPad Cube vs. BedJet v2 & Other Mattress Cooling Options
While there are perhaps thousands of different cooling mattress toppers made from gel memory foam, breathable fabrics, and/or special construction to improve airflow, when it comes to heating and cooling mattress pads that utilize water circulation to regulate body temperature like ChiliPad Cube, it appears to be the only game currently in town.
However, we did come across a handful of systems that promised to deliver some of the same results, but by utilizing meaningfully different technology that might work better based on your needs. These included:
| | | |
| --- | --- | --- |
| Product | Pricing | Unique Features |
| ChiliPad Cube | $449 - $1,099 | Cube unit circulates hot/cold water through tubing in the pad; temperature adjustability between 55° and 110° F (13° and 43° C) |
| BedJet v2 | $299 | Sends a gentle and quiet stream of air directly into your bed for heating or cooling, up to 2 zones (uses a proprietary sheet), operates between 72°F and 104°F, also includes a free app |
| bFan | $159.95 | Uses a floor-based fan and curved nozzle to blow cool air (heat not available), offered in two heights (19" - 28"; 28" - 38") |
Where to begin when choosing which option is most likely to deliver the greatest value for the money? Sleeping too cool or hot at night "can represent many diagnosable medical and psychological conditions needing medical attention." Or, he says they "can also represent normal personally variable temperature fluctuations, or just sleeping in too hot a room."
Considering these complicated, highly personal aspects, the best place to start is by having an in-depth conversation with your doctor. After properly diagnosing your condition, they can then recommend options that might deliver the most bang for your buck.
If they suggest an aftermarket temperature regulation sleeping system, as a consumer, you can approach the buying process like you would any other product or service.
For example, as we can see in the table above, even the lowest priced ChiliPad Cube model costs meaningfully more than the Bedjet v2 or bFan, if the budget is one of your primary concerns. However, it's also the only model that uses circulating water, so you'll have to decide (with the help of your doctor, of course) if this aspect is worth paying more for.
In addition to their lower price, the fan-based functionality of the competing models above means that you could avoid worrying about a lot of wiring, tubing, or potential leaks—or awkward Cube placement, which requires 24" of free space in all directions for optimal (and safe) operation.
However, the Bedjet model does require a specialized sheet to function properly, while bFan doesn't boast adjustable height, but its two different models can accommodate beds from 19" to 29" tall (as measured from the floor to the top of the mattress). The latter also doesn't provide heat or any kind of dual zone functionality, either.
Where does all of this leave you when it comes to the ChiliPad Cube?
Is ChiliPad Cube the Right Mattress Temperature Regulation System for You?
Not to sound like a broken record, but because poor sleep as a result of improper temperature regulation is a medical concern, the first step in your journey to finding relief should be speaking with your healthcare professional.
With this important caveat in mind, as a company, Chili Technology has been in business since 2007 and held an A+ rating with the Better Business Bureau, based on zero closed complaints, as of 7/25/18. Their Cube systems also seem to come with mostly positive online customer reviews, although most third-party feedback appears related to their original version (versus the newer 2.0).
And despite its meaningfully higher price than popular fan-based competitors, the company stands behind the ChiliPad Cube with a 90-day refund policy, which should be more than enough time to decide if it delivers more restorative sleep, as claimed on their website.
Just take extra care during this period, since damaging the system could void your refund availability, and remember that you'll have to pay to ship it back to the manufacturer if you're dissatisfied.