Chill Chest Reviews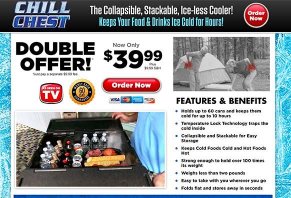 The Chill Chest is an iceless cooler that claims to be able to keep food and drink items cold for up to 10 hours thanks to its temperature lock technology.
About Chill Chest
The Chill Chest is a foldable, stackable cooler that claims to be able to keep food items cold for up to 10 hours at a time without needing any ice. The product features a collapsing design that is supposed to allow for condensed storage in a matter of seconds, as well as increased mobility when out and about.
Weighing in at less than two pounds, the manufacturer claims that the Chill Chest is perfect for sporting & tailgating events, backyard parties, or a day at the beach, and they even claim that you can use it to keep your grocery items cool on the way home.
The device is said to be able to hold up to 60 soda cans, though we aren't told the exact dimensions on the main website. We reached out to customer service, who informed us that while they didn't have this information on hand, they were going to be getting it very soon. (We'll update this here when we learn more.)
The Chill Chest's main claim is that its temperature lock technology traps the cold inside, allowing foods to be able to stay cold for up to 10 hours. However, the product also claims to be able to keep hot foods toasty and warm thanks to the same insulating superpowers.
The cooler itself is constructed using polypropylene, which the makers claim is strong enough to hold over 100 times its weight when necessary. In fact, the product's commercial even shows a full-sized truck running over the device, leaving it unscathed. Despite this, in the same commercial, we are shown a senior citizen lifting two of the coolers (albeit in empty, folded states) over their head with ease.
Can the Polypropylene Construction Truly Keep Your Food Insulated?
Obviously, if the Chill Chest were to be able to deliver on all of these claims, it could indeed be a unique insulating device that would conceivably be valuable for a wide range of applications, many of which are outlined on the product's website. However, just how widely used is polypropylene? And can it truly deliver the insulative power described in the product's commercial?
Looking around online, we were able to find a number of different coolers that utilized polypropylene constructions. Many of these products came with numerous reviews on marketplaces like Amazon.com detailing user's satisfaction with their insulative abilities, and though we can't compare these directly to the Chill Chest, we do at least know that there is some precedent for the material's use in coolers.
It's important to note that this doesn't definitively prove that the product can keep food items cold for up to 10 hours, as they suggest. It does, however, illustrate that the material is used in a variety of other products, many of which are well-received by reviewers.
So, keeping in mind what we've learned so far, how much will the Chill Chest cost you?
Chill Chest Pricing & Return Policy
Currently, the Chill Chest is available exclusively on the product's website, where it is priced at $39.99 plus $9.99 for shipping & handling. In addition, a one dollar web service charge is applied at checkout, and there is an option to receive a second Chill Chest for an extra $9.99 fee.
As for the return policy, the terms lay out that each order comes with a 60-day money back guarantee, not including shipping & handling, web service, or double offer fees. It's important to note that this means only the original purchase price of $39.99 is refundable, regardless of which option you choose.
To initiate a return, the manufacturer recommends calling customer service at 844-201-2230. You'll be required to pay return shipping to get the product back in order to process your refund.
Chill Chest vs. Other Food and Drink Coolers
There are hundreds of different coolers to choose from both online and in stores, from straightforward functionality to specialized applications with extra features. But what about one with a collapsible, stackable, iceless polypropylene design?
Looking on Amazon.com, we were only able to find one other product that hits all of these marks. Called the Flip Box, the cooler looks very similar to the Chill Chest in that it is collapsible, and features the same rugged design as the product at hand. It is made out of Neopolen P, which is a type of polypropylene, though we are unsure if this is the same type utilized by the Chill Chest (and customer service did not have this information on hand when we asked).
The Flip Box held a 58 percent five star rating based on 236 reviews as of this writing, with many users noting that the cooler really was able to keep things cool, even in very warm conditions over a period of several hours.
Negative reviews included users complaining about the non-watertight design, with a few specifically stating that they encountered leakage issues when using the cooler with ice. A few also claimed that the product did not perform up to their expectations in terms of keeping items cool without ice.
The product was priced at $129.99 as of this writing, which is quite a bit more expensive than the $39.99 being asked for the Chill Chest. Ultimately, between these two, the only real advantage we can see the Flip Box holding over the product at hand is this pricing difference.
The Bottom Line: Our Thoughts on the Chill Chest
Bringing everything that we've learned about the Chill Chest into focus, we have a few parting thoughts about the product as a whole. The design and functionality of the cooler certainly seems convenient from an outside perspective, as we can easily envision plenty of scenarios where the collapsing design and iceless, lightweight functionality would come in handy.
With this said, however, we have no real way to substantiate the manufacturer's claim that the product can keep food and drinks cool for up to 10 hours. For such a low price–relative to the competition, anyway–we are also curious as to how well you can expect it to hold up over the long run.
All the same, we've established that several other cooler manufacturers utilize polypropylene in their designs, and many of the reviewers we encountered for products using the same material seemed to be quite pleased with its ability to keep their food and drink cold (or hot, depending on the situation).
If you'd like to give the Chill Chest a shot, you'll be able to take advantage of the 60-day return policy should you decide that it isn't for you in the end.
Have you used the Chill Chest before? Leave a review below and share your experience with other HighYa readers!
Fantastic product!

By Dawn Z.

,

Texas

,

Jun 12, 2019
Verified Reviewer

I bought to load refrigerator items in when moving in Texas heat. 26.5 hours the stuff was in there and was still very cool when I unloaded it. I went and bought two more and smoked ribs and put in there to keep warm, worked great. So far I have nothing but great reviews to tell people! Thank you for this lightweight cooler.

Bottom Line: Yes, I would recommend this to a friend

---

Do not buy

By Janet B.

,

Cocoa, FL

,

Jul 20, 2018
Verified Reviewer

We bought the Chill Chest in Ohio to bring food back to Florida. It was in an air-conditioned car, the total way. We put ice in it first and then took it out because it leaked. We should have known better. Then, it should have been cold after four hours of ice. But all $200 plus of food was warm. We never opened it and as I said, it stayed chilled in air conditioning.

Because it isn't sealed closed, I am sure it will never stay cool, what a waste of our money. Do NOT buy! It's a hoax.

Bottom Line: No, I would not recommend this to a friend

---

Advertisement

---

Scam, ambiguous advertising

By Gennifer T.

,

Dallas, TX

,

Jul 2, 2018
Verified Reviewer

Don't do it! I purchased on 5/8 for $60.97 and used the product indoors with A/C, outside temp averaged 85-90 degrees. After 3-3.5 hours, water leaked out from the chest onto my wood floors. There was no mention of needing a mat, as online they have people using in on countertops and in the back of their vehicles.

On 5/27/18 I inquired about a refund and got no response. The return policy online and on the commercial states I get a 60-day money back guarantee (but they do not pay shipping to return the product). I paid $55 to return their badly deficient product back to them! I will get $4 back, not my $60.97, so stop lying to consumers, "full refund" needs to mean full refund! The ambiguous meaning of "money back guarantee" should be "60-day SOME money back guarantee."

I do NOT recommend using this product, use a traditional ice chest, speaking from personal experience. I've seen better from homemade structures.

Bottom Line: No, I would not recommend this to a friend

---

It sucks

By Grace A.

,

Tennessee

,

Jun 26, 2018
Verified Reviewer

This cooler is terrible. Like everyone else says, it doesn't work at all. Very disappointed. I'm on Social Security and don't have a lot of money to waste. This is definitely a waste.

Bottom Line: No, I would not recommend this to a friend

---

Advertisement

---

Bad decision

By Robert B.

,

Arkansas

,

Jun 26, 2018
Verified Reviewer

This product is a fool's way to waste money. Who makes a cooler black? That in itself is stupid. Like most As Seen On TV products, it is a shipping and handling scam. Polypropylene is used in numerous insulation products, and I bet you have never seen a black Colman or Igloo cooler.

Bottom Line: No, I would not recommend this to a friend

---

Chill chest

By Linda M.

,

Clutier, IA

,

Jun 23, 2018
Verified Reviewer

I bought a Chill Chest last week and I not happy with it. My stuff didn't stay that cold at all and my frozen fruit was thawed out when I got home. I am thinking I'll be taking it back.

Bottom Line: Yes, I would recommend this to a friend

---

OMG

By Barbara T.

,

Michigan

,

Jun 8, 2018
Verified Reviewer

Stop, beware! Nothing more than an insulated Styrofoam Box Maiden China. I wish I would have seen these reviews before I bought this piece of junk. If I could give this less, I would. This is not worth the money they're asking for, no wonder they're giving two for one.

Bottom Line: No, I would not recommend this to a friend

---

Bad customer service

Scam! I tried to order the buy one, get one free because it said I had a choice. It was not clear if you put two that you would get "4!" Also, I was charged for the four. It doesn't allow you to confirm your bill before going through either. As soon as I noticed the charge I tried to call to fix it. They said I had to call a different number. I called the different number and had to call back in the morning. About six hours later I called, and they said they couldn't change the order or cancel it because it was processed already. They said that I could get $10 off. Ha! I then said well let's cancel, and they said they can't because it was processed and to just refuse the order. An order that I don't have to sign for. Hmmmm. Don't buy this scam product!

Bottom Line: No, I would not recommend this to a friend

---

Don't waste your money

We bought one for a family camping trip and it worked fine, as we were packing it. As soon as we tried to lift it, no, it wasn't light as a feather for grandma to lift. The food was only mildly cool when we got there, and within a couple of hours, there was no coolness left.

I wish I hadn't have wasted my money but then you know what they say, you get what you pay for.

Bottom Line: No, I would not recommend this to a friend

---

Bummer!

By Vickie Hicks

,

Parowan, UT

,

Mar 27, 2018
Verified Reviewer

I received my chill chests yesterday and wish I had NEVER ordered them. They are no more than black Styrofoam coolers that I overpaid for! To send them back will cost me so much for shipping and handling that it's not even worth sending them back! My suggestion is DON'T DO IT!

Bottom Line: No, I would not recommend this to a friend

---

Order cancelation notices that have links that do not work.

I ordered their "deal" off of a Facebook ad. A few weeks later I received an order cancelation notice. The customer service links did not work. So I just placed another order. Today I got another order cancelation notice. The customer service links did not work. No definite reason was given for either order. Both had the same wording. I'm done with them!

Bottom Line: No, I would not recommend this to a friend

---