Christmas Gift List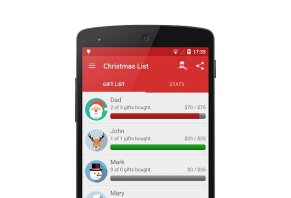 Holiday shoppers looking for a simple Christmas gift list app to help organize their shopping can turn to Christmas Gift List, a free Android app that's user-friendly and easy to learn.
Christmas Gift List Review: Is It a Good App to Organize Your Holiday Gift Lists?
Christmas Gift List is a free Android app you use to make a list for gifts you want to buy during the holiday season.
The app has a simple interface that makes it easy to create gift lists for your friends, family, and loved ones. However, the app is one of many that you can use to create a list for Christmas gifts. Knowing which app is right for you is a matter of understanding how it works and how it compares to other apps.
To help you make that decision, we've downloaded Christmas Gift List and demoed it on our Android phone. This review will analyze how it works and how it compares to other apps. Also, we'll include a quick section about how to set up a Christmas list budget using an app and how to stick to it.
How Christmas Gift List App Works
When you download the app and open it, you have three menu choices: Gift List, Shop, and Stats. These three options work in concert to give you a real-time look at which presents you need to buy, which ones you've already bought and how your spending compares to your budget.
Gift List
This section of the app is where you'll build a list of people for whom you want to buy presents. Each person appears on this page in the form of a list item that indicates their name, how many presents you've bought and need to buy for them, as well as how much you've spent and how much you want to spend.
We see this page being helpful for those who want to get a quick overview of what they've bought for their recipients and who they still need to buy gifts for.
To create a recipient you'll tap on the "+" icon in the top right. At this point, you'll add the person's name, your budget for them as well as an icon that identifies them. Once you've added a person, you can tap on them and add presents you want to buy by tapping the gift icon in the top right.
The app allows you to enter the name of the gift, the price, any notes you think are necessary, a link to the item and a photo of the item.
One of the quirks of the app is that you can't click on the gift's link while you're in the "Gift List" page. You'll have to go to the "Shop" page to do that.
Shop
As we just pointed out, the Shop page is where you'll go to click on any links associated with a gift for the purpose of going and buying it. This page also lets you mark a gift as purchased and/or wrapped.
Stats
The final page you'll use is the Stats page. This is where you can quickly view metrics for the following categories:
Days until Christmas
Total spent
Total budget
Gifts left to buy
Gifts left to wrap
This is an excellent page for those who want to keep a close eye on their budget, as you can quickly see how much you've spent and how much you have left.
The Christmas Gift List Premium Version
One of the things you'll notice as you use this free app is that there's an ad bar at the bottom of the screen.
You can get rid of these ads by upgrading to the app's premium version. At the time of publishing, the premium version of Christmas Gift List is $0.99.
In our experience with the free version of the app, the ads did not impede the normal use of the app, nor did we ever accidentally tap an app and get moved to a webpage.
Comparing Christmas Gift List to Giftster
Choosing the right gift-list app is much easier when you know how the various apps compare. We're going to compare Christmas Gift List to Giftster, an app we reviewed that PCMag chose as the top Christmas gift list app of 2018.
One of the things that you need to understand is that Giftster is cloud-based, which means that multiple users can access the same set of gift lists.
Christmas Gift List, on the other hand, isn't cloud-based. Therefore, only one person can access and run your list at one time.
Another point of differentiation between the two apps is that Giftster is designed for groups, whereas Christmas Gift List is designed for individuals.
Giftster allows you to build your own gift list, then invite friends or family members to your gift group. They upload their own gift lists and then, once they're done, everyone has access to everyone's gift lists. Instead of you making everyone's list, everyone else does it for you. The key here is that you don't' have to do any of the work in finding out what people in your group want.
And, when you buy something on their list, it's all anonymous. The recipient doesn't know who bought the gift.
Christmas Gift List works in reverse. You make lists for everyone else and you keep track of those lists. You can't have multiple users logging in to check everyone else's lists.
There are distinct advantages to the way that Giftster works. First, you don't have to spend the time and energy asking around for what your friends or family want. The disadvantage is that you have to convince all your family members to join your Giftster group. Also, Giftster, like Christmas Gift List, is only available on Android phones.
The one main advantage that Christmas Gift List has over Giftster is that you get to set your holiday budget for how much you want to spend on a relative or friend. If you can only spend $20 per family member, then you can set your budget at $20.
The presents that your family member lists on Giftster may be more than $20, and then you're left to go off-list to buy them something. And, when you do, the app is no longer effective.
Making a Christmas Gift List and Setting a Budget
Whether you choose Christmas Gift list or Giftster isn't nearly as important to your budget as how much you decide you're going to spend and how you go about planning ahead to make sure you don't exceed that budget.
The first step in making sure you stick to your budget and avoid holiday overspending is to decide on how much you want to spend on gifts – not per gift, but overall. Once you have this number, write out a list of people for whom you want to buy gifts.
Then, divide your budget by the number of gifts you want. The resulting number will be your per-gift budget. Now, if you want to spend more on your partner and/or kids than other people, you can make adjustments where needed.
Once you have this per-gift budget, you can start making lists for everyone, which is very easy to do in the Christmas Gift List. In this sense, we think that the Christmas Gift List is an excellent choice for those who set limits on how much they spend on each person's gifts.
Also, keep in mind that the holidays tend to bring added expenses: parties, school events, and increased donations.
Pros and Cons of Christmas Gift List
Based on our research, we believe there are some distinct advantages and disadvantages to using this app.
First, the fact that you have control over the lists you make is a key benefit if you need to limit your spending this year and you have to decide what you get your friends and family. The app makes it very easy to add recipients as well as the gifts they want
Also, the app's budgeting stats are an easy way for you to see how much you've spent and how much you have left to spend.
The weakness of the app is that it's not cloud-based, which means you can't have multiple people logging in at the same time or accessing gift lists at the same time as you can in Giftster, another popular Christmas list app.
In general, we think this is an excellent app to keep your holiday spending on track and stick to the budget you set for yourself.
» See Also: How to Determine the Perfect Gift for Anyone: Step-By-Step Guide & Expert Tips