Christmas Gifts and Budget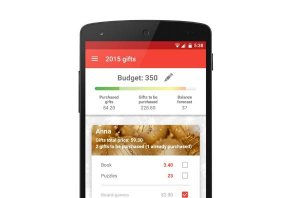 Axl Softs' Christmas Gifts and Budget is an Android app you can use to create a budget for your holiday spending and then create gift lists you can use to track what you buy and what you're spending.
Christmas Gifts and Budget Review: Will This App Make Holiday Shopping Easier and Better to Track?
Christmas Gifts and Budget is an Android-only free Christmas list app you use to create a Christmas list, track what you've bought and keep an eye on your overall Christmas present budget.
What makes the app unique is that it combines an easy-to-use listing tool along with holiday-specific designs and an emphasis on how your spending matches up with your budget.
The app's developer is Axl Softs, a company who has also created three other apps and a game. Their apps and game have star ratings that range from 3.9 to 4.5 stars.
Will this app make Christmas shopping easier and better to track? We're going to help you answer that question by providing you our analysis of how the app works, talk about how it compares to other Christmas gift list apps and then conclude with our thoughts on the app's general pros and cons and who we think the app is good for.
How the Christmas Gifts and Budget App Works
In our research of holiday gift list apps, we've reviewed three apps including this one: Giftster and Christmas Gift List are the other two.
Of these three apps, Christmas Gifts and Budget is the simplest. There is one page from which you work. At the top of the page is your holiday gift budget. Under that is a meter that tells you how much you've spent, how much you have left and what your balance is ("balance forecast").
For example, if you have a $200 budget and buy a $40 gift, the meter will indicate that you have a positive balance of $160. Once you spend more than you budgeted, that balance forecast will go into the negative and change from the green color it normally displays to red.
To build your gift list, you'll tap the "+" symbol in the bottom right-hand of the screen.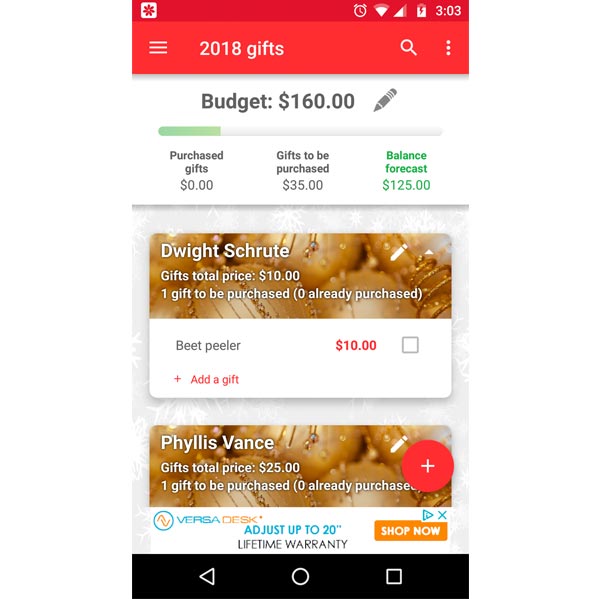 Image credit: Axl Softs
A window will pop up asking you who the gift is for, the name of the gift and the price. Once you add the gift, it will pop up on the home screen. Adding the gift price is an option, but we recommend adding the price because the dollar amount will be added to the budget section at the top of the screen.
If you need to make changes to a gift, all you have to do is tap on it and make changes. You can also delete the gift by tapping on the trash can in the top-right of the screen.
You also have the ability to add multiple gifts to one person by tapping "Add a gift" under an existing gift entry.
The Christmas Gifts and Budget App's Options
The app has several options that you can use to customize your experience.
The security settings allow you to add a password or PIN number, which are good ways to protect your Christmas list from a partner, spouse or child who may want try and sneak onto your phone to see your gifts list.
The second option you have is to change the currency of your app. The default setting is USD but you have the ability to use more than 30 currencies including:
British pounds
Euros
Australian dollars
Candian dollars
Japanese Yen
Finally, you have the ability to purchase the premium version of the app. For $1.99, the app won't have any ads across the bottom of the screen as it does in the free version.
Customer Reviews of Christmas Gifts and Budget
The app has more than 10,000 downloads and, at the time of publishing, had an average review of 4.4 stars.
The 10 most recent reviews produced six five-star reviews, and two each of three stars and four stars. Recent reviews were thin on comments but those comments were positive. For example, a reviewer by the name of "Kayla Music" noted, "This app made keeping up with my Christmas list and budget so easy and so convenient! I love it."
In general, reviewers said the app is excellent at its primary job: helping you keep track of gifts and your budget.
This tells us that there's a really good chance you'll enjoy the list and budgeting aspects of this app but, if you're looking for something more than that, you may be a little disappointed in your experience.
How the Christmas Gifts and Budget App Compares to Christmas Gift List and Giftster
In our research of gift-list apps in the Google Play store, we found that Christmas Gifts and Budget, Christmas Gift List and Giftster either had good reviewers from users and/or a significant number of downloads.
We've compared all three apps in the following table:
| | Christmas Gifts and Budget | Christmas Gift List | Giftster |
| --- | --- | --- | --- |
| Average Rating | 4.4 | 4.5 | 3.6 |
| iOS or Android | Android | Android | Android & iOS |
| Budgeting Feature | Yes | Yes | No |
| Browser Extension | No | No | Yes |
As far as user reviews go, Christmas Gifts and Budgets gets great reviews and those reviews are on par with what we see from Christmas Gift List. Based on our experience using both apps, we believe these positive reviews have a lot to do with the simplicity of the apps.
If you're using one of them for the first time, it takes just a few minutes to understand how it all works and then a few additional minutes to create a gift list.
We think this points to the fact that there's a high likelihood that you'll enjoy your experience with this app, especially if you're set on finding the simplest solution for making a gift list.
Now, the drawback to the two apps is that they're only available on Android phones. Giftster, which is focused on group-generated gift lists, is available on Android and iOS, which is crucial to their app's functionality.
Families that want to use it need both platforms because there's a good chance someone is going to have an iPhone and they have to be able to participate with their iOS operating system.
Needless to say, though, if you've got an iPhone then Giftster is the best choice but will take some work for you to convenience all your recipients to join.
Both Christmas Gifts and Budget and Christmas Gift list have a budgeting feature we think is a great fit for those that want to track their Christmas spending.
Our experience with the two apps indicates that Gifts and Budget is the better fit for the budget-conscious because your budget and spending are displayed with prominence at the top of the app's home screen.
The comparison in the table is that of a browser extension. This is a feature Giftster uses and it allows you to browse desktop web pages and add things to your gift list simply by clicking on the Giftster extension icon.
This saves you time because the feature auto-fills all the information about your gift. However, the downside is that this feature is geared toward making your list and not making other people's list, as they're responsible to generate the list of gifts they want.
Our Bottom Line on the Christmas Gifts and Budget App: Is It an Ideal Choice for You?
Our research of this app and two others like it indicates that Christmas Gifts and Budget is a solid option for someone who wants a simple tool for creating a gift list and tracking their spending.
The way the app prominently features how much you've spent and how much you've budgeted is key for the money-conscious.
We also like how easy it is to add gifts and that, even though you can pay for the premium version of the app, the free version has all the same capabilities and features.
The drawback of the app, in our opinion, is that you don't have any options for adding a link to the gifts you enter, which means the app doesn't provide a way to go directly to a gift from an entry. You'll have to do that outside the app. It's not a big deal since you can do a copy-and-paste of the link but it is an extra step you have to take that you don't need to do in other apps.
In general, we believe this is a solid app for those looking for a tool that combines gift lists and budgeting.
» Related: Five Holiday Gifts You Should Never Buy Generic