Cinder Grill Reviews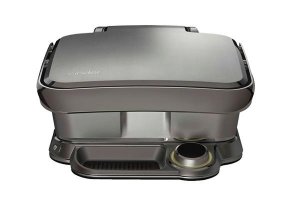 Cinder Grill utilizes an array of sensors and proprietary algorithms to help maintain perfect cooking temperatures, delivering sous vide quality without the hassle.
What Is Cinder Grill?
Dubbed "the world's first precision grill" by the manufacturer, Cinder Grill is a kitchen countertop device that uses advanced electronics, satellite-inspired software controls, and two ceramic nonstick plates to cook any fresh or frozen food to Michelin-starred perfection. How's it accomplish this?
In a nutshell, the website tells us the edge-to-edge cooking surface adjusts hundreds of times per second to control your food's temperature within one degree, and then notifies you via a smartphone app when it's done. As a result, you'll achieve better-than-sous-vide perfection, without the possibility of overcooking your food.
And unlike sous vide, you'll be able to sear food directly on the grill, while cooking three times faster.
If you enjoy perfectly cooked meat, but loathe the sous vide process, the concept behind Cinder Grill certainly seems compelling. But will it really deliver "Michelin-starred perfection" and solid value for the money?
Based on the information compiled during our research, we'll help you answer important questions like these.
How Does Cinder Grill Work?
To give you an idea of scale, Cinder Grill is 13" wide, 17" deep, and 7" high when closed, with a maximum vertical height of 18". Its top and bottom nonstick ceramic grill plates allow you to close the lid, similar to a countertop grill, or keep it open to use like a pan or a griddle.
Together, the company tells us you'll be able to cook anything you normally would using a frying pan, grill, griddle, or shallow stovetop pan, including meat, tofu, eggs, vegetables, desserts, and sandwiches. You'll even be able to defrost and cook foods from frozen, although it's not ideal for baking, boiling or simmering liquid, or steaming.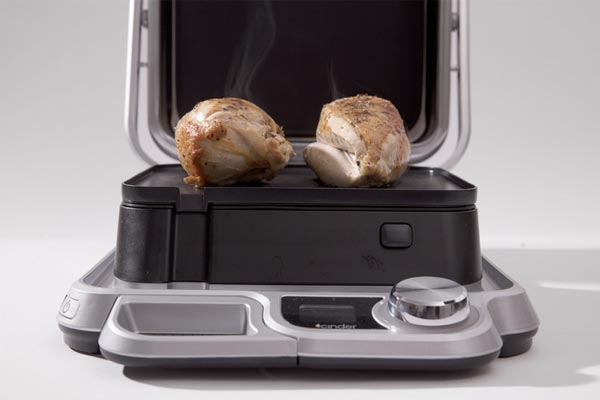 The Cinder countertop grill uses proprietary algorithms and sensors to help maintain a perfect temperature and reduce cooking time, compared to sous vide. Image credit: Palate Home Inc.
After pairing with the free mobile app (more about this feature next), Cinder will automatically calculate what temperature your food should be cooked at by measuring its thickness, and then use real-time algorithms to determine for how long.
When cooking, the grill's array of tiny heating nodes (the company describes them like mini light bulbs) built into its grill plates use "algorithmic prediction" to continuously turn on and off, thereby maintaining a precise temperature. And unlike sous vide, they also allow it to reach broader temperatures hot enough for searing.
Once Cinder determines that your food has reached its target temperature, you can choose to let it remain for up to two hours, with no loss in taste or texture. Or, you can remove the food from the grill, switch it to sear mode (450°), and then place the food back for 45 seconds. You can also manually sear the sides by using tongs and holding against the grill surface for 15-20 seconds.
After you're finished cooking, Cinder's grill plates can be wiped down with a damp paper towel, and the drip tray can be washed once it fills up.
We found the reference and tutorials in Cinder's FAQ extensive and useful if you're looking for more in-depth details.
Cinder Grill's Companion App
The Cinder app was only available for iOS at the time of our research (we're told an Android version is coming soon), although the grill can be used without it by setting the temperature manually using the dial. When your food is ready, it will beep.
Once connected wirelessly via Bluetooth, however, the app greatly expands the grill's functionality by allowing you to experience a "set-it-and-forget process."
You'll select the food you're cooking from a list, choose how you want it cooked (e.g. rare, medium, or well done), and then Cinder will measure your food and perform a thermodynamic calculation to estimate the ideal cooking time.
After you press "Begin Cooking," Cinder will do just that and notify you when it's reached the optimal temperature. If you're out of range when this occurs, the app will deliver the alert once you reconnect.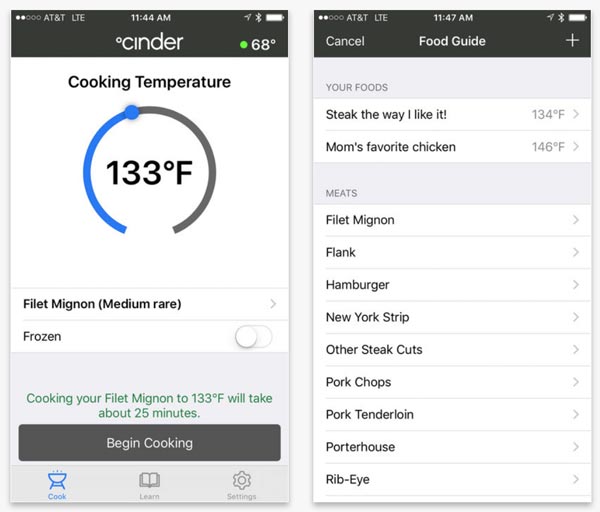 While Cinder's app isn't required, it opens a whole host of possibilities, including selecting your meat, cooking exactly how you like it, monitoring temperature, and receiving alerts. Image credit: Apple Corporation
How Much Does Cinder Grill Cost?
Cinder Grill is currently available for pre-order on Indiegogo, with an estimated November 2017 ship date. Retail models will arrive six to eight months later:
1 Grill: $499
2 Grills: $948
3 Grills: $1,397
According to Indiegogo's refund policy, you can receive your money back within 10 days of placing your order, as long as the campaign is still active.
Cinder's manufacturer provides a one-year warranty on all their grills for normal usage (excluding abusive usage, submersion in liquid, etc.), which they will repair or replace at their discretion.
In order to file a warranty claim, Palate Home Inc's customer service team can be reached at (877) 577-3361 or hello@cindercooks.com. Just who is this company?
What Do We Know About the Company Behind Cinder Grill?
Based in San Francisco, CA, Palate Home Inc. was co-founded in 2012 by CEO Eric Norman and CTO Jim Reich. Previously, Eric worked in product development at Toyota, while Jim specialized in expert controls and embedded systems engineering for Lockheed Martin and Xerox PARC.
While the Cinder Grill is the company's first, and currently only, product available to consumers, they claim to have already delivered 1,500 units. We didn't find any direct customer feedback, although many popular sites like CNET, PC Mag, Digital Trends, and TomsGuide provided their insight.
Overall, the device seemed to have achieved a mostly positive reputation among these sites, with common compliments referencing its ability to cook great-tasting food (even as well as sous vide devices like the Anova Precision Cooker), as well as its ease of use and cleaning.
On the other hand, common complaints were that the grill is expensive, bulky, and that the app leaves a lot to be desired from a features perspective (also, that it's currently only available for iOS devices).
Speaking of which, more than one pointed out that estimated cooking times could vary greatly; in some instances, they were flat out wrong (such as estimating a filet mignon's cook time at 175 to 228 minutes). Many also noted that the device's heavy lid might have a tendency to squash more delicate foods, like grilled cheese sandwiches.
In the end, while some of these popular sites noted that Cinder is a good value and some felt otherwise, most seemed to agree that it's a viable alternative to sous vide. However, they noted its current incarnation isn't quite as versatile, and its much higher price point could be a potential stumbling block.
In this same vein, are there competing options for less money?
Cinder Grill vs. Other Countertop Grills
Countertop grills are nothing new, so you're almost certain to find at least a couple options at local retailers with housewares sections, as well as hundreds more online. Granted, the majority of these are basic models without the Bluetooth connectivity or specialized algorithms featured in Cinder.
However, many of these could be found for between $30 and $60, which might represent viable options if you're simply looking for basic functionality at the most affordable price.
Moving up the cost ladder, we encountered options like the T-Fal OptiGrill ($130), which also promises to deliver "Precision Grilling Technology" using thermostatic sensors to monitor temp; to measure the thickness of food, and to manually alert you when your food is finished cooking. It even features a defrost function.
There are also options like the:
Cuisinart Griddler ($200) – Sear function, auto shutoff after two hours, easy-to-clean nonstick plates, heats up to 500°, includes recipe book.
Breville Smart Electric Grill ($300) – LCD display, 30-minute timer and notification, Element IQ sensors to detect food temperature, dual temperature zones, easy-to-clean removable plates.
How to decide?
As we can see from the (admittedly limited) competition, it largely comes down to your wants and needs. Just looking for something basic to quickly cook meats and veggies? If so, a bare-bones model priced well under $100 might fit the bill just fine.
If you're looking for more robust features, such as temperature identification and regulation, searing modes, and automatic alerts, it appears most of the "smart" grill competition delivers. What they won't provide—and perhaps Cinder's biggest distinguishing traits—is the same technology that maintains temperature within one degree, as well as its app connectivity.
Our Final Thoughts About the Cinder Grill
It's clear that Cinder's inventors stepped outside the box to provide sous vide quality food, without the time, multiple cooking surfaces (such as when searing meat), and potential mess often involved with traditional sous vide cooking.
So, if you're looking for something exactly like it, with the identical technology and app connectivity, it's currently the only game in town.
But when you consider that most competitors can be purchased for half the price (even top-tier sous vide immersion circulators like the Anova Precision Cooker and ChefSteps Joule can be found for between $150 and $200), only you can decide if this added technology is worth the extra money.
This is perhaps doubly important when you consider that, until Cinder Grill is released through traditional retail channels, no refunds are available via Indiegogo. On top of this, the crowdfunding campaign indicates shipping won't begin until November, which means you'll need to wait a while to have one in your kitchen.
Finally, with an open-lid height of 18 inches, this represents the current acceptable measurement between a countertop and the bottom of kitchen cabinets. As such, if you own an older home or have lower cabinets, this could present a space issue.
Cinder came through

By Robert H.

,

Los Gatos, CA

,

Jun 21, 2019
Verified Reviewer

They came through on the funding! Makes indoor grilling a cinch with great results almost always. I love the ease of use and convenience of being able to cook at a low temp and also sear on the same surface. It is unique product, so I would not recommend it to everyone, but there are unique strengths. It's super easy to grill a perfect chicken breast for dinner; it requires very little attention and my wife said it's the best chicken she's ever had!

Bottom Line: Yes, I would recommend this to a friend

---

Dry Sous Vide

By Tim H.

,

Owens Cross Roads, AL

,

Jun 19, 2019
Verified Reviewer

Cooks food to perfection! We call it a dry Sous Vide! We use it as often as possible. Was really glad when it showed up after the crowdsourcing campaign.

Bottom Line: Yes, I would recommend this to a friend

---

Advertisement

---

This is the bomb

By Ladson G.

,

Greenville, SC

,

Jun 17, 2019
Verified Reviewer

I have cooked bacon, smoked chicken thighs, smoked pork tender lion, grouper, scallops, and frozen steak. All were perfect and easy to do. Clean up is easy with a paper towel and a bleach wipe for other than the burner.

Bottom Line: Yes, I would recommend this to a friend

---

I keep getting amazed each time I use it

By Branka W.

,

Orlando, FL

,

Apr 24, 2019
Verified Reviewer

I am very familiar with the sous vide technique, and I own the Sous Vide Water Oven.

Replicating the same quality of prepared food without water was something unimaginable until I got the Cinder Grill.

I started with something simple - chicken breast. I put the chicken breast on the grill, set the temperature I used in my Sous Vide Oven and once it was done (Cinder would tell you when), I opened the grill and looked at the unappealing chicken breast (the same appearance from when I used the Sous Vide Water Oven). I had to check...I cut it in half, and it was tender and juicy inside. After searing it, it was perfect.

Ok, I thought, let's do salmon. Again, perfect, done to perfection. Now a big task...steak. I put the steak in, set the temperature, and I was amazed. Tender and juicy, the whole family was thrilled.

I made perfect sunny side up eggs. I need to warn you; ceramic plates are so smooth, I had to chase my eggs on it. Potatoes. I cut up some potatoes and set temp to 186F, checking for doneness. Once they looked good to me, I added some seasoning and seared it - so many compliments in one day.

I am thinking of getting a second Cinder since it takes some time for the food to be ready, and the ceramic grill plates can only accommodate three chicken breasts comfortably. The only thing that Sous Vide Water Oven does better than the Cinder Grill is that you can cook more food at the same time, and then freeze it for later. But why freeze it, when you can make it fresh every day?

With the app, it's the kind of cooking that's "set it and forget it." And yes, it can keep the same temperature and not overcook the food for a couple of hours after the food has reached the desired temperature.

Who would guess that something like this is possible?

I am very happy with this purchase.

Bottom Line: Yes, I would recommend this to a friend

---

Advertisement

---

Can't believe it

By Dan D.

,

Washington DC

,

Apr 7, 2019
Verified Reviewer

So it finally arrived after I assumed Cinder was dead in the water. Just finished cooking hamburgers on it. The grill cooked them to a perfect medium rare and held them at temperature until the rest of the meal was ready. I then followed the instructions to sear them and got a perfect crust without overcooking the burgers. They turned out great. I kind of can't believe it works as well as in the original promo videos - the ones that got me to back the company in the first place however many years ago. Thanks to Desora for rescuing this company. The technology is legit. Hopefully it stands up to years of use. Can't wait to try another meal on it.

Bottom Line: Yes, I would recommend this to a friend

---

Just received...

By Dave M.

,

Manassas, VA

,

Apr 2, 2019
Verified Reviewer

After waiting since 2017, I finally DID receive my Cinder this week. The thing is heavy; about 30 pounds, and I plan to use it tonight to cook some ribeyes. It MAY be the answer for those rainy nights when the outside grill is an uncomfortable option. I also downloaded the Android app for my phone even though it's only in beta, but it seems to talk to the Cinder ok.

The build quality is excellent; hopefully, the cooking quality is as well.

Bottom Line: Yes, I would recommend this to a friend

---

This company will take your money

I purchase my pre-order in January 2017, that's right, 2017. The delivery date was originally October 2017, which is ridiculous on its own, but I went for it anyway. In October I was told there were delays and it would be ready in November. Then again, it was pushed back to December.

Since then, and to this day, the company is non-responsive and refuses to update any of its customer on what is going on. They also refuse to refund anyone.

The company took in over $500,000 according to their IndieGoGo site page and has yet to produce anything. They have stolen thousands of customers money and have zero intent to provide a product.

Do yourself a favor and stay far away from Cinder Grill, the Palate Home company, and Eric Norman (CEO).

Bottom Line: No, I would not recommend this to a friend

---

Does this Cinder Grill company still exist?

By Helen Jason

,

Ventura, CA

,

Dec 12, 2017
Verified Reviewer

I was excited about the Cinder Grill. I placed a "preorder" for a discounted price via Indiegogo in April 2017 with an anticipated release date of November 2017. As November approached I had read some reviews and was having "buyer's remorse." According to the website for Cinder Grill, a refund would be given if the campaign is still active. It is still active on Indiegogo. However, I have not been able to contact the company. Emails sent to their email address cannot deliver and I found a phone number listed under the original company name and it is just a generic response, no company name given, with instructions to leave your name and number. No response received from that phone number.

Bottom Line: No, I would not recommend this to a friend

---