CircaCharge
Claimed This company has claimed this profile, is getting alerted on any new customer reviews entering this page, and may engage in dialogue with its customers to address their matters.

Companies cannot pay money or provide goods in order to remove or alter customer reviews.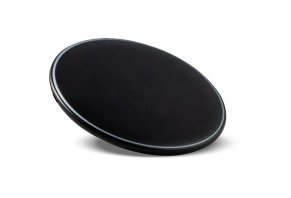 The CircaCharge wireless charging pad provides 5W of charging power for the latest Apple and Samsung phones, as well as adapters to fit a variety of older-model phones.
CircaCharge Reviews - Is it a Scam or Legit?
CircaCharge is a wireless charging pad that weighs less than a tenth of a pound and can charge your phone simply by laying your phone on it and letting the Circa's technology transfer power.
The advantage to these types of chargers is convenience. There aren't any cords you have to remember or any tangled messes inside a backpack or briefcase. Simply plug in the charger and lay your phone on top of it. When you're ready to take your phone, pick it up and use it.
According to the fine print available in the Terms and Conditions section of the CircaCharges, the company offering the product through the website is Strong Current Enterprises Limited. They are located in the Netherlands. At the time of publishing, their product lineup included a variety of electronics including a selfie ring light, a VR headset, as well as an indoor TV antenna.
In this review, we'll cover how the charger works, using the device's manual to provide accurate and clear information. After that, we'll talk about pricing and how the charger compares to similar products.
How the CircaCharge Works
According to CircaCharge's website, the device works with all Qi-enabled phones. U.K.-based Mobile Fun provided the following list of Qi-enabled phones available at the time of publishing:
Apple: iPhone 8 and up
Samsung: Galaxy S7 and up
Sony: Experia XZ2 and up
Huawei: Mate series
Google: Nexus 4 and up, all Pixels
Basically, if you have any of the phones on this list or Qi-enabled phones that don't appear on the list, you can put your phone on the pad and it will charge. The CircaCharge's manual also points out it can charge non-phone Qi-enabled devices like Apple Smartwatches.
If your phone is Qi-enabled, you can select the type of charger your phone uses and the company will send you a free adapter.
The CircaCharge and all charging pads use a technology called "inductive charging." Basically, LiveScience points out, the charging pad creates an electromagnetic field it uses to transfer power to your phone's battery.
One of the questions we think is pretty important as you consider a wireless charging pad is how quickly they charge compared to cords.
While it's hard to say how quickly the pad can charge your specific phone, we were able to find an article from How-to Geek that indicates a Samsung S6 could go from a 0% charge to a 100% charge in about 1.5 hours with a cord and 3 hours with a charging pad. In other words, the pad took twice as long.
Your CircaCharge will ship with a micro-USB cord and an adaptor if you selected one during checkout.
CircaCharge Pricing and Return Policy
Pricing for the CircaCharge focuses on quantity discount and, in that sense, plays to the idea that you'll more than one charging pad so you can put them in various parts of your home -- the kitchen counter and your nightstand, for example:
One charger: $49.99
Two chargers: $92.99
Three chargers: $115.99
Four chargers: $147.99
Five chargers: $173.99
The site labels their five-charger deal as the "Best Deal" because each charger costs $34.80 as opposed to the $49.99 you'll pay if you buy one charger. Remember, this price includes a free adapter if you need one.
It's crucial that you understand that all chargers are sold As-is, which means you cannot get a refund.
If you need to make a return, you have 30 days from the day you receive your charger to do it. You'll need to send the charger back to CircaCharge to get your refund. The company decides whether or not you'll get a return and, if they approve it, you can only get an exchange or store credit.
Now if you're a resident of a country in the European Economic Area, you have the right to a refund if you process it within 14 days of receiving the product.
If you aren't comfortable with their no-refunds policy, you have the option of purchasing a limited lifetime warranty for an additional $11.60.
We read through the fine print and found that the warranty will cover "defects in materials and workmanship", which means the warranty won't cover any damage resulting from normal wear-and-tear or improper use on your part.
To define improper use, we read further and found that any damage due to weather or water voids the warranty. The device's manual says you should keep it away from all liquid, smoke and steam, too. We would imagine that a faulty charger due to any of those environmental factors could void the warranty.
How the CircaCharge Compares to Other Wireless Charging Pads
Watching a commercial or clicking on an ad for a charger like CircaCharge can be tricky because the deals may seem so appealing you don't even think about how much other wireless chargers cost.
We've checked out three of the top-rated on wireless charging pads on Amazon to help you see where the CircaCharge's pricing fits in:
Yootech Wireless Charger: $15.99, 4.4 stars from more than 3,800 reviews
Anker 10W Wireless Charger: $21.99, 39 stars from more than 2,100 reviews
Belkin Boost Up Wireless Charging Pad: $44.99, 3.8 stars from more than 800 reviews
The main thing we noticed when doing our research is that both the generic and brand-name chargers we looked at were cheaper than the CircaCharge. In fact, the Yootech charger was three times cheaper than the CircaCharge.
The other difference we saw was that the three chargers on Amazon were either 10W (Anker) and 7.5 W (Yootech, Belkin), whereas the CircaCharge is a 5W charger. Wattage plays a role in how quickly the charger can charge a phone but it's unclear how much faster a 7.5W or 10W charger would charge your phone over a 5W charger.
In our opinion, there are better values to be had on Amazon.
The Final Word: Our Closing Thoughts About the CircaCharge
Based on our research of this product, its return policy and its warranty, we believe there are some clear takeaways.
First, we think that wireless charging pads on Amazon.com provide better value and have a more beneficial return policy than the CircaCharge's as-is, no-refund policy.
Second, we think some of the top-ranked chargers on Amazon provide value, as they seem to offer the same function as the CircaCharge but at a significantly cheaper price.
Finally, we believe that, for those who like to invest their money in name-brand products, it may benefit you to check out the Belkin Boost Up charging pad, as it's a few dollars cheaper than the CircaCharge. Furthermore, you can get the 5W version of the Belkin pad at Target for $23.39.
Invoice

By Peter G.

,

Romania

,

Sep 4, 2019
Verified Reviewer

I have written to them about my shipping and tracking...no reply and no invoice given. As I used my card I'll go to my bank and ask to charge back the sale. All clients forget PayPal, just go to your card issuer and request a chargeback. The bank must comply based on Visa and Mastercard rules.

Bottom Line: No, I would not recommend this to a friend

Sep 8, 2019

Hi, Peter. We're here to help you but we are unable to pull up your record. We encourage you to send us the email address used when the order was placed or the shipping address so we can look it up. Thank you!

---

Waste of time and money

By John T.

,

St Paul, MN

,

Jul 18, 2019
Verified Reviewer

I ordered 2 units of the charging pad + Adapter Type iOS for a total of $92.99. After receiving the units I tried both pads and neither provided any charging to my iOS phone. I then left on a trip. Upon returning I have called the company reporting this issue. I was given the notice that it has been more than 30 days and they will accept no return or refund. READ THE FINE PRINT! This, in my opinion, is junk with other cheaper options available. The insinuation in the online presentation that this product will somehow fix the slowing of iOS software is ludicrous and only a hook to get a customer interested. I am the sucker.

Bottom Line: No, I would not recommend this to a friend

Jul 21, 2019

Hi John. We hear your feedback. We follow a standard operating procedure when it comes to processing refunds. We understand you are frustrated that the refund has been denied due to exceeded time frames. We can still offer you a discount to make it up for the inconvenience. We look forward to hearing back from you.

---

Advertisement

---

CircaCharge from fulfillment center for Hong Kong

By Chance B.

,

Boise, ID

,

Jun 3, 2019
Verified Reviewer

Wow! I just went through this for over an hour with my bank rep on the phone with me. First they say my order was over 30 days old. I reminded them that my package came with no paperwork, not even a bill of sale or a contact number. I advised them I had emailed them 4 times with no response. And finally win when I sent the 5th I saw they had blocked me. How dare they.

So I reached out to my bank and they located the shipping company what a bunch of horrible people. Finally, I got them to give me a refund only after I return this piece of $64.00 nothing.

Then the real shock - I have to pay for the return. Can you believe it, they block me, their item is defective, and I have to PAY.

They are not afraid of BBB or me going on FB and warning. They were so arrogant.

Bottom Line: No, I would not recommend this to a friend

Jun 3, 2019

Hi Chance. We are sorry to hear about this feedback. We are here to offer our assistance. Could you please send us the order detail and/or email address used when you purchased so we can further check on this? We do have a 30-day Money Back Guarantee which entitles you to a full refund of an unsatisfactory product as long as it is returned to us within 30 days from the delivery date. Moreover, the return policy is made transparent to our customers as it is outlined in the terms of services being agreed upon prior to checking out. You may review it here:

https://www.dfydaily.com/terms.html

We sincerely apologize for the inconvenience and we look forward to hearing back from you soon.

---

Returned, did work, no credit issued

By Robert S.

,

Duluth, GA

,

Jun 3, 2019
Verified Reviewer

I bought it, it didn't work. I called to return it, they offered me a 20 percent off to keep it, I said it doesn't work. Three weeks go by, no credit. I returned it following instructions, each time I call they say it will be done today and it is not done. Disreputable and dishonest.

Bottom Line: No, I would not recommend this to a friend

Jun 3, 2019

Hi Robert. We are sorry to hear about this feedback. We are here to offer our assistance. Could you please send us the return tracking number so we can directly follow this up with the Returns Department and help expedite the process of refund issuance?

---

Advertisement

---

Keeps going and off

By Rusty R.

,

Saint Paul, MN

,

Jun 3, 2019
Verified Reviewer

Received two of these as gifts. Followed directions and tried them out. They seemed to charge the iPhone okay, but the phone kept going on and off while charging. This continued dinging was very annoying. No problem when I used the old cord to charge my iPhone.

Bottom Line: No, I would not recommend this to a friend

Jun 10, 2019

Hi Rusty. We are sorry to hear about this feedback. If you think you have received a defective item, please let us know so we can further assist you. You may send us an email at support@circacharge.com with the order details. We look forward to hearing back from you.

---

I wouldn't recommend this company. Total scam and PayPay no help.

By Debbie S.

,

Warsaw, MO

,

May 16, 2019
Verified Reviewer

I purchased 2 units with lifetime warranties to use with my iPhone 6s Plus phones. They did not work. I contacted the company and was sent an email on where to return them, which I did in the original packaging and with the invoices. I was not aware that the order originated in Hong Kong until I received my credit card bill with international charges on it. If you return anything to this company make sure you have copies of everything you have but ESPECIALLY THE POST OFFICE TRACKING. Without that, the company will say they never received it even if you already tracked it to them and you will be out the product and your money.

Bottom Line: No, I would not recommend this to a friend

May 19, 2019

Hi Debbie. We are sorry to hear about this feedback and that you did not enjoy your purchase. We looked into and it shows that your order has already been refunded via Charge Back by your bank on May 17th. Please check with them directly to see how soon it will be reflected in your account. We'd also like to take this chance to apologize for the inconvenience caused by the whole process. We sincerely appreciate your patience and understanding.

---

Returns of CircaChargers which do not work

By Karen S.

,

Western Australia

,

May 14, 2019
Verified Reviewer

I have had the same issue as another reviewer - I ordered a special and received 4 CircaChargers at $177.57 but they do not work at all with any of the iPhones stipulated. I called CircaCharge and they sent me shipping details to a Hong Kong address which does not appear to exist. I emailed them about who carries the costs for UPS or USPS and also how they will credit my account given they have not requested these details and to-date I have not heard back and have just resent the email.

This to me is fraud!

Bottom Line: No, I would not recommend this to a friend

May 14, 2019

Hi Karen. We are sorry to hear about this feedback. We'd like to assure that this is a legit entity, we are not engaging in any form of fraudulent business practice. To make sure that all your concerns are covered and straightened out, we have sent you an email to the email address you have used when you ordered. We hope to hear back from you and settle things as soon as possible.

---

Incomplete product

By Jean D.

,

France

,

Apr 19, 2019
Verified Reviewer

I ordered the product (adapter with a charger). I received only the adapter and wrote to the support. Three weeks later, I got a mail telling me that the product has been delivered with the reference of the delivered adapter. I am writing back to them but I doubt a reply...I will wait and see and will get back.

Bottom Line: No, I would not recommend this to a friend

Apr 21, 2019

Hi Jean. We are sorry to hear about this. To make sure that all your concerns are covered and straightened out, we sent you an email to the email address you have used when you ordered. We look forward to your response.

---

Company is a fraud

By Susan R.

,

Santa Fe, NM

,

Apr 12, 2019
Verified Reviewer

I ordered the charger and paid $58.94 through PayPal and received free shipping. When the product arrived, it did not work. I called their customer service number and they offered me 30% off to keep the product. I declined. They sent me an email with return instructions. The instructions said I could only return via USPS or UPS, not FedEx. I went to ship the return UPS and they told me the address was not valid. So I called customer service and they said "this never happens" and offered me 30% off. I then opened a dispute with PayPal. PayPal instructed me to return the product to HONG KONG - the only address they have for the company. The cost to return the product to HONG KONG is $98 - more than the price of the product.

Not only is this company a fraud, but paying with PayPal doesn't provide any protection. DON'T ORDER FROM THIS COMPANY.

Bottom Line: No, I would not recommend this to a friend

Apr 14, 2019

Hi Susan. We are sorry to hear about this feedback. First, we'd like to assure you that this is a legit entity. We are not in the business of scamming people as we understand how earned money is. Second, w do have a US return address and you may use UPS or USPS to send back any defective or unsatisfactory items either or replacement of for refund. Please know that we are taking all your feedback seriously as this will help improve our overall services. To make sure that all your concerns are covered, we have sent you an email to the email address you used when you have ordered.

---

Not functional charging pad devise for my 7 Plus as I thought!

By Ellie A.

,

Whitehorse, Yukon Territory, Canada

,

Apr 6, 2019
Verified Reviewer

In receiving my order in a timely manner, awesome. I received four charging pads with three wireless charging adapters (?), what was I thinking! I now realize these charging pads will not work with my cell phone 7Plus as advertised. It will not do for my purpose. My cell has an Otter Box protector. This was not noted on your advertisement, as I do not recall seeing this advertised, just it would work with 8/7Plus. I did send an email requesting to return for full refund (to my Visa). I now go onto the Circa Charger website and read about "No Refund" Store Credit! What else do they carry? I will ship back in knowing I will receive my full credit back to my Visa. I did open one of the charge pads but realized it was useless for my purpose of wireless charging, doesn't work with Otter Box protector, which is valuable for my cell phone protection. I am just sick that I didn't know about no refund policy. Do an honest person who ordered by mistake a full refund my order to my credit card, respectfully.

Bottom Line: No, I would not recommend this to a friend

Apr 7, 2019

Hi Ellie. We are sorry to hear about this feedback. To make sure that all your concerns are addressed and straightened out, we have sent you an email to the email address you have used when you place the order online. We look forward to hearing back from you and settling things as soon as possible. Thanks!

---

Total sham

By B B.

,

South Carolina

,

Mar 22, 2019
Verified Reviewer

This product and company are a total sham. DO NOT buy this product! I ordered three as Christmas gifts. After over six weeks they never arrived. I tried contacting the company to cancel the order but they wouldn't let me. The products finally arrive and I immediately emailed them to start the return process. They offered a 30% refund, which I refused and stated I needed instructions on how to return. They never responded after multiple emails. They finally responded after waiting for 30 days only to inform me that I can't return it because it's been over 30 days.

This is how crazy shady this business is. I emailed them multiple times to get return instruction the day of delivery. CircaCharge is a sham business only here to take your money and run. Avoid at all costs!

Bottom Line: No, I would not recommend this to a friend

Apr 4, 2019

We are truly to hear about this feedback. We understand where you are coming from and you have every right to be upset because of the long delay, however, we'd like to assure you that this is a legit entity. We are not in the business of scamming people as we understand how hard-earned money is. Should there be any need to communicate further, please send us your order details so we can pull up your record. We'd also like to take this chance to sincerely apologize for the inconvenience this has caused you.

---