Citi Double Cash Card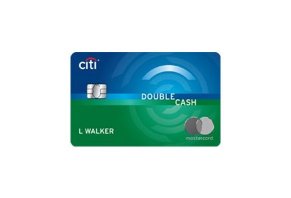 Summary
Boasting the best cash back rate among popular cash rewards card, the Citi Double Cash can earn the average household around $600 in cash rewards per year.
Citi Double Cash Credit Card Review: A Detailed Look
Simplicity is an underrated selling point. Not everyone wants a car with the most features or a television with the most bells and whistles. In an age where complexity dominates most industries, a stripped-down product can be a breath of fresh air.
That holds especially true in the cash-back card world, where earning rewards can feel like assembling a piece of IKEA furniture.
When you have to jump through hoops and follow a host of hyper-specific rules just to earn big points, does there come a point where the whole process just isn't worth it?
Thankfully, there are options for those who value simplicity. The Citi Double Cash Back is one of the most popular – so how does it compare to its more complex competitors? Read our review for a (somewhat) simple breakdown.
Quick Facts

Pros: 2x cash back rate may earn $600 a year, competitive APR, 0% APR for 18 most on balance transfers.

Cons: No sign-up bonus and a 29.99% penalty APR.

Estimated Yearly Cash Rewards: $600

Sign-Up Bonus
Annual Fee
Regular APR
$0
$0
13.99% – 23.99%
Rewards Rate: 1x on purchases, 1x on balances paid
How Citi Double Cash Back Card Works
The Citi Double Cash Back card gives 2% cash back on all purchases, one of the best rates available. However, you don't earn the full 2% at once. You earn 1% when you spend the money and 1% when you pay off the balance.
This arrangement rewards cardholders who pay their balance in full every month, providing an incentive to people who would normally pay less than the statement balance. That's a unique selling point for those who need an outside push to make responsible financial decisions.
There are no special cash back categories with this card. You don't have to remember if gas stations are worth more than grocery stores or lookup which category you chose for the current quarter – it's a straight 2% cash back on all purchases.
There's also no limit on how much cash back you can earn. If you spend $10,000 in one month, you'll earn 2% cash back on the entire $10,000.
The Citi Double Cash Back Card does not have a sign-up bonus, an oddity in the cash back world. Most other cash back cards have a bonus between $150 and $200.
This card targets consumers with good to excellent credit, so only those with credit scores above 700 will be eligible. Other factors, like income, will also be considered.
Rates and Fees
There's no annual fee, but the card does have a 3% foreign transaction fee. The foreign transaction fee will apply if you're traveling abroad or paying in a foreign currency.
The card offers 0% APR for 18 months on balance transfers, one of the best current promotions for cash-back cards, and a huge selling point for anyone paying hefty interest rates on another card. Most alternative cash back cards cap 0% APR at 15 months or less.
The 0% APR only extends to balance transfers, not new purchases. If you buy something using this card and don't pay it off by the due date, you'll still owe the regular purchase APR.
New homeowners with many large purchases on the horizon or a couple paying for wedding expenses should look for a card with 0% APR on purchases.
The APR for new purchases is a variable rate between 13.99% – 23.99% depending on your credit score and other factors. That APR will also apply to the balance transfer if it's not repaid within the first 18 months.
There's a $5 or 3% balance transfer fee, whichever is greater. A $1,000 balance transfer would cost $30, for example. Balance transfers are ineligible for cash back. You must complete the balance transfer within the first four months of opening the card.
Citi will charge a penalty APR on late or returned payments, up to 29.99% APR. The penalty APR is in addition to a late payment fee of up to $40.
Rewards and Perks
Cardholders must pay their bills on time in order to receive the full 2% cash back. Cardholders who pay late will only get 1%. That applies to all purchases made during this statement period.
For example, if you spend $2,000 on the card in January and pay late, you'll only earn 1% cash back on that $2,000. To avoid this, set up automatic payments or create multiple reminders.
Cash back rewards may be redeemed as statement credit, deposited directly into a bank account or sent via check.
If you choose one of these options, the minimum redemption amount is $25. Other cash back cards often have no minimum redemption amount, so this is a small drawback.
Cardholders can also convert cash back into Citi ThankYoupoints, which can be used for gift cards to retailers and restaurants.
ThankYoupoints can also be used for travel purchases through airlines and hotels. You can also transfer points to travel partners like JetBlue and Virgin Atlantic.
Cardholders get free access to their FICO credit score, which is updated every month. This feature is similar to other card providers like Discover.
How it Compares to Other Cash Back Cards
If you spend $3,000 in one month with this card, you'll earn $60 in cash back. If you spent that same amount using the Chase Freedom Unlimited card, you'd only earn $45.
On the other hand, the Chase Freedom Unlimited card has a $200 sign up bonus along with 1.5% cash back. You would have to spend $40,000 on the Citi Double Cash Back card before you'd earn the same amount as you'd get with Chase Freedom Unlimited's sign-up bonus and cash back.
That comes out to $3,333.33 a month for a year or $2,222.22 for 18 months. This may be difficult for a single person, but more doable for a family who puts all their transactions on the card.
How to Maximize the Citi Double Cash Back Card
The best way to maximize this card is to open another credit card with higher cash-back rates for certain categories, like gas or groceries. Use that card for those special categories and the Citi Double Cash Card for everything else.
For example, the Chase Freedom card has 5% cash back on categories that rotate every quarter and 1% on all other purchases. You can use the Chase Freedom card on the 5% categories and the Citi Double Cash for every other purchase.
This requires solid organizational skills and forethought but it is the best way to maximize your rewards.
The Bottom Line
One of the only downsides to the Citi Double Cash Back card is the lack of sign-up bonuses, which most other cash-back cards have.
As shown above, it takes a long time for 2% cash back to outweigh a standard $200 sign-up bonus such as the one that comes with the Bank of America Cash Rewards Card.
Consumers who always pay their bills in full and want a straightforward card will love the Citi Double Cash Back card. The rewards plan is one of the simplest in the game, and there's also no limit on how many rewards you can earn.
If you want to earn cash back without sweating the details, this is the card for you.
Frequent travelers may want to avoid this card. Even if they earn the full 2% cash back, they'll still pay a 3% foreign transaction fee. Even those who fly domestically should look for another card, preferably with free checked bags or airline status.
If you're someone who likes to earn cash back but has trouble paying your balance in full each month, this card offers a unique incentive to be responsible. At the same time, anyone who has trouble paying their balance may want to consider a debit card instead.
Customer Reviews