Citi Prestige Card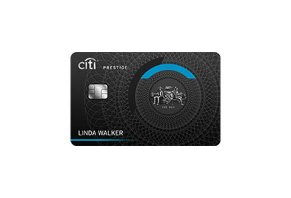 Luxury travelers who pay their credit card bill on time will enjoy the annual points they earn with the Citi Prestige, as well as a series of powerful redemption options that include a $250 travel credit and JetBlue points transfers.
Citi Prestige Card Review: Is It Worth the Annual Fee?
The Citi Prestige Card is a luxury rewards credit card whose multiple travel-focused rewards bonuses could be highly profitable for someone who uses the Prestige as their primary travel card.
What makes this card even more powerful is that it has more than a dozen airlines to which you can transfer your points.
Now, while the card has multiple travel-friendly benefits it does have some drawbacks, which we'll point out over the course of this review.
We'll help you see both the good and bad of this card by analyzing how its rewards work, talking about its travel-related benefits, then working through its rates, fees and how the card compares to six other luxury rewards cards.
At the end of our review, we'll give you our opinions about the card's overall strengths and weaknesses along with who we think it's good for.
How the Citi Prestige Card's Rewards Work
Quick Facts

Pros: Excellent yearly rewards and 15 different airline transfer partners, along with a formidable yearly travel credit.

Cons: Of its 15 airline transfer partners, only one is a domestic airline. Annual fee amount is the highest. Has a penalty APR.

Estimated Yearly Travel Rewards: 60,136 points

Sign-Up Bonus
Annual Fee
Regular APR
50,000 points
$495
17.99% to 25.99%
Rewards Rate: 5x on airfare, travel agents and dining; 3x on hotels and cruises; 1x on everything else

All rewards cards work the same way. Nearly every purchase you make earns rewards points or miles. The credit card company automatically calculates the rewards you earn on each purchase. Then, either on a daily or monthly basis, the company deposits those rewards to your rewards balance. At any time, you can log into your account and view your rewards balance.
Exactly how many points you earn per purchase and how much you can earn in rewards each year is what sets various cards apart.
The Citi Prestige Card features five different rewards rates:
5x on airfare and travel agents
5x on dining
3x on hotels
3x on cruises
1x on everything else
Using spending data from the Bureau of Labor Statistics, Cruise Market Watch and our estimation of $1,500 spent on airfare and $1,500 on hotels each year for avid travelers, we believe this card can earn you around 60,136 points per year.
The card's most profitable categories are airfare/travel agent and dining categories. We called Citi to clarify the 5x bonus on airline purchases. The phone agent told us that the 5x rate applies to any airfare purchases made through an airline's website, a travel agency (including third-party sites like Expedia) and a tour operator.
Their dining category includes restaurants, fast food, bars, and coffee shops but excludes the following types of establishments, per the card's fine print:
Bakeries
Caterers
Restaurants and/or cafes located inside hotels or stores
Online restaurant delivery services
In addition to these spending bonuses, you also can earn 50,000 points if you spend $4,000 in the first three months you own the card. Our research of the Citi Premier Card, another Citi travel card, indicates it could take up to eight weeks for the points to arrive.
The Citi Prestige's fine print doesn't say how long it will take for the 50,000-point sign-up bonus to arrive in your account. Our research indicates that it could take anywhere between eight and 12 weeks.
Based on all of this data, we believe that you earn around 110,000 points a year. Citi calls these points "ThankYou" points because the name of their rewards redemption program is called "ThankYou". This is important, as how you can redeem your points tends to determine their true value.
Citi allows you to redeem your points in several ways but the three we want to focus on is airline partners, hotel nights and cash.
The ThankYou program has 15 different airline travel partners, which means you can transfer your ThankYou points to the frequent flyer programs of the following airlines at a 1:1 rate:
Avianca Airlines
Air France/KLM
Cathay Pacific
Etihad Airways
EVA Air
Garuda Indonesia
Jet Airways
JetBlue Airways
Malaysia Airlines
Qantas Airways
Qatar Airways
Singapore Airlines
Thai Airways
Turkish Airlines
Virgin Atlantic
You'll notice that there is only one domestic airline on this list: JetBlue. All the rest are international airlines that may or may not have routes within the United States. This is an important detail if the majority of your air travel takes place in the United States.
That being said, our research indicates JetBlue tends to provide great value for your frequent flyer miles as well as excellent customer service, two big perks for those who fly often.
Transferring your points is simple. Log into your Citi account, check out how many ThankYou points you have, choose the option to redeem them and then pick the transfer option.
According to Upgraded Points, sending your points to JetBlue is a nearly instantaneous transaction whereas it can take up to six days for your points to show up in your Etihad account. Interestingly, the Citi Prestige's fine print says it can take up to 14 days for any points transfer to complete.
Additional Citi Prestige Card Travel Perks and Benefits
In addition to earning rewards on purchases and through a sign-up bonus, the Prestige provides a series of benefits specific to air and hotel travelers. First, each year Citi will automatically reimburse you for up to $250 worth of travel purchases, which includes airfare purchases, hotel stays, ferries, cruises and more.
Second, you get a complimentary Priority Pass Select membership, which gives you free access to Priority Pass airport lounges. There are more than 1,200 airport lounges in this network, 38 of which were located in the United States at the time of publishing.
Third, Citi will automatically reimburse you for the application fee for either the Global Entry ($100) or TSA PreCheck ($85) programs, both of which, among other things, give you expedited security check-ins at airports. If you apply to both, the first application fee that shows up on your card is the one Citi reimburses. Remember, you have to use your Citi Prestige card to pay the application fee in order for Citi to reimburse you.
The final benefit you get is related to hotel bookings. Citi's ThankYou program has an in-house travel site through which you can book flights, hotels and more. When you book at least four consecutive hotel nights through the ThankYou portal, Citi will give you one night free. You can use this benefit up to twice a year.
Keep in mind that you're booking these hotel nights with points that Citi converts to cash at a rate of one cent per point. A hotel room that costs $150 in the ThankYou portal will require 15,000 points.
The Citi Prestige Card's Rates and Fees
We believe that the Prestige can earn you tens of thousands of points per year you can redeem for a variety of travel-related purchases. However, if you aren't careful, you could end up paying just as much in rates and fees as you earn in free travel.
We'll explain this after we give you a quick list of the card's rates and fees:
Interest rate for purchases and balance transfers: 17.99% to 25.99%
Interest rate for cash advances: 27.49%
Penalty interest rate: Up to 29.99%
Balance transfer fee: $5 or 3%, whichever is greater
Cash advance fee: $10 or 5%, whichever is greater
Foreign transaction fee: None
Late/returned payment fee: Up to $39
Annual fee: $495
Authorized user fee: $75
The key rates in this section are the interest rates (APR's) for purchases and balance transfers, as well as the penalty APR. Our research indicates that those who use their credit cards on a regular basis are more likely than not to carry a balance.
"Carrying a balance" refers to the money that piles up on your credit card balance as a result of not paying your balance off in full every month.
When that happens, Citi charges you an interest rate of between 17.99% and 25.99%. The following chart reveals how much three interest rates will cost you over the course of a year based on five different average daily balances:
| | 17.99% APR for one year | 20.24%* APR for one year | 25.99% APR for one year |
| --- | --- | --- | --- |
| $1,000 daily balance | $179.90 | $202.40 | $259.90 |
| $2,000 daily balance | $359.80 | $404.80 | $519.80 |
| $3,000 daily balance | $539.70 | $607.20 | $779.70 |
| $4,000 daily balance | $719.60 | $809.60 | $1,039.60 |
| $5,000 daily balance | $899.50 | $1,012.00 | $1,299.50 |
* This is an estimated mid-range APR, as Citi's fine print doesn't specify what the Prestige card's mid-range APR is.
Our earlier analysis revealed we think the Citi Prestige can earn you around $600 a year in travel rewards. The interest chart above indicates you can pay as much or more than that simply by carrying a $3,000 balance for a year at an interest rate of around 20%.
Our advice is to make sure you pay off your balance in full every month because even a relatively small daily balance can accrue more in interest payments than what you earn in rewards.
Another thing we'd like to point out is that the Citi Prestige card has a penalty APR that kicks in after your first late or returned payment.
The new APR will most likely be 29.99% and will apply to any future balances you rack up, not the balances you already have.
This APR can prove extremely costly if you often pay late and build balances on cards over time. Carrying a daily balance of around $1,000 for a year at 29.99% will rack up nearly $300 in interest payments.
How the Citi Prestige Card Compares to Other Luxury Credit Cards
The Citi Prestige is one of seven of the most popular luxury credit cards on the market. Each card has its own mix of rewards, benefits and rates and fees. The following chart reveals those mixes and provides a backdrop from which we'll draw some conclusions about the Citi Prestige:
| | Citi Prestige Card | Mastercard Black Card | Platinum Card from American Express | Chase Sapphire Reserve | U.S. Bank Altitude Reserve Visa Infinite Card | Delta Reserve Credit Card | United MileagePlus Club Card |
| --- | --- | --- | --- | --- | --- | --- | --- |
| Sign-up bonus | 50,000 | None | 60,000 points | 50,000 points | 50,000 | 40K miles/10K Medallion Qualification Miles | 50,000 miles |
| Rewards rates | 5x/5x/3x/3x/1x | 1x on all purchases | 5x/5x/1x | 3x/3x/1x | 3x/3x/1x | 2x/1x | 2x/1.5x |
| Yearly points on $35K annual spending | 60,136 points | 70,000 for airfare, 52,500 for cash | 47,000 points | 47,730 points | 41,000 points | 36,500 miles | 53,250 miles |
| TSA/ Global Entry reimbursement | $100 | $100 | $100 | $100 | $100 | Free Sky Priority expedited security | Free Premier Access expedited security |
| Airline/ travel credit | $250 | $100 | $200 | $300 | $325 | Priority boarding, first bag free, 20% savings on in-flight purchases | Priority boarding, first and second bag free |
| Travel Partners | 15 (14 international, 1 domestic) | None | 21 (19 int'l, 2 domestic, 3 hotels) | 12 (6 int'l airlines, 3 domestic, 3 hotel) | None | 1 | 1 |
| Lounge access | Priority Pass Select | Priority Pass Select | AmEx Centurion, Delta SkyClub, Priority Pass Select, three others | Priority Pass Select | Priority Pass Select | DeltaSkyClub | United Club |
| APR | 17.99% to 25.99% | 17.24% | N/A | 19.24% to 26.24% | 17.99% | 17.99% to 26.99% | 18.24% to 25.24% |
| Annual fee/ Authorized user fee | $495/$75 | $495/$195 | $550/NA | $450/$75 | $400/$75 | $450/NA | $450/NA |
We believe that this chart shows the strength of the Citi Prestige. Here's a quick list of how the card ranks in four different categories:
Sign-up bonus: Tied for #2
Yearly rewards: #2
Yearly travel credit: #3
Travel partners: #2
APR: #2
One thing we want to point out is that the various options you have for redeeming points mean that the Prestige's yearly rewards are more lucrative than the cash value of the points may indicate. For example, if you take advantage of the two fourth-night-free promotions, you could book $800 worth of hotels for $600 if you book a $100-per-night room.
The same principle applies to booking flights. Our research of a round-trip flight from Orlando to New York indicates you could book a flight for 16,900 ($169.00) and $11.20 in fees, for a total of $180.20. The same flight would cost $241.30 in cash, which means transferring 16,900 ThankYou points to JetBlue gives you a value of around $241, which is a great deal.
We believe that the Citi Prestige's transfers are better than the Platinum Card from American Express because all its travel partners are 1:1, whereas some of the Platinum Card's partners are 2:1, meaning 10,000 ThankYou points are only worth 5,000.
Also, the points are far more versatile than what you get with the Delta Reserve Credit Card and the United MileagePlus Club Card card.
However, the points transfer partners aren't quite as good as what the Chase Sapphire Reserve offers. You have six international airline choices, three domestic airline choices as well as three hotel choices. The variety here is more appealing for those who travel domestically, although the Sapphire Reserve's yearly points aren't nearly as high as the Citi Prestige's.
This chart also reveals some of the card's weaknesses, too. Its annual fee is tied for the highest of the seven cards and it is the only card of the seven that has a penalty APR. Its best APR is equal to what you'd get with the U.S. Bank Altitude Reserve Visa Infinite Card but its penalty APR makes it more of a risk.
So, while the card's yearly point totals are particularly lucrative if you take advantage of the fourth-night-free promotion or you send the points to your JetBlue account, a 29.99% penalty APR could end up costing you more in interest than you earn in rewards.
The Bottom Line: Pros and Cons and Who the Citi Prestige Is Good For
Based on our research, we believe the Citi Prestige has come clear strengths and weaknesses.
First, the card can provide a tremendous amount of yearly rewards because of how well it rewards airline and dining purchases. We showed earlier that JetBlue points redemptions give the Prestige's points considerable additional value, and that you can maximize the points for hotel bookings as well.
Also, the card's $250 yearly travel credit is better than average and applies to a variety of different purchases whereas the Mastercard Black Card's credit only applies to airline purchases.
The card's drawbacks, however, can be as costly as its benefits are lucrative. For example, it's the only card on the list that has a penalty APR. This feature could spell doom if you have a habit of paying late and build balances over time.
We believe the person who is the best fit for this card is either the international traveler who wants a card that provides transferrable points for international airlines, or the person who travels almost exclusively in the United States and likes (or doesn't mind) flying JetBlue. We also think the card is a great fit for someone who books long hotel stays at least twice a year.