Citizens Bank Student Loans Reviews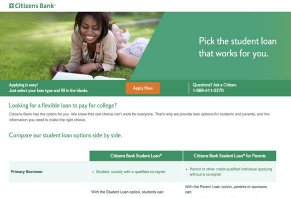 Citizens Bank Student Loans provide competitive interest rates for certain graduate students as well as parents who want to borrow loans on their child's behalf while along earning 0.50% rate discounts.
About Citizens Bank Student Loans
Citizens Bank Student Loans are private student loans for both undergraduate and graduate students looking for a way to fund their education.
The bank is one of several who promotes their student loans. Discover and Wells Fargo are two well-known names who offer their own style of student loans.
When you're deciding how you want to fund your education, a non-government entity like Citizens may seem like a good fit for you because you don't have to deal with what seem to be ever-changing government repayment programs.
However, just because a bank may seem like a simpler option doesn't always mean that it's the best option for you.
Over the course of this review, we're going to help you figure out if Citizens is right for you by analyzing the following aspects of their student loan program:
Student loan for students
Student loan for parents
How the rates compare to federal loans
Advantages and disadvantages of private loans
At the end of our review, we'll give you our general thoughts about the bank's pros and cons as it relates to their student loans.
Citizens Bank Student Loans for Students
Both the federal government and private lenders like Citizens Banks provide student loans for students and parents. The terms of those loans are a bit different, which is why we've split this review into two sections.
For each type of loan, we'll review the loan amounts, repayment periods, interest rates and more.
Citizens Bank offers student loans for several different types of students: undergrad, graduate, law/MBA and a those getting a doctorate in a medical program.
The reason there are four different types of loans is that the bank has different interest rates and repayment terms for these loans. In theory, a law or MBA student has a better chance of getting a higher-paying job than someone who is just starting out as an undergrad. Therefore, the bank is willing to provide better rates to the law or MBA student (more on that later).
Loan amounts range from $1,000 to $295,000. Within this range there are restrictions based on the type of education you're getting:
Undergraduate: $100,000 max for Citizens loans/$150,000 max for Citizens + federal loans
Graduate: $110,000 max for Citizens loans/$150,000 max for Citizens + federal loans
Law/MBA: $180,000 max for Citizens loans/$225,000 max for Citizens + federal loans
Medical doctorate: Up to $295,000 max for Citizens loans/up to $350,000 max for Citizens + federal loans
As you can see, Citizens will limit the maximum you can borrow from them for student loans.
Also, they have varying maximum levels for medical students borrowing money for their doctorate degrees. According to their fine print, the type of degree you're getting is what determines the max amount you can borrow:
"Aggregate limits up to $350,000 for MD, DMD/DDS, OD, DO, DPM, PharmD, and DVM degrees. Aggregate limits up to $180,000 for cardiac perfusion, chiropractic, cytotechnology, nurse practitioner, occupational therapy, physical therapy, and physician assistant degrees."
Just like loan amounts, your interest rates will change depending on the amount you borrow, the type of degree you're getting and your credit scores. The better your credit scores, the better the rate you can get.
The interest rates and APR's are identical, which means that Citizens Bank isn't charging you any fees for their student loans. They make their money from the interest they charge you.
Those APR's range from 6.45% to 12.15% depending on which type of repayment program you choose. You can pick an immediate repayment, which means you're responsible to make payments as soon as you're approved for the loan.
You also have the option of paying only interest while you're in school and the principal and interest when you finish school. Doing so gives you lower payments in the short-term.
The final option, deferred repayment, is similar to federal loans in that it provides you a grace period of six months after you graduate before you have to pay your loans back.
You'll notice that the interest rates are slightly higher for the deferred option and that the six-month grace period will kick in six months after you graduate or your class schedule drops below half-time.
Repayment periods for all loans for students are five, 10 and 15 years.
Pro tip: You can choose a variable interest rate that will increase or decrease with the LIBOR rate, which is a London-based interest rate that sets the standard interest rates for APR's on loans, credit cards, and other financial products.
Citizens Bank Student Loans for Parents
In situations where your parents are willing to take on a loan for your education, they can apply for a Citizens Bank student loan for parents. The equivalent in the federal program is the Parent PLUS loan.
Rather than running you through all the details of these loans, we're going to compare them to the loans for students that we talked about in the previous section.
The main differences between the student and parent loans are as follows:
Five- and 10-year repayment periods instead of 5/10/15
No deferred-payment option
Lowest APR is 7.03%
Highest APR is 8.56%
Aside from these difference, the two loan programs are very similar. You won't pay any fees to get the loan.
Keep in mind, though, that the fine print says you could lose the automatic payment discount if Citizens can't withdraw your automatic payments three times in any 12-month period. A common scenario that could cause this to happen would be that you don't have enough money in your account to pay the bill.
Pro tip: The interest rates we've listed in the student and parent sections include a 0.50% rate reduction made up of two different discounts: 0.25% for automatic payments and 0.25% for being a Citizens Bank customer.
How Citizens Bank's Student Loan Rates Compare to Federal Student Loans
At the time of publishing, the federal student aid program's student loans had the following interest rates:
Undergrad loans: 5.05%
Graduate and professional degrees: 6.6%
PLUS loans: 7.6%
For undergrad loans, we believe that a federal student loan is the best choice because the interest rates are clearly lower than what Citizens offers.
This changes when you get to the graduate and professional degrees, though, as Citizens provides better interest rates as long as you get the 0.50% in discounts.
The same goes for parent loans. Citizens' lowest rate for parent loans, 7.03 after the 0.50% discount, is more than half a percent lower than the federal aid program.
We believe that Citizens is the best choice if you're getting a graduate or law degree, or if your parents are taking on your student loan. But, remember, the longest repayment period for Citizens student loans is 15 years for students and 10 years for parents. These limited options may result in monthly payments that are too high, which is something you can avoid with the federal loan program's longer repayment periods.
Advantages and Disadvantages of Private Loans
There are some distinct pros and cons of using a bank to fund your college education rather than the federal government. First, you don't have to fill out a Free Application for Student Aid (FAFSA) to get a private loan.
Second, your credit scores may be good enough to where the interest rate you get with your private lender is better than the interest rate you could get with the federal government.
The main downside to private loans is that they don't offer nearly as many repayment options as the federal student aid program provides. For example, as a federal student loan borrower, you can apply for an income-based repayment plan that has monthly payments calibrated to your income and your expenses.
The second main drawback is that, as is the case with Citizens Bank, the interest rates a private lender offers you may be higher than the interest rates on federal student loans (more on that in a second). And, remember, the interest rates you get are based on your credit scores. If you have low scores, you'll get higher rates and those rates will most likely exceed the federal student loan rates.
Federal loans, on the other hand, don't take credit scores into account when they determine how much money you can borrow.
Citizens may encourage you to get a co-signer to help strengthen your borrowing profile. Keep in mind, though, that your co-signer will be taking on the responsibility to pay back the loan if you default.
The Final Word: Is Citizens Bank Student Loans Right For You?
Based on our research of this company's loan options and rates, we believe that it offers distinct interest-rate advantages for borrowers who are working on a law degree or an MBA, or who are enrolled in doctorate programs related to medical fields.
Another advantage of their student loan products is that they provide three different repayment types: immediate, interest-only and deferred. The latter two option provide struggling students some relief from their full payments of both interest and principal.
The downside to the site is that their undergraduate interest rates, at the time of publishing, were nearly 1.5% higher than the rates offered by the federal government's student aid program. Also, you could lose your 0.25% automatic payment discount if you fail to make your monthly payment three times in a 12-month period.
And don't forget that only those with the highest credit scores (720+) will have a chance at getting Citizens Bank's best interest rates. For those with credit scores in the mid-600's and lower, there's a good chance your rates will be higher than federal student loan rates.
In general, we see Citizens Bank as a great option for a borrower who already has a Citizens Bank account, has steady income such that they'll never miss an automatic payment, has credit scores above 720 and who is looking for student loans with interest rates lower than the federal rates for graduate and parent loans.