Citizens Disability Reviews
Claimed This company has claimed this profile, is getting alerted on any new customer reviews entering this page, and may engage in dialogue with its customers to address their matters.

Companies cannot pay money or provide goods in order to remove or alter customer reviews.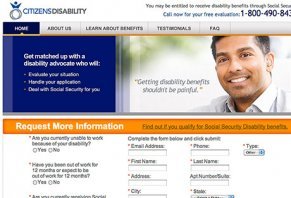 Citizens Disability, a Social Security Disability advocacy group, claims to help those unable to work navigate the system and obtain the benefits they need.
About Citizens Disability
Did you just watch a TV ad for Citizens Disability hosted by Alan Thicke? If so, you probably already know how frustrating the Social Security Disability process can be, and you're looking for assistance. With this in mind, Citizens Disability claims that they can help you navigate the complex and often confusing process of obtaining disability benefits, including filing paperwork and attending hearings, while putting their decades of experience litigating Social Security claims to work for you.
But when it comes down to it, will Citizens Disability really be actively involved in your Social Security Disability claim? And if so, do the services they provide offer a good value for your money? We decided to put these claims to the test, and here's what we found.
How Citizens Disability Works
According to the Citizens Disability website, the Social Security Administration receives hundreds of thousands of applications each month, which often means that you and your problems can become nothing but a case number.
However, instead of attempting to navigate all the hearings, paperwork, and beaurocracy associated with filing for disability benefits by yourself, Citizens Disability claims that they'll match you with a disability advocate who can help evaluate your situation, handle your application, and deal with the Social Security agency on your behalf. And by putting their knowledge and decades of experience to work for you, they can help keep you in compliance and fully informed throughout the process (more about this in the Consumers section).
As such, with their goal of being "the nation's leading social justice advocacy group," Citizens Disability claims that thy can help with both Social Security Disability Insurance (SSDI) and Supplemental Security Income (SSI) claims related to "Medically Determinable Impairment" across all four stages, including:
Initial Application – After all your information is gathered and your SSDI application is complete, it will then be filed with your local SSA office. At this point, your application will be reviewed by the SSA to verify your work history, while the State Disability Determination Service will decide your disability level. Citizens Disability claims that your application can be denied for a variety of reasons, including earning too much money during the previous year, a lack of medical evidence, and paperwork that was incorrectly filed.
Reconsideration – If your SSDI application is denied based on the above, Citizens Disability will file an appeal. Between these first two steps, a period of 5-7 months could pass.
ALJ Hearing – At this point, you and your Citizens Disability advocate will go before a judge to discuss why you're unable to work. Within 6 months of this court date, you'll receive a decision. If your claim is denied during this phase, you can either file a complaint in Federal Court or file a new application and begin from square one again.
Appeals Council – If you filed a complaint based on the judge's decision in the previous step, an Administrative Law Judge will review this decision and either reverse or uphold it. Between these last two steps, a period of 12-18 months could pass.
Citizens Disability Pricing
Citizens Disability claims that your initial client evaluation is completely free and comes without risk or obligation. In fact, Citizens Disability only gets paid once your case is won, at which point they'll collect 25% of the accrued benefit amount, up to $6,000.
What Do Other Consumers Have to Say About Citizens Disability?
Online customer reviews for Citizens United appear to be primarily negative, with the most common complaints referencing:
Poor customer service (rude staff, numerous unreturned phone calls, infrequent case updates, failure to send withdrawal letters to the SS administration, etc.).
Persistent, repeated phone calls after an individual has requested additional information about the services provided by Citizens Disability.
What's the Bottom Line About Citizens Disability?
With such a wide variety of Social Security Disability claim types and circumstances surrounding them, it's difficult to say whether or not Citizens Disability can assist you with your claim—and even if they can, whether or not their services will ultimately be beneficial. With this said, consider the following:
According to this article, the average monthly SSDI check in 2014 is $1,148, which amounts to roughly $14K per year. As such, let's assume that Citizens Disability helps you win your case, and that your monthly check meets the average payout. This means that they'll take their 25% fee, which in this example would amount to about $3,500 for the year, or $287 from each of your monthly checks. While the company may have ultimately helped you obtain SSDI benefits in the first place, which is certainly better than the alternative, it's difficult (if not impossible) to gauge the level of value they provide.
On top of this, Citizens Disability appears to have an online reputation for difficult customer service, which may further decrease the value provided by their services.
Bottom line: If you're in need of help navigating the SSDI application process, be sure to fully weigh all your options before signing over 25% of your much-needed benefits, as there may be more effective/less expensive options than Citizens Disability.
How Citizens fights for their clients and comes out like a champion

By Jeffery H.

,

Lewisville, TX

,

Feb 3, 2020
Verified Reviewer

Years ago I got into a car accident in another state, I got hit by an SUV going 65 miles an hour struck to the passenger door of a 1966 Chevy Caprice classic, whom I was driving. My friend in the passenger seat got knocked to the back seat, shattered all the windows of the car, pushed my driver door into a light pole, pinning me to the steering wheel, pinning my leg down. All I remember was waking up in an ambulance and since then I've been having horrible back pain problems. I was taken to the hospital in an ambulance, hospitalized, the doctors told me if I wasn't driving that old car I would probably wouldn't be here telling you this story right now. That car, it really saved my life. I went to chiropractors in Indiana and had treatment out there.

I had a lawyer in Indiana, his name was Kristen Gill. The light that the lady went across on was green and the light that I went to cross on was green, so both lights were green. It kind of wasn't her fault but she still hit my car and it was the fault of the city of Gary, Indiana because earlier that day there was an accident, I believe a fire truck or something hit a car because of the same reason and they still didn't fix the lights, so I blame my accident not on the passenger that struck me but the city of Gary, Indiana for not fixing the traffic lights. I had a lawyer in Indiana named Kristen Gill,I believe that the case was to me not settled the right way, I didn't get anything out of it, I didn't win and I believe that lawyer really did something to not make me win and get a settlement. I don't know what happened but I didn't get any results from that attorney.

I moved to Texas, I continued going to see the back and spine institute in Plano, Texas. I was prescribed with a hundred and eighty norcos, Tylenol 3.25 with codeine pills for my back every 3 months. After like the fourth time I got my prescription I got cut off, I could no longer receive the medication because I didn't have insurance or any income to pay for my medication, so since then I just been taking Tylenol or whatever I can take for my back and my condition got pretty worse. This is my third time filing for benefits; the first two times I had lawyers but they didn't fight as hard as Citizens Disability is doing for me now. I believe they're doing a great job. I highly recommend them to anyone that needs help getting their benefits. I'm very satisfied with the way they're handling my case and I'm fully confident that they will come out on top and get what I deserve.

My life hasn't been the same since my accident, I can't do the things I used to do anymore. I can't hold down a job, and if I do get a job, I can't tell the job that I have a back problem or they won't hire me, so I'm now not working, I'm homeless, zero income, and I hope that I get my benefits because I really do deserve them. It's hard getting medical records when I was recently diagnosed with cellulitis and I can barely walk. My feet swelled up really bad and I have bad rashes on both legs and hopefully with the treatment that I had and the prescription medicine that they gave me I will be fine here soon. But my lower back problem will never go away, I hate that I have that, but I have to deal with it. I can't lay down for long periods of time, I can't sleep in bed anymore, I have to sleep sitting up on a soft sofa or some kind of lazy boy recliner or something like that. I can no longer do the things I used to do. I used to be a chef and I miss it very much, but now I can't even stand in the kitchen for long periods of time to cook a meal. And there's no way I can even get to any kind of doctors, and if I did I would, but I can't afford any more medical treatment at the time. So basically, that's my story, and hopefully Citizens Disability will get the benefits that I deserve, and I thank them very much and I appreciate all that they have done for me.

Bottom Line: Yes, I would recommend this to a friend

---

Scammers

By Donna S.

,

Dadeville, AL

,

Jan 24, 2020
Verified Reviewer

These people continue to call me even though I am on the do not call list. I spoke with them three times in the last hour. Each time I told them I am not disabled and they still tried to "qualify" me for disability!

Bottom Line: No, I would not recommend this to a friend

---

Advertisement

---

It was awesome

By Stoney M.

,

Seneca, SC

,

Jan 20, 2020
Verified Reviewer

They were awesome, they do all the work for you, I didn't have to do anything. They get all the medical records and stuff for you, they get the lawyer for you, if you don't get approved you don't pay anything.

Bottom Line: Yes, I would recommend this to a friend

---

Unsure if scam

By Pam K.

,

Georgia

,

Jan 14, 2020
Verified Reviewer

I received a call from a heavily-accented man who asked me a bunch of questions saying that I had applied. I have not applied for any SSI. I talk with him for over an hour and then I had to go in for my radiation treatment for my breast cancer and was told he would call me back. Then I receive a call back from a heavily-accented woman, answered more questions for them, and she kind of got rude when she asked for my full social security number and I refuse to give it to her, stating I do not give that information out over the phone. She said it was part of their paperwork and they had to have it or they couldn't go any further. She was very demanding in this and I hung up on her. We will see. I'll look at it this way, if I had applied for it then they should have had my full Social Security number already.

Bottom Line: No, I would not recommend this to a friend

---

Advertisement

---

Best company and best attorney

By Jill M.

,

Boynton Beach, FL

,

Jan 2, 2020
Verified Reviewer

I have been trying to get on disability for 6 long years! I had a private attorney for 3, but they failed to tell me (until I get to hearing) they never got records from my many doctors! I then went through Citizens Disability and I have to say I was hesitant because of the past, but they really work hard!

They always called me with every update.

I had the best attorney and the staff is so nice!

I recommend you all use Citizens Disability. If you're truly in need of disability, Citizens Disability is the way to go! They also do not charge forever like others.

They truly made life easier, I'm able to finally go to doctors and I wish you all the best!

Bottom Line: Yes, I would recommend this to a friend

---

So happy

By John R.

,

Alabama

,

Dec 12, 2019
Verified Reviewer

I would like to say to anyone that can't work due to pain and suffering, Citizens Disability is the one to call. They stuck by me all the way to the end, they answered all my questions and took all my calls, so please, I encourage anyone that's reading this to give them a try.

Bottom Line: Yes, I would recommend this to a friend

---

Thanks for helping me

By Connie S.

,

Carrollton, KY

,

Nov 7, 2019
Verified Reviewer

First off, I want to thank my lawyer Andrew S. Youngman for sending Gwen Meehan to help me with my case. My life has changed after I got breast cancer. I can't do anything after my surgeries, I can't lift anything or do anything after I had mastectomy and reconstruction, my life changed after they cut me, I went down, I can't do anything like I used to, can't raise my arm above my head, I can't change my room around, can't walk unless I stop because of my bladder, since they cut on my stomach and both of my breast and my limp notes. This messed me up, I'm so in depression and anxiety so I got to get help like this. I don't like looking at myself but I want to thank everyone that helped me again.

Bottom Line: Yes, I would recommend this to a friend

---

Didn't know they were such a rip-off

By Vanessa L.

,

Brookshire, TX

,

Oct 30, 2019
Verified Reviewer

These people are a rip-off, they lie, you do your own work, it's best you don't use them at all. Please don't use them. I will make this very public, I will get a lawyer to fight it, I will write a letter to US Congress and to the President and do everything I can to fight this.

Bottom Line: No, I would not recommend this to a friend

---

Citizens Disability

By Bradley C.

,

New York

,

Sep 19, 2019
Verified Reviewer

Can't say enough good things about Citizens Disability. Very thorough and professional, had a terrific attorney and they stuck with me through the two years it took to get my claim approved.

Two years may seem like a long time at the outset (it can take over two years just to get a hearing date) but keep in mind that you are dealing with the Social Security Administration and if you don't have a specialist attorney or Citizens Disability on your side you don't stand a chance.

Bottom Line: Yes, I would recommend this to a friend

---

Some rude representatives and no up-to-date information about my case

By Synobia W.

,

Pennsylvania

,

Sep 14, 2019
Verified Reviewer

I applied with Citizens Disability in October 2018. They started off with the fast service to get all of my information.

After March 2019 I had to call them back almost every week and now I get no information and a bunch of excuses or none at all. I have called Social Security and they state that they are waiting for information. I called yesterday and someone answered the phone and hung up quickly.

I had to call back and a man answered the phone with a strong accent and said that he would call me back and never did as usual with them. Should I seek other legal counsel?

Bottom Line: No, I would not recommend this to a friend

---

They did what they promised!

By Carey M.

,

Bakersfield, CA

,

Sep 9, 2019
Verified Reviewer

I found them on Facebook and I had already applied for SSDI. I am not a trusting person, and I have not filed anything with the government and I have to say I was a little intimidated. But I contacted Citizens Disability and they were very helpful as well as completely on time. They filed my appeals and collected my records and they were always very nice. I was a little frustrated with the fact that I worked for 3 companies and they all paid into the disability insurance. I could not imagine why the government would take almost 5 years to get me to a hearing and I called Citizens Disability and told them I would have to do it on my own. That afternoon I got a date with the judge. I, of course, called Citizens Disability and apologized and asked them not to let me go as a client. I was a week away from my hearing and I figured I would have to go to it on my own, but I got to the address where the hearing was and went into the wrong court and after I had it figured out and I got to the right place...There stood my lawyer and I had never seen him or talked to him in person, but I knew that he was from Citizens Disability and he was there for me. He was the company personified. He knew everything he was supposed to. He was exactly what I needed and I was happy to have him in my corner. Thank you, everyone, and especially Andrew Youngman.

Bottom Line: Yes, I would recommend this to a friend

---