CIZE Dance Workout Reviews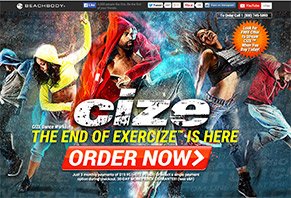 Beachbody's CIZE Dance Workout claims to help you "get a dancer's body" using 6 professionally choreographed routines spaced over the course of a month.
About CIZE Dance Workout
Achieving your fitness goals can seem like a drag, but CIZE Dance Workout claims to change things up by allowing you to "dance your way to fit" in just 4 short weeks.
Today, workout videos are all over the place. But is there anything that separates CIZE Dance Workout from the competition? Will it provide results? Is it worth the money?
You've got a lot of questions, so let's get you some answers.
CIZE Dance Workout: "The End of Exercize"
Brought to you by Shaun T, CIZE Dance Workout uses professionally choreographed routines—spaced across three DVDs and 30 days—to help you get a dancer's body and achieve your fitness goals. Shaun claims that each move for every routine is broke down step by step, so that you can work your way up at your own pace.
But most of all, CIZE Dance is claimed to not only provide cardiovascular conditioning, core strengthening, and overall muscle toning, but also to help anyone lose weight while still having fun.
Speaking of which, let's explore CIZE Dance's routines.
CIZE Dance's Routines
There are 6 different workout routines in the CIZE Dance Workout program. Before completing each routine, Shaun will help you learn the moves step-by-step:
Crazy 8s – A 35-minute video that gets you dancing and sweating. Once you've mastered all the moves, you'll be able to perform a routine to "Hands in the Air" by Timbaland.
You Got This – The dance moves you learn in this video will prepare you for a routine to Treasure by Bruno Mars.
Full Out – This is the first video in Level 2, where you'll be breathing hard by the time you learn all the moves for Lose My Breath by Destiny's Child.
In the Pocket – Choreographed around Problem by Ariana Grande, this video will keeping pushing your skill level.
Go for It – A routine to Pass That Dutch by Missy Elliot.
Livin' in the 8s – Dubbed as a "completely different dance experience," this final video is claimed to work out you body while releasing emotion, set to Chandelier by Sia.
Ok, now you've got a better idea of what's included in the CIZE Dance program. And while it might seem interesting, is dancing even a good way to burn calories and lose weight?
Can You Dance Your Way To Fitness?
Over the course of an hour, you can burn anywhere between 370 and 610 calories, depending on the type of dancing you're doing (e.g. hip hop, ballroom, country western, etc.), pace, and weight (generally, the heavier you are the more calories you'll burn). Remember though, we're only told the length of one CIZE video, which is 35 minutes.
Compare this to other forms of high impact aerobic exercise (533-796 calories), playing a game of basketball (584-872 calories), golfing (314-469 calories), running (606-1,286 calories), and playing baseball (365-545 calories), and you'll see that dancing can definitely help boost your metabolism, although it falls in the middle of the pack as far as total calories burned.
Speaking of high impact, is CIZE Dance Workout suitable for everyone?
Precautions for CIZE Dance Workout
About Health states that high impact exercises involve both of your feet leaving the ground at the same time. Although the number of times this occurs can vary based on each routine, hip-hop dancing is largely considered a high impact activity.
What does this mean? If you suffer from arthritis or other types of joint pain, existing injury, cardiovascular issues, or even if you just haven't worked out in a long time, the first person you should speak with is your physician.
Even if you're medically able to complete the routines in CIZE Dance, will you have fun doing it?
Are CIZE's Dance Routines Difficult?
You're only shown snippets of CIZE's dance routines on their website, but if we're being honest, they seem like they might be a little overwhelming for someone who is new to dancing.
Sure, Shaun T claims to show you, step-by-step, all of the moves contained in each routine, but ask yourself this: if it takes you a long time to learn each move before completing a routine, will this cause frustration and delay achieving your ideal fitness level?
Again, if you're a stranger to the dance floor, it's reasonable to assume this might be the case. Shaun even addresses this possibility on the CIZE Dance Workout website:
Just as you might not master a full push-up or pull-up on your first try, this will be a challenge. This isn't one of those "dance-lite" workouts where you just shuffle your feet to the beat.
Just who is Shaun T anyway?
Who Is Shaun T?
Shaun T has been a member of the Beachbody, LLC (the company behind CIZE Dance Workout) roster for many years, and has been an integral part of other popular fitness programs such as Focus T25 and Insanity Max 30.
Prior to joining Beachbody, Shaun graduated from Rowan University with a degree in Sports Science, where he was also starred as a track and field athlete.
From a customer perspective, Shaun T's fitness programs tend to come with primarily positive customer reviews, with common compliments citing effective fitness and weight loss results, enjoyability, and efficiency (e.g. a lot of results with short workouts).
On the other hand, common complaints cite failure to experience results (or that they take longer than advertised), and the need to focus as much (if not more so) on nutrition than fitness. This doesn't mean you'll experience the same with CIZE Dance Workout; it's just worth noting.
Are consumers complaining about CIZE Dance's price?
How Much Does CIZE Dance Cost?
CIZE Dance is priced at 3 monthly payments of $19.95, plus $12.95 S&H, bringing your total to $72.80.
Along with CIZE Workout's 3 DVDs, you'll also receive 7 free tools and bonuses:
Get Started Guide – A step-by-step guide to help you get the most from the program.
Eat Up! Meal Plan – Using healthy portion control, the meal plan includes easy to prepare recipes that can help you get lean fast, while providing plenty of energy to keep you dancing.
Beginner & Advanced Calendars – Whether you want to go at your own pace or have a bit more structure, these calendars are claimed to help you track your progress.
Weekend Survival Guide – How to have fun without ruining all your hard work during the week.
8 Count Abs Workout – A workout routine that focuses on improving core strength. Set to Headsprung by LL Cool J.
24/7 Online Support
If you're dissatisfied with CIZE, like all Beachbody products, the program comes with a 30-day refund policy, less S&H charges. In order to request one, you'll need to contact customer service at (800) 207-0420.
Will CIZE Dance Workout Really Give You a "Dancer's Body?"
This depends on your current fitness level. However, remember that a professional dancer's body is formed over years (or even decades) of practicing, eating right, and constantly working out.
If this is the first time you've exercised in years, and you're expecting this type of body in just 4 weeks, then you're bound to end up disappointed. On the other hand, if you've been working out and eating right for a while and just need to "cut," then CIZE Dance's high-impact routines might do the trick.
In either case, one of the biggest barriers to achieving fitness results is often boredom, and CIZE's fun factor might help you stick with it. It even *gasp* might help you enjoy working out.
Keep in mind though that fitness is a highly personalized process, so what works well for someone else might not work for you. So be sure to research all your fitness and weight loss options here on HighYa before making your decision.
Excellent dances

By Lanette D.

,

Washington

,

Oct 31, 2019
Verified Reviewer

I love Shaun T CIZE Dance Workout. The dancing has really helped me shape my body and I feel strong. After memorizing all the dances (because I did it for about 4 years), I got bored with them and switched to T25. But every few months, I find myself doing the dance routines again. I hope Shaun T brings out another dance routine workout soon. I love his dancing. It's 2019 and I want a CIZE 2.

Bottom Line: Yes, I would recommend this to a friend

---

Enjoyable

By Lynette P.

,

New York

,

Mar 30, 2019
Verified Reviewer

I love to dance. I really enjoyed the CIZE dance videos. It motivates me to exercise more. The moves which require jumping, I modify.

Shaun breaks the routine dance steps nicely.

Bottom Line: Yes, I would recommend this to a friend

---

Advertisement

---

I did sweat but..

By KTB

,

Idaho

,

Dec 10, 2017
Verified Reviewer

So I am very uncoordinated and gave up on Rockin' Body years ago because the dance moves required so much of what I didn't have. CIZE sounded great, teaching the dance routine step by step. Well, I guess if ShaunT took the moves a bit slower and all the backup dancers weren't actually professional dancers, I wouldn't have gotten so irate at how hard and NOT step by step this workout was.

Yes, I did sweat. Additionally, it's really not low impact and if someone new was trying to follow the extremely coordinated professional dancers, then you could really get injured or pull something because their bodies move like a well-oiled machine and if you are new, you will not at all.

I'm disappointed because doing a workout that makes you feel horrible about yourself is simply not fun and defeats the purpose of working out in my book.

Bottom Line: No, I would not recommend this to a friend

---

Love it

By Anita

,

Virginia

,

Feb 20, 2017
Verified Reviewer

I am 63 years old and ordered this to help me lose some weight, but mostly I want to shape up and look good at my daughter's wedding this June.

I felt so uncoordinated when I first started out, but after a few weeks, I'm getting it! Shaun T breaks down each move and then builds on it. I actually look forward to doing this. I've missed some days so I'm only on the second part of the first video, but I am having a blast.

My daughter even joins me a couple of times a week. I think we may just bust out some moves at her wedding!

Bottom Line: Yes, I would recommend this to a friend

---

Advertisement

---

Do yourseld a favor…

By Kris Chen

,

Corpus Christi, TX

,

Aug 18, 2016
Verified Reviewer

At the ripe old age of 42, I have realized that my metabolism and the ability to shed the pounds is slower and requires EXTRA work. I have been on this program for 4 months now and not only have I noticed a difference BUT my friends have as well.

By watching what I eat and dancing 5-6 days a week, I have lost 20 lbs and dropped 4 inches off my waist. I am not a DANCER by any means and with that being said, there were a couple of times when I had to rewind and review certain dance steps.

Shaun T. is an excellent teacher and his approach is uplifting and motivating. I feel accomplished and empowered when I complete a dance routine. Mind you, as you progress through the program, the dance routines become more intricate and require MORE from you.

Just stick with it and MOVE forward despite feeling frustrated at times. This is going to sound crazy but I look forward to working because it's not your typical BORING work out. Thank you CIZE for changing my life.

Bottom Line: Yes, I would recommend this to a friend

---

Cize

By Miss

,

Ventura, CA

,

Jul 24, 2016
Verified Reviewer

Just started. Not too bad and it is definitely dancing (no up and down crap). He goes slow at the first, but kind of zooms at the last routine. Needless to say, I hit the rewind a time or two. Only thing I would like is for the camera to always include him, not individuals behind. I am trying to use both sound and visual to learn. I don't care about the "girly" dancers. I'm looking forward to my results!

Bottom Line: Yes, I would recommend this to a friend

---

Step by step is great.

By Tracy

,

Glasgow, MO

,

Jul 7, 2016
Verified Reviewer

Shaun T nails it once again with this workout. I'm not even sure if I should call it a workout because it's so much fun! I'm on week 4 and I can't say that I notice a change in how my clothes are fitting, but I'm starting to feel a little better. The only thing I would change about these workouts, after learning dance 1, put it at the end of the dance 2 DVD so you can do it AGAIN, then so on and do on. Because you will be having so much fun that you will want to do every routine every day. It's great.

Bottom Line: Yes, I would recommend this to a friend

---

So much fun!

By Danielle

,

Jun 17, 2016
Verified Reviewer

I love everything about Shaun T and knew I had to try out Cize. I'm only on level two, but it seems to be a little easier than Insanity in my opinion. Regardless, it is the most enjoyable Beachbody workout series I've ever done. It never fails to make me sweat and every dance is such a blast! Can't wait to see the results

Bottom Line: Yes, I would recommend this to a friend

---

Steady build up, keeps you engaged

By Katie

,

Cape Charles, VA

,

Apr 18, 2016
Verified Reviewer

I was weary after receiving it as a gift. I wanted it but was worried if I'd be able to keep up or would give up and get uninterested after a week. I have to say I was very impressed with how carefully Shaun builds up the routine and each move. It's achievable by the most uncoordinated. I'm very clumsy, basically have 2 left feet, but I was able to catch on by the end of the first routine and almost had it completely down. The second time doing the first routine, 1 of 2 moves I got a little uncoordinated, but by the 3rd time I had them all down. It's not really intimidating and made me feel after the first time I could accomplish this. That's not to say that it was easy. I wouldn't be able to last a second past when it ends. The second time was harder because my muscles were sore from the first time, but I was able to push through. But again wouldn't be able to last any longer, had it not ended when it did. But in no way is it overwhelming, it's perfect.

Bottom Line: Yes, I would recommend this to a friend

---

Stick with it, you WILL be rewarded.

By Marcia

,

Billings, MT

,

Mar 7, 2016
Verified Reviewer

YES - I wholeheartedly recommend this series. I am very uncoordinated and even ditched the Beachbody Brazil Butt workout a couple years back due to frustration. But I really wanted to learn how to dance and not be compared to Elaine on Seinfeld. During an early Sunday morning moment of infomercial madness I ordered my Cize package. Yes, they do try to sell you other things - they are a business after all - but you won't hurt feelings by saying no to something you don't want. My order came promptly. Yes, it is physically demanding and the right shoes for dancing are a must (Yay - new Chuck Taylor hi-tops!). It took me a few tries to get the first routine, but Shaun T does a great job of breaking it down. Also, looking at Youtube videos of others practicing helped. You can slow them way down, and see that not everyone is a pro dancer. In one week my confidence in my ability to learn how to move had improved and my husband commented that I looked more firm. By week 2 my clothes were fitting much better, and I was even more confident. I take about a week per routine, to really make sure I am getting it. I am finding that my muscle memory is getting quicker at learning the moves. Now I'm at the start of week 5, and just about everyone at my office has commented on my physical change. My posture is better and my low-rise muffin top is about gone. And I will NEVER AGAIN sit it out while everyone else is hitting the dance floor. And I may even fire up the Brazil Butt again when I get through all these routines.

(If you have bad knees, maybe check out PIYO Workout before this one.)

Bottom Line: Yes, I would recommend this to a friend

---

Terrible service

By Stephanie

,

Phoenix, AZ

,

Feb 24, 2016
Verified Reviewer

I have not received this product yet, but I'm very unhappy with the process I went through to get it. I watched the infomercial, and went to the website. I put my info in and started to go through with ordering it. Then, when they kept trying to sell additional items that said FREE, but in little letters said they were things you had to pay shipping for, and that they would charge you monthly for the item to keep being sent after, I immediately lost interest in the product, and closed out. I did NOT accept the order, or confirm payment, yet a few hours later I received an email saying my order was received. I immediately called and complained, and tried to stop this order, but the person on the phone was very rude and acted like she couldn't understand me, and basically said it has already shipped out, and there was nothing I could do. I am hoping that this product is actually a good one, but I'm highly skeptical. Bottom line, don't go to the website unless you're sure about it. It is a huge scam.

Bottom Line: No, I would not recommend this to a friend

---