Clarity Money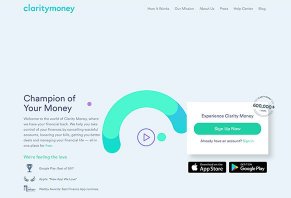 Clarity Money app tracks how much you're spending, where you're spending your money and how much you're earning. The overview of your finances you get is comprehensive and simple.
What Is Clarity Money?
Clarity Money is a financial app that tracks what and where you spend as well as what you're earning.
The app is free and can be accessed through a web browser or through the company's app on Android and iOS.
Clarity Money launched in 2016, according to startup tracker Crunchbase. Three men founded the company: Hossein Azari, Matt Jacobs and Adam Dell.
Azari has an impressive background: nearly two full years as a research scientist at Google and a stint as a research assistant at Harvard. Jacobs runs the engineering side of things, drawing on his experience working as a lead tech on projects for Nike, Smuckers, Diageo and CommonBond.co. Dell is the money man, raising capital for multiple companies before Clarity.
Based on our research on the company's background, we think there's some good pedigree there that should translate into a useful, easy Clarity experience.
But is that the case? We wanted to know the ins and outs of the app as well as get a feel for the user experience, so we set up an account online and pored through all the features and capabilities.
The Three Main Features of Clarity Money: Dashboard, Accounts and Transactions
Signing up for Clarity Money is easy enough. You create your login information, connect to a bank account and you're all set.
Once you've launched you're account, you're taken to your Dashboard, which is one of three main features.
Dashboard
The Dashboard is a compilation of tiles that work together like a financial mosaic to give you an overview of how your finances are doing.
These tiles can be a little overwhelming at first – 18, by our count. Four of those tiles were ads for various finance-related products like access to your credit score and a suggestion for a credit card different from the one connected to our Clarity account.
As a side note, when you connect a bank account to clarity, they'll gather all the information associated with that bank. So, if you have credit cards and a checking account, they'll provide data about the cards and the account.
Now, back to your Dashboard tiles. As we noted, there were four tiles that were ads. One tile included the current weather in our location and an inspirational quote. Another tile was a notice that Clarity needed my income.
All the rest of the tiles provided data about our connected accounts and spending patterns. Here's a quick list of some of those tiles:
Account balances for checking account and credit cards
Total spent in the past few days
Pending transactions
Total spent for the month compared to previous months
Total spent at individual stores
Credit card balances
At first glance, the page seemed pretty chaotic but as we worked through each of the tiles we realized how useful they all were.
For example, we wanted to know how much we spent each month at the local grocery store, so we went to the individual store spending tile. The tile's default setting was Target.
All we had to do was click on the tile, then click and Target and Clarity populated a list of all the stores we'd spent our money at. Each store had its logo alongside it, making it super easy to identify which store we were looking for.
This feature is an interesting one because of the data it offers and because it's so easy to change the parameters. Normally, you'd have to go to your checking account and do a search using the store name. It's a cumbersome process that isn't visually friendly – the exact opposite of our experience with Clarity.
Another interesting tile was the "This Month Spending" tile. When you click on it, you see a pie chart that tells you how much you spent in various categories. Again, this is a really helpful tool. The drawback, in our opinion, is the categories. Grocery and non-grocery purchases were lumped under "shopping" while gas purchases were classified as "Travel".
In all, we believe that Clarity's Dashboard feature gives you all the information you'd want for budgeting, spending and banking all in one place and on one page. Other apps we've reviewed provide some of the information we listed, but this is the first one that presents all of it on one page.
Accounts
This second menu item is much simpler than Dashboard. In fact, Dashboard has a tile that links to the accounts page.
The accounts page serves nearly the same function that the accounts page in your online banking does. You can see all of your checking and credit transactions as well as search for previous transactions. What we noticed is that the search engine used to find transactions is much faster than the same feature through an online banking account.
Which Accounts Can You Link to Clarity?
We did a quick read through of some of the company's FAQ's and found that you can link investment, loan, savings and checking accounts. At the time of publishing, Clarity claimed they were linked to 18,000 financial institutions and working on linking to more, including the following:
Aspiration
Barclay Bank & Barclaycard
Coinbase
Comenity
Credit One
Fidelity Rewards Visa
Robinhood
Stash
Venmo
So, as you can see, they're working with cryptocurrency wallets (Coinbase) as well as investing apps like Stash, Robinhood and Aspiration.
Transactions
The Transaction page gives you a running list of your most recent transactions. You can find out the payment method for each transaction by clicking on it.
Clarity Money's Security
Since you'll be handing over your financial information, it's important to know how secure the site is and which encryption levels are used to protect your information.
Clarity says they employ two types of security measures: Transport Layer Security (TLS) 1.2 and 256-bit encryption. TLS is, according to Tech Target, "the most widely deployed security protocol used today, and is used for Web browsers and other applications that require data to be securely exchanged over a network, such as file transfers, VPN connections, instant messaging and voice over IP.
Along with 256-bit encryption, TLS 1.2 basically protects the information traveling from your financial accounts to Clarity and from Clarity to you.
Public Opinion About Clarity Money
The reviews of Clarity Money from users and experts are very positive.
The Android app has, at the time of publishing, 357 reviews with an average rating of 4.2. About 80 of those 357 reviews were either 4 stars or 5 stars.
Recent complaints about the app focused on not being able to connect a particular bank or having problems logging in. In several cases, reviewers noted that Clarity's technical support team was able to resolve their issues pretty quickly.
As far as reviews from experts, the app has a trio of recognitions listed on its site:
Google Play: Best of 2017
Apple: "New App We Love"
Webby Awards: Nominated for Best Finance App
Our Final Thoughts About Clarity Money
Budgeting, at its core, is a dialogue between three factors: what you earn, what you spend and where you spend. Clarity Money gives you easy-to-access data on each of these three areas.
Their Dashboard feature allows you the freedom to effortlessly move between how much you're earning to how much you've spent this month and where you're spending your money.
While we think that their spending categories are a bit too broad, they accomplish their goal of showing you where your money is going.
We believe the downside of the app is that, as some reviewers have pointed out, there can be some glitches in the Android app: inability to connect to certain banks and investment apps, duplicate spending information and duplicate accounts.
Based on our research of this app and many others in the budgeting and fintech world, we believe that Clarity Money is a solid tool for consumers who want an app that brings together in one place all their spending and earning information.
Rip off company

By Carol B.

,

Wildomar, CA

,

Jan 15, 2020
Verified Reviewer

Bunch of scammers. I have more than paid my loan off and they continue to add interest at a very high rate per day. Tried talking to them, but they are so rude and don't give a flying flip about anything other than collecting money they are not entitled to. I am turning this over to the District Attorney for investigation. I can't stop them from taking money out of my account. I will not let them have ONE MORE DIME from me.

Bottom Line: No, I would not recommend this to a friend

---

Advertisement

---