Clever Chef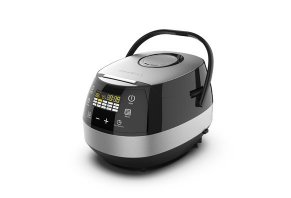 Summary
With 14 cooking functions and a great reputation among customers, the Drew & Cole Clever Chef provides enough versatility to eliminate unneeded appliances in your kitchen cabinets.
Clever Chef Multi-Cooker Review: Is It Right for You?
The Drew & Cole Clever Chef is an all-purpose multi-cooker with 14 different cook settings and independent time and temperature controls.
What makes the appliance important to the average home cook is that its versatility can eliminate the need for multiple appliances.
At the same time, the fact that you can make entire meals simply by dumping ingredients into Clever Chef and pushing a button alleviates the stress of trying to put together a complete meal in a short amount of time.
Our review will help you see how the Clever Chef's strengths and weaknesses could fit what you're looking for in a multi-function cooker.
Features
The Clever Chef has 14 different cooking functions and a 5.3-quart cooking pot.
This appliance's cooking functions are at the core of what makes it valuable, as each one has a specific combination of temperature and heat.
A few examples of these settings include:
Cooking rice: Automatic time and temperature based on water and rice in the pot
Sautee/browning: 320 degrees, 15 minutes
Slow cooking: 180 degrees and 3 hours, or 203 degrees and 2 hours
Bake: 320 degrees, 25 minutes
Pasta: 212 degrees at 8 minutes
Roast: 320 degrees for 50 minutes
In addition to the 14 cooking settings, you get the following features:
Manual temperature and time adjustments
Steamer rack
Delay timer
Warming function
DIY temperature and heat settings
Retains moisture
Limitations
Because of its multiple functions, the Clever Chef can replace your rice cooker, frying pan, Crock Pot, bread maker, pots and roasting pans in many situations. However, the appliance's size and shape have limitations:
Size
The Clever Chef's cooking pot is 9 inches across. While it can function as a frying pan, its shorter diameter limits what you can do. If you need to cook a large meal with multiple pieces of chicken breast along with vegetables, you may not be able to fit all of it in your Clever Chef.
Because of this, you should consider the appliance as a sufficient solution for small to medium meals that require a frying pan or roaster rather than large meals.
Shape
The Clever Chef's cooking pot is round, which means anytime you bake bread you'll make a round loaf. If you want to make a square loaf, you'll need to use a bread machine or a rectangular baking dish.
Temperature
You can change the pre-set temperature on six of the cook settings: stew, soup, roast/meat, fish, poach and bake. You cannot adjust the temperature for the remaining eight functions (rice, sauté, slow cook, steam, pasta, bread rise, yogurt).
If you find that your Clever Chef's cooking times for the eight non-adjustable settings aren't accurate, then you'll need to use the DIY setting to choose your own time and temperature settings.
Also, the cooker's maximum temperature is 320 degrees. This limits your ability to bake, as most items require a baking temperature of at least 350 degrees.
The 320-degree maximum also means you will have longer cooking times for dishes that could be cooked at higher temperatures.
Pricing and Return Policy
The Clever Chef costs $86.98, shipping included. The appliance ships with a free cookbook that includes 40 recipes you can do in the cooker.
The appliance has a 30-day money-back guarantee through which you can return the cooker. However, you can only do a return if you haven't used the Clever Chef. If you need to start a return, you can call (888) 534-9224.
Analysis of Clever Chef Customer Reviews
We've analyzed the Clever Chef's customer reviews on several major sites to give you a series of positive and negative trends. These trends will help you understand the pros and cons you'll face while using this appliance.
Common Praises
Cooking doesn't take much effort: Customers often pointed out they love how the Clever Chef allows them to drop all the meal's ingredients into the pot and just hit a button to cook it.

Cleaning is easy: We read many reviews in which customers said cleaning up the Clever Chef is easy. The parts in the machine are easy to disassemble and wash.

Versatile: Users are happy with the fact they can use the cooker to prepare all different types of foods. Some of the dishes mentioned in reviews included chili, casseroles, rice, whole chickens, pork chops, fish, cake, curry and soup.
Common Complaints
Mechanical issues: This is the most common complaint you'll find. Multiple customers said the machine had mechanical failures on delivery. One failure we saw multiple times was that the machine could not sense the weight of the cooking pot. Because of this, the cooker displayed an error code and did not work.

Customer service issues: In situations where customers needed to make returns because of mechanical failures, they ran into multiple issues with customer services. In some cases, Amazon made it difficult to return the product. In other cases, the company selling the Clever Chef was not helpful.
Takeaways
In general, the Clever Chef gets overwhelmingly positive customer reviews. Its main selling point—multiple uses—has plenty of evidence from reviews to support its versatility.
One of the keys that reviews revealed is that the Clever Chef's cooking pot's non-stick surface makes it easy to clean. This is a distinct advantage if you use a slow cooker often, as those appliances can be very difficult to clean if you slow cook food for three hours or more.
Finally, the Clever Chef's mechanical issues are concerning because the return policy states you can only return unused products. Therefore, if you use your Clever Chef to cook a meal and it doesn't work, you cannot send it back for a refund or exchange.
The Bottom Line
The Clever Chef's multiple functions and consistent praise from consumers indicate it can be a great way to combine multiple appliances into one without sacrificing cooking consistency and quality.
As such, we believe the cooker has some great value for certain types of home cooks and not as much for others.
Who It's Good For
You have a small kitchen: At the very least, this cooker eliminates the need for a rice cooker, slow cooker, one regular pot and a breadmaker. If you have a small kitchen, the space you can save with this machine alone could be worth it to you.

You live alone: If you often cook for one, you won't have to worry about the Clever Chef's size limitations. Most meals you make will in the Clever Chef. If you have a friend over for dinner, there's enough space in the cooking pot to accommodate two people.

You like soups and stews: You can pour all of your soup and stew ingredients into the Clever Chef, set the cook time and leave it. The cleanup will be easier than using a slow cooker, too.
Who It's Not Good For
You have a big family: The Clever Chef's size limitations mean that it might be difficult to cook large meals within a reasonable amount of time. Also, if you often make slow-cooker meals for your family, you can find slow cookers with bigger capacitates for a fraction of the cost of a Clever Chef.

You regularly cook complex meals: If you like to create intricate dinners where each ingredient or group of ingredients requires their own cooking time, the Clever Chef's one-size-fits-all approach to cooking won't be a good fit for you.
Customer Reviews