Clever Investor Reviews
Claimed This company has claimed this profile, is getting alerted on any new customer reviews entering this page, and may engage in dialogue with its customers to address their matters.

Companies cannot pay money or provide goods in order to remove or alter customer reviews.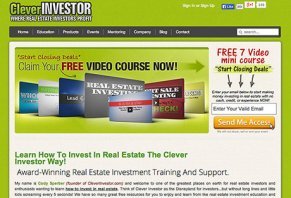 Clever Investor claims to offer tactical, actionable information you can use to jump start your real estate investing career or to take it to the next level.
About Clever Investor
Real estate investing is a risky business, which is why Clever Investor claims to be one of the largest, most moral resources on the Internet for investors and enthusiasts alike. The company claims that their award winning training products can help you live the life you've always dreamed, and their outstanding customer support can help you every step of the way.
However, if you've researched the real estate "guru" industry in the past, you know that it can be filled with empty advice and half-baked promises. So is Clever Investor a real estate training company where, as they put it, "real estate investors profit," or is the only one profiting the company itself? Let's flip the facts and see what they have to say.
How The Clever Investor Works
Clever Investor claims that becoming a successful real estate investor can help you live the life you've always wanted; working when you want, taking long vacations, spending quality time with your family, and perhaps most importantly, helping you become financially secure. However, founder Cody Sperber also claims that there is a science to successful real estate investing, which is where his self-proclaimed award-winning real estate investment training and support come in.
With this in mind, Clever Investor claims to provide you with actionable (what the Clever Investor calls "tactical"), step-by-step investing advice, including information that you can immediately put to use regardless of the niche you're thinking about pursuing, whether it's flipping, wholesaling, foreclosure investing, and more. As such, there are five primary sections to the Clever Investor website:
Education – Courses and tips related to creative real estate investing, wholesale real estate, buy, fix, and hold; and buy, fix, and flip.
Products – Video and audio courses related to Reverse Short Sale Systems, Fast Track Profit Systems, and Automated Marketing.
Events – Infrequent gatherings of other like-minded real estate investors where you'll learn new ways of taking your business to the next level, many of which can be immediately implemented into your business plan.
Mentoring – Unlike other real estate programs such as Fortunebuilders and Scott Yancey seminars, Clever Investor claims that their one-on-one mentoring programs provide you with real-world information that you can use to start or grow your real estate investing business, without being promised "better" information through continuous upsells (more about this in the Bottom Line section).
Blog – Regularly updated content related to real estate investment.
Clever Investor Pricing & Refund Policy
Most of the information found under the Education section of the Clever Investor website appears to be free, although the Reverse Short Sale System is priced at $97. However, there are no prices listed for any of the other products on the company's website, including for the Fast Track Profit System, Automated Marketing Machine, or for the Mentoring programs.
After reading through the Clever Investor's Terms & Conditions, we found out that subscription programs come with a 30-day trial, after which you'll be billed $97 per month on a recurring basis until cancelled. With this in mind though, we didn't find anything on the Clever Investor website that was available through a subscription program.
Despite this, their refund policy claims that all of their products come with a 30-day, no risk, money back guarantee.
What's the Bottom Line About Clever Investor?
First, although Clever Investor appears to have a primarily positive online reputation, the most common complaints we encountered cited:
That the information they provide might be more suited toward beginners, although much of the same information can be found through other real estate investing books.
Accusations that Clever Investor makes most of their money through selling their systems and mentoring programs than they do from actually performing real estate deals.
Some material only gives you basic real estate investing information while constantly upselling you on additional products.
Next, based on her several appearances in Clever Investor videos and webinars, it appears that Barbara Corcoran (ABC's Shark Tank) endorses their products, as she herself has a deep background in real estate. However, don't take this to mean that everything she invests in is a good product—a prime example of this would be AngelLift strips.
Finally, similar to many other real estate and stock investment sites, several of the intro videos on the Clever Investor website seem to be more about tugging on your emotions (e.g. claiming that the video will only be available for a short time, that you shouldn't share the link with your friends, etc.) than they are about providing real information about Clever Investor products.
Bottom line: In order to gauge how helpful Clever Investor will be for you, you may want to thoroughly read through the free Education section of their site. If you find the information there useful, only at that point might you want to spring for something more costly.
Very informative

By Amy H.

,

Missouri

,

Jan 16, 2020
Verified Reviewer

I was researching real estate investors and I stumbled across Clever Investor. I purchased the 30 Day Challenge. This program has given me such a value. Everything that was promised has been given and so much more. I now have all the education I need to co-wholesale, wholesale, become a landlord, or rehab a property. They gave me access to funding because banks are way too difficult to deal with. They gave me tons of contracts and templates. Step by step, easy to understand, upbeat information. Made learning fast and fun. They have given me so much value, I'll be with Clever Investor for life. I can't even name it all. I am recommending them to everyone.

Bottom Line: Yes, I would recommend this to a friend

---

Life changing experience

By Katie L.

,

Des Moines, IA

,

Oct 1, 2019
Verified Reviewer

Clever Investor, Cody Sperber, and his team are the real deal. They truly treat you like family and care about your success.

You will learn a wealth of knowledge. I had previous real estate experience. I learned so much to help drive and grow my business forward. You will obtain tools and resources to guide you every step of the way. The network and connections that you will obtain are priceless. The team is always there for you no matter what and always has your back!

The one-on-one mentorship program is remarkable. I have developed a life-long connection. A huge shout out and thank you to my mentor, Alisa Law!

Invest in yourself and choose Clever Investor!

Thank you, Clever Investor, for all of the love and support!

Bottom Line: Yes, I would recommend this to a friend

---

Advertisement

---

Clever Investor student/wholesaler

By Lissa H.

,

Colorado

,

Sep 20, 2019
Verified Reviewer

I would highly recommend Cody Sperber's Real Estate Investment programs. Cody and his team break down the steps and actually teach you how to set up, create, and market your real estate business. They constantly update and add information and examples through videos and tips. The videos are informational as well as entertaining. It helps make the learning process a more enjoyable experience and you know you can do the suggested information. The programs detail out all the information you need if you follow along and implement all the information you will be on the right track to success in no time. The guidelines, steps, and information is all there you have to do the work, however, to become successful. They include so much information, but line it up in a way that makes sense and isn't too overwhelming.

Cody's Clever Investor mentoring program is for those that want to take their real estate business to a higher level or for a level quicker than if you were on your own doing all the steps. It's a great boost to your business and success. The Clever Investor mentors are all successful through Clever Investors real estate program and they are successful real estate business owners that help guide you, answer questions and help you problem solve if there are situations that come up that you need someone with more expertise on the matter. They are a wealth of extra knowledge and tips that help anyone with their continuing success in the real estate business. I love the mentoring program it has helped me in many ways with my wholesale business. My mentor has helped me above and beyond just the regular mentoring. That makes this experience unlike the other programs out there. This has helped me with a more handheld approach. Which I needed and need throughout learning and implementing all the steps in my successful wholesale business. I am so happy I found Cody Sperber's Clever Investor real estate investment program and mentoring. It's definitely pushed me in a more successful direction then I have discovered in the past.

Overall, I would highly recommend Cody Sperber's real estate investment program if you want a great program to teach you step by step and boost you into the real estate investment lifestyle.

Bottom Line: Yes, I would recommend this to a friend

---

Mentoring

By Nixon A.

,

Arizona

,

Sep 17, 2019
Verified Reviewer

I just finished my 18 mentoring calls today. I especially want to thank my mentor Ron Law. He is truly the most amazing person I know. We had almost a year together. I have had real estate experience before. I have spent a lot of money on programs and mentors that promised support but never delivered. Ron taught me a lot of tools I need to use. I think the most important about Ron was his patience with me. I haven't done a deal yet but he gave me the confidence that will help me get there. I also want to thank Mike Place who has helped me at the live events. Also, everyone on the Clever Investor team. They are all just like family just like Cody Sperber says. I hope that Ron and I will be long friends. Thanks again. I will recommend Clever Investor to everyone.

Bottom Line: Yes, I would recommend this to a friend

---

Advertisement

---

Best Real Estate Investor Mentoring

By Kathleen D.

,

Austin, TX

,

Sep 13, 2019
Verified Reviewer

If you want to get top-notch mentors to give you a jump start getting your real estate business off the ground. Clever Investor offers first-class training and mentoring. There are a ton of different options to go to for help you learn real estate investing. At Clever Investor you don't just learn about real estate investing. You get mentoring and support. You get a community of people that are all working toward the same goal that are willing to share their experience.

If you're going to get into real estate, partner with the best. And, the best is Cody Sperber and Clever Investor.

Bottom Line: Yes, I would recommend this to a friend

---

Love Clever Investor Family

By Zolliam P.

,

Rockford, IL

,

Sep 12, 2019
Verified Reviewer

I am in the Clever Investor Mentoring Program since November 2018. I remember the day I applied to the Mentoring Program like it was yesterday. I was so scared when I did. Before signing up with Clever I had applied to a "mentoring program" with another company and it didn't work out. Luckily, I was able to recover part of my money. But that is another story. I was really nervous about signing up with another company and losing my money. But I'm so glad I didn't let the fear stop me from joining the Clever Investor Family and decided to take action.

Few hours after I signed up, the Clever Investor himself, Cody Sperber, called me to welcome me to the family! How cool is that! He listened to all my worries, we talked for a little bit and at that very moment I knew I had made the right decision by trusting Cody and the Clever team!

A few days later, I had my first phone calls with different members of the Clever Investor group, my awesome mentor, customer services, the team from Deal Automator and other mentors from Clever Investor. I've been to Tempe, AZ to participate in different events from Clever. I went to Clever Labs in January 2018 and to the URC in March 2018, both wonderful events. Here you have to opportunity to be trained by Cody Sperber in person and to also learn from other members of the Clever team. (I can't wait to go to the Summit! I wasn't able to go this year but planning on going next year.)

My experience with this company has been amazing! I have met Cody Sperber in person. He's a wonderful person. He cares so much about his students and wants to see them succeed. While I was in Arizona, I was able to talk to him and asking questions about real estate. He is really smart, funny and incredible mentor. I also met part of the Clever team when I went to the Clever Labs and URC. It was so nice to finally put a face to the people I have talked on the phone so much. What a great group of mentors!

Every time I have a question about the Deal Automator, real estate, about a lead or deal I'm working on, or just need help from customer service I can just call or email them and they have always replied to me. The communication with Clever is incredible.

I'm so glad I joined Clever. Best decision I have ever made in real estate. My only regret is not signing up with them sooner. Since the moment I joined their team it felt like I was part of a family and I love it! I am so proud to be part of the Clever Investor Family and so proud to be a Clever Investor!

Bottom Line: Yes, I would recommend this to a friend

---

How am I supposed to get all of this done in 30 days? Well, you're not.

By Ron L.

,

California

,

Sep 12, 2019
Verified Reviewer

I wanted to take a minute to offer up a review and my thanks to Cody Sperber, the entire Clever Investor staff, and the whole Clever Investor family for the Clever Investor program and all of their support. I saw a couple of negative reviews that sounded more like "sour grapes" than anything else. Like anything worthwhile in life, to be successful at something takes hard work and a lot of effort. Some parts of the program may seem complicated, but there's plenty of instruction in the videos. There's a coaching program second to none. And there's a Facebook page where people pose questions on a regular basis and there's typically a slew of responses. The Clever Investor community is an amazing, helpful and tight group of like-minded people.

I know it's easy to read too much into it - "How am I supposed to get all of this done in 30 days?" Well, for most of us, you're not. Like anything else that's good, anything with lots of moving parts, it takes time to get it all set up. But if you watch Cody's videos, follow his instructions, get on the lave videos and Facebook feeds and ask questions, you will get through it and be successful. But it will take time.

I think it's important to remember when we're doing something like this: We are trying to start a business. It's not going to fall into our lap. It is not going to be easy. It will take lots of hard and dedicated work. It's worth getting a coach/mentor. And it beats the shit out of having a regular job working for a boss who could care less whether you live or die. But I guess if it's just too much effort, get up tomorrow morning, go to your job and learn to be happy there.

I'm really grateful for the Clever Investor program, the coaches and our mentor. I'm grateful for the opportunity it's provided us, teaching us a way to earn serious money without having to go to a job every day and trade my time for a lousy salary and no personal freedom. I've been to the Clever Summit twice and to a Lead Generation and Deal Automation Lab. We have Deal Automator and we use it - we use it for comping properties, finding what people owe on mortgages, building mailing lists and more.

My favorite line is: "Never give up. Never give in!" And I refuse to give up or give in!

Bottom Line: Yes, I would recommend this to a friend

---

Great foundation

By Wesley T.

,

Baytown, TX

,

Sep 12, 2019
Verified Reviewer

They supplied me with a great foundation for my business. I was brand new to real estate investing and was nervous to even get started. I knew I needed guidance and someone that would hold me accountable. I got everything I needed and more. Someone is always there to answer questions and help guide you on an investment path that fits you and the business you're creating. I can honestly say I'm on my path to financial freedom and this mentorship has equipped me with every tool necessary for success! Thanks!

P.S. Dave, you're awesome!

Bottom Line: Yes, I would recommend this to a friend

---

Awesome mentoring session

By Aharon G.

,

Federal Way, WA

,

Sep 10, 2019
Verified Reviewer

I just had a awesome mentoring session with Victoria from Clever. She took the time to get to know me and also showed me step by step how to Comp. Comping is such a needed skill and I feel with some practice that I can be good at it. Even though we were thousands of miles away from each other, it felt like we were right next to each other. I will have to say that my experience with Clever has been outstanding so far and I look forward to more mentoring sessions.

Bottom Line: Yes, I would recommend this to a friend

---

Clever Investor's Team

By Rosy C.

,

Arizona

,

Sep 10, 2019
Verified Reviewer

We just closed on our first rental home deal, my business partner and myself. The Clever Investor's team takes you step-by-step to your first deal and helps in any way possible. Thank you so much! Clever Investor's team, we couldn't have done without your help, especially Ron, Victoria, and Alice. We guys ROCK!

Bottom Line: Yes, I would recommend this to a friend

---

Life-changing, highly recommend!

By Liliya M.

,

Oregon

,

Sep 10, 2019
Verified Reviewer

I'm a Clever Investor mentoring student, started just a few months ago. And I have to say, the wealth of information that I have learned in such a short amount of time is priceless and has really helped me to jump-start my investment business! Everything that I have learned thus far, and with the help of my mentor and support of advisors that are literally always available, has helped me to obtain a sound decision on my first fix and flip property which we are currently rehabbing. I can't say enough good things about my experience with the Clever team. They genuinely care and want you to be successful. If you put forth the work, are action-oriented, and understand that it takes time as with anything, success will come. Without this mentorship, it would have taken me much longer to figure out the game and I would have little confidence in my decision making, I genuinely believe that. Having my mentor and advisors has been the greatest experience. What better way to learn a trade than from someone who is experienced and successful? Victoria calls me randomly to see how I am doing - having that moral support has been incredible. She and Alice are always quick to respond to emails when I have to need help with any deal. Toursten gives me clear assignments to find deals. I love this Clever family. Thank you, Cody Sperber, for a life-changing program. It has been life-changing. I hope to meet the legend himself one day!

Bottom Line: Yes, I would recommend this to a friend

---