Climb Credit Reviews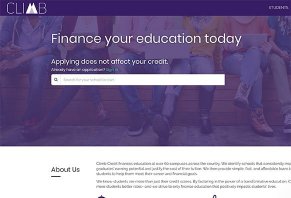 Climb Credit claims to be a responsible lender who funds educations at select trade and technical schools where graduates have a high likelihood of earning a salary that justifies the cost of tuition.
What Is Climb Credit?
Climb Credit is a peer-to-peer lender who provides student loans to students enrolled in hand-picked technical and trade schools.
According to Climb Credit's website, they choose the schools with which they partner based on the chances of students being able to, upon graduation, earn an income that justifies the cost of their education. In other words, they lend to schools that have a high probability of graduating students who can get good jobs.
The New York-based company launched in 2014 under the leadership of its three founders: Alexander Rafael, Raza Munir and Vishal Garg. Rafael is a Harvard grad with a background as a consultant and a partner at One Zero Capital. Munir graduated from Georgetown and worked with Rafael at One Zero. Garg now works as the CEO at Better Mortgage; at the time of publishing his LinkedIn profile did not mention Climb Credit.
Based on our preliminary research about the company's history, we believe Climb Credit is the brainchild of some well-versed entrepreneurs with formidable finance backgrounds.
However, good pedigree isn't a guarantee that a company will give you the loan you need at the terms you want with friendly customer service.
Since those are the issues that are probably most important to you, they're going to be the ones we talk about in this review.
Over the next few minutes we have together, we're going to talk about the types of loans that Climb Offers, the rates and fees that you can expect to pay and the experiences that consumers like you have had with Climb.
We'll finish up with a quick section on the pros and cons of the lending company, as well as who we think their services are best suited for.
But, before we get to those sections, we want to do a quick overview of the types of schools Climb partners with.
How Climb Chooses Their Schools
Climb makes a big deal out of the fact that they're discerning about which schools they partner with. You see, for the past decade or so, private student loan lenders have come under fire for, among other things, partnering with any school that will work with them. The more schools a private lender works with, the thinking goes, the more money they make.
According to Climb's website, they partner with trade and technical schools. What kind of schools are those? Here's a quick list of a few of them:
Coder Camps
DevLeague
Divers Institute of Technology
Grand Circus of Detroit
LeaderQuest
MAX Technical Training
Minerva
Skill Distillery
Springboard
The Academy of South Florida
As you can see, Climb Credit definitely takes the non-traditional route, partnering with online schools (Springboard), coding schools (Coder Camps, DevLeague) and other institutions.
Climb says they've chosen these schools because the education is good enough to where the money you can earn when you graduate justifies the cost of the tuition they charge you.
This is a refreshing concept considering that many schools have gotten a bad name for charging a lot of money for an education that may or may not land their graduates a job with a solid salary.
The Loans that Climb Credit Offers
Traditional undergraduate student loans offered by the government tend to have interest rates below 5% and can be paid back a variety of different ways, some of which include monthly payments based on your income and not your loan balance.
What you need to know about Climb Credit is that their loans are not federal student loans and have an interest rate higher than federal loans.
The typical repayment period, their site says, is between three and five years. Those repayment periods aren't good or bad until you understand how much they typically loan their students.
We did some research and found a 2017 article from The Economist that indicates the lender's average loan amount is around $10,000. So, when you put that loan amount in the context of the loan terms, then it starts to make sense.
A $10,000 loan paid back over three to five years is equivalent to a used car loan.
The big difference between Climb Credit loans and a standard auto loan is that your rates and fees will be higher.
Interest-Only vs. Principal and Interest
Climb will offer interest-only (IO) periods at the beginning of some of its loan terms before the principal-plus-interest (PI) payments are due.
The basic difference here is that interest-only periods require that you only pay interest while you're in school and during your job search, a nuance that creates lower monthly payments.
After that, your payments will go up because they'll include principal (original loan amount) and interest.
Pro tip: Ask Climb if you're getting an interest-only period and then ask them when the PI payments will kick in and how much they'll be.
Climb Credit's Rates and Fees
The interest rates on Climb's loans range from 6% to 17.22%, according to their website. It's worth noting that the lowest interest rate is still about 30% higher than the federal student loan interest rates.
At the time of publishing, new subsidized and unsubsidized student loans for undergrads had an interest rate of 4.45%.
Climb says that you can increase the chances of getting their best rate by doing two things: adding a co-borrower and setting up automatic payments. What they don't mention is that your credit scores will be a factor in your interest rate, too, which is something that doesn't factor into a federal student loan.
In addition to the interest rate that Climb Credit charges, you'll also be hit with a 5% origination fee that will be added to your loan balance.
An origination fee is something a lender charges you that covers processing the loan, paperwork and other aspects of your account. By contrast, new subsidized and unsubsidized federal loans had origination fees of 1.066%.
Pro tip: Your loan payments kick in the month after you're approved. There is no grace period like you'd get with federal undergraduate student loans.
Public Opinion About Climb Credit
Reviews by customers are pretty sparse and we think that's because the company only lends to students going to certain schools. According to a 2017 LendEDU article, the company said they'd received 10,000 loan applications since they launched in 2014.
That number only reflects those who applied and not those who were accepted, so it's really hard to tell how many people actually use Climb Credit.
The Bottom Line on Climb Credit
This lender is one of the more unique ones we've reviewed because it focuses its partnerships on a limited number of schools that traditional university students may not be aware of.
The good side of this is that students who may not be able to get federal student loans for their coding school, for example, have an opportunity to get funding from Climb. But at what cost?
They offer loans that have interest rates that are anywhere from 30% to nearly four times higher than what you'd get with a federal student loan. In addition to that, their origination fees are almost five times as high as a federal student loan.
That being said, there are schools that Climb works with that don't offer federal student loans, so this lender and others may be the only options you have.
Our advice is to talk with the financial aid department at the school you want to attend and ask them about the different lending options you have. Don't be afraid to ask questions about how Climb's rates compare to other lenders. The more you know about the competition, the more equipped you'll be to make a wise choice.
Aside from that, make sure you verify with Climb if you're starting with interest-only payments. It's important that you understand that, at some point in the future, those low monthly payments will jump significantly and could catch you off guard if you aren't prepared.
As far as who we think is a good fit for Climb, we'd say it's a person who is interested in attending one of Climb's partner schools and who has an income and credit scores that will get them the lowest rates that the lender offers.
If this is you, then you have a good chance of finding the sweet spot of paying back your loans with your current income and then increasing that income as a result of the degree you get via Climb's funding.
Should your financial profile or educational interests not fall into the type of borrower that's ideal for Climb, consider reading through our reviews of three other lenders: Prosper and Earnest. These companies are, like Climb, known as peer-to-peer lenders who offer loans to pay for school.