Clipple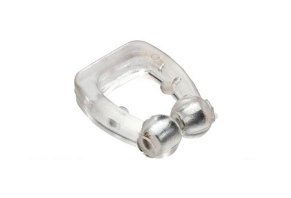 Clipple is a U-shaped internal nasal dilator that opens your nasal passages, improves breathing, reduces snoring, and even utilizes Tibetan magnetic therapy.
Clipple Anti-Snoring Reviews - Does It Work or Scam?
Made from soft, lightweight silicone, Clipple is an easy-to-use device that promises to comfortably, securely, and immediately improve nasal breathing, prevent snoring and related side effects like dry mouth, and help you sleep better.
It also features built-in therapeutic magnets, which the website explains are rooted in traditional Tibetan medicine and help "stimulate the nose's sensory nerves and prevent it from falling out during sleep."
Clipple is reusable, drug-free, hypoallergenic, and easily stores away in its clear travel case when not in use. Together, the website advertises it's used by tens of thousands of people to sleep better.
We'll quickly explore everything you need to know about the device, starting with Clipple's underlying functionality.
How Does the Clipple Nasal Dilator Work?
Clipple features a horseshoe-shaped design, with thin rails that terminate in round nubs at each end.
After gently inserting these nubs into your nasal passageways and resting the "U" curve against the apex of your nose (the outside lower portion that separates each of your nostrils), Clipple gently widens them, which is why it's known as a nasal dilator.
The manufacturer advertises it reduces "respiratory resistance," helps improve airflow to your lungs, and decreases instances of chronic snoring, without disturbing your sleep like chinstraps and other anti-snoring devices.
With these details in mind, there are several pieces of important information missing from the dilator's website. For example:
How long can you use Clipple? Does it ever wear out or lose its effectiveness (dilation or magnets)?
How should you clean it?
Specifically, what types of magnets are found in each "nub?" How powerful are they?
Can everyone safely use the device, or should some avoid it (such as those using pacemakers)?
We called the toll-free number listed on the Clipple website several times, but only encountered messages for Penske Truck Rental in each instance. We also sent an email to the company's primary email but did not receive a response as of publishing.
Putting these concerns aside for the moment and zooming out to the larger picture, when it comes to reducing chronic snoring or improving sleep, is there clinical support that nasal dilators or magnetic therapy can help you achieve snoring relief?
Is Nasal Dilation and Tibetan Magnetic Therapy Effective for Reducing Snoring?
In A Step-by-Step Guide to Finding an Anti-Snoring Product That Works, we explain that a wide variety of factors can cause snoring, including certain medications, age, physical attributes, lifestyle choices, and sleep position.
However, it's ultimately the result of tissue loosening at the back of your throat, which then partially blocks your airway when you inhale. As air passes this tissue, it vibrates and leads to the telltale sounds of snoring.
As a nasal dilator, how does the Clipple device help address the situation?
How Nasal Dilators Address Snoring
If you snore through your nose (versus your mouth), SnoreLab.com explains, "Nasal dilators work by mechanically opening your nasal passages, [thereby] decreasing the resistance to the incoming air, without resorting to medication."
There are two types: external and internal. External nasal dilators, more commonly known as nasal strips, stick to the skin on the outside of your nose and gently pull open your nostrils. As a result, they're not reusable.
Comparatively, internal models prop open your nostrils from the inside using a variety of designs, although the most common are cones, clips, prongs, stints.
Their "springy material forces outwards when compressed to fit inside your nostrils," SnoreLab explains, "expanding the alar cartilage on your nose, which is very prone to collapse." This collapse is something Clipple is specifically supposed to address, according to its website.
While internal nasal dilators offer the greatest variety of shapes and designs and are also reusable, SnoreLab emphasizes "there is only a handful of studies that look at the benefits of using" them.
Is it the same case for the Tibetan magnet therapy frequently referenced on the Clipple website?
The Clinical Support for Magnet Therapy
According to LiveScience, "magnetic therapy is an alternative medical practice that uses static (i.e., unmoving) magnets to alleviate pain and other health concerns" by implementing them into "bracelets, rings, or shoe inserts, [or] though therapeutic magnetic mattresses and clothing."
From an efficacy perspective, they go on to explain, "many well-conducted studies over the past three decades have shown that static magnetic devices offer no more or no less benefit than sham devices devoid of a magnet."
In other words, they "may not work at all beyond having a placebo effect on those who wear them," they conclude.
How Much Does Clipple Cost?
There aren't any prices listed for Clipple on the PurchExpert.com website that seems to be the product's main website. Clicking on any of the links only lands you on a blank page.
However, the Clipple was available on e-commerce site Juicy Trends at a cost of $59 for three.
With this said, at least one third-party online retailer is also selling Clipple for $29.
Are There Other Magnetic Nasal Dilators Like Clipple?
If you search Amazon for keywords like "magnetic anti-snoring nostril dilator clip," you'll find multiple products are competing for the same customers as Clipple.
In fact, you'll see that they're functionally identical to the dilator in question, and are indistinguishable from a design perspective.
This includes "U" shapes, magnets at each end (although none specifically referenced magnet therapy), silicone construction, and promises to relieve blocked nasal passages and subsequent snoring. Many competitors even use the same product descriptions and images in their listings.
Here's how their basics compare:
| | | |
| --- | --- | --- |
| Brand | Price | Average Amazon Rating |
| Clipple | $59 for three | N/A |
| HYHD Anti-Snore Nasal Dilators | $17.58 | None |
| Body Back Company Snore Free Nose Clip | $2.15 | 3.1 stars, 81 reviews |
| LuckyStone Silicone Stop Snoring Device | $6.99 | 2.2 stars, 98 reviews |
| Easyinsmile Stop Snoring Nose Clip | $9.99 | 4 stars, 4 reviews |
| MSmask Anti-Snore Magnetic Nose Clip | $4.95 | 4.6 stars, 2 reviews |
We can see from this table that HYHD's Anti-Snore Nasal Dilators are by far the highest-priced option among popular competitors on Amazon, with Body Back's model coming in at a fraction of the price—despite its identical design.
Along these same lines, it's important to note that while some customers reported positive results (e.g., improved breathing, reduced snoring), most claimed to have experienced no difference in their snoring with third-party models—regardless of the price they paid.
HYHD also doesn't come with any Amazon customer feedback, whereas LuckyStone comes with the most reviews, but the lowest average rating. MSmask comes with the highest score, but it's only based on two customer reviews.
Pulling all of these details together, Clipple features a design that's indiscernible from third-party models, is more expensive than other products and comes with zero online customer feedback.
Bottom Line: Is Clipple Worth Your Money?
SnoreLab reported earlier that traditionally designed internal nasal dilators come with limited clinical support they can effectively address chronic snoring.
But, with its basic, U-shaped design that only presses against your septum (the middle, inside portion of your nose), we'd wonder if Clipple actually dilates your nasal passages at all—or, at least enough to function comparably to traditional models.
On top of this, the Clipple costs more than competing devices that seem to function the same way.
Considering that the research we saw regarding the efficacy of nasal dilators like Clipple is pretty thin, we think trying a dilator that's cheaper may be a smarter way for you to spend your money. At the very least, you won't be too invested in the dilator if it doesn't work.
» See Also: How Sleep Apnea Can Negatively Affect Your Appearance
This gadget does not work for me at all

By Joyce D.

,

Western Australia, Australia

,

Mar 14, 2020
Verified Reviewer

This gadget does not work for me at all. I use a mouth guard which makes my teeth ache so was really hoping for another solution but my husband says I still breathe so he can hear me and keeps him awake. At least the mouth guard works.

Bottom Line: No, I would not recommend this to a friend

---

SnoreClipple by Joy

By Linda B.

,

New York

,

Mar 10, 2020
Verified Reviewer

I saw ads about the SnoreClipple by Joy. I bought one to try. The box says it works using magnetic therapy, it isn't even magnetic. This product doesn't work. I do not recommend buying the SnoreClipple. This product does not work at all. It is a total waste of money.

Bottom Line: No, I would not recommend this to a friend

---

Works great for me

By Steve K.

,

California

,

Mar 5, 2020
Verified Reviewer

I bought a double set from Amazon for $8.99, "Clipple Silent Snore Away Device - Magnetic Anti Snoring Nose Clip," and I have zero idea how it works, BUT IT DOES. I have been a loud snorer since at least my teens (now 70), and disturbed many a sailor in my barracks way back when. I have even driven my wife to the couch. And what I don't understand is the airflow thing, since I have a good size nose, LOL, and its' respective nostrils, so must already have gotten good airflow. I always assumed it was my soft pallet that was the cause. My wife is tickled pink, says, "I have no idea how it works, but it does." Now when relaxing out on our deck, reading on a lounge, without it, and falling asleep, I still snore sounding like a bullfrog, LOL. Trusts me, for me at least, this product is a Godsend.

Bottom Line: Yes, I would recommend this to a friend

---

This device did not work.

By Bruce S.

,

Atlanta, GA

,

Jan 21, 2020
Verified Reviewer

My wife recorded me and this device was a waste of money. I DO NOT recommend it. If it seems to be too good and too cheap then it most likely actually is not good. Again, I would give this device only about a score of 1 out 10 with 10 being good and 1 being very bad. I'm not sure why this box is requesting that I enter a minimum of 180 characters but maybe that is to discourage people from actually providing the true opinions.

Bottom Line: No, I would not recommend this to a friend

---

Advertisement

---

Works for me

By Steve S.

,

Pendleton, OR

,

Jan 17, 2020
Verified Reviewer

Have been using Clipple for the past 2 weeks. Before this my girlfriend would wake me up about 4 nights a week and tell me to turn over. She has only done that once since I have used it. It has definitely decreased my snoring. It has fallen off a couple of times, but I have been sleeping better and will continue to use it.

Bottom Line: Yes, I would recommend this to a friend

---

Displayed price is deceitful!

By Carol H.

,

Australia

,

Dec 18, 2019
Verified Reviewer

Read the fine print to find that the displayed price is in US dollars. Surely this should be displayed beside the product price? So if buying from Australia instead of paying $29 it will end up being $42 but you will only know this when you get your bank statement!

Bottom Line: No, I would not recommend this to a friend

---

Disappointed customer

By Carl C.

,

New Zealand

,

Dec 16, 2019
Verified Reviewer

I purchased a Cripple online from New Zealand, it was advertised for $29, but on checking my bank account I found I had been charged $29 US, which is substantially more. Very misleading, I thought, and to make matters worse it made no difference at all, so a complete waste of time and money. The one-star rating is because they actually sent it.

Bottom Line: No, I would not recommend this to a friend

---

A joke

By Craig S.

,

Atlanta, GA

,

Dec 12, 2019
Verified Reviewer

I tried Clipple. It was in a word, useless. Did nothing to stop my snoring. Smelled horrible. A complete waste of money. I guess I should have known better than to fall prey to such an absolute scam.

Bottom Line: No, I would not recommend this to a friend

---

Love it.

By Lorna B.

,

Hawkes's Bay, New Zealand

,

Nov 21, 2019
Verified Reviewer

Love this. Sleeping better and my partner says I make almost no noise anymore. I notice the difference as soon as I insert the Clipple. Easy to use, have not had it fall out while sleeping. Will be getting another one as a spare. Highly recommend.

Bottom Line: Yes, I would recommend this to a friend

---

Cost

By Maureen R.

,

Nerang, Gold Coast, Queensland, Australia

,

Nov 13, 2019
Verified Reviewer

I ordered the $59 deal. I received the three Clipples but my bank statement said I was charged $87.40. Why was that? I would not have paid that much for something I was not sure about.

Bottom Line: No, I would not recommend this to a friend

---

Clipple works for me

By Peter S.

,

New Zealand

,

Oct 19, 2019
Verified Reviewer

Immediate reduction in my snoring, my wife knows when I have forgotten to insert it. Overnight sleep or grandad afternoon nap, works well for both. Easy to insert, very minor discomfort initially, sometimes falls out during my sleep but always found in the morning. Hard to believe but it has been amazing.

Bottom Line: Yes, I would recommend this to a friend

---