Club W Reviews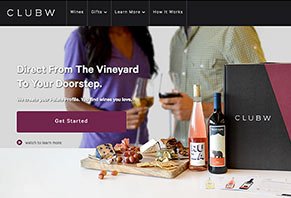 Club W is a monthly wine subscription service that creates a list of suggested wines based on a short quiz about your taste preferences. Wines are $13–$35.
About Club W
Picking a good wine can be stressful.
Most people are concerned about price, so that's the first filter we usually apply. Is it under $10? Deal.
But once you've got your wine budget in place, you're still left with dozens of choices under the general umbrella of "wines under $10":
Red or white?
Old World (France, Germany, Italy, Spain, etc.) or New World (U.S.A., Australia, South Africa, etc.)?
If you go red, should it be a pinot noir, cabernet sauvignon, syrah, merlot or something weird-sounding like grenache or beaujolais?
If white's your fancy, how do you pick between chardonnay, pinot grigio, sauvignon blanc or sparkling wines like Champagne?
How the heck do you know what it tastes like?
These types of grocery-aisle, deer-in-the-headlights moments are what wine-subscription service Club W claims to solve.
By taking a quick quiz about your taste preferences, they curate a custom trio of wines that fit your flavor profile. You can choose bottles from these suggestions or pick your own.
Once you sign up and pay for your first box of wine, they send you three new bottles every month, unless you want to add more (a fourth bottle gets you free shipping and the fifth bottle gets you 10 percent off the entire order).
Sounds like a breeze, right? Just do a quiz, then Club W does the rest. But what are the prices like and how do they compare to the average bottle of wine? How do you know how good the wines are? What's the actual wine delivery process like? How easy is it to opt out of their subscription service?
We were curious about each of these questions, so we tried out Club W for one month, taking advantage of a Memorial Day special in which we got 50% off our order.
As we work through this article, we'll answer each of the questions we posed and give you our perspective on Club W.
What's the Wine Delivery Process Like?
Club W notifies you by email when your wine has shipped, quoting a 3 to 7-day delivery time. Since the shipment contains alcohol, someone 21 years or older has to sign for delivery.
Our box came within the delivery window. We opened it to find four bottles of wine packaged neatly, along with four information cards to correspond to each bottle of wine we bought:
2015 Sauvetage Rosé (France)
2014 Pas Ordinaire Saint-Chinian blend (France)
2015 WKND Sparkling Chenin Blanc (California)
2014 Sapore Locale Nero D'Avola (Italy)
Each of these wines cost $13 a piece, the price at which you can buy most of the stuff on the site. There were a couple of wines above $30, but the majority were $13 and several were between $15 and $30. The majority of wines sold in the United States cost under $10, so $13 puts Club W's wines in the mid-range price category.
We think that Club W does a great job of branding their wines. We enjoyed the information cards, which included:
The story behind the wine (where, how and who made it).
A flavor profile of the wine that takes into account body and flavors (earth, wood, fruit).
A recipe that goes well with the wine.
In our opinion, these information cards are a great resource for newcomers to wine who want a service that picks wines for them, educates them and integrates the wine with a fitting recipe.
How Do You Know How Good the Wines Are?
Because Club W is a wine service charging you a little more than you'd probably pay for other wines at the supermarket, it's important to know if you're getting wine that's worth the few extra dollars.
And herein is the great mystery of Club W, for several reasons.
It's Hard to Tell: Club W's Wines Are Exclusive
The wines you get from Club W can't be found anywhere else. A wine distributor named Winc runs Club W's wine selection, and the wines they select are exclusively distributed through Club W. That's great for the winemakers – there's a constant stream of business from Club W's customers.
But that's not so great for you, and here's why. The only way you can get reviews about Club W's wines is through the Club W website because the wines aren't sold anywhere else. You're kind of stuck with the opinions of fellow customers of Club W and not the wine world in general – you remain in the Club W universe.
And, if you're dazzled by the info cards and the cool labels Club W's wines tend to have, you might just perceive the wine as tasting better than it actually is.
But the whole discussion about how a wine tastes and how good it is brings up another issue: the average person has a hard time distinguishing between good wine and bad wine.
Expensive Wine or Cheap Wine? Consumers Don't Really Know
There have been many studies about the taste of wine, the most interesting of which have tried to show that how a wine tastes to us has little to do with how it actually tastes.
A 2011 article from The Atlantic covers a couple of these studies. Here's an overview of what each study discovered, as well as a couple of other articles we found on the subject:
How Does This Relate to Club W?
So what does all this mean for us, the average people who want a fun wine experience through Club W? We probably won't be able to tell how good the wine is, and since the wines are exclusive to Winc, there's no way of knowing how good they really are because no other websites have reviews of the wine.
Also, there's no way of knowing if we're overpaying or underpaying for the wine since there's no way to compare the price of the wine.
And on top of that, our perception of a wine's taste and quality has a lot to do with price and packaging. So, there's a good chance, as we mentioned before, that we'll think the wine is great because it's a bit more expensive and it comes with interesting information cards.
Our opinion? There's no way of knowing how good the wines are, as perceptions of taste are influenced by a lot more than the wine. Are you getting a great deal on interesting wines you can't get anywhere else, or are you overpaying for average wines dressed up with good marketing? It's really tough for us to say.
How Easy Is It to Opt Out of Club W's Auto-Shipments?
At HighYa, we get pretty worked up when someone mentions auto-ship programs because they're a tactic that shady companies use to trick you into paying tons of money for shipments you never knew you were getting.
Fortunately, Club W isn't one of those companies. They're up-front about the fact that they'll auto-ship more product each month after you sign up, whereas many auto-ship companies bury that fact deep in their terms and conditions.
Cancelling Your Account Can Only Be Done Over the Phone
We wanted to know how easy it was to cancel, so we called the Club W number. Turns out their representatives are very pleasant and cancelling takes all of 30 seconds. There were no hidden fees or lingering charges on our credit card.
Also, we liked that Club W lets you skip a month of shipments simply by logging into your Club W account and one-clicking a skip button.
What Happens if You Don't Like the Wine You Get?
Club W's website says they'll refund you the cost of the bottle of wine you didn't like; it's part of their satisfaction guarantee.
We talked with one of Club W's "Concierge" representatives, who told us that they'll give you a credit for up to two bottles of wine in your shipment. After four requests for a credit, you'll be transferred to one of Club W's sommeliers, who will talk with you about your taste profile and try and help you find what you're looking for.
Club W's refund policy is a bit different. Let's say you forgot to cancel or pause your membership, and you didn't see the shipping notice Club W sends out 48 hours before your wine ships. If the shipment is already out and you want to return it, you'll pay a $20 restocking fee.
Our advice is to keep in mind that wine you get through a subscription service is always a gamble. You never know if a bottle will meet your expectations, whether it fits your flavor profile or not. And keep an eye on your shipment notices. If your new batch of wine is sent out and you don't want it, you'll pay a pretty steep price.
Club W Reviews: What are Other People Saying
This is the second review we've done on Club W, mainly because the company has changed a lot over the past few years and we felt we needed to update what we previously wrote about the company.
That being said, 40 HighYa reviewers gave Club W an average review of 2.2 stars, with people complaining about customer service and the quality of the wines. The 11 most recent reviews date back to Nov. 2015. Six of those reviews are one or two stars, while five of them are four or five stars.
More than 800 reviewers on specialty food and beverage review site Influenster gave Club W an overall rating of 4 out of 5 stars, with customers praising the quality of the wines and the label designs.
Readers on product-review site Revuezzle gave the service a 2.2 out of 10, giving Club W low marks for wine quality and customer service.
A 2015 article by foodie website Eater said, when compared to other wine-subscription services, Club W was a "solid choice at a pretty decent price."
Last Call: Our Conclusions About Club W
The Club W experience is pretty fluid and simple. Do a quick survey about your taste profile, see some recommended wines and sign up for your membership.
The delivery process is painless and the wine shipment includes great information about where the wine came from, how it was made and how it tastes. The recipe on the back of the card is a nice perk, too.
But when it comes to knowing if the wine is worth the money you're spending on it, it's really hard to tell. Studies show that our perception of how a wine tastes is influenced by price, packaging and other factors.
We suggest you keep an open mind if you join Club W. Realize that you might receive wines you don't like. However, each wine you do receive comes with a unique story and the opportunity to try a wine that, most likely, none of your friends or family have ever tried before.
If you're an adventurous wine drinker and you want a way to try unique wines from all around the world, Club W is probably a great fit.
If you like to stick with your favorites and are skeptical of wines outside what you'd normally drink, Club W may not be a good choice for you.
Overall, though, we think Club W is one of the more reliable and enjoyable subscription/auto-ship services we've seen. Their wine shipments are a great idea for gifts and provide you a chance to taste interesting wines you may not normally have thought about trying.
If you aren't sold on the idea of Club W's service, Firstleaf, Bright Cellars and Tasting Room are similar companies offering monthly shipments of wine.
Definitely not a scam.

By B

,

Columbus, OH

,

Jul 18, 2015

I thought it was very clearly written that it was a monthly wine service. Not sure why so many people are saying it was a scam. I mean at worst, you got some more wine.

I just upped my order from 3 to 6 bottles for next month. All were good wine, and it's great for a novice wine drinker. They give you descriptions of the taste which is something I love. I hated going into a grocery store and having no idea what I was getting into. Or worse yet, someone asking me what the wine was like and I bought it blind. For each wine they have videos, food pairings, and recipes.

It's a pretty cool site and definitely not a scam.

Bottom Line: Yes, I would recommend this to a friend

---

Great little club

Apparently, most of the negative reviewers below can't read (or didn't bother to) because it's VERY clear when you place the first order that you're enrolling in a monthly delivery club.

I love that they give suggestions on wines I'd like (which have only gotten better as I've rated what they've sent me).

It's VERY easy to skip a month (or two, or three). And if you want to cancel, just PICK UP THE PHONE and call.

Definitely not a scam. The company delivers what they say they will, on time, and the website couldn't be more clear when your next box is going to be sent. Emails let you know when they are getting ready to pack the box so you can cancel for a month if you need to.

As far as wine quality, I've discovered that a lot of the red wines do require some decanting and rest before they taste their best (though most reds and even whites do). These are wines that are very acceptable and drinkable for their price point.

Bottom Line: Yes, I would recommend this to a friend

---

Advertisement

---

Would not recommend

The website is attractive and easy to navigate. It draws the user in immediately due to the ability to create your own wine type based on your answers to simple questions. The problem came after I placed my order for three bottles of wine. Only after my credit card was charged did I realize I was signing up for a monthly automatic shipment and it would continue to be charged. I read the terms and conditions and there was no indication of automated future shipments/charges. It was difficult to locate their phone number and even more difficult to cancel.

I asked for a confirmation number upon cancelling and the lady was not able to provide one. I hung up unsure if the "membership" is even truly canceled. I will be watching my credit card statement very closely next month.

Bottom Line: No, I would not recommend this to a friend

---

Irritating business practices

By Anonymous

,

Aug 14, 2015

I received a gift to Club W, which sounded like a fun way to try a few new wines. I ended up paying an extra $1.60 over the gift amount once tax and shipping were added, but I didn't think this was a big deal.

Wong. By entering my payment info I was automatically signing up for monthly shipments that cannot be canceled without calling during limited business hours. What had been a generally pleasant experience (nice site design, ok wines) has turned into a pain in the butt. I definitely would not recommend this site to anyone else, as a gift or otherwise.

Bottom Line: No, I would not recommend this to a friend

---

Advertisement

---

Scam!

By Jax

,

Stamford, CT

,

Aug 21, 2015

If I could give this no stars, I would. I believe this business is a scam! I received a $50 wine credit as a wedding present from a friend. I went on Club W's site and did as I was told to use that credit. The additional fee for the wine ~$6 was charged to my credit card. All of a sudden, because they have my credit card on file, I'm signed up for some "club," and they are sending me wine and charging my card ~$50? When I called to ask them about it, I was informed that "it is explained thoroughly in the sign up process" (I DISAGREE!), and I am now a member of this "club", which I never even signed up for! Furthermore, they won't pay shipping to return this wine package I didn't order and want me to pay for the return shipping, or they would "credit my credit card a percentage of the charge," and I can keep the wine.

Either way, I'm losing money on something I DIDN'T ORDER! Just don't start with this sham of a business. If I could return the gift I got so I never had to deal with this place, I would do so happily.

Bottom Line: No, I would not recommend this to a friend

---

They make it really hard to cancel the 'membership'

By Mister s.

,

New York

,

Nov 16, 2014

Tried several times to cancel the monthly charges. No link to cancel. They say the only way to cancel is to go on email chat but it's a blind link! You literally have to call to cancel. They're only open on California time. Totally bogus to make you work that hard to cancel. I wouldn't recommend this.

Bottom Line: No, I would not recommend this to a friend

---

Feels like a scam

By Michael

,

Seattle, WA

,

Mar 13, 2015

I ordered a box to try the service. It turns out I automatically got subscribed to receive monthly boxes. There is no way to stop this on their websites and the person on chat said she couldn't do it either and that I need to call. Sounds like they're working on making it as hard as possible for people to opt out.

Bottom Line: No, I would not recommend this to a friend

---

Low quality wine and poor customer service

A friend recommended this service, so I gave it a try. The wines were low quality with very simple flavor profiles and extremely short finishes. If you're looking for something cheap that doesn't taste bad, this is a good choice, but if you like wine, don't bother.

More annoying was that cancellation was difficult. They don't have any way to cancel on the site, nor via email, nor by calling them unless you call during business hours in their time zone. I was also charged a cancellation fee, which I always consider to be the sign of a less reputable vendor.

Bottom Line: No, I would not recommend this to a friend

---

Absolutely a scam

They make it impossible to delete your account. They charge you $50 a month unless you specifically respond to their email saying no. I have been trying to stop this for months. They absolutely do not give refunds and there is no way to make it stop. They should be sued into bankruptcy. Again there is no way to delete your account, they do not allow you to stop and continually charge you. Do not use this service.

Bottom Line: No, I would not recommend this to a friend

---

Nope.

By Anonymous

,

Los Angeles, CA

,

Dec 29, 2015

As a fellow employee I'm telling you now stay away. While Club W isn't a scam (come on people it's in the name!) it definitely has a system that is designed to get money from you over and over again. My suggestion is if you want to only get one box just to try it out, gift card, etc. place the order and then cancel three days later. This gives the warehouse time to process your order and the customer rep person can't give you any crap about "if I can cancel your order now you won't get your wine". Wrong. Call them out on that, totally not true.

The wines are at best mediocre, don't be fooled by the more expensive wines either, they're the same quality. The only wine I would ever buy from them again was the Chop Shop. So good.

Bottom Line: No, I would not recommend this to a friend

---

TOTAL RIP OFF

By MH

,

Dallas

,

Feb 15, 2015

Place an order with this company and they will automatically sign you up for monthly boxes at $45 each, which you can only cancel by phone. There is no warning that they are going to do this. And the wine isn't even good. This company is a COMPLETE SCAM! Stay away. Don't even sign up.

Bottom Line: No, I would not recommend this to a friend

---