COBI Bike Reviews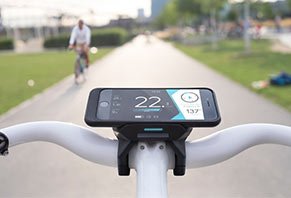 The COBI Bike system mounts directly to all standard size handlebars and provides key features like tracking, front and rear lighting, navigation, and more.
About COBI Bike
Have you ever wanted to truly connect to your bike—using a built-in dashboard, similar to your car? If so, COBI Bike is a patent pending system that mounts to your handlebars and provides useful features like phone charging, an app that can be controlled via and handlebar remote, front and rear lights, turn-by-turn navigation, weather, fitness tracking, and more.
We're told that COBI even features a safety and security system that can help prevent theft, while helping you avoid collisions.
Whether you're new to cycling or have been pedaling around for decades, there's little doubt that COBI's concept is appealing. Who wouldn't want a complete, all-in-one system that can help them ride smarter and safer?
But when it comes down to it, is the COBI Bike system out to "revolutionize the overall cycling experience," or is it just a cool piece of technology that'll soon be gathering dust on a shelf? That's exactly what we'll explore here.
How Does COBI's Bike System Work?
Overall, the COBI system is comprised of four main parts:
The COBI Hub
The COBI Hub's plastic housing is about 2.1" wide and 2.3" in diameter, which mounts in minutes to any 25.4mm-31.8mm handlebar using 4 hex bolts. Then, you'll first place your smartphone inside the included shockproof mounting case and slide it into the top of the Hub.
Once in place, the Hub's detachable and rechargeable battery holds enough capacity to recharge a typical smartphone 3-5 times, which will occur automatically. The Hub also comes with "sophisticated" Bluetooth/ANT+ sensors that provide connectivity to a variety of sensors (more soon).
Once the Hub runs out of juice, you can recharge it via a micro-USB cable or a hub dynamo (a special type of wheel hub that generates power as it turns), although no recharge times are noted. COBI can also connect directly to the power source of some e-bikes, such as 2014 and newer BOSCH models.
All of COBI's functionality can be accessed via the wheel menu on their handlebar-mounted thumb control (even a safety bell!), which helps you keep your eyes on the road. To add some personality, you can also customize the color of your COBI system with a Style Kit.
The COBI Smartphone App
Remember the dashboard we talked about at the beginning? The app is where it all comes together.
COBI tells us they created their app display with simplicity and safety in mind, with a "sleek, intuitive" design, a high-contrast color scheme, and large-font typography for maximum visibility. Here, you'll be able to:
Make phone calls.
Listen to music, whether directly on your phone or through popular streaming apps.
View weather, including a "minute-precise hyper-local" forecast that lets you know chances of rain, temperature, and other important info.
Real-time fitness data. The on-screen performance bar will "visualize how much effort you're putting in" by connecting to your favorite cadence and heart rate sensors, including total calories burned. All data integrates directly with Apple Health.
Full-size navigation with turn-by-turn voice feedback, based on OpenStreetMap (OSM). According to COBI, you'll be able to set up your route in 3 steps and choose between the fastest, shortest, and quietest ones, "taking into account relevant information like ground surface."
Do you own an e-bike? For select models, COBI's app will also allow you to check your battery status and remaining range. To make sure it'll work with yours, be sure to check out COBI's compatibility and specifications.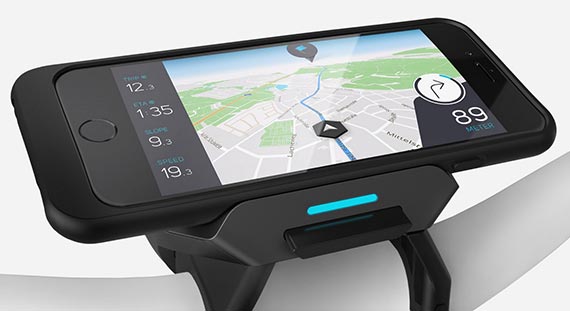 ​COBI's iPhone app displaying the OpenStreetMap navigation screen.
COBI's Sensor-Based Lighting System
On some models (more soon), COBI's Hub comes with an attached front light, which can be turned on manually or automatically once it gets dark enough. The front light features 3 different modes: daytime running light, low-power beam, and full beam.
COBI's rear light attaches around your bike's seat post, integrates wirelessly with the Hub, and automatically turns on as soon as your front light is engaged. What's more, using an accelerometer and "smart algorithms," the light will illuminate when it senses braking, similar to a car's brake lights.
Important note: Did COBI's turn signals grab your attention? Before you get too excited, keep in mind that according to the company's FAQ, "The turn signal function of the COBI brake light is not available at the moment for any country." No ETA was provided—the good news is that we'll talk about how you can gain similar functionality below!
​COBI's rear light, which integrates wirelessly with the Hub.
Does the COBI Bike System Include Any Security?
Once your COBI Bike system is registered, your phone is the only way to connect to and utilize the Hub (it'll even "wake up" the Hub unit as you approach your bike!). As such, if it's ever stolen, it will be useless to the thieves.
To prevent you gear from being stolen in the first place, COBI's hub features a smart alarm system that detects movement. If it's activated, the multilevel alarm is broadcast through the Hub's integrated water-resistant speaker, which progressively gets louder and flashes light.
To help keep others safe, this same speaker can emit an electronic bell similar to a standard bike bell.
How much will all of these features cost you?
How Much Does COBI Cost?
COBI is available in three different versions:
COBI Sport – Includes app, remote control, phone charging capability, and alarm system: €249 (about $282)
COBI – Everything included in the Sport package, in addition to a front light: €299 (about $339)
COBI Plus - Everything included in the Sport package, in addition to a rear light: €339 (about $384)
There wasn't any shipping information listed on the COBI Bike website, although we're told the system comes with a 14-day return policy and a 2-year warranty.
Is There Anything Else Like the COBI Bike System?
The short answer: Not really.
The detailed answer: Cyclists have been able to piece together similar dashboard systems—including smartphone mounts, front and rear lighting (including turn signals), navigation, and fitness tracking—for years.
For example, you can find free fitness apps like Strava and Map My Ride that use Bluetooth and ANT+ technologies to track speed, distance, heart rate, and cadence (including power output in some cases, as long as you have the appropriate sensors), along with ones like Google Maps, which can provide turn-by-turn navigation tailored for biking.
Mounts like Quad Lock are certainly pricey at $70 or so, but they include a weatherproof case and their locking mechanism seems to be more secure than COBI's (according to COBI's FAQ, it might not be ideal for "heavy" trails, although it's shown attached to a mountain bike in more than one picture).
Lights are arguably the priciest components in any bike dashboard setup, although you can purchase high-lumen sets for under $100. Blinker capability can be added for as little as $15, although it'll encompass a different unit than your main rear light.
The biggest differences between COBI and these DIY dashboard systems? COBI brings it all together in one package, although you'll lose the customization aspect of doing it yourself. Are COBI's customers finding this all-in-one system a solid bargain?
What Are Customers Saying In Their COBI Bike Reviews?
COBI launched after raising more than $400K on an original goal of $100K through their 2014 Kickstarter campaign. Outside of backers, it appears the system has only been available since July 4, 2016, so there was very little online feedback at the time of our research.
However, the company notes that it was "the second most successful bike tech campaign of all time."
We found some articles on CNET, MarketWired, and Cycling Weekly, although these were mostly high-level reviews written soon after the company launched their Kickstarter campaign. COBI's CEO Andreas Freitag demoed the system for Bicycling back in July, who noted:
"The battery connection was a bit buggy, but the app itself performed smoothly. (It was a live demo and Freitag demonstrated features at my request, rather than a captured automatic demo). The hardware itself is fine and functional, but the headlight aside, the black plastic mount lacks some of the sleek, smooth industrial design we all tend to like with technology-based products."
From a company perspective, COBI GmbH was founded by Andreas Gahlert and co-founded by Carsten Lindstedt, Heiko Schweickhardt and Tom Acland, who have over 60 years of "digital experience" combined.
We've covered a lot of territory here, so as we wrap this review up, let's address some important questions we had about the COBI Bike system during research.
Is the COBI Bike System Right for You?
Like many of the other products we review here at HighYa, you satisfaction largely depends on what you're looking to accomplish, along with your expectations. Given this, let's quickly talk about some of COBI's features and who they might work best for.
Is COBI's Light Powerful?
There weren't any specs on COBI's main website, but according to their Kickstarter page, the Hub features a 6,000mAh 3.6V lithium ion battery.
Milliamp hours (mAh) references the energy capacity of a battery. In other words, the higher mAh, the longer a battery can provide power.
The problem is that we're not told 1) how bright COBI's light is (how many lumens it outputs) or 2) how much power it draws. As a result, it's difficult to provide a comparison with other common bike lights, including how well COBI will illuminate the road in front of you, or how much run time you'll get.
As far as lithium-ion batteries go, they're known for being lighter than many other types of batteries (which is always an advantage on a bike!) and have very low self-discharge rates if left unused. However, lithium-ion batteries can lose 20%-35% of their capacity per year, regardless of how much they're used.
Since COBI's battery is removable, it seems reasonable that you could replace it at some point. No prices were listed on their website at the time of our research.
Want to Track Fitness? Do You Own an iPhone?
While COBI's universal mount allows you to carry smartphones other than iPhones, and they've released both iOS and Android apps, it's important to reiterate that COBI only displays real time data. If you want the ability to track fitness data, you'll need an Apple Health account (which is obviously only available for iDevices).
The Google Fit app is available for Android phones, although COBI doesn't appear to offer support for this yet. What's this mean for you?
If you own an Android phone, you should be able to continue tracking your data through some of the fitness apps referenced above. Just keep in mind you won't be able to access them while riding (COBI's app locks the touch screen once the Hub's sensors detect motion) and having multiple fitness apps running at once greatly increases battery consumption.
Are There Additional Expenses to Consider?
Do you have multiple users in your household? If so, you'll have to purchase separate COBI Bike systems for each user, since it currently can only support one per Hub.
Also, if you're looking for the ultimate in recharging capability, a hub dynamo (a wheel hub that automatically generates an electrical current when spinning) can connect directly to your COBI Hub. Sure, this is super cool, but keep in mind having one of these wheels built could add several hundred dollars to your final tab.
Will COBI Make a Good Security System?
Finally, we'd have to question just how effective COBI would be at preventing bike theft. Sure, its siren (we're not told how loud it is) and flashing light might deter the laziest of thieves, but unless you secure your bike using a traditional lock, we'd imagine a crook could run off—with your bike in tow—in no time flat.
We also think it would be ideal if COBI's hub sent an alert to a smartphone once the alarm is triggered, although there's no indication of this on their site.
Speaking of which, if you live in a city and frequently lock your bike up with others', remember that your alarm could go off if it's accidently bumped or moved. There's also no indication if the alarm can be disabled when the Hub's not in use.
The Bottom Line About COBI
As an avid cyclist, I think the COBI bike system is super cool. Period.
After all, it brings together many different technological features cyclists have been requesting for years, and makes it possible to access all of these features without touching your smartphone's screen.
Clearly this has resonated with a lot of consumers, too, given the success of COBI's Kickstarter campaign. Does this mean it should be your next cycling-related purchase?
From a design standpoint, COBI's Hub isn't exactly the sleekest accessory around and its mount isn't intended for "heavy" trail use. As such, if you're an avid road or mountain biker, it might not be your ideal setup.
If you commute regularly, we'd also have some concerns about how well COBI's plastic Hub would stand up to heat, cold, sun, rain, and other elements with extended riding. And you certainly don't want to break out your hex keys before and after each ride in order to remove the hub.
However, if you're like the millions of other recreational cyclists who hop on the bike occasionally to putt around the neighborhood or to a restaurant or bar, we could see COBI's bike setup coming in handy in dozens of useful ways.
Pro tip: We think COBI might be especially useful for e-bike owners. In fact, according to their Kickstarter page, they've already sold out of the first batch of BOSCH kits!
What's your experience with COBI's bike system? Tell us in your review below!
Now Read: Common Sports Injuries: Your Guide to How They Happen & Best Ways to Prevent Them
4 out 6 people found this review helpful

Exactly what I wanted for a long time

By David H.

,

Sindelfingen, Germany

,

Mar 31, 2017
Verified Reviewer

I've looked forward to this product since January of 2015 after the Kickstarter campaign was finished. I waited a long time for this product, and as I got my first COBI in mid-2016, I was really excited. But in the first weeks, I had a lot of issues with my COBI. There were a lot of bugs in the first moths. But I was so impressed with the idea of COBI, that I decided to wait for updates.

In December of 2016, I was invited to test a Beta-Version of COBI. The komoot.de integration was the focus of the beta-Version and I was really excited about the new functionality and improvements in the Beta-Version.

And this week, COBI released a new Version of the COBI app, with new function and some fixes. The COBI works really smooth now, and I'm so happy with this amazing smart connected biking system. I use the COBI-System with my Komoot account and also with Strava.

I can plan my tours on Komoot and navigate them on COBI . After my ride, the data is uploaded automatically to Komoot and Strava.

I've also connected other bike-sensors from Wahoo. I'm using Wahoo SPEED, CADENCE and TICKR X and they all work perfectly with COBI.

Conclusion: COBI is getting better and better. At the beginning, I was upset about the COBI, but now I love this smart connected biking system.

Bottom Line: Yes, I would recommend this to a friend

---

3 out 4 people found this review helpful

Getting always better

By Leonardo

,

Madrid, Spain

,

Mar 27, 2017
Verified Reviewer

The COBI app is becoming better and better with more functions every month! I have a COBI for Bosch, and now I am going to have lots of fun with the good spring weather. I am just waiting for the Strava synchronization.

Bottom Line: Yes, I would recommend this to a friend

---

Advertisement

---

10 out 13 people found this review helpful

No tech support

By Robert

,

Orange County, CA

,

Mar 3, 2017
Verified Reviewer

I wanted this unit to work so bad! It's exactly what my Bosch Haibike needed. Unfortunately, COBI made a product that simply does not work.

And to add to the frustration, they have no tech support at all. For over two weeks I emailed their "tech portal" and "email tech line" and received no responses at all. When calling the tech phone number, a nice lady answers who does not know the product at all. She simply reads the install guide to you over the phone.

The unit is insanely hard to pair with the app. Once paired, it works only 5% of the time, and in that 5%, it only has 1/4 of its functions. I thought maybe I had a bad unit, so I ordered a second, but it had the same exact issues. Purchase at your own risk.

Bottom Line: No, I would not recommend this to a friend

---