Cocoon by Sealy Reviews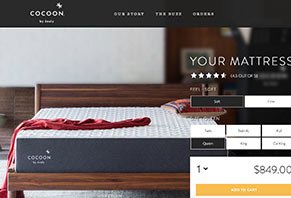 Cocoon by Sealy mattresses feature multiple layers of memory foam, soft and firm feels, and extensive durability testing from a company in business 130+ years.
About Cocoon by Sealy
Made with multiple layers of memory foam and developed over the course of two years, Cocoon by Sealy is a direct-to-consumer mattress that promises to deliver unmatched quality and durability. In fact, Sealy claims their Cocoon mattresses can "transform your bedroom."
Each Cocoon mattress comes in soft (a cozy, enveloping, in-the-bed feel) and firm (a sturdy, substantial, on-the-bed feel) models; is designed, developed, and manufactured in-house, and utilizes only high-quality materials. During this process, Sealy tests for durability, comfort life, safety and flammability, and more.
On top of this, Sealy ships each Cocoon mattress directly to your door in a vacuum-sealed container, which they claim makes setup a breeze:
Unbox your Cocoon mattress.
Place your mattress on a flat, sturdy foundation. Then, remove the tape and wrapper.
Your mattress will quickly "inflate" to almost its full size after about a minute.
You probably already recognize that you have many popular options when it comes to discount online-only mattress shopping (if not, we'll discuss the topic in greater detail soon!). Among these options, is there anything that makes Cocoon by Sealy a better choice? Stick with us and we'll provide what you need to make a more informed decision.
The Full Scoop on Sealy's Cocoon Mattresses
Each Cocoon by Sealy consists of two layers:
A base layer of "heavier, more robust" foam that provides support, durability, and resistance, and bounces back every time. For firm models, Cocoon uses Reinforced Essential Support Foam, while soft models use Flexible Essential Support Foam.
A top layer of high-quality Perfect Fit memory foam, which is supposed to conform to your weight and shape and deliver "perfect" support in your naturally comfortable position. In addition, this layer will help reduce the amount of movement transfer.
Both of these layers are then surrounded by a stretch-knit, premium fabric cover that offers both breathability and durability, while allowing you to "experience the "cushion" of the top layer." Based on this design, Sealy claims their Cocoon mattresses can be used with any flat, sturdy foundation, whether it's a standard frame, wooden slats, or a box spring.
During production, Sealy submits their Cocoon mattresses to two tests called the "Rollator Surface Fatigue" and the "Mattress Durability Impact Test." Here, machines repeatedly apply 225 pounds of force for more than 100,000 cycles (or the equivalent of 10 years of use) in order to verify durability.
In addition, Cocoon mattresses are manufactured without chemical fire retardants and are submitted to "grueling" flame-resistance testing. They're also tested for VOCs, although Sealy notes that there still "may be a slight smell" after unboxing, which should disappear within the first week (more about this in a second).
How does this compare to other online-only mattresses?
How Does Cocoon by Sealy Measure Up?
Cocoon vs. Casper
A couple years ago, Casper entered the scene and completely shook up the traditional mattress buying experience by offering just one model of a quality memory foam mattress, online-only shopping, free vacuum-packed shipping, a 100-night in-home trial, and free returns. Not only this, by cutting out middlemen, Casper claimed their customers could spend 3X less than a comparable mattress from a mainstream manufacturer.
Compared to Cocoon by Sealy, which features two memory foam layers, Casper's mattresses feature one layer of latex and another of memory foam. Despite this seemingly big difference, Cocoon's mattresses are priced within $50 of Casper's, while offering all the same perks (100-night trial, free shipping, etc.).
However, Casper's mattresses only come in one middle-of-the-road firmness level, while Cocoon's come in two. As such, if you're looking for more customization when it comes to firmness (despite the fact that most of Casper's customers seem pleased with their comfort level), Cocoon might be more to your liking.
Cocoon vs. Other Online-Only Mattresses
Soon, other companies jumped on the same business model bandwagon, including Novosbed, Tuft and Needle, Leesa, Saatva (and their Zenhaven line), and many more.
Now, with the release of Cocoon, it seems that the "big players" have taken notice and are trying to get their own piece of the online-only pie. But how do they stack up against these longer-term players?
Obviously, Sealy is a giant company who's been around for 130 years, so they likely have greater access to different R&D methods and manufacturing processes than their smaller competitors. Does this translate into a better mattress, though?
Comparatively, Leesa and Zenhaven provide three layers of foam (Zenhaven specializes in luxurious Talalay latex), although Leesa only delivers one firmness level, while Zenhaven offers Luxury Plush and Gentle Firm options. Cocoon offers two, while Novosbed and Saatva offer three.
All of these options come with the same in-home trials (more about this next), vacuum-sealed shipping, and free (or very reasonable) returns as Cocoon by Sealy.
» For Further Reading: Do Lower Prices of Bed-In-A-Box Mattresses Deliver Better Value?
How Much Does Cocoon by Sealy Cost?
Cocoon mattresses are priced as follows:
Twin (38" W x 74.5" L x 10" H): $549
Twin XL (38" W x 79.5" L x 10" H): $599
Full (53" W x 74.5" L x 10" H): $749
Queen (60" W x 79.5" L x 10" H): $849
King (76" W x 79.5" L x 10" H): $999
Cal King (72" W x 83.5" L x 10" H): $999
Sealy claims that it will take you less than 2 minutes to order your Cocoon mattress, which will be processed within 48 hours, excluding weekends and holidays.
All Cocoon mattresses come with free shipping via UPS Ground, free returns, and free 100-night trial. Sealy recommends sleeping on your Cocoon for at least 30 nights, since it can take a bit of time for you body to become accustomed to your new sleeping surface, especially if your previous mattress was in poor condition.
If it still doesn't work for you, the company can send you a new mattress in the opposite firmness. If this still doesn't work, they'll arrange to have it picked up and donated at zero cost to you.
Cocoon mattresses also come with a 10-year warranty against defects in materials and workmanship. To request a refund or process a warranty claim, Sealy offers 24/7 support at (888) 818-4039 or support@cocoonbysealy.com.
Compared to the competition, Cocoon by Sealy seems to fall relatively in line with Casper and Leesa, as well as Saatva for some of their less expensive models. Tuft and Needle definitely wins out from a price perspective, while Zenhaven costs about twice as much (although they deliver a completely different, eco-friendly, luxury-oriented lineup).
Granted, these are data comparisons. Are there meaningful differences in customer feedback?
Cocoon by Sealy Customer Reviews
On the Sealy website, Cocoon had an average rating of 4.6 stars, with customers complimenting the mattress' comfort, lack of smell, high quality, and solid value. On the other hand, some customers didn't like the feel of their mattress.
Outside of this, we didn't find a whole lot of online customer feedback for Cocoon mattresses, likely because they hadn't been available for more than a few months at the time of our research. GadgetReview provided some unique insight after testing their Cocoon though, claiming:
It has a "Windexy, bleachy chemical smell" after unboxing, which they felt was related to "the way the bed-in-a-box system is compressed and shipped." Although the smell dissipated within a week, they claimed the first few nights were rough going due to the "intense" smell. So bad, in fact, that they slept on their couch for the first few nights.

Once their body became accustomed to the feel, it made a real difference in the quality of their sleep, as well as how well they felt the next day.

In the end, they noted Cocoon by Sealy is "easily one of the best mattresses I've ever slept on, bar none."
Emily Rems of Bust also ordered a Cocoon mattress, although most of her review referenced complications with UPS than it did her experience with the mattress. Ultimately, she found it provided firm—yet cozy—support, affordability, and quick setup.
When unboxing their Cocoon by Sealy, SleepSherpa found the "inflating" process took a little longer than the competition, which they felt was due to the extra density of the top layer. Note: They found that Cocoon's soft version had three layers, while the firm version only had two. There's no mention of this 2-ply option on Sealy's website.
Ultimately, they liked the top layer of the soft model, which conformed well and provided "great" pressure relief. However, they noted that the base layer might not be substantial enough for heavier sleepers.
Is a Better Night's Sleep Just Around the Corner with Cocoon by Sealy?
Pretty much any purchase we make is based largely on personal preferences, but this is especially true when shopping for a mattress. After all, we spend about 1/3 of our life laying on them, so finding a mattress that meets all (or at least most) of our wants and needs is a highly personal process.
From a sheer numbers perspective, Sealy has priced their Cocoon mattresses solidly in line with some of their online-only competition and offers many of the same perks (e.g. 100-night trial, free returns, vacuum-sealed packaging, etc.). Most of their customers seem to be pleased with their experiences, to boot.
Does this mean Cocoon by Sealy is right for you? There's no way to be sure without trying one out, but it seems you'll be able to do so without any real risk.
Great mattress

The Cocoon by Sealy has been hands down the best mattress that I have ever slept on. I've had this since October 2016. I hesitated about ordering a mattress online, but decided what the heck. Ordering was easy, and it came within a week of my placing the order.

I did not notice any smell when I got it unboxed and set up, and believe me, I checked because I had read some reviews about it. From the first night, I was in heaven. I hadn't realized how bad my old mattress was until then. It has helped my back problems immensely. I'm no longer bent over when I get out of bed.

Bottom line, when this one wears out, I plan on getting another one.

Bottom Line: Yes, I would recommend this to a friend

---

Advertisement

---