Coffee Joulies Reviews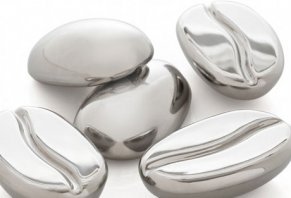 Coffee Joulies use a shell made of stainless steel and an interior filled with a unique phase change material to cool your coffee to a comfortable temperature, while keeping it warmer longer.
About Coffee Joulies
Based out of Sherrill, NY, Coffee Joulies are engineered, polished, stainless steel coffee beans filled that soak up the excess heat in your coffee, and make the temperature "just right" in a matter of minutes. Coffee Joulies were originally featured on episode 13 of season 4 of the popular ABC television show Shark Tank, where four of the "sharks" ended up partnering with the company.
Coffee Joulies holds an F rating with the Better Business Bureau, which is based on two unresolved complaints within three years. Overall, customer satisfaction appears to be fairly low for the product, with the most common complaint citing that they did not work anywhere near as well as claimed.
How Coffee Joulies Works
At their most basic, Coffee Joulies are 18/10 stainless steel "shells" filled with a unique phase change material (PCM), which becomes a solid at less than 140°F, and a liquid at 140°F or higher. As a result, when you add the Joulies to your coffee, the material contained inside melts, absorbs the heat, and quickly brings down the temperature to a more comfortable level. Then, when the temperature of your coffee dips below 140°F, the Joulies re-solidify and release all their stored heat back into your coffee.
Each Coffee Joulie is about half the size of a medium egg, and is claimed to keep your coffee warmer, for twice as long. All stainless steel used in the product comes from 85% recycled material, and the PCM contained inside is "a special blend of extremely pure plant-derived materials that are already used as ingredients in food." In addition, all Coffee Joulies are made in the USA, and are claimed to be extensively tested prior to leaving the factory, including the use of a helium leak tester.
For a complete run-down of the process, full instructions can be found here.
Coffee Joulies Pricing & Refund Policy
We found Coffee Joulies available directly from the manufacturer, as well as through a wide variety of online retailers, including Amazon. If you decide to purchase from the company, you'll be presented with two options:
Set of 5 Joulies - $59.95:
5 Coffee Joulies
Instruction card
Joulies logo carrying pouch (additional $2)
Perfection Pack - $89.95:
Set of 5 Coffee Joulies
16oz Joulies logo Thermos Sipp travel tumbler
Instruction card
Woven fiber gift bag & Joulies pouch
Shipping is based on location, though if you enter your email address when you first land on the site's home page, you can instantly earn free shipping within the U.S.
Bottom Line: Are Coffee Joulies a Scam?
So, with all this information at hand, what's the bottom line: Are Coffee Joulies a scam? Based on our research, the company appears to manufacture a well-thought out product, with an intense focus on quality craftsmanship. In other words, Coffee Joulies appear to feature high quality materials wrapped in an attractive, well-designed package.
However, based on the wide variety of online reviews we referenced during our research, quality only gets the product so far. This is because the number one complaint we found was failure to work as advertised; in other words, when it came down to it, there wasn't much of a difference between using Coffee Joulies, and not using them. In fact, this blog featured an early review of the product, and unfortunately the Coffee Joulies didn't perform very well. Granted, this was a very informal test and didn't take into account many of the variables that could affect performance, but it was fairly revealing nonetheless.
With this in mind, if you plan on purchasing a set of Coffee Joulies, keep in mind that you may be paying more for the artistic design than for something that works as well as it claims.
Order never fulfilled but charged

By Linda R.

,

Orlando, FL

,

Jan 9, 2020
Verified Reviewer

Ordered this product on December 10, 2019...paid for and never received.

However, I did get a notification that they received my order and my account was charged for it.

Have emailed 3 times now and zero response.

Assuming they went out of business.

Do not order!

Bottom Line: No, I would not recommend this to a friend

---

Difficult company to work with, and a product of dubious worth.

By Adam N

,

Gainesville, FL

,

Jan 7, 2018
Verified Reviewer

Over the past year, I have purchased several thousand dollars of Coffee Joulies from this company as corporate gifts. One would imagine that they would want to treat such a good and loyal customer with service and respect? Unfortunately, that is not the case. Returned Joulies, go unrefunded. Some orders never got shipped. Lost orders are never replaced. And any email message sent to their customer service email is simply ignored, or answered months late (it's January 2018, and I just received a response from a message I sent in October 2017).

In addition, why anyone would want to put pieces of metal into their coffee to cool it down is beyond me. The product itself is utterly useless. Combined with terrible customer service and the Joulies business shows that a bunch of famous billionaires on TV can get Americans to buy anything.

I've learned my lesson, and you should too.

Bottom Line: No, I would not recommend this to a friend

---

Advertisement

---

Love my Coffee Joulies

By Kelle

,

Glendale, CA

,

Oct 29, 2016
Verified Reviewer

I got the Coffee Joulies and thermos as a gift after the Kickstarter and it is THE BEST. When used properly it will keep my coffee hot for hours. I preheat the thermos and Joulies with hot water, pour in my coffee and head out. I've left my coffee in the car all day, gone back out to my car to find my coffee is still hot. I would highly recommend.

Bottom Line: Yes, I would recommend this to a friend

---

Do not work as advertised

By Charlene Cleven

,

Augusta ME

,

Jan 13, 2016

Bought these to keep my coffee warm in my ceramic mug. Put Joulies in one cup not the other. Both cooled but Joulies did not keep coffee warm any better than the other one. Returned, no refund in 3 weeks. Got sucked into their slick webpage.

Bottom Line: No, I would not recommend this to a friend

---

Advertisement

---

Product does not work

By Joe Carrillo

,

Roswell, NM

,

Jul 15, 2015

Product does not work. Very dissatisfied. Not only do you still have to warm your coffee, but now you have to take the darn Joulies out to do so. What a scam.

Bottom Line: No, I would not recommend this to a friend

---

Never received

By Edward Simao

,

Charleston, SC

,

Jun 22, 2015
Verified Reviewer

I ordered the Coffee Joulies on 06/13/2015 and was charged for them on 06/15/2015. I have received as much as a confirmation email about my order. I have emailed customer service twice and have not heard back from them. My next step will be getting the BBB involved, they should at least give me my money back. What a crappy company that they can't even acknowledge my order or emails. Until this is resolved by either getting the product or getting refunded I can not recommend this to anyone.

Bottom Line: No, I would not recommend this to a friend

---

Advertisement

---