College Ave Student Loans Reviews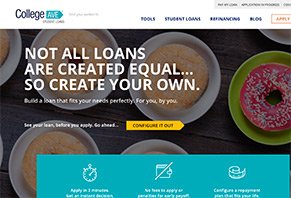 College Ave Student Loans can qualify you for a new or refinanced loan in minutes, while providing a variety of repayment terms and options to meet your needs.
About College Ave Student Loans
Whether you're preparing to become a college student or are the parent of one, you've got a lot of important decisions to make—and somewhere near the top of the list is how you're going to pay for it all.
To help, College Ave Student Loans offers new private student loans, along with loan refinancing, competitive rates, the most repayment options, and a customer-friendly application process. In fact, the company claims you can apply for a loan in 3 minutes and receive an instant decision.
Unlike other student loan lenders, College Ave promises to help you "build a loan that fits your needs perfectly," whether you're focused on covering up to 100% of your current costs if you're still in school, paying as little as possible while you're there, or delaying monthly payments until after you've graduated. In other words, they claim that they're not a one-size-fits-all solution.
Just because College Ave Student Loans seems to offer more options, does that necessarily make them the right option for you? If you do choose College Ave, can you really expect to experience such a great loan process? That's exactly what we'll help you figure out in this review.
First, let's take a look at what it'll take to score a College Ave loan.
College Ave Student Loans Eligibility Criteria
Overall, College Ave offers four different loan products:
Undergraduate loans for those in associate's or bachelor's degree programs.
Graduate loans for those in master's, doctoral, or professional degree programs.
Parent loans for parents who want to cover school costs for their children.
Refinance existing loans to combine existing loans and "simplify your finances."
For new loans (not refinancing), they'll cover school-certified attendance costs like "tuition and fees, books and supplies, room and board, and transportation and personal expenses," as long as you're enrolled in a degree program and attending classes at least half time at an eligible school. College Ave can provide funds for up to a full academic year, but no more, and all loans are disbursed directly to the school.
Important note: According to the company, undergraduate students will "usually" need one cosigner to apply for a loan due to "limited credit history and income."
In order to receive your loan, College Ave will verify that you're making satisfactory academic progress (SAP). If not, your eligibility could be in jeopardy.
Think you'll qualify for a College Ave student loan? Great! Now, let's find out what you might pay.
How Much Will You Pay for a College Ave Student Loan?
New Student Loans
For undergraduate loans, College Ave's APRs ranged between 2.20%-9.29% for variable and 4.99%-11.24% for fixed. Graduate loans were 4.03%-6.03% for variable and 6.35% fixed. Both had a minimum $2K loan amount.
Note: These APRs reflect a 0.25% autopay discount, meaning that payments are automatically debited from your checking account. This is mandatory.
While these interest rates might not be much to sing about (more in the next section), College Ave provides borrowers with four different repayment options:
Full principal and interest payments: Here, you'll start repayment immediately, which can help you pay off your loan faster and spend less in interest.
Interest only payments: You'll only pay interest charges each month while you attend school.
Flat payment: Make $25 monthly payments while you're in school, which will help reduce your accrued interest.
Deferred payment: Here, you won't have any payments at all while you're in school, although you'll pay more over the course of your loan, which will also take longer to pay off.
In addition to these options, you'll be able to choose from 8, 10, 12, or 15-year repayment terms. There are no application or early repayment fees.
Refinancing Loans
If you have existing student loans that you'd like to refinance, College Ave provided 2.5%-7.25% variable interest rates, or 4.74%-8.5% fixed rates, at the time of our research.
According to the company:
"$5,000 is the minimum requirement to refinance. The maximum loan amount is $250,000 for those with medical, dental, pharmacy or veterinary doctorate degrees, and $150,000 for all other undergraduate or graduate degrees."
As with student loans, College Ave doesn't charge application or origination fees for refinance loans, and you can choose to immediately begin making payments, or pay 2-years of interest only. You can repay over the course of between 5 and 15 years.
To see if you're eligible, you can use College Ave's free pre-qualification tool, which will tell you if you qualify, as well as what interest rates you can expect, without impacting your credit score.
Given these rates and flexible repayment options, what are College Ave's customers saying?
Why So Few College Ave Online Customer Reviews?
Despite the fact that College Ave Student Loans has been incorporated since 2014, we found very little online customer feedback for the company at the time of our research. In fact, other than a three-response Reddit conversation and one complaint on the Better Business Bureau's website (referencing a slow disbursement process and unhelpful customer service, as of 6/7/16), we didn't encounter any feedback at all.
As mentioned on their website, College Ave was featured in USA Today, Forbes, American Banker, and other popular media outlets, but these were mostly high-level overviews. NerdWallet did mention that College Ave offers a quick application process and flexible repayment terms, although their interest rates tend to be higher than some of the competition (more about this next).
According to their website, College Ave Student Loans is a joint venture between Firstrust Bank and Liberty Bank. We didn't encounter any related feedback for them, either.
College Ave Student Loans vs. the Competition
The fact of the matter is that if you're in the market for a new student loan, or if you're looking to refinance existing ones, there are a lot of companies competing for your business, including Sofi, Earnest, and many others. Even the federal government is a competitor (more in a second)!
Just like any other bank or lending institution, you'll quickly find that each one claims to offer something unique. For example, with Sofi, their marketplace lending model claims to feature less stringent underwriting criteria, while Earnest promises to specialize in helping individuals with good—but brief—credit histories get the refinancing they need to take control of their finances. Many also allow you to customize your repayment options, although not as much as College Ave.
Perhaps the biggest difference between College Ave and some other refinance lenders is their interest rates, which were up to 2 percentage points higher than the competition. While this might not sound like much, if you have a $50K loan with a repayment term of 10 years, you'll pay $6K more on a 5% interest rate than you will with a 7%!
Finally, remember that your federal student loans come with unique perks, such as income-based repayment, the ability to defer payments, and even loan forgiveness in some instances. While College Ave provides some similar options, much of this will be lost once your federal loans are paid off by a lender like College Ave.
Is College Ave a Better Student Loan Option?
Like we mentioned earlier, there are tons of student lenders looking to elbow their way to the front of the line and earn your business, and each of them claims to offer something different in order to entice you. To this extent, although their fast application and quick approval processes aren't necessarily unique, College Ave Student Loans does appear to offer a wider variety of repayment options than the competition.
Does this mean they're your best option? This largely depends on your top priorities. A couple examples:
Do you have a short credit history and/or a poor credit score, without a cosigner? Because they focus primarily on credit for approval, College Ave might not be your best option.
Are you a parent with solid credit who's looking for the best interest rates? College Ave seems to be a percentage point or two higher than much of the competition.
Have you been burned by another lender's underwriting process before, and are looking for a super-quick application and approval process? While College Ave isn't the only one who offers this, they should definitely be on your list.
Or, is your priority on flexible repayment options? In a situation like this, it might be difficult to beat College Ave's student loans.
The bottom line is that College Ave seems to be a legitimate option for new and refinanced student loans. Whether or not they're "better" depends on your specific needs.
Before you go, remember that scholarships can help reduce your college expenses and keep you out of debt! For more, be sure to read the Ins & Outs of Scholarship Scams.
Tell us about your experience with College Ave Student Loans by writing a review below!
4 out 5 people found this review helpful

College Ave are liars!

By Nena C.

,

Columbus, OH

,

Jul 8, 2019
Verified Reviewer

They denied me of a credit score of 700. I am a 43-year-old female with a solid credit history. I have not ever needed a co-signer and this company (College Ave) requested for me to have a co-signer. I provided the co-signer, which the co-signer credit score of 753, and they still denied me. They said they will send me an email and letter in the mail stating why I was denied. I never did receive the email and/or letter in the mail.

Bottom Line: No, I would not recommend this to a friend

---

Advertisement

---